Sirao Garden has made known to Cebu locals and even foreign tourists after photos of it went viral on Facebook. It was year 2015 when the viral photos of a garden full of Celosia flowers had started circulating the web specifically the world of Facebook. The images are indeed appealing because of how it looked like a garden of flowers which were imported by the owner of the land. It even mimic the great view of Netherlands because of how beautiful these flowers were.
These images didn't just show the beauty of the flowers but also it had encouraged the locals of Cebu to visit the said garden which is located in Sirao, a barangay in Busay, Cebu. Cebuanos started flocking towards the said garden. I remember seeing the photographs the first time and I was convincing my husband that we should go and check the place since we are just located very near to the area. Well not too near but since we have our trusty motorcycle with us, we can always pay a visit of the area if we want to.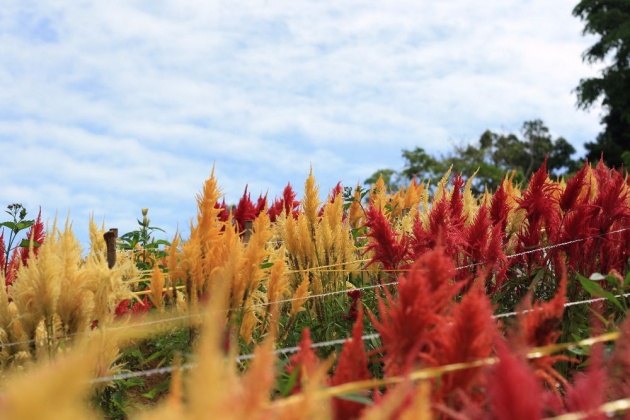 Good thing we were able to finally find a chance.
On our first visit, it was very uncomfortable. It was November 1 or 2, I could barely recall but it was a holiday in Cebu and since that was the only time that we think we can pay a visit, we went ahead although it was a bit rainy that morning, we still pursue the plan. And it was indeed the most uncomfortable experience ever since there were lots and lots of tourists and local visitors who came to check the place. There was traffic in the narrow roads going to the garden. Vehicles of any type were parked on the sides of the road making it too difficult to move forward. We were all having headache for the too much traffic it had caused. We thought of going back but then since we were all there, we just stayed and tried to extend our patience. Gladly and finally, we got the chance to park our motorcycle and went inside the garden.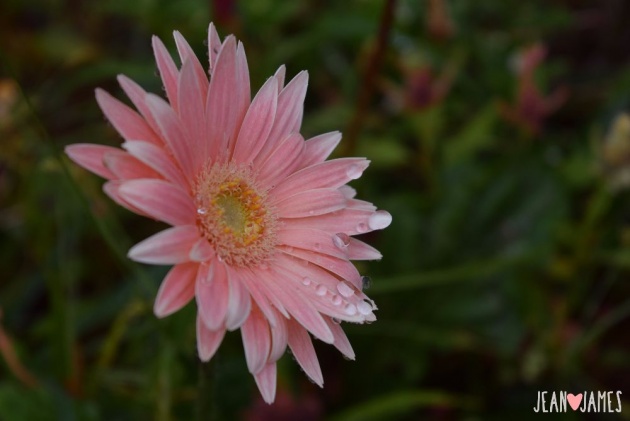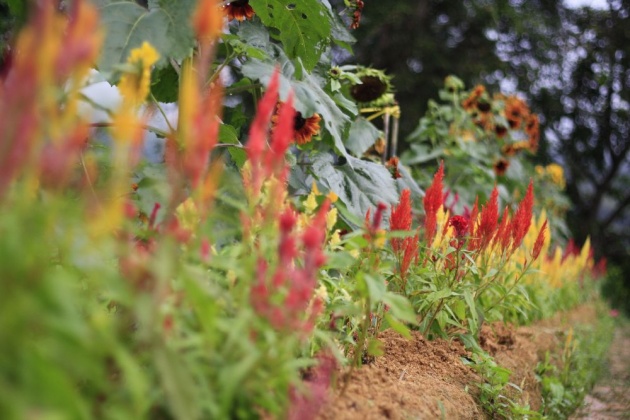 Since everyone just want to have a selfie with the celosia flowers, we ended up taking photos of the pretty daisies in the side area of the garden. Yes everyone like literally were really forcing themselves to take photos and selfies with the flower. I was seeing these people just grabbing their cameras and positioning it very near to the flowers to the extent that they are now damaging the flowers!
It was not a good scene to watch but I kept on watching them, I almost forgot to take photos myself of the flowers because if I would attempt to do so, there will be photo bombers at the back and that would result to an unpleasant photograph. My husband and I thought of just waiting for them to finish their thing and we will be happy to grab our own turn to take photos of the flowers. Of course we also want to have photos with ourselves and the flowers but then we had to leave that at the end of the priority list.
While getting bored watching all these people busy taking selfies with their long selfie sticks, hubby and I went to look for any other spot in the area. We found some kids playing at a self made basketball ring. We made our way towards the area and learned that there are also Celosia flowers at the other mountain. We hurriedly climbed towards that mountain hoping that no one's there.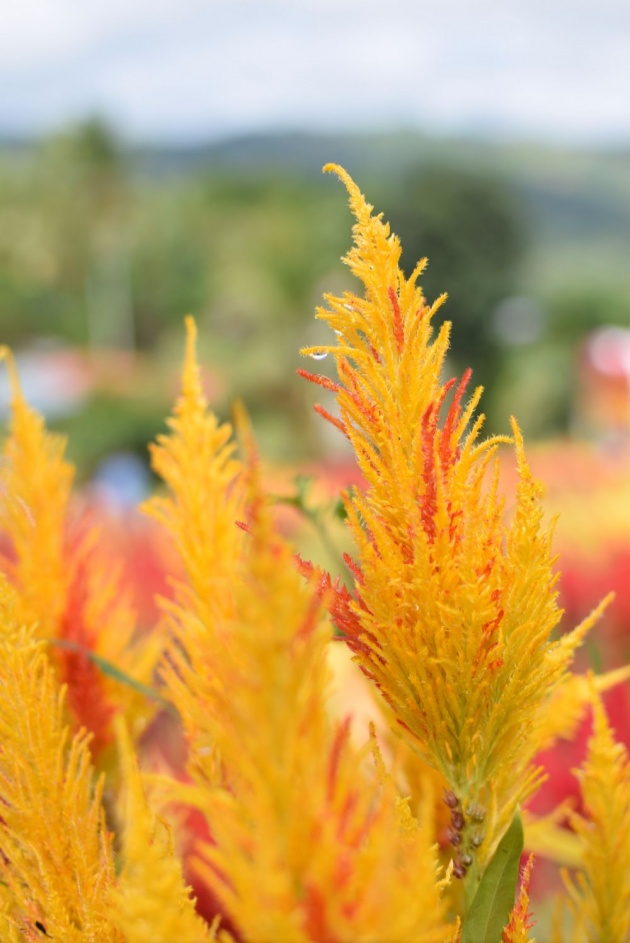 Well, to our disappointment, there were still people there but only a few heads and gladly, there were Celosias too! As per the local, these flowers were already harvested and were sold in the city. But there were still a few left and they were still good for photographs. Plus, there's an overlooking view over that mountain which my husband and I both really love.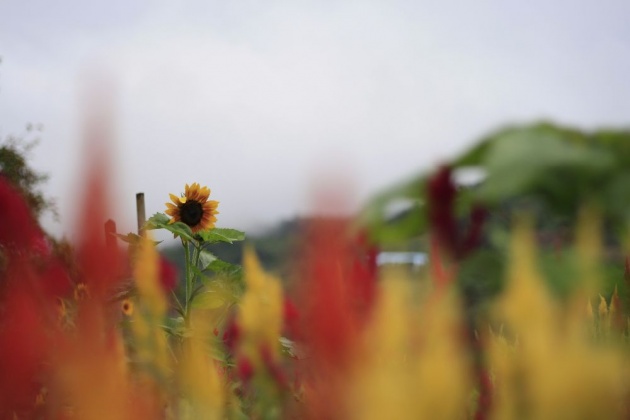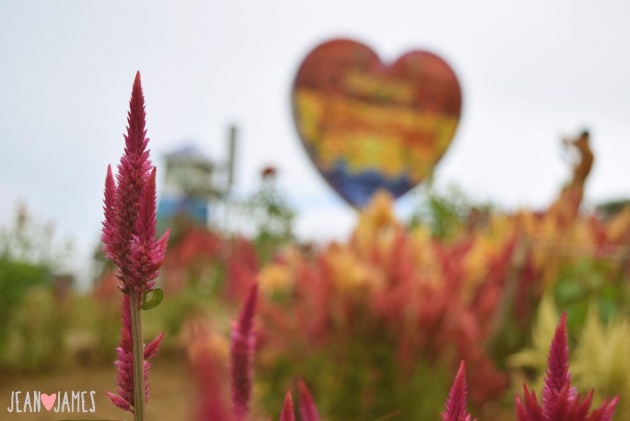 We thought it would be a great spot to watch the sunset or sunrise. Both of us were confused now if the sun can be seen from here on a sunrise or sunset. But anyway, it would be a perfect spot to watch the mighty sun for a romantic start or en of a day.
If you are wondering, yes we were able to take photos but it was already a bit dark so quality wise, that was not the best so we told ourselves we will be coming back in the future.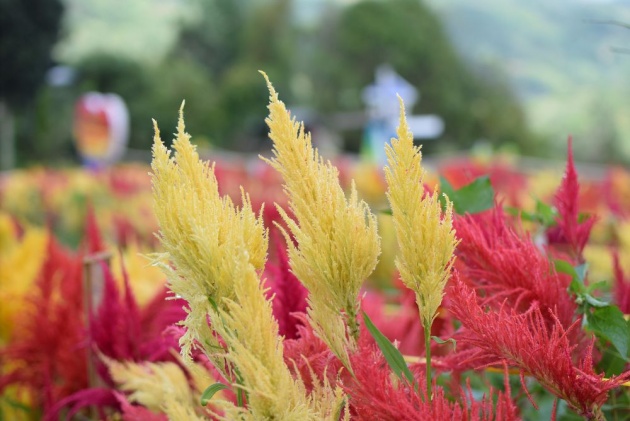 The promise we made was finally realized when we went there again in February before the hearts day came. It was a fine day but then on our way towards Sirao, it kinda rain, it was an off and on rain but we still pursued our plan and went there with our trusty motorcycle. Thanks to her, we can go freely to our destinations.
It was very early morning that we went there so we can catch the morning dew on the flowers. However, it seems like we are just unlucky in terms of the timing because although there were very few people around, it was also raining which made it hard for us to take photos.
A lot of things had changed in the area. There were already structures which somehow mimic the Netherlands. There were sunflowers, a certain garden showing off Sirao Garden has been planted and there were strings to protect the flowers which I believe really had helped to preserve the beauty of the Celosia flowers.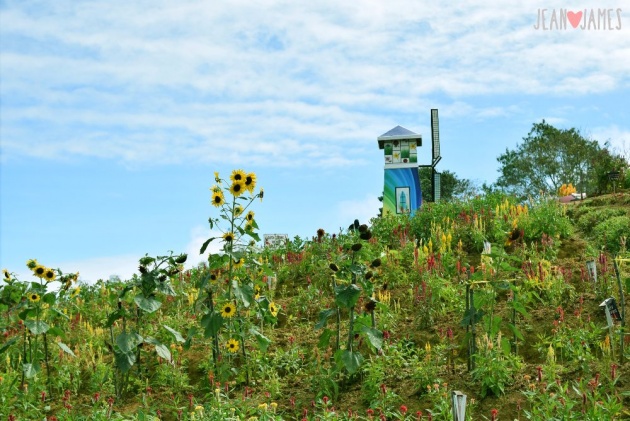 We were still lucky that before we left, the sun had finally showed itself and we got to take photographs of the flowers with clear blue skies just like the photo above.
Flowers are indeed natural mood uplifter. We can't help but get happy when we take photos of these flowers. Everyone in there are smiling and happy with taking photographs or selfies with the flowers.
By the way, the entrance fee this time had increased from Php 20, it is now at Php 30. We definitely understand it because of the improvements now that has been done to the garden. This time around, there are already benches, tents and places to dine in. There are still vendors outside but chairs are not provided. When inside, you can go into the tents and borrow umbrellas and hats for free. However, if one want to have a Netherlands costume, one has to pay for the rent.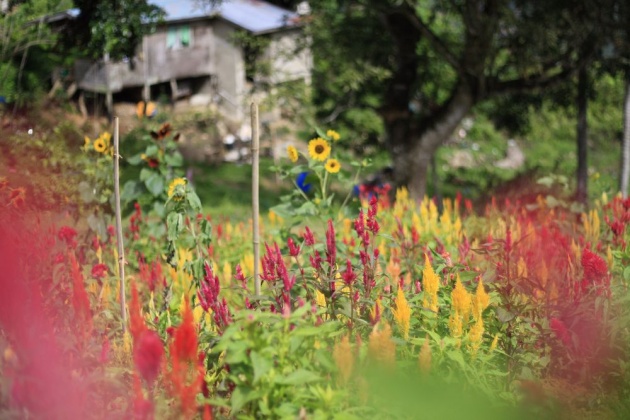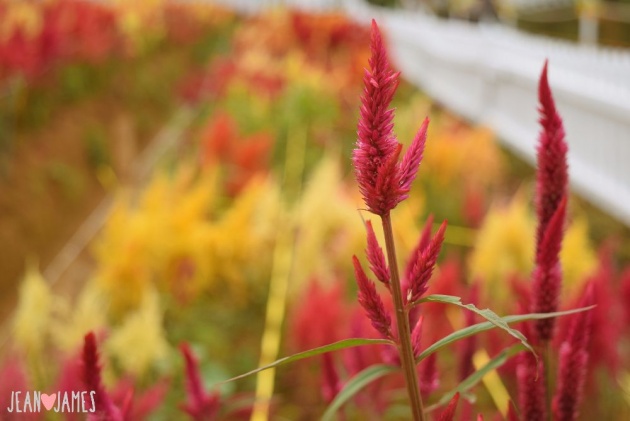 Celosia Flower's peak season as per the locals will be on October so my husband and I are now planning that we will come back during the peak season. We'll be coming over early morning so that we can witness its beauty when there's no other people around.
Copyright Jean Beltran-Figues.
All rights reserved.