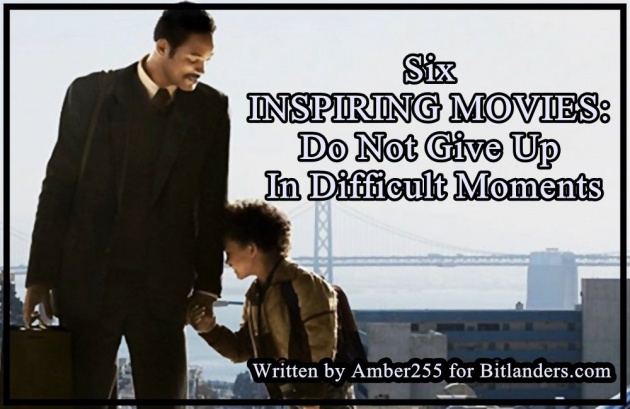 Six Inspiring Movies: Do Not Give Up In Difficult Moments - Photo credit: felicidad-movie.blogspot.com, Edition by Amber255 via Bitlanders.com
Life sometimes presents not the most pleasant surprises and challenges. Starting everything up again is not easy, but giving up is not an option. I hope these films will inspire you not to give up and move forward, whatever happens.
Often, inspiration is stimulated with the following tips: read this book or article, use this methodology, set a goal, visualize it, persevere, etc. Or watch the movie about people who show how strong they are in the most challenging situations. Such movies change us. They change our viewpoints, our values, our perception of what is true suffering.
Watch the inspiring movie if you are ready to mourn again how hard is your life or how fate is unfair to you. May then you understand how small are your problems, may it will give you strength to fight for your goals.
Do you know good inspiring movies that could help those who are experiencing difficult moments? Share them in the comments!
ERIN BROCKOVICH, 2000
ERIN BROCKOVICH is a thrilling, cheerful story based on real events about a bold woman played by one of the most famous actors Julia Roberts who got Oscar for her role in this film.
The charming woman divorces after 10 years of marriage. Three children require her caring, so a woman faces special challenges. Life turns upside down, and it completely changes Erin. She is stubborn, sexy, intelligent, brave, impressively dressed and surprising surrounding by her openness, doing something in a different way, not like as all others, but charming, astonishing, sincere, loving, determined to change everything for children and for herself.
And she wins, reaching what is impossible. Without money, without work, without any prospects, when life really looks having no sense, she suddenly remembers the familiar lawyer Ed Masry (Albert Finney) and asks a possibility to work as a secretary in his little-known law firm.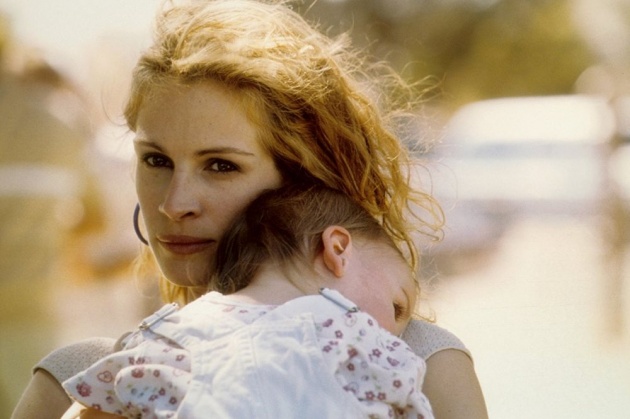 ERIN BROCKOVICH - Photo credit: imdb.com
An obscure and suspicious case comes into the hands of a curious woman. Erin begins alone to investigate a vague story, persuading Ed to not interfere it. It turns out that a solid company, Pacific Gas & Electric that supplies people with poisoned drinking water, has become entangled in that story. Erin decides to look more seriously at the evidence, especially when there are friends who agree to help.
She collects more than 600 complaints from residents and wins the trial. This case is considered to be the biggest victory in the courtroom of all time - one of the richest companies is forced to pay 333 million dollar check. Erin herself gets a fantastic 2 million dollars check.
As Erin Brockovich, Julia Roberts has finally found the role uniquely suited to her enormous talents and she blazes forth more brightly than she has ever done before.

Credit: imdb.com
ERIN BROCKOVICH is the story presenting the life of a strong and weak woman as one person. Due to the circumstances, the simple female weaknesses are an unacceptable luxury for Erin. Perhaps it is not at all genius, but perseverance and indifference to others allow her to achieve seemingly inaccessible things - to overcome, to defeat a huge corporation that literally poison people. It is suggested to watch this movie when you are about to give up - it is very inspiring.
A film about the limitless possibilities of every human being and the sweet taste of victory, because whenever you seem to help others, you actually help yourself.
Erin Brockovich, Trailer - Video credit: Dagbladet via Youtube.com
THE PURSUIT OF HAPPINESS, 2006
THE PURSUIT OF HAPPINESS - it is a sad, challenging, and based on real events drama, which united two talents from different parts of the world: the famous Italian director Gabriele Muccino who decided to create a movie in English for the first time, and actor-singer Will Smith, mostly engaged in comic roles, after a long break decided to give up on commerce and show his love for a serious cinema.
The movie is based on Chris Gardner's memoirs, in which he remembers the most difficult period of life and the hollow way to success, which is similar to a beautiful fairytale or just the fulfillment of an American dream.
For a talented and gifted afro-American, destiny sends a ruthless test. He loses his work due to misunderstandings and unforeseen circumstances. Christopher Gardner appears on the street and has to experience homeless fate. A man who has been refused by his wife must, together with his son, survive from the child care allowance. In every possible way, he tries to ensure the better future for the little one.
THE PURSUIT OF HAPPINESS - Photo credit: imdb.com
They both go from one homeless shelter to another; they enter the queue for free soup, desperately seek shelter, and take their shower in the train station's toilet. Poverty and deprivation do not undermine Christopher's desire to become a broker until his efforts finally come to an end by getting an attractive proposal. A stubborn and indifferent man works as a student assistant in a small company but soon begins to climb the career ladder from the lowest level. The fortune smiles to Christopher - he opens his own Gardner Rich & Co and realizes his dream.
Christopher Gardner is an almost unknown personality to many people, so future drama spectators should know that this is not just a biographical film, but also an exciting story about the triumph of the human soul. It is an instructive story man who has grown up in a poor family and who has made an impressive career in Wall Street, with his own stubbornness and incredible will.
If you ever wanted to see a movie that portrayed what really makes a man, then you must see this movie.

Credit: imdb.com
The entrepreneur's life story was made public on the ABC TV show in 2005 and instantly became a sensation of press releases. Sony film studio found it interesting too. This sensual "feel good" film rises an extra interest, as the actor and producer Will Smith, for the first time, decided to play with the 7-year-old son Jade, whose debut is worthy of the most sincere applause.
THE PURSUIT OF HAPPINESS is a very warm film about a father's responsibility to the son and his attempts to get out of life on the street.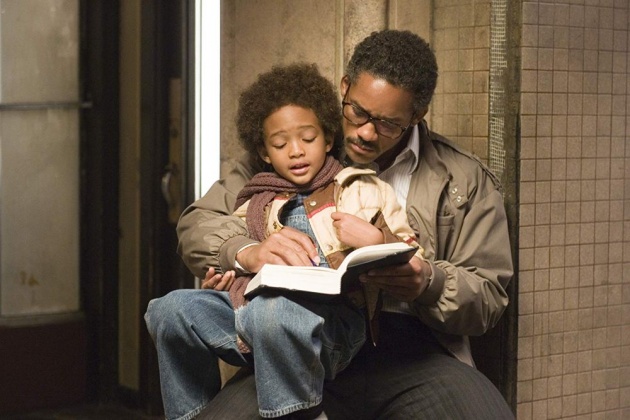 The inspiring movie THE PURSUIT OF HAPPINESS - Photo credit: prolodo.blogspot.com
SLIDING DOORS, 1998
SLIDING DOORS - two variable stories about a young English woman Helen, whose fate changes dramatically depending on whether she will get on the train at a time or not.
Goodheart Helen (Gwyneth Paltrow) from morning to evening is at work. She has to care not only about herself, but also support her boyfriend, the lame writer Jerry. This man, which cannot finish his only book, cheats Helen with her lover Lidia. And on one beautiful day, Helen is dismissed from her work. The worried girl descends to the subway station and rushes to the stopped train.
What if? What if she misses the train? What if she left on time? Can life change from that? In the film, you know, can happen anything - the action of the film is like double.
If Helen is able to jump into the train in the last second, she will return home and find her boyfriend in bed with his lover, gets angry, and starts to change herself and her environment: she paints her hair, rents the premises, and starts a new business.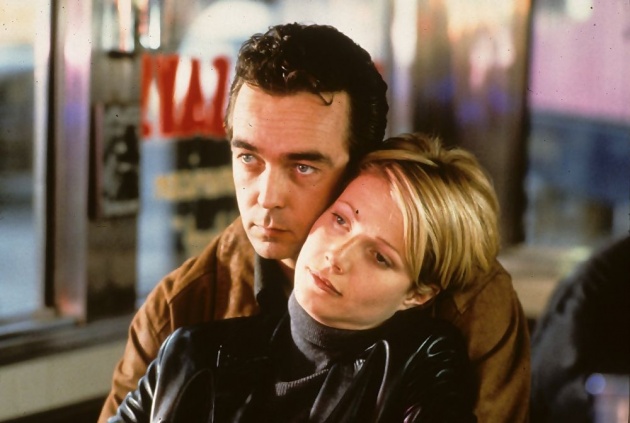 SLIDING DOORS - Photo credit: twitter.com
If the train door closes right in front of the nose - she will not find the lover at home and will not get to know about her boyfriend's infidelity for a long time. Unhappy because of work loss, Helen lacks the determination to change her life. She is being harassed by failures, and she has nothing done for it.
Which option is better?
After Helen's variants of fate develop separately, each according to her inner logic of events, but at the same time, they crosses and interacts.
Throughout the film, the viewer periodically sees sliding doors in different places - as the author's symbol of the possibility of several scenarios. Awesome acting and philosophical approach to the situation makes the film soft and unobtrusive. To each person often comes the question What if? The film tries to answer this question.
An unusual structure of the film explores the surprises of fate, the ramifications of destiny, the roads we can go or not go. In short, it shows the very sliding doors that can one day open to us and can remain closed forever.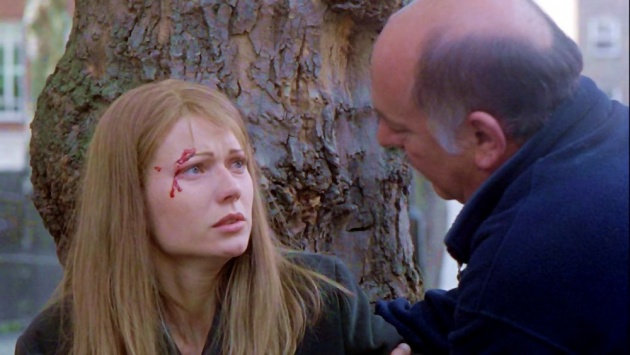 Inspiring movie SLIDING DOORS - Photo credit: imdb.com
MY SISTER'S KEEPER, 2009
MY SISTER'S KEEPER - a story about the family, distracted by conflicting needs, about love that triumphs against human weakness.
Anna (Abigail Breslin) is healthy, but she doesn't feel that way. She is only thirteen, but she has suffered countless surgeries, blood transfusions, and injections. Anna's sister Kate (Sofia Vassilieva) has a particularly rare and aggressive form of leukemia. The chances of recovery are minimal. In order to preserve her life, the parents decided to get an identical donor, Anna, with artificial insemination.
Since childhood, the girl knows the purpose of her life and the answer to why she was born. The everyday reality of the family is inevitable - as soon as Kate gets worse, all family members go to the hospital to fight for her life. Due to its unique genetic characteristics, only Anna can save her sister Kate.
Thirteen-year-old Ana begins to realize that her life is wrong. She loves a sister very much, but like everybody, she wants a normal life, and she should not sacrifice her friends' birthdays, summer camps, or become an athlete, finally her own health for her sister Kate's illness.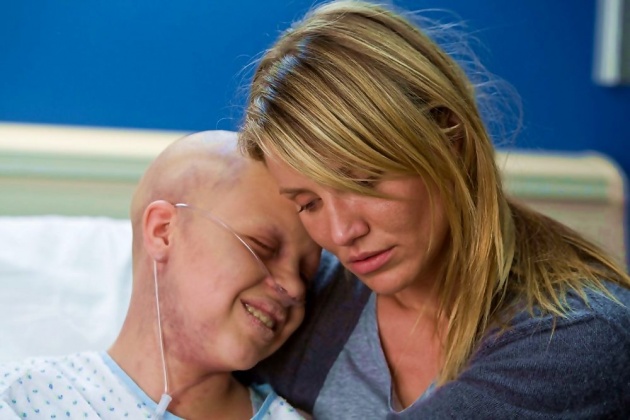 MY SISTER'S KEEPER - Photo credit: topsimages.com
She decides she wants to become medically independent of her parents, so she finds a lawyer and brings her parents to court for her medical release. The teenager finds herself in a situation where there is no way out. Whichever way she chooses, it is painless. To sacrifice herself for a loved sister or to fight for her own right to life?
A shocking, engaging, and dramatic story, from the first second of the movie, it attracts to the screen. I have first read the book, and it shocked me. The film shocks also. The authors of the film are very subtle and talented about the painful family theme.
What's more important - to save dying daughter by drastic means, or to let another daughter live life without sufferings and pains, giving her the chance to live the life she wants? What does it mean being good parents, a good sister, a good man? Is it right to do everything to save a child's life, even though it violates another's human rights? Is it worth trying to understand who you are if these efforts lead to conflict with yourself? Listen to your heart's voice or other advice?
It's a real story showing how one person's pain becomes a pain for the whole family. The struggle for life, the sacrifice - everything that many families survive when are fighting dangerous diseases. You will not regret watching this exciting drama.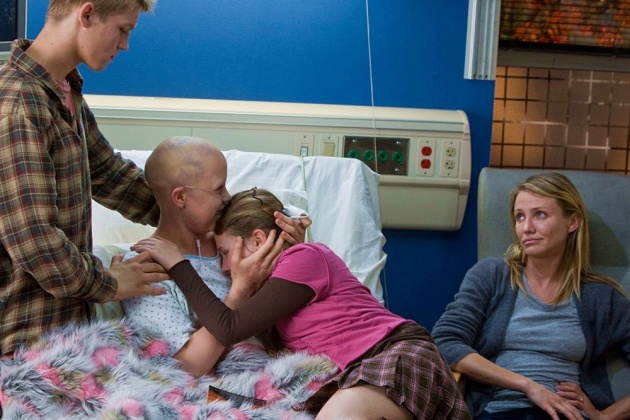 MY SISTER'S KEEPER - Photo credit: imdb.com
INTOUCHABLES, 2011
THE INTOUCHABLES reached all the record highs in the homeland, and Omar Sy, an unknown actor on the big screen of the cinema, earned a French Oscar - Caesar statue; the film itself was nominated for another 8 statues.
Millionaire Philip was injured in flying the paragliding and became dependant on others. Drisi, a young immigrant, has just been finishing a prison sentence for minor theft and is looking for a new adventure. The destinies of two different men will be intertwined for life, which each one understands in own way.
From the neck to the leg paralyzed aristocrat hires a cheerful Parisian suburban guy who is totally unsuitable for being a personal nurse. Attached to the wheelchair, Philip and his energetic helper Driss change Vivaldi's symphonies - to hip-hop melodies, paintings -to a car race with police on the streets of Paris, polite communication - to obscene cursing, luxurious suits - to sports pants.
The center of the film depicts the lives of two persons, completely different by their life-view and values, whose fate brings together. They will pass fire and water till they harden for the sincere, unique, harmonious friendship that continues to this day.
THE INTOUCHABLES is based on real facts, a real story. The simple life of a disabled person is presented in such a way to give hope to a person in a similar situation to live. It is all about the human soul, giving both the positive and the sad energy to the viewer, which is transformed into an optimistic reflection on the goals of life.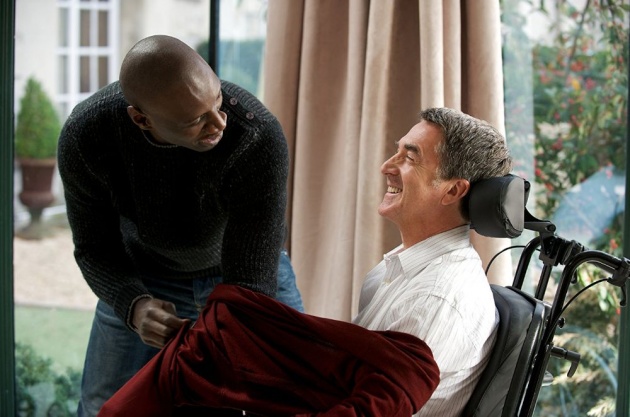 The film based on true story THE INTOUCHABLES - Photo credit: imdb.com
THE DIVING BELL AND THE BUTTERFLY, 2007
THE DIVING BELL AND THE BUTTERFLY is a small cinematic miracle based on a true story. In1995 December 8, Jean-Dominique Bauby, editor of the fashion magazine Elle, suffered a stroke and was completely paralyzed. The 43-year-old man, who had lived a fun life, could only move his left eye. One flash meant yes, two flashes - no. But a wide imagination, unbreakable mind, a specific sense of humor and unremitting memory work at full capacity. The man became locked in his body when all the physical functions were interrupted, but the mental abilities remained unchanged. Using a physiotherapist-generated communication code, Bauby managed to create lyric and heart-shaped memoirs.
Actor Mathieu Amalric played the main character who is completely imprisoned in his body.
The film gives the viewer an opportunity to empathize with the situation and suffering of the disabled person and hearing the thought of the main character to become a witness of his new and risky existence. Initially, such life and the future associated with it are completely rejected, but later he reconciles with an unusual and incredible reality.
The film reveals the versatile Bauby relationship with his family, doctors, priest, colleagues, emphasizing that human life can overcome most extreme situations.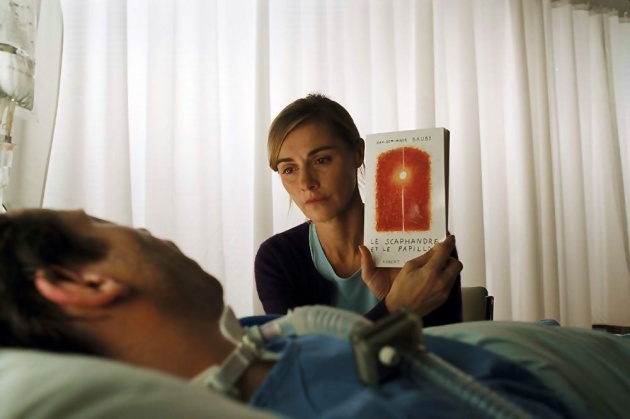 The film based on true story THE DIVING BELL AND THE BUTTERFLY - Photo credit: topsimages.com
It will not only make you feel empathy and compassion, but it will force everyone to take a fresh look at his life. And after watching it, if you are healthy, or at least a relatively healthy person, and you have understood everything correctly, then you just do not dare to moan about how the fate is unfair to you. After all, not in vain it is said that we get only what we can overcome. Another question, do we want to master it?
Of course, the film is not easy to watch, but it is very instructive, and I am happy that the main character has found the strength to learn this lesson. Well, of course, we can say, but what else could he do? But why are we healthy, adequate people with arms and legs, crying and weeping? And this egoism or just blindness, well, it doesn' t leave us.
Realizing how his life had been less than exemplary, his stroke becomes an opportunity for redemption and allows him, if not to cleanse his soul, to discover that humanity lies in his consciousness not in material things or sexuality.

Credit: imdb.com
Our tongue is not lazy to ask Heaven for apartments and large sums of money, but for some reason, we almost never ask for Wisdom, and so often we forget to thank for what we have already been given.
In general, so simple, but so difficult. Just watch this movie; it is worth it as it is useful for all complaining humans. You will surely not forget it even after a couple of weeks.
The Diving Bell and the Butterfly, Official Trailer - Video credit: oldhollywoodtrailers via Youtube.com
On The Final Note
The movie can work as a depressant. When your mood is poor, and you have heavy thoughts, try to escape from them by watching movies. Especially inspiring movies based on true stories.
I always loved movies created by true facts. And I can rewatch them many times. They inspire me; they give hope for better; they do not let me give up.
Inspiration, persistence is always within us. In other words, our reaction to external events or circumstances determines our further choices. Just sometimes we need to wake the inspiration, and here the inspiring movies can help us. It can be a strong incentive to move forward.
However, if we will not take actions, inspiration disappears quickly. So, don't forget - in order to achieve something, we need to strongly embrace our inspiration and start acting.
Today I choose life. Every morning when I wake up I can choose joy, happiness, negativity, pain... To feel the freedom that comes from being able to continue to make mistakes and choices - today I choose to feel life, not to deny my humanity but embrace it. - Kevyn Aucoin

Credit: brainyquote.com
Enjoy watching!
**************************************************************************************************
Thank you for stopping by and reading my blog.
2018, All Rights Reserved.
You are very welcome to join Bitlanders and share your valuable knowledge and opinion.
**************************************************************************************************