Americans love to indulge in the spooky festivities of October every year and when Halloween arrives, there is just as much sexy as there is spooky. Halloween dress-up allows for the nation's adults to throw the rules for daily attire out the window. This includes modesty for women. It is the one day out of the year where your best friend can wear a dryer sheet and say she's a sexy ghost, and you're not obligated to lecture her on how she is more than half-naked. However, it is apparent that once Halloween is here in full-force, there comes the annual eye-roll at the sight of scantily-clad costumes from many women, and men too.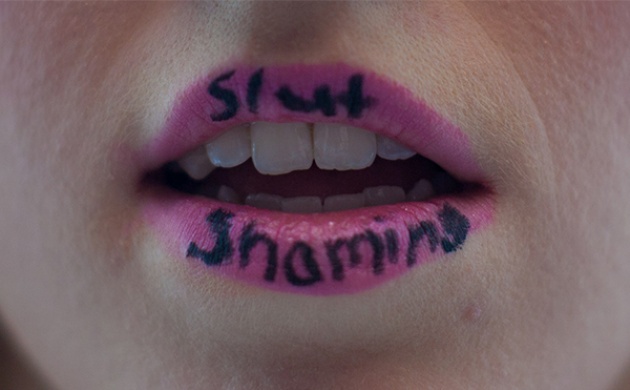 I was meandering a Halloween store when I caught a bit of a young woman's conversation with her friend. "I don't want a sexy costume because I'm not a slut and I don't plan on being a whore for the night," she loudly exclaimed in a sneering tone. This sentiment was rather off-putting. In one sentence, this lady made an assumption about many female Halloween shoppers and also slut-shamed millions of women. Slut-shaming the act of shaming or ridiculing someone for their (supposed) promiscuity or making them feel inferior for certain behavior that deviates from traditional gender expectations.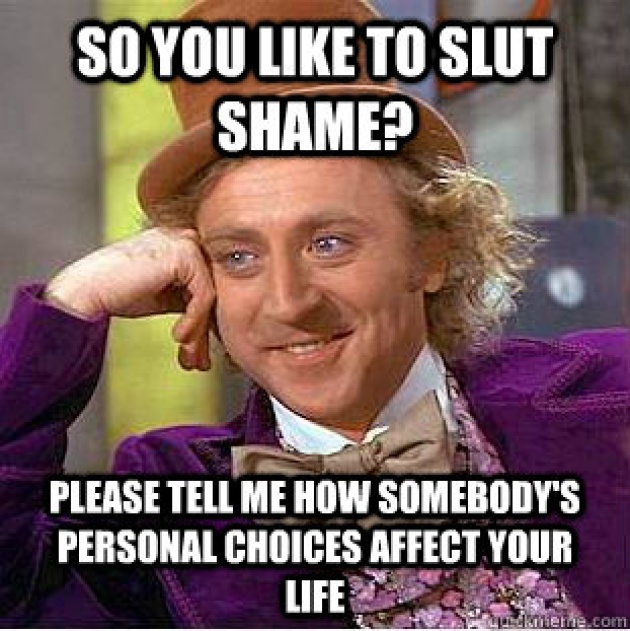 Now, slut-shame is not a new hot topic. If anything, there's quite the fatigue with this on-going headliner. (But it should certainly not be put to rest.) Last year, two teens, Felicia Garcia and Amanda Todd were endlessly bullied and slut-shamed which lead them to commit suicide. This sparked an epidemic of internet blogs, vblogs, and articles on the apparent slut-shaming issue, shedding light on the fact that it is an ignorant misconception that because a girl is dressed a certain way, she is to take fault for any possible molestation. There is the notion that because a girl is wearing a short skirt or revealing cleavage that she is asking to be seen as an object or be taken advantage of. Internet propaganda trying to correct society's flawed idea- photographed rally signs, memes, and designs that read things like "Things that cause rape: rapists." - have been circulating social media platforms to bring attention to rape culture, problems with gender expectations, and bullying. (And may I add that this is not to be perceived as a a "feminist rant", this is a blog about the relevant and apparent slut-shaming issue in correlation to Halloween and recent headlines in pop-culture.) The attention that social media has brought to slut-shame has made this topic much more mainstream. It has been a heated on-going discussion. Why would you assume that because a woman is wearing revealing clothing on Halloween that she must have plans on being a "whore for the night"? Many women will take advantage of the fun holiday to dress-up in ways that express their sexuality. That is a woman's choice and ridiculing her for it is just ridiculous. Are we really going to assume a female the title of "slut" if she is going to pull a naughty nurse costume off the shelf? Never mind that there seems to be no media attention on the boldly violent costume selections for young boys because dressing up as murderous blood-splattered villains is just fine but a busty mermaid is a problem.
To insinuate that a female is a "good girl" with good morals because she is not wearing a "sexy costume", and that only females with loose morals wear sexy costumes simply perpetuates the old-school whore/virgin dichotomy, which discourages women from embracing their sexuality. Furthermore, is it not absolutely absurd to assume you know a stranger's personality and morals solely on what they wore on a holiday where you are allowed to dress up as whatever you'd like? Enough to shame and criticize them?
Undeniably, this goes beyond Halloween. Though it is more than old news, people are still slut-shaming Miley Cyrus for provocatively dancing in latex lingerie at the MTV Music Video Awards. The New York Times recently published an intriguing article with insight on the "The Pro-Miley Backlash". The article states that some may say she is "a victim of our society's puritanical, even hypocritical attitude toward sex and nudity." This is not to defend Miley Cyrus as a valid role model or support that she should prostitute herself to pop-culture, but just to state that she is a liberated woman capable of making her own decisions and condemning her with the assumption that she has loose morals is completely unnecessary.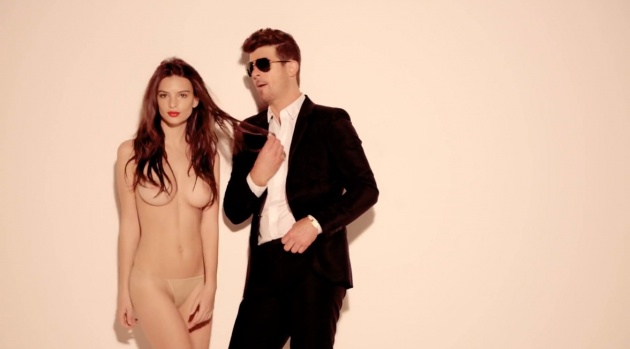 There is also the controversial unrated Blurred Lines music video that has received blunt public heat all summer long. Because the models dancing (and never dancing sexually) are in the nude bearing all their curves, the models and video have been ridiculed all over the internet. Without diving too much into a whole other discussion, I have to mention a great blog that breaks down the feminist criticism of the music video provoking slut shaming, which Polemique defends that it doesn't in "Blurring the Lines of Feminism: A Criticism of the Criticism of 'Blurred Lines'". The blog also makes mention of the aggravating whore/virgin dichotomy problem by citing Taylor Swift lyrics. Swift insinuates in one of her songs that if a girl wears short skirts and high heels she is inferior to a girl who wears sneakers, asserting that a girl who dresses like that is less likely to be girlfriend material, and therefore slut-shaming. What kind of message are you sending, Miss Swift? Interesting thoughts, Polemique!
Slowly, more and more of modern society are starting to discard traditional gender expectations and thankfully, year after year, much of the media stands up against slut-shame. It's just a matter of time that we can get everyone to think more openly and be careful with their words and actions. We as humans have the right to judge, but to attack, criticize, or chastise someone for their own decision on how to portray their sexuality? That's poor taste and doesn't make you better than anyone. -@NaomiChristie
Watch "Rose Et Bleu" and More of filmmaker Naomi Christies work.