Laura Hutton, who worked for Alex Nakone Films, moves onto to new ventures. In the short eight weeks which Laura took this role she showed me (and all of us) that she is some talent! She will be missed and I wish her well. This is her final blog.
I was having a read of some of the great blog posts in the Annex Press (http://www.filmannex.com/posts/articles) and came across an article called One Thousand and One Stories with Fereshteh ( http://www.filmannex.com/posts/blog_show_post/one-thousand-and-one-stories-with-fereshteh/66324) by Fereshteh Forough. As someone who doesn't know much about Afghanistan, I found it to be a great read which gave me a brief insight into the country.
Fereshteh explained that many years ago, 'education was not really affordable by many Afghans' which lead to people having to memorise everything. She says that 'this memorisation gave people a good way of communication and that was storytelling'. She explained one of her favourite childhood books 'One Thousand and One Nights' and went on to say that she would like to create her own called 'One Thousand and One Women Around the World'. I think that this is a wonderful initiative; Fereshteh also encouraged women to be bold and stand for their rights and life. I wanted to blog about this to further get the message out there, not just for Fereshteh, but also to encourage storytelling as a whole.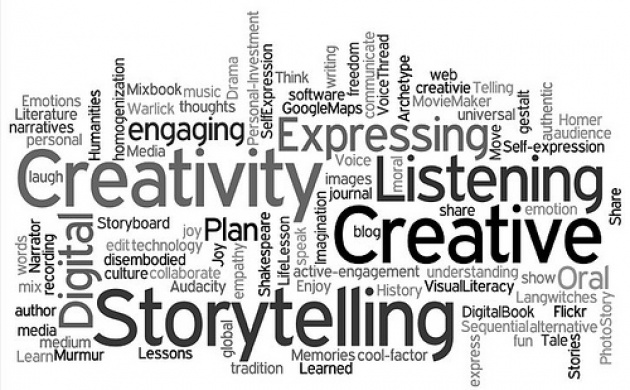 Source: http://kristishaw.wikispaces.com/Digital+Storytelling
As I have mentioned before in blogs, filmmaking truly is a means of storytelling. Some of our strengths lie in writing a story, whereas others, such as the many filmmakers on Film Annex share their stories through film. Projects such as Women's Annex (http://womensannex.com/) have allowed the women and children in Afghanistan a chance to tell their story in providing them with computers and internet. It is now their choice whether they tell it, as well as whether they tell it through social media, writing or film making, but the greatest part of it all is that they are being encouraged to tell it.
Initiatives such as 'One Thousand and One Women Around the World' are truly paving the future in empowering women. As a young woman entering the workforce, I am so pleased to see this happening in the world, and encourage other women to tell their stories. I think my strengths lie in written communication, but I'm sure many readers on here are filmmakers or in other roles in the film industry. I am wondering, how do you tell your story and express yourself? Thankfully, for me as an Australian, blogging and distribution sites such as Film Annex are very accessible. This is not the case for everyone in the world though unfortunately. I would love also love to hear why your preferred method of 'telling your story' is your chosen method?
Thank you again to Fereshteh for the inspiration, and any women who are reading this and wish to share their story, they can be emailed to Fereshteh at story.nights1001@gmail.com.
** If you have enjoyed what you have read today and would like to share with your social networks, please refer to the various buttons above the title of the blog. These allow you to share on most major social media sites, and we would love to continue the conversation with a wider audience.
--------------------------------------------------------------------------------------------------------
This blog was written by Laura Hutton – Communications Coordinator for Alex Nakone Films. Laura's LinkedIn profile can be found here. http://www.linkedin.com/pub/laura-hutton/35/a88/720