As anticipated, Day 2 was just as crazy.
We started the day out at the convention center, again, to get our SXXpress passes. We knew we had a really tight schedule ahead of us and couldn't afford to lose much time standing in lines. Unfortunately, we got there a little later than anticipated and cut it way too close to the first screening we planned on going to, so we had to reserve that film for later in the festival if we had time. The first day, there was NOBODY at the Express booth, so we thought "piece of cake" -- turns out, day 2, we waited like an hour. But, like I said, totally worth it.
So, since we missed our first screening, we had a little down time in the convention center before our first event. I finished up some work, wrote yesterday's blog and did some general catch up on stuff we had put on the back burner in light of the festival. At lunchtime, we headed to the Subway park (yep, that's a thing) and got free Subway pizza. It was mediocre, but free, so how could we pass it up? We then immediately went to wait in line for "A Conversation With Jason Bateman."
To tell you the truth, I wasn't expecting much. I knew he was there promoting his new movie, "Bad Words" which had screened the night before. I had chosen to support local indie film and saw "Thank You A Lot" instead, so I was kind of like "well, I probably won't be too interested in much of this session, but it'll be cool to see a comedic actor that I admire." Well, I got a lot more out of it than I expected. First of all, his "conversation" was with Jeffrey Tambor, so we got to sit in a room and watch the two of them riff off of each other which was just hilarious. Bateman did talk about his new movie for a bit, but what I didn't know was that this was his directorial debut. What I found really interesting and helpful about this session was Bateman discussing what it was like to be the lead in a film that he directed and what challenges he faced with that -- especially since it was his first movie to direct ever. As you may know, I am an actress turned director/filmmaker, so this conversation was so interesting for me. I generally shy away from acting in the stuff I direct and produce, but Bateman seemed really into it. It was also nice to know that he did ask other people to play his part before he even considered playing the role himself and that he had to be encouraged to do both. The Q&A portion of the session brought a couple of nice surprises: we got to talk a little bit about the Bluths (That's Why You Always Leave a Note is Bateman's favorite Arrested Development episode) and they even did a little bit of the chicken dance for us! I have video of that, but I'm using it for a Seed & Spark "thank you" video, so I don't want to upload it to the net just yet. So, here's a picture to tide you over: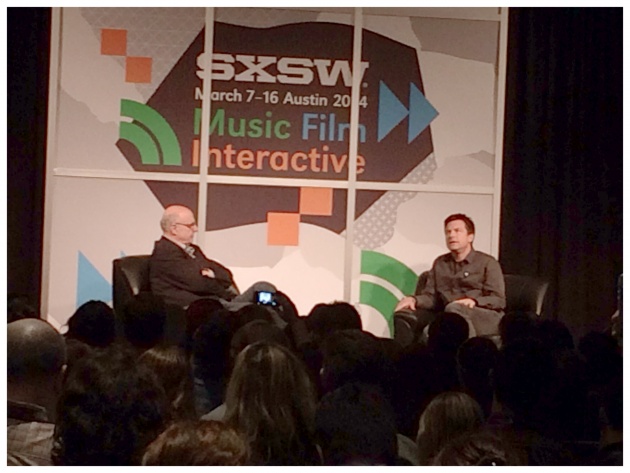 Following the Bateman session, we headed back over to free drink land where we got our daily free Deep Eddy's drink (seriously, I LOVE how much Texas pride this festival has) where we met a fellow Austin filmmaker and got to chatting with him a bit. Turns out, his wife and Duncan have networked via Twitter and she had even already donated to our Seed & Spark campaign! It was way cool to get to talk a little bit about what its like to make movies here in town (so many people attending SXSW are out of towners) and we agreed that we should all meet up and have another conversation about working together. That was really fun and exciting.
Once we finished our drinks, we headed over to the Vimeo Theatre to see Robert Rodriguez's pilot for his new From Dusk Till Dawn series. Rodriguez recently acquired his own cable television station which he named "El Rey" and to kick off the network, he is re-booting his and Tarantino's cult classic "From Dusk Till Dawn" as a TV series. I'm not just saying this because I'm a Rodriguez fan -- it was really good. I even auditioned for one of the roles that showed up in this pilot episode, and I didn't even fall into that dangerous "would it have been better if I had gotten the role" place because I just loved it. It was fast paced, interesting, dynamic and so totally Rodriguez. The thing I love most about Robert Rodriguez is his "do it yourself" mentality. Every time I've heard him speak, he's always preaching "you can't walk through somebody else's door, you have to open your own." This is something we've carried with us throughout the inception of TurtleDove Films. You can't wait for someone else to tell you you're good enough. Get off your ass and do what you want to do. If its good, people will talk. You will make it. This is only the beginning. All of that stuff. That's what Rodriguez is all about and why I admire him so much. Since I admire him so much, I dragged Duncan down to the stage after the Q&A was over to introduce myself to him. Being an Austinite, I've seen him on panels, at festivals, etc, etc several times, but never wanted to bother him. But you know, after both the Bateman session and the Rodriguez Q&A (both which basically encouraged us filmmakers to be assertive and go for what you want) I just said "screw it" and went down there to shake his hand. This is (verbatim) how it went down:
Me: Hi Robert, I'm an aspiring director, so its really inspiring to hear you speak.
RR: Keep at it, we need more female directors.
So. Yeah. That was awesome. Bonus: here's a picture of us: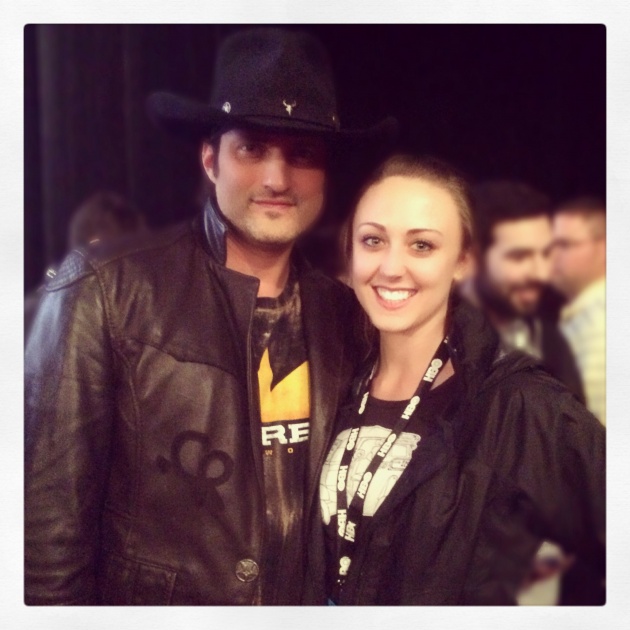 As if our day hadn't been already super fun and inspiring, we headed out of South By territory to a screening of one of our own films. We were booked to open the first "Stomin' Grounds Film Festival" an alternative South By South West Fest. We didn't submit to South By this year, so it was a fun surprise to get to screen during this time anyway. We showed our film, "The Catch" (https://vimeo.com/80720328) which was perfect for the grungy bar setting. We were happy with the turn out and got to spread the TurtleDove word a little further.
You thought I was done, didn't you. HA. Yeah, so immediately following our screening, we trucked our asses back downtown in the pouring rain to see the world premiere of our friend, Charles Rogers', feature film called "Fort Tilden." It was one of the 8 films in the Narrative Competition, and let me tell you, there is a reason. It was witty, original, fun and well produced. Let's just say that its really nice when you don't have to lie to your friend about their work being good. Because it was. Really really good. Big congratulations to Charles and the crew: crossing our fingers you guys get distribution out of this!
We ended the night at a private Fort Tilden after party where we got to congratulate our friends, meet some of the cast and crew we hadn't met before and just relax a little. It was super fun and although we didn't get home until 2am, it was well worth it.
That being said, our late night combined with the time change definitely lead to us skipping a couple of things this morning we had been planning on seeing. We still have plenty to do, however. On the docket for today: two panels lead by Dana Brunetti, one of Duncan's favorite people in the industry, a screening (Obvious Child) and a SXComedy party where we may just get to mingle with some UCB people. Stay tuned! xoxo.