The Bitlanders film series to support women empowerment: ENCHANTED
Photo credit: io9.gizmodo.com Edition by Amber255 via Bitlanders.com
We, being young girls, always dreamed of having a magic wand, beautiful lush dresses, marrying a pretty and brave prince, going to the ball, staying forever young or immortal. Sometimes we want to remember those children's days that are filled with simple childish dreams, clever naivety, and true magic. Watching Disney film ENCHANTING, you can enter this magic world of your childish dreams. I always loved old good fairy tales. And the old good fairy tales on a new system cause somewhere in the depths of the heart trembling expectation of some sort of magic - the feeling from childhood, almost lost in such boring and rational adult life.
If you want to do something well, do it yourself. So, Disney Studios, looking at the inept attempts of competitors, have no other choice but to make a good parody of their own classics on their own. In fact, the musical comedy ENCHANTED is exactly what implicitly lacked in the image of Disney to acquire a human face: after all, self-irony is a clear sign of the mind and soul, not just the presence of business savvy.
Snobs will hate it because of its happily ever after ending. Everyone else will love it for the exact same reason. After all, a little fantasy never hurt anyone. - Matthew Pejkovic

Credit: rottentomatoes.com
ENCHANTED is a colorful cocktail of comedy, musical, animation, and melodrama. And yet - this is a fairy tale and that kind, childishly naive magic, in which in the depths of the soul are ready to believe even the most zealous cynics.
Walt Disney Studios has prepared for ENCHANTED (2007) filmed by Kevin Lima for almost 6 years. Being monopolists for good fairy tales throughout the past century, the Disney people have long been accustomed to the idea that now, in our XXI, even fairy tales must be cynical and ironic, like Shrek. However, they understood and issued a peculiar parody of their own classical history written by Bill Kelly. Director of 102 Dalmatians Kevin Lima has worked for Disney for 20 years. There is nothing surprising that he saw the obvious: the classic Disney played out, it was time to laugh at ourselves.
ENCHANTED - family movie from the cycle of Disney films about the witches and sorcerers, fairy tales for children and adults. Yes, we have a virtuoso self-parody, and the degree of sarcasm is increased consciously: the characters who fall into the real world from the classic fairy tale, are interesting and more relief. Talking chipmunks, wicked witches, dragons and, of course, love! ENCHANTED is a genres mix for children and adults!
Enchanted - Official Trailer -
Video credit:
Kevin_Lima
via Bitlanders.com
It's strange that nobody thought of filming such a movie before. At least, I did not find anything similar. It is important that Kevin Lima managed to show that abyss, which separates not just fictional, but imaginary cartoon characters and living people. Let's watch and share your impressions.
The Short Story Of ENCHANTED
The main character of the comedy animation film ENCHANTED is a young, beautiful, kind, and lovely girl Giselle that lives in the magical land of Andalasia, where animals, birds, and people speak the same language. All the people of the country are happy and do not know the problems, they are singing funny songs each day, and each story always ends with a happy ending.
Giselle dreams to meet a brave prince sent to her by destiny. And her dream became a reality. Prince Edward is the heir to the royal throne, and soon he will rule Andalasia. Edward conquered his love for Giselle when he rescued a girl from the paws of insidious and malicious troll. The whole fantastic country is looking forward to lovers come to the altar and get married.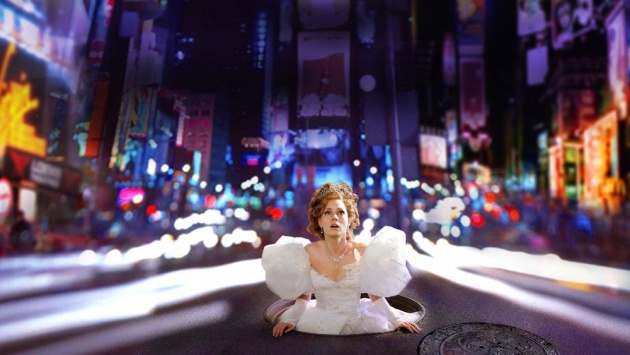 Amy Adams in a musical comedy ENCHANTED - Photo credit:imdb.com
Everything would be good, and they would live happily, but the Prince's stepmother felt the envy and anger to Giselle for having to share the throne with her. Enchanted by the beauty of the Prince, Giselle does not notice the danger that comes from Edward's stepmother Narissa, who understands that after the marriage the royal throne will belong to Edward.
The queen invited a gullible and kind princess to the castle, deciding to get rid of the rival. Giselle joyfully responded to the queen's invitation, without the feeling of anything bad. To get rid of a future Princess with the help of black magic using spells and tricks, the queen sends Giselle to another world, the cruel world, where there is no love and stories with a happy ending. This is our modern world where Giselle's misadventures begin. Thus, Giselle finds herself in New York, namely, in Manhattan, where gloom people walk through the streets, rarely smile, and try to earn more money.
She discovers what love really is and what being human is all about, she really evolves and learns what it feels like to have genuine emotions. She finds out that life is more complicated than it has appeared so far in her life and that it is not all about happy endings, but can be very exciting, - Emy Adams

Credit: cinema.com
It is a completely unusual world for her - full of betrayal, lies, insecurity, and theft. In New York, Manhattan, the enchanted girl has to learn to survive. Giselle from the cartoon country now has to adapt to a new world, to a more harsh reality. And it would become impossible if not the charming Robert. At first, New York meets the heroine badly: she gets in one trouble after another. But gradually the girl becomes accustomed to this state of affairs, and her new acquaintance, Robert, actively helps her in this.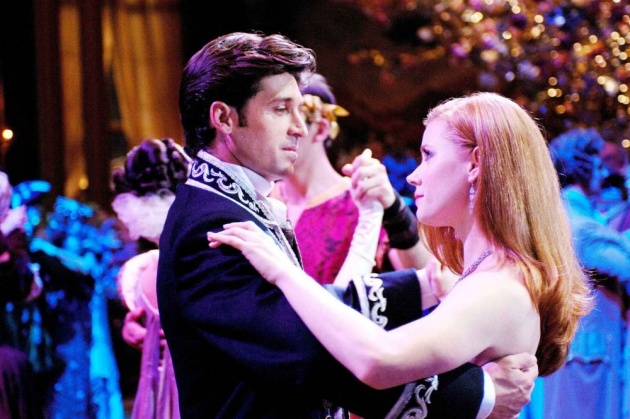 Musical comedy ENCHANTED - Photo credit: chocolateteddyfilms.blogspot.com
Prince Edward got to know what had happened and without hesitation rushed to his beloved princess, not knowing what challenges await him. Meanwhile, yesterday's princess needs to somehow survive in the harsh reality. Luck gives her a savior-lawyer. He is trying very hard to solve her problems, but when his own plans got failed, he asked the girl to get out of trouble herself. After some time, a bright feeling settles in the heart of the princess, and Robert gets charmed by optimism, purity of character, and charisma of the girl.
Meanwhile, Edward diligently looks for his darling. However, Narissa continues to build machinations, wanting to make sure that the prince and his girlfriend never meet. Prince Edward appears in the city, a former lover who soon realizes that his fate is Robert's former girlfriend, Nancy. The evil-witch does not leave them in peace. She is trying to poison Giselle, and only a kiss of pure love can revive her.
Amy Adams, Princess Giselle from a movie ENCHANTED interview - Video credit: Manny dela Rosa via YouTube.com
The Content of ENCHANTING
The idea is not new - in busy days, we allowed the fairy tale, love, and romance to disappear from our lives because we simply have no time for it. And we are very cynical; we do not believe that a fairy tale can happen to us.
Until recently, Disney Studio massively stamped children's movies, on which a whole generation of good, humorous beings had probably already grown.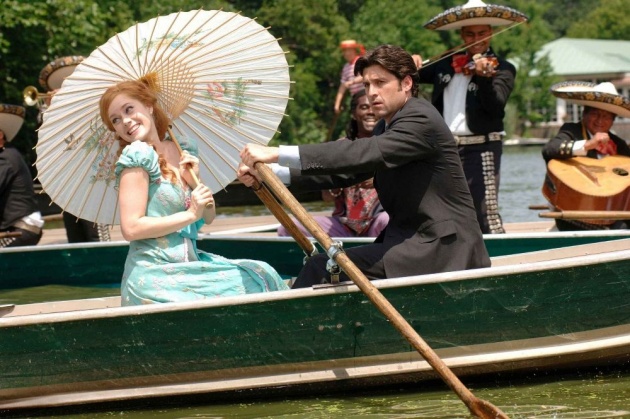 Disney film ENCHANTED - Photo credit: img2169.imagevenue.com
ENCHANTED is a loud return of the legendary studio to the world of genius cinema.
It's was time to break stereotypes: this film parodies Disney stamps, and it appeals to children in children, and to adults - in an adult language. Its story, alas, is predictable, but the impeccable play of actors turns sensitivity, sincerity, and irony of this story into a rare alloy of true purity
ENCHANTED is not only and not so much a parody as a dedication to the films that made the name and fame to the Disney.
For the first time, perhaps ever, Disney turns the reflecting mirror at itself, allowing for some inspired fun at its own expense. - Bruce Bennett, Spectrum (St. George, Utah)

Credit: rottentomatoes.com
The film begins with the animation part (which is expected, since the Disney film is primarily associated with animation for most viewers) and then flows into our modern world. And the entrance from the fairy-tale world to the real world is also far from fabulous - through the sewer.
ENCHANTED is a pleasant sight first of all for those who remember happy times when little animals in cartoons worried about the implementation of simple values like friendship, honor, and love.
In the movie, there are lots of funny moments and full of humor, a lot of melodic songs - funny, mischievous, and uplifting. ENCHANTED fits both to adults and children; the film is interesting to watch with a company of friends, and with family.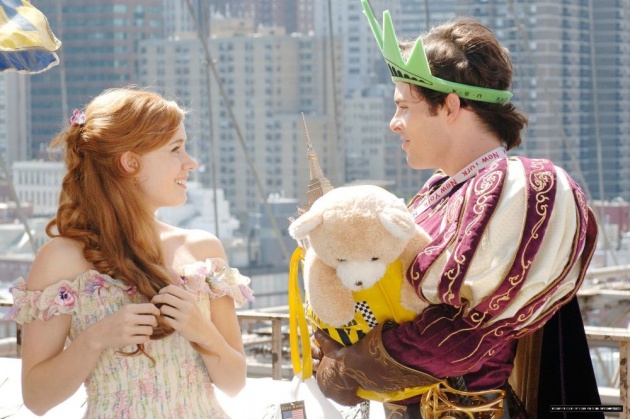 Fairytale movie - Photo credit: amyadamsfan.com
There is something deeply nostalgic and sad in this seemingly funny story. The thing is that ENCHANTED is a kind of farewell to a fairy-tale of Disney. The tale becomes a reality. In general, everything is like in our life: seems to be so earthly, so everyday life, but sometimes there are also miracles.
The film is bright and funny. A self-irony is apparent: a dress, cut out of curtains; all these bugs and birds helping with the house; Giselle, cute gesticulating when singing; the perfect prince. It is sometimes unnecessarily naive and stupid, but fun and bright. Unfortunately, now there are not so many films on the screens that leave positive impressions, and even the predictable end does not interfere with viewing, does not diminish interest.
ENCHANTED simply fascinates. You watch - and you become kinder. You watch - and you do not believe in your eyes: not a single joke about ass, vomiting, narcotics, alcohol poisoning, and sexism. At the same time, the film is ridiculously funny, sometimes just to tears. For a long time, naivety, erected in the absolute, did not bring so much laughter and joy to people as it did ENCHANTED.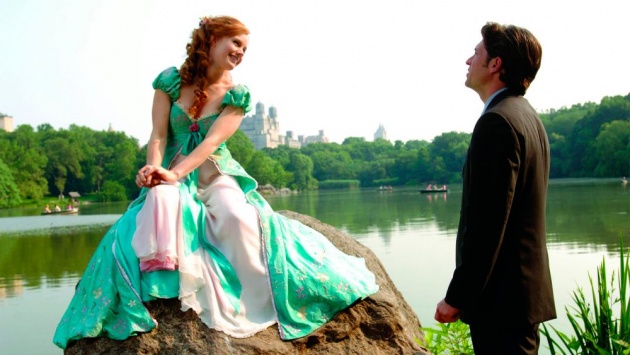 Amy Adams in movie ENCHANTED - Photo credit: twitter.com
In the very usual decorations and the standard set of heroes, ENCHANTED proves simple things. First of all, that love and romance exist. Even in our world, where life is a complicated thing. All this leaves a very warm feeling. The clash of a fabulous and habitual reality gives rise to a lot of amusing situations.
Dialogues of personages are simple and pleasing.
In ENCHANTING, I did not see any extra details. Everything is so harmonious, beautiful and coherent that it's not possible to believe this fairy tale. And in fact, I want to dip into this world with my head, get acquainted with the charming chipmunk Pip, explain to Edward what it is TV, go with Morgan for shopping and, of course, dance together with Giselle.
While reading movie ENCHANTED review please check Querlo chat "What kind of movies do you like?"
The Technical Side of Movie
Each cartoon from the Disney gold fund is a musical tale. Therefore, ENCHANTED could not be so memorable without musical themes and songs, which traditionally signify important storyline turns. Here producers have launched heavy artillery - the composer-veteran Alan Menken, familiar to everyone from the Aladdin, Little Mermaid, and many other works, is responsible for the film's music. The maestro did his job perfectly: so far he produced an extremely pleasant impression. But again, I watched only the English version, so cannot say anything about dubbing.
Musical accompaniment at the highest level. It's a pity that ENCHANTED did not get Oscar for the best song. It is more musical in essence, not in form because all the songs and dances are surprisingly relevant and gorgeous.
Producer Barry Sonnenfeld. Wonderful work.
I have no complaints about the technical side of the film. Everything looks great: the visual part, the costumes, make up. In short, the movie is created wonderfully.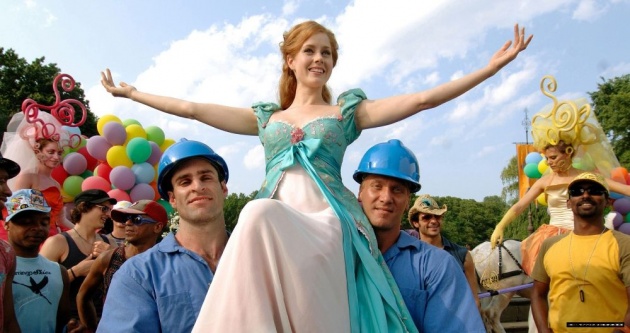 Disney film ENCHANTED - Photo credit: amyadamsfan.com
The Collective Work of The Actors
Actors Amy Adams, Patrick Dempsey, James Marsden, Timothy Spall, Idina Menzel, Rachel Covey, and Susan Sarandon were involved in the shooting. In the center of the film is Giselle, a classic Disney princess who, in spite of her will, falls into the real world of New York from a fabulous painted country.
AMY ADAMS - Giselle
The idealist princess Giselle is learning how to survive in our cynical world, incidentally planting simple short cartoon truths in it. Nevertheless, the authors succeeded in presenting something fresh into the familiar picture - recreated the most magical atmosphere of the classical Disney animation tapes and the special sincerity of feelings.
Last but not least, this is the merit of the charming artist Amy Adams, who got a difficult task to embody the collective image of all the Disney princesses together. Many actresses could envy her dreamy gazes and ability to portray the creature from another world.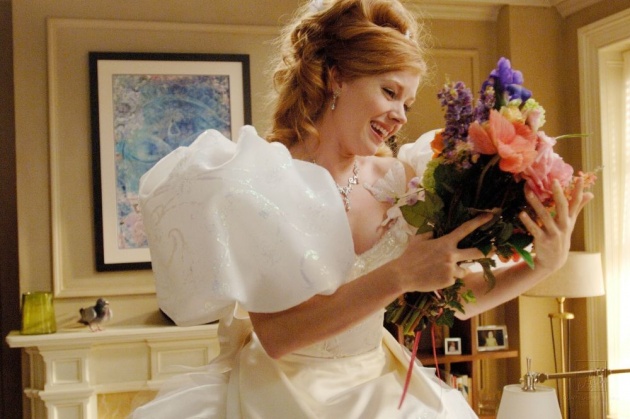 Amy Adams in ENCHANTED - Photo credit: amyadamsfan.com
From Giselle, played by Amy Adams, comes 100% positive energy! At the same time, despite the idealistic nature of the image, you do not feel any falsity. Here's how we need to live! Go for life with a song that helps to build and live. And do not hesitate to give people a positive emotion. Yes, it's naive but right and good.
Amy Adams is touching, sincere, and a little funny. She is softer than fluff, and then she becomes like a flint. This is really the heroine, about whom fairy tales are written. Giselle is not annoying us with her naivety and gullibility, but rather even enchants. She is the one who is able to bring light and spontaneity into this dim and cynical world.
I think she is never too sugary or too saccharine because she is open, so although she is innocent, she is never just satisfied sitting in that innocence. She is willing to learn and grow and to stand up for what she believes in. She is still feisty, although she is kind. Her innocence comes from the fact that she has not been exposed too much in her life, but as she learns about herself, her world changes. But it was important to me that she did not lose her light as she evolved, because that is what makes her lovely as a character.- Amy Adams

Credit: cinema.com
Amy Adams is a gorgeous actress, she very subtly and accurately conveyed the emotions, mimics, and grace of the Disney Princess, while not falling into caricature. She turned out to be innocent and naive, despite the fact that the actress at the time of filming was 33 years old. The task was not simple - all Princess Disney are young and have attributes, inherent only in youth. Adams succeeded.
While reading movie ENCHANTED review please check Querlo chat "Do you support women's empowerment?"
PATRICK DEMPSEY - Robert
Robert is a skeptic and rationalist to the bone marrow. He is earthy and realistic to the same level, as magic and fairy Giselle is. And his charming little daughter Morgan, on the contrary, is a desperate dreamer who never doubts that their strange friend in a gorgeous dress is a real princess!
Robert, performed by Patrick Dempsey, does not believe in love, kindness, and people. A personal injury made him very suspicious and very cautious about everything related to relationships. And it seems to me, Patrick Dempsey perfectly conveyed the character and doubts of his hero. On the background of bright and sparkling Giselle, Robert, we will be honest, is a bit lost, but from this does not become less interesting and sympathetic character.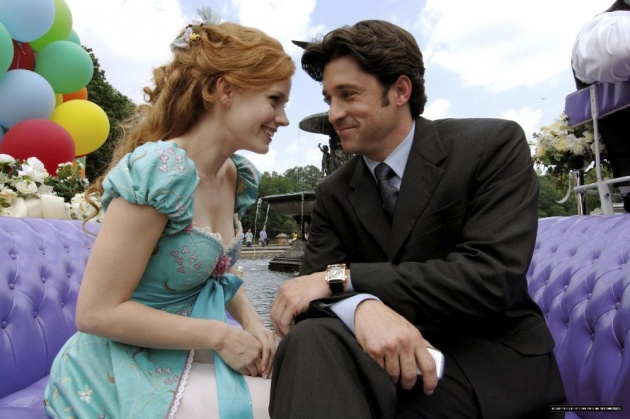 Patrick Dempsey in a musical comedy ENCHANTED - Photo credit: amyadamsfan.com
JAMES MARSDEN - Prince Edward
Very good in his role is also James Marsden - Prince Edward. Yes, yes, the very one that was ready to marry Giselle, if not the intervention of his treacherous stepmother. A little narcissistic, but a brave and straightforward prince. James Marsden is a 100% Prince, with a snow-white smile, black curls, and heroic impulses.
IDINA MENZEL - Nancy
I liked also Nancy - the girlfriend of Robert, played by Idina Menzel. The most ordinary woman who wants to finally get married and start a family. Nancy strives to make friends with little girl Morgan, and here is not her guilt that, unlike Giselle, she is not inclined to believe the tales. Despite all the sympathy for Giselle, I felt sorry for Nancy. The story of this character was one of the most realistic. Fortunately, she got a happy ending also.
SUSAN SARANDON - Evil Queen Narissa
Susan Sarandon also plays vividly her role of the canonical treacherous sorceress. She is an excellent villainous personage. Susan Sarandon, even though she's not here so much - the classic evil Queen in black and purple tones.
On The Final Note
In the film, which has become a unique combination of romantic comedy and modern fairy tale, Disney brilliantly parodies all the stamps and canons of classic stories about princesses, where all the characters are in love and sing, where animals help in the household, and evil sorcerers poison young girls with apples.
Are there fire-breathing dragons in Manhattan? Is it possible to control the magic mirror with the help of a television remote control? Finally - can a divorce lawyer believe that love from the first sight helps to live happily ever after? Find all answers in ENCHANTED!
Leaving the cinema, I catch myself that I whistle the final melody of the movie, which means that the movie preview was successful. You will watch this wonderful, funny, humorous fairy tale with a smile and easiness. Undoubtedly, this film will cheer up.
Verdict: ENCHANTED is the magnificent self-parody of Disney's studio. It's a parade of fairy-tale archetypes, a kaleidoscope of genres (musical, fantasy, romance, comedy, family) and a load of a good mood without any age limit of the viewer.
Sometimes it would be desirable to escape from worries and problems of real life and to get into a magical world where everyone lives for a long time and happily. After such films, I want to believe in a miracle!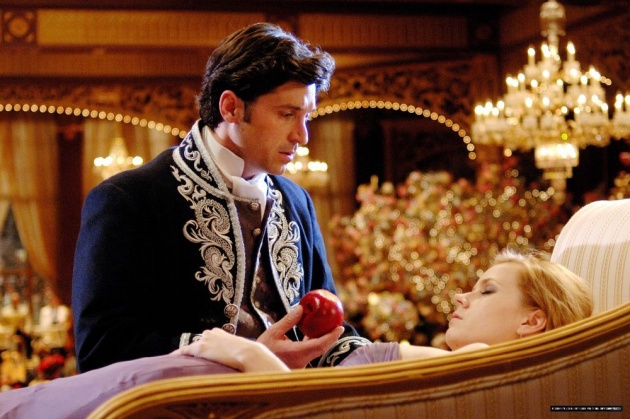 Fairytale movie ENCHANTED - Photo credit: amyadamsfan
If you dream of beautiful love, as in a fairy tale, and you just want to raise your mood, then this movie is for you, for you and your beloved, and your children, for young and adults, a film for the soul.
ENCHANTED, more precisely, the main character with her cheerfulness and purest aspirations, awakened something long forgotten, childish - a belief in real love and miracles. It's a naive, warm, romantic movie.
So, I definitely advise you to watch ENCHANTED. A lot of positive emotions 100% guaranteed! Love, joy, goodness, and happiness have won! Are there broken hearts? And what is the destiny of other heroes? Find out it all.
My rating: 9.5/10
Rotten Tomatoes: 93% ( of 100)
Critics average: 80/100
IMDb: 7.1/10
Have fun watching!!!
***************************************************************************************************
Thank you for stopping by and reading my blog.
2018, All Rights Reserved.
You are very welcome to join Bitlanders and share your valuable knowledge and opinion.
***************************************************************************************************
You can check my other blogs with movie review:
1. The BitLanders Film Series to Support Women Empowerment: RED SPARROW
2. The BitLanders Film Series to Support Women Empowerment: SOPHIE AND THE RISING SUN
Come back to find more...
***************************************************************************************************