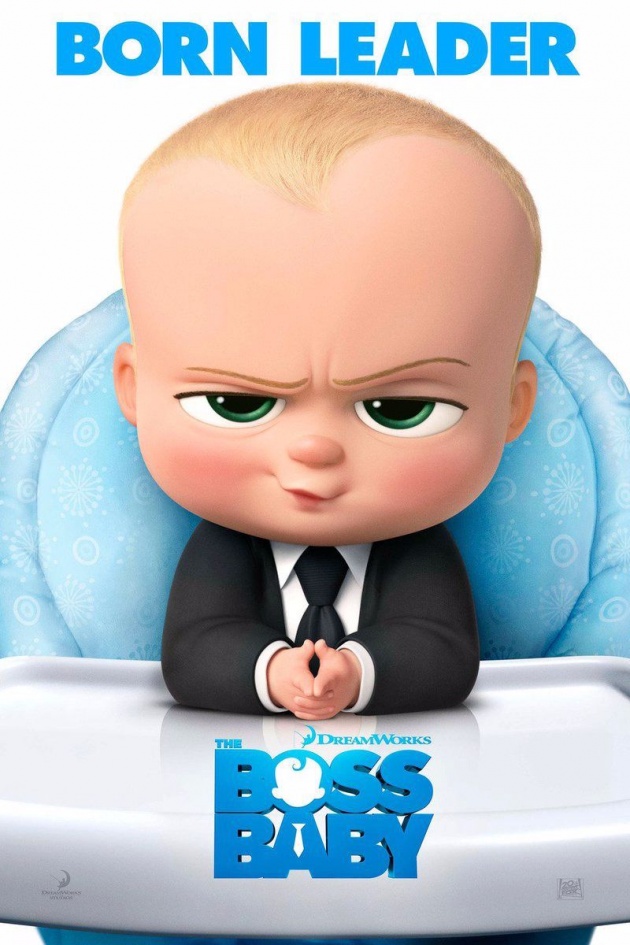 Photo Credit: The Refinery via http://www.impawards.com/2017/boss_baby_ver5.html
Hello everyone, from now on you'll gonna be reading a lot of movie and drama series reviews from me and let me start with this amazing new movie entitled:
"THE BOSS BABY"
"The Boss Baby" is a 2017 American computer animated fantasy comedy film directed by Tom McGrath and was written by Michael McCullers. This fantasy and comedy film is based on the picture book with the same name that was written and illustrated by Marla Frazee. It stars the voices of Alec Baldwin as the Boss Baby, Miles Bakshi as the Tim Templeton, Steve Buscemi as the CEO of Puppy Co, Jimmy Kimmel as Tim's Father, Lisa Kudrow as Tim's Mother and Tobey Maguire as Adult Tim Templeton or the Narrator of the Film . This movie is produced by DreamWorks Animation and is the sixth highest-grossing film of 2017.
The Boss Baby premiered in Miami on March 12, 2017, and was released by 20th Century Fox on March 31, 2017 in the United States. The film received mixed reviews from critics and has grossed $477 million worldwide against its $125 million budget, making it the sixth highest-grossing film of 2017. A sequel is set to be released in March 2021 - Wikipedia
So it's not just recommended for kids to watch but also highly recommended to grown-ups or adults too. Please watch the official trailer below to appreciate it.
Video Credit: Movieclips Trailers via www.youtube.com
STORYLINE
The first scene of the movie was Timothy Templeton or Tim (Miles Bakshi) telling a story while imagining things with his parents Ted and Janice. He said that he is his parents hero and sometimes his parents are the ones who will save him. Tim also said that he was the luckiest kid ever because of his parents. Tim also mentioned that even though his parents worked really hard they still have enough time for Tim. In short Tim wishes that it would be just the three of them forever.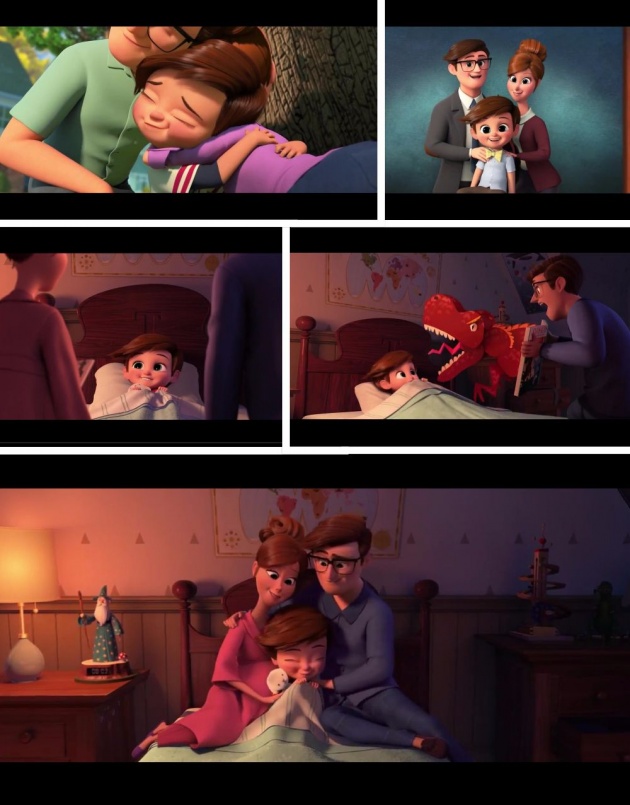 Photo Credit: Screenshots edited by TRB via www.bitlanders.com
Let's continue with the story, one night when his mother (Lisa Kudrow) sang him a song and his father (Jimmy Kimmel) read him a story before he sleeps, His father asked him if he wants a baby brother but Tim replied "No Thanks, I'm Enough" and goes to sleep. His parents then looked at his mothers stomach and as we can see in the scene that her mother is actually pregnant. At that night Tim begins to wonder where babies come from.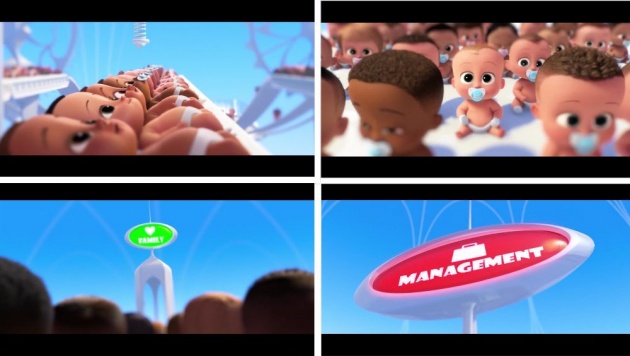 Photo Credit: Screenshots edited by TRB via www.bitlanders.com
In this movie babies come from Baby Corp, a huge baby making business up in the sky that delivers kids to their parents. Some of the babies should take care of business, so some of the babies that laughs when they are tickled will go to a Family, while the babies who doesn't laugh while being tickled will go to the management and get to work.
It's a bit strange right? But really interesting so go on reading.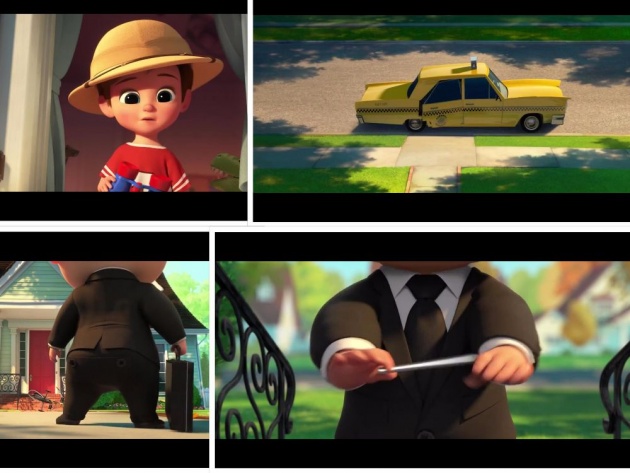 Photo Credit: Screenshots edited by TRB via www.bitlanders.com
One day, Tim was shocked because a Taxi came to their house and saw a baby wearing a business suit came out of the taxi with a briefcase and walked to the front door. He sprinted to the front door and found his parents saw the baby already and his father told him "Meet your new baby BROTHER" and when his father said the word "Brother" it was in slow motion for Tim. Seems the big brother don't really want a baby brother anymore, a scenario mostly observed in real life, right?
Kindly watch the video below to have a glimpse on what had transpired when Boss Baby arrived as well as some best parts of the movie.
Video Credit: Movie One Round via www.youtube.com
Now in this part of the movie you will notice the reality of life, what normally happened when a new baby comes to a family or shall I say what a big brother or sister would feel when a new baby is born.
So Tim was feeling very envious towards the attention the baby (Alec Baldwin) is getting because since then his parents barely had time for him. His parents doesn't even have time to read him stories anymore and sing him his favorite song, too bad, I know how it feels really, haha.
Now every time Tim is with the baby, the baby always seems so odd. One day, Tim told his parent that the baby is kinda weird because he is always wearing a business suit and always bringing a briefcase but instead of thinking its weird his parents even liked it because the baby looks like a little man and is so cute.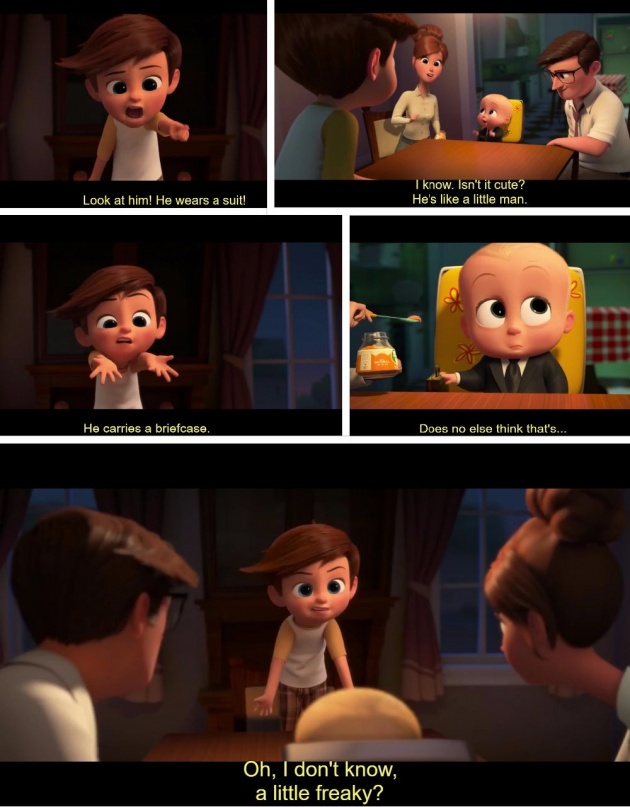 Photo Credit: Screenshots edited by TRB via www.bitlanders.com
One day, Tim found out that the baby can actually talk and he did his best to tell his parents about it. He tried to record the baby's voice when the baby and the other baby's that are over at the Templetons for a playdate by the parents but is actually a meeting of the toddlers. After the recording the babies catches Tim before he can give it to his parents.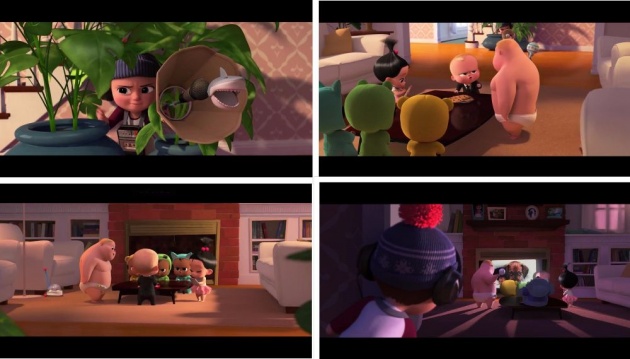 Photo Credit: Screenshots edited by TRB via www.bitlanders.com
Then that night the baby talked to Tim, apologized and explained everything to Tim and told him why he came to the Templetons. To understand more the Baby brought Tim to Baby Corp by telling him to suck on a pacifier that transports them to Baby Corp. When they arrived at the Baby Corp, the boss baby explained to him that the company has to do something because puppies are getting more love than Babies or Infants. Tim wondered why they weren't growing up, then the boss baby replied that they are taking a special formula for them not to become a real baby.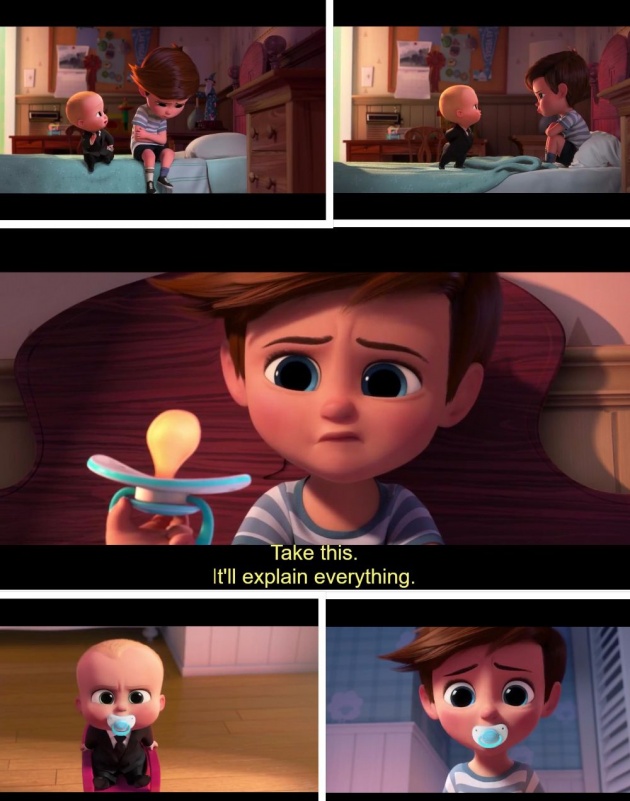 Photo Credit: Screenshots edited by TRB via www.bitlanders.com
Now the Baby Corp's enemy is the Puppy Co. the company where Tim's parents work that's why baby boss was sent to the Templetons to find out the Puppy Co's newest Puppy and will be able to stop the launching of the new puppies eventually.
While at the Baby Corp, Boss Baby showed him the Legends at Baby Corp and he mention his Idol the "Super Colossal Big Fat Boss Baby". Boss baby also said that if he can't finish the mission he will be fired and the sanction is he will become a real baby-a baby that grows old.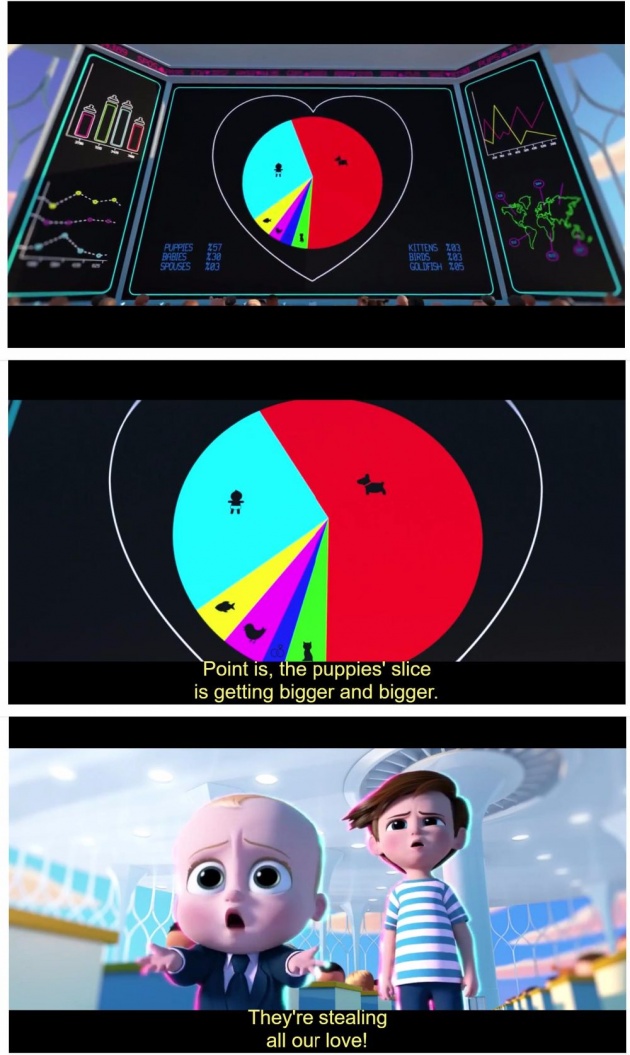 Photo Credit: Screenshots edited by TRB via www.bitlanders.com
So, Tim taught that the only way to get rid of the baby is to help him finish his mission and he decided to help the baby. But while helping each other with the mission they eventually got close to each other and faced so many obstacles. They even face the owner of the Puppy Co. The Owner of Puppy Co is unfortunately Boss baby's idol the "Super Colossal Big Fat Boss Baby".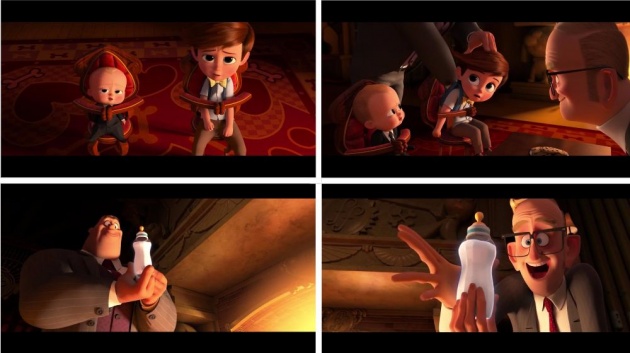 Photo Credit: Screenshots edited by TRB via www.bitlanders.com
Super Colossal Big Fat Boss Baby (Steve Buscemi) was the youngest chief executive infant in the history of the Company and received lots of love. But unluckily, after years of working at the company, the special formula isn't working at him anymore and is growing older. And because of that he was forced to retire, lost all the love quickly, replaced him in this position and became a real baby.
This is the reason why when Super Colossal Big Fat Boss Baby grew up he built Puppy Co. to get revenge to the Baby Corp.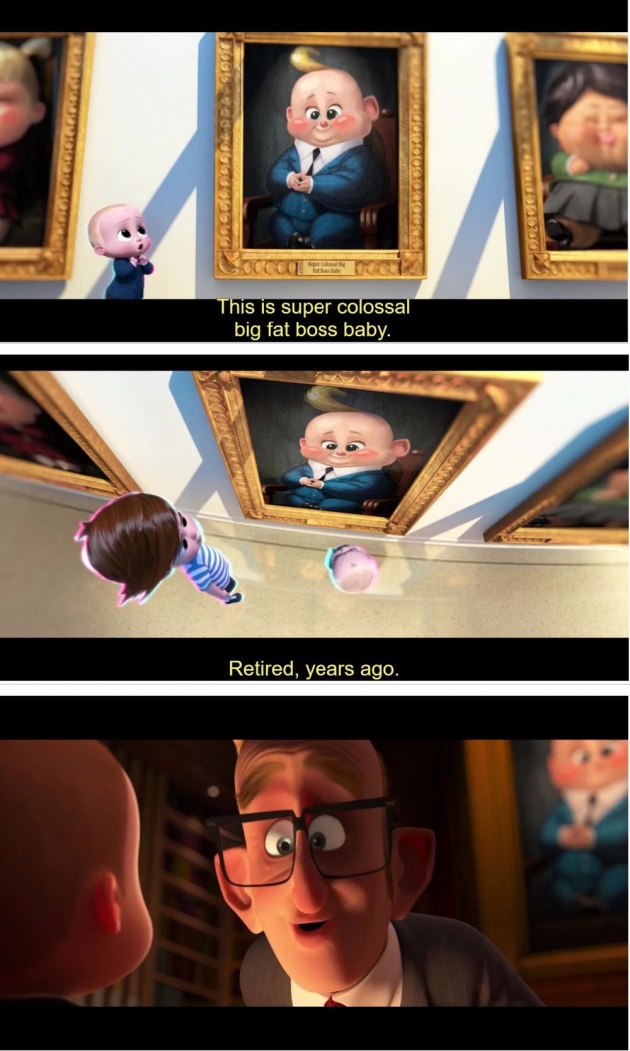 Photo Credit: Screenshots edited by TRB via www.bitlanders.com
So that was basically the flow of the story and you will find out how the movie ends by watching it yourself. Click below to watch the full movie of "The Boss Baby"
I really like this movie and I would love to watch it again with my little kids soon. So how about you, what kind of movie do you like?
Below is a survey chat powered by QUERLO, a chatbot with a human touch, you may answer the questions below and learn things relating to movies and TV shows.
So this ends my first movie review blog, I hope that you enjoy it as well as the movie itself. Till next!