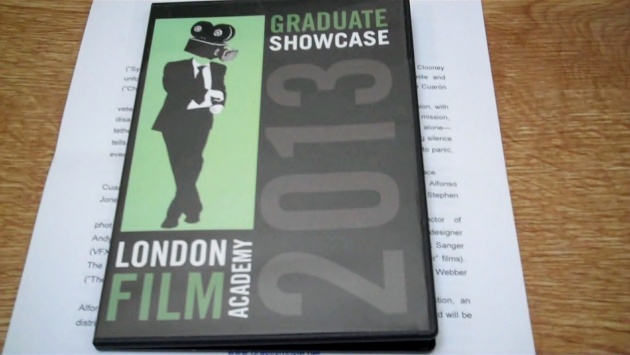 If there is a theme to the thirteen short films produced by the 2013 alumni of the London Film Academy it is children looking disapprovingly at their parents. Whether it is a child looking with suspicion at a potential replacement mother in HOUSEFLY (writer: Demitri Vassiliadis; director: Lisa Fischer), or a young girl disappointed that father has no time for a bedtime story in ZAP NOW (writer: Emanuele Gabbi; director Teodora Berglund) or a boy traumatised by a broken wind-up toy that he needs to fix for his dad in PARSON & SON (writer: Yury Sharov; director: Eleanna Santorinaiou), or an adult staring at his father under the table in TIME MACHINE (writer: Phoebe Davey, director: Yogesh Sudhakara) or a child who doesn't get a second story in WORKING LATE (writer: Annie Wood; director: Giacomo Hug) or the children who get locked up in TRACE OF MADNESS (writer: Jason Kokkinakis; director: A.P. Silva). I lost count of the number of shots of wee moppets staring. I have not even mentioned THE LOST LULLABY (writer: Stephanie Lapena; director: Yuri Sharov) which also features two little girls.
The directors were apparently all free to choose their own subjects and produce shorts of less than ten minutes in length. There were budgetary constraints but many (all?) were shot on film. The lack of camera movement – a curse for focus pullers – was apparent; the schedules and limited amount of film didn't allow for elaborate shots. In the documentary SEDUCED & ABANDONED Martin Scorsese complains that 'the shot is dead ... it doesn't mean what it once did.' I wonder if he had seen this lot.
This is not to be too critical of the work of the students. Each film had something to recommend it; some even had special effects and one a little magic.
The lighting and cinematography of BELL TOWER ENIGMA (DoP: Frankie Contino) were excellent; shots inside a church were spectacularly rich. TRAMPING (writer: Robert Hillier; director: Demitri Vassiliadis) had good make-up and excellent locations. DORIAN (writer-director: Frankie Contino) had a bold concept, Oscar Wilde's DORIAN GREY transposed to gangland London. AWAKE IN HIS DREAM (writer: Teodora Berglund; director: Fitria Tjandra) made good use of sheets to show a character crawling through a tunnel of consciousness.
The London Film Academy is atypical because the students get to play with expensive toys rather than mini DVs. You see the quality on the screen. It gives the students a broad experience of all aspects of filmmaking from directing to holding the boom. It has a way to go before it rivals New York University; it needs to turn out filmmakers, not just films. Passion was absent.
Only TRAMPING dealt some something approaching a social issue – homelessness. The London Film Academy wasn't steering filmmakers towards London-based issues: the difficulty of getting a flat, the scarcity of good jobs, exploitation of interns and apprenticeships, suspicion of migrant communities, even austerity. The work seemed purposefully politically inactive, as if this was a prohibition. Another way of looking at it is that the students perhaps saw themselves as lucky; they could not speak for the underclass.
Disappointing too was the absence of observational comedy. Film directors don't just watch films, they look. The students could usefully be given an exercise where they have to render behaviour in an interesting way based on their observations, for example: who uses recycling bins?
They also need to be taught more about story: who is the principle viewpoint character? What does the audience expect? How can you wrong foot them yet give them an ending that seems logical but right? Why do plots begin in the middle? Some of the films left me baffled by unclear storytelling; I noticed the dearth of screenwriters as guest lecturers (writer-directors like Terence Davies and Andrea Arnold only).
I would single out two films that achieved their intended effect. Both (unsurprisingly) were comedies. MORGUMENTARY (writer: Elizabeth Lockard; director: Lex de Vroomen) made up for its clunky title with an appealing concept - a mock documentary about a serial practical joking mortician. Comparisons with THE OFFICE (UK) are invited and moderately sustained within the short (6 minute 14 second) running time. Best of all was STREET FIGHTER (writer: Lex de Vroomen; director: Emanuele Gabbi): clever idea – mime (Gabbi), viola player and magician compete for an audience (in Russell Square, if I'm not mistaken). The storytelling is clear, the pay-off warm and sweet. A perfect short!
The Alumni show was held on Tuesday 29 October, 15:00 at BFI South Bank, Screen One