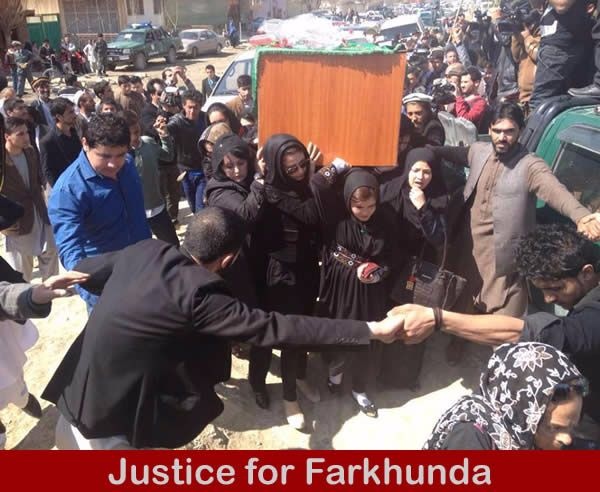 In Afghanistan, it is usually uncovered women who are attacked because of their clothing. But this time, an Afghan woman who covered herself from head to toe has been burned after being blamed for burning the holy Qur'an.
This barbaric act took place in front of the Shahe-Du-Shamshira, the well-known Kabul shrine that fills during the day with fierce men who have been praying, crying, and asking God to forgive their sins.
Farkhunda, 27, was beaten until near death, then run over by a car, and finally the Mullah of the shrine burned the body for a bogus accusation of burning the holy Qur'an, while she herself was a reciter of the holy book. Surrounded by these vagrants she was interrogated. She tried to convince them that she had done nothing but the wild and bloodthirsty wolves, without trying to determine the truth, attacked. Screaming, she tried to escape and the pigs pulled her down to the ground, stripped her, beat her, and stepped on her. These bestial men tortured her for insulting their holy book, the same holy book in which God tells us all to have mercy.
Innocent Farkhanda was a religious Muslim who had memorized the Qur'an. She wished to become a judge in the future. She did not know what a terrible fate awaited her from a dissolute and immoral police. Police protect the public around the world, but not in Afghanistan. They loot, they rape and kidnap the public. No one can trust them. Over the past years, millions of dollars have been spent to create a strong and credible police force, yet the difference between Afghan police and the brutal Taliban is little but their uniform.
As soon as this shocking act happened, Afghanistan's well known and influential Mullah of the Wazir Akbar Khan mosque in Kabul, without attempting to learn the truth, stood up for the barbarism and cursed the sinless girl. I ask that heartless Mullah this question: You call yourself an Islamic scholar, but what about the hundred verses in the Qur'an that talk about having mercy on earth's creatures? Our prophet of Islam says: "If you are in war don't kill women and children, even if they are your enemy. Don't offend unarmed individuals."
Farkhunda is now martyred in paradise. Her soul rests in peace. Like her, her killers will stand in front of God to be judged one day for their barbaric acts.
After this, no women can feel safe, even though they cover themselves. Even I feel fear when I see men around me, knowing they could attack me at any time. I live in a jungle without law.