Photo Credit: Movie Review Club via www.pinterest.com
Hello everyone, I will be sharing to you a "vintage" movie I once watched with my kids, it may be old enough but its really worth your time. The story was really superb that will make you watch it again and again. So brace yourself and be amused with my second recommended movie to watch with your friends or family.
"THE PARENT TRAP"
"The Parent Trap" is a Film that is co-written and directed by Nancy Meyers. It is a Family Comedy Film that was shown way back in 1998. This Film was produced and co-written by Charles Shyer. Dennis Quaid, Natasha Richardson and Lindsay Lohan are the major actor/actress in this Film. Dennis Quaid played as Nicholas "Nick" Parker, Natasha Richardson as Elizabeth "Liz" James and Lindsay Lohan as both Annie James and Hallie Parker. The dual role of Lindsay Lohan has made this movie more exciting (this was her debut film). This Film was released on July 29, 1998 in the United States and was released on December 11, 1998 in the United Kingdom and received positive reviews. This was produced by the giant Waltz Disney Pictures.
Watch The Parent Trap Official Trailer
Video Credit: jedi1224 via www.youtube.com
STORYLINE
Somewhere in 1986 American Nick (Dennis Quaid) and Briton Elizabeth (Natasha Richardson) met at an Ocean Cruise QE2 (Queen Elizabeth 2) and later got married with the background song L-O-V-E by Nat King Cole. They had Twin daughters named Annie and Hallie (played by Lindsay Lohan). Unfortunately, Nick and Elizabeth got divorced and decided that each of them should raise one baby each. So Annie lives with his mother while Hallie lives with his father. Both girls didn't know each others existence because neither Nick or Elizabeth told them because they agreed to keep it from them.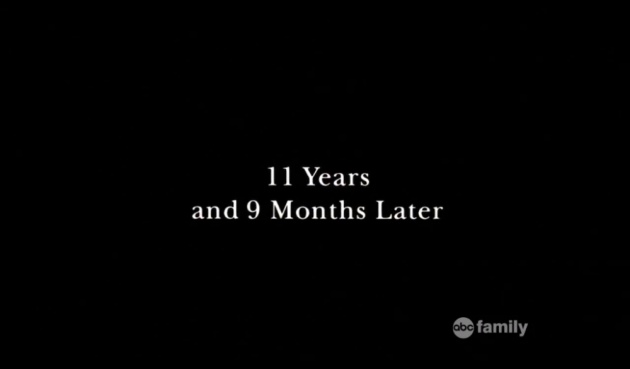 Photo Credit: Screenshot by me via www.yesmovies.to
One day, the twins finally met while participating in a summer camp. The summer camp is called the Camp Walden, it is an all girls camp. The camp lasts for 8 weeks or 2 months. Camp Walden is managed by Marva Kulp Sr. (Polly Holliday), the Camp Director and her daughter, Marva Kulp Jr. (Maggie Wheeler) her assistant.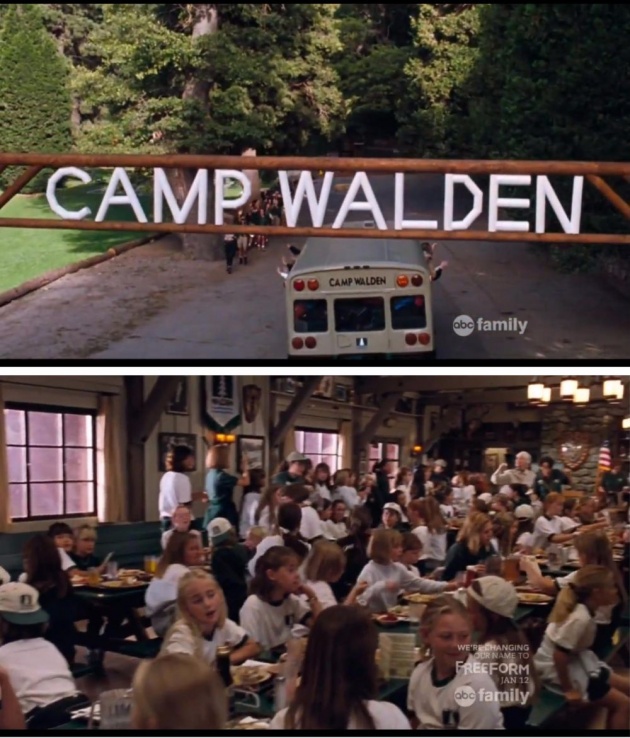 Photo Credit: Screenshot and edited by TRB
Hallie first arrived at the camp and made friends immediately. Hallie has a short hair and her ears are pierced. Hallie is from Napa Valley somewhere in Northern California and she lives with her father, Nick. They live next to a Vineyard (a plantation of grapes and where they make the wines) and that Vineyard belongs to her father, Nicholas Parker.
On the other hand, Annie arrived at the Camp with their butler named Marvin (Simon Kunz). Annie has long hair and unlike Hallie her ears are not pierced. Annie is from London and she lives with her mother, Elizabeth James. Her mother is now a Famous wedding gown designer.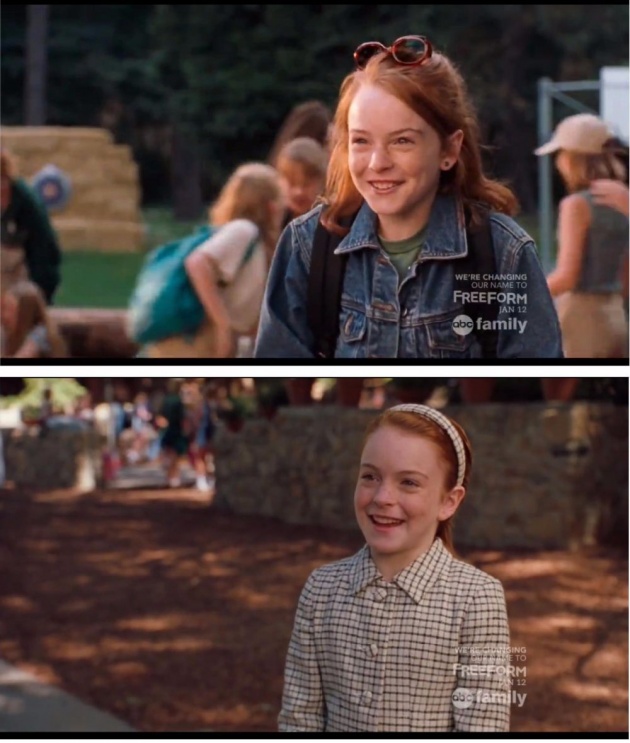 Photo Credit: Screenshot and edited by TRB
(Hallie Above, Annie Below)
Now their first encounter was when they were fencing. Hallie won consecutively and is the current champion, when Annie arrived at the fencing part of the camp she wanted to try and challenge the champion. They started fencing and Annie won and beat Hallie. They didn't see each others faces because normally when you fence, you will be wearing a protection mask. After their fight, The Assistant Director of the Camp congratulated them and told them to shake hands, so they removed their masks and saw each others faces and was really shocked. I do like this scene, anyone in same situation would really be surprised about how your opponent looks like I mean when she looks exactly like you.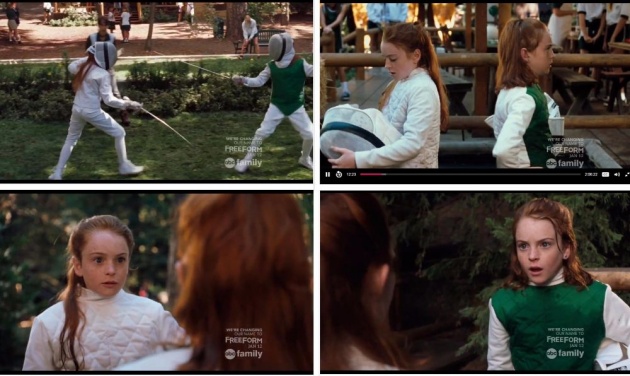 Photo Credit: Screenshot and edited by TRB
Watch this video to see their full fencing scene :)
Video Credit: multipurpose101 via www.youtube.com
After shaking hands Annie told Hallie that their faces really looked a like but later they realized that they don't like each other and after sometime they started doing pranks. While doing some pranks they were caught by Marva the Camp Director or the one who is managing the camp and punished them. Both Annie and Hallie was sent to the Isolation Cabin to part them from the other campers.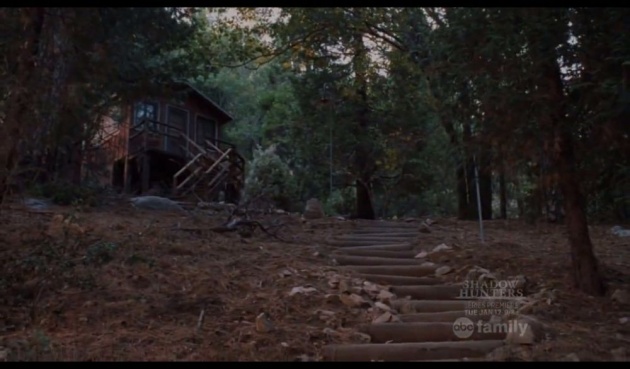 Photo Credit: Screenshot and via www.yesmovies.to
The Isolation Cabin is far away from the other campers. While Annie and Hallie lived together in the Isolation Cabin they eventually got along and discovered some things that both of them likes and loves. They also discovered that both of them will turn twelve an the same day. Later, they arrived at the topic about mothers and fathers.
Annie saw from one of Hallie's photos, a man standing in front of a house facing backwards. Hallie then explained that the man on the photo is her father. Hallie also shared that she really loves his father and vise versa and that they are more like best friends and asked Annie how was her father like.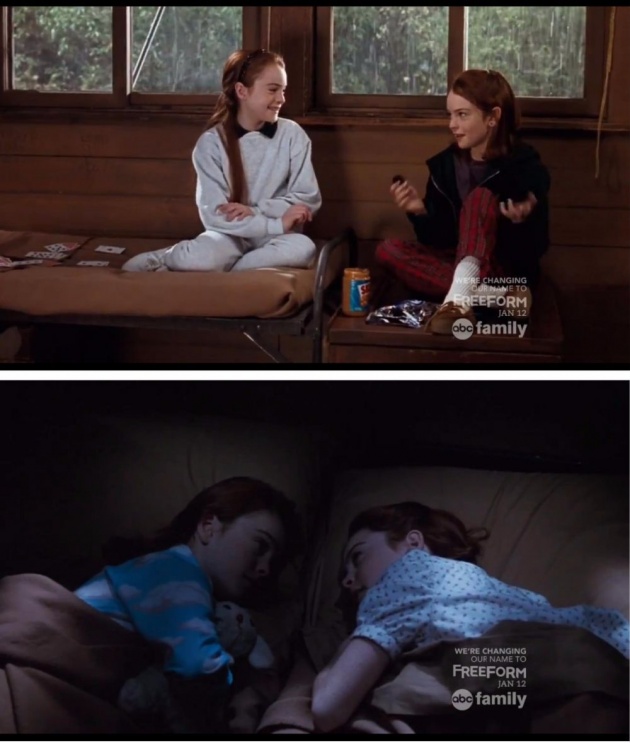 Photo Credit: Screenshot and edited by TRB
Annie replied that she only lives with her mom and that she never met her father. At some point, Annie realized that she doesn't have a father and never met him since while Hallie doesn't have a mother and never met her since too. Another thing is they will turn the same age at the same day. Finally, they have many things alike and most of it is their physical features or their faces.

Photo Credit: Screenshot and edited by TRB
Annie then shared that she only has one picture of her dad and that picture is ripped in between. After saying that Hallie ran to where her pictures was and grab one picture and told Annie that she also has only one picture of her mom and it is also ripped in between. So Annie took her father's picture from her cabinet and they agreed to show the picture together at the count of three. This scene was really exciting, anyone although it looks like viewers will already know that the pictures they both have is one that would divulge the identity of their parents but still the thrill is there.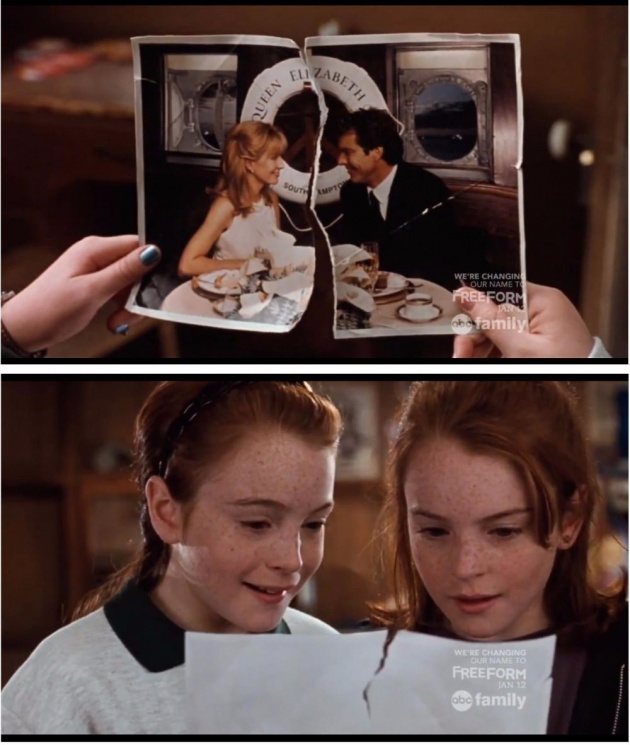 Photo Credit: Screenshot and edited by TRB
When they saw the picture Annie said to Hallie "that's my mom" and Hallie said to Annie "that's my dad". After finding out that they are twin sisters they pulled their beds together and will be sleeping beside each other. Before sleeping the twins shared each others information about their mother and father because Annie really wants to meet her dad while Hallie really wants to meet her mom.
Suddenly, They wondered why they broke up and Hallie told Annie that she has a very brilliant Idea. Hallie's idea is for them to switch places when the camp ends (indeed a brilliant idea) so, Annie has to look exactly like Hallie and vise versa. So they cut Annie's hair just like Hallie's hair length and pierced Annie's ears. Part of the plan also was when their parents find out that they were not Hallie and Annie, they will have to met again to return where the girls belong. So when the Camp ends, Hallie will go home to London and finally meet her mom and Annie will go home to Napa Valley and finally meet her father.
"When Annie meets Dad for the First time and Hallie meets Mom for the First Time"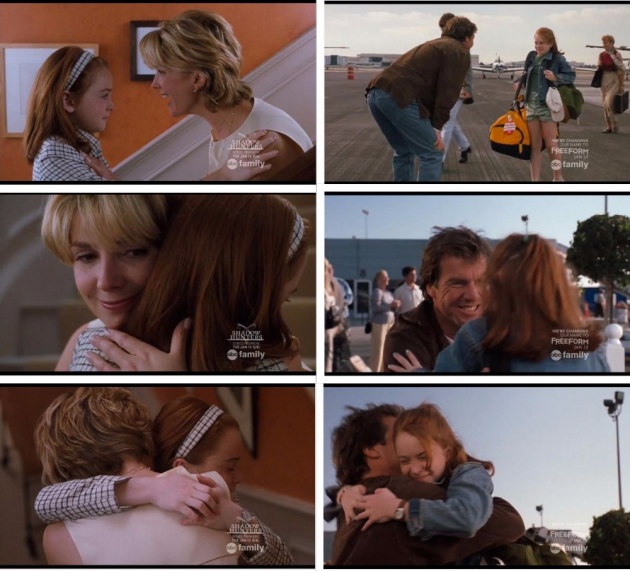 Photo Credit: Screenshot and edited by TRB
Find out what happens after they exchange places and pretend to be one another! Will their parents ever notice that they switched places? And what do you think will happen when their parents meet again? Do I have to tell you? Haha, if you haven't seen the movie yet, try to watch it, it surely worth your time.
Here are some reviews/comments about the movie:
This is a delightful remake of the Hayley Mills classic. Lohan is utterly adorable and does a masterful job of creating two separate characters, each of whom spends a large part of the movie impersonating the other. But divorced parents should make sure that their children have no illusions of a reconciliation, and all parents should make sure that while it may be charming for the children in the movie to manipulate their parents, it isn't appropriate for real life. - Common Sense Media

*****************************************************

There is only one movie in history that I can name that my wife, my mother and my six-year-old daughter enjoyed equally. This is it. - DanB-4

******************************************************

I adore this movie! Lindsay Lohan is the perfect actress for both parts, she has the flair to be able give both completely different personalities and you actually do believe you're watching 2 different girls. The storyline is sweet and family orientated, and shows that there is hope in the world. - SparklinDiamond
ENJOY!