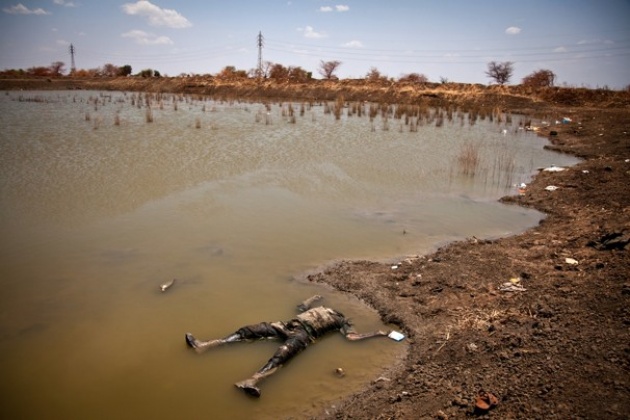 "The last thing the people of these two countries need is another war – a war that could claim countless lives, destroy hope and ruin the prospects of peace and stability and prosperity of all Sudanese people," UN SG Ban Ki-moon warned as tensions between the two countries erupted into full-scall conflict over the last few weeks. "This is not the time for war. This is a time for leadership, for engagement, for negotiation – in the name of humanity, and in the interests of the people of both countries and the region. Along with regional and many international leaders, I have impressed on both governments the necessity of ending the fighting and returning to negotiations. They have yet to heed our call."
South Sudan has been wracked by tribal conflict since its independence less than a year earlier. It's Government has accused the Khartoum authorities of inciting the conflicts with weapons. Also See Film for Blog Report – "Tribal War South Sudan". The UN has also accused Sudan of bombing areas of South Sudan as well as areas under its own control as the Nuba Mountains.
On the other hand, Mr. Ban has called on South Sudan to immediately withdraw its forces from the oil-producing region of Heglig in Sudan's South Kordofan state, describing this as "an infringement on the sovereignty of Sudan and a clearly illegal act." South Sudan also claims Heglig, but has said it will withdraw with adequate assurances and monitors as allegedly it was employed as staging area by Sudan military against South Sudan. See our Blog for Film – "South Sudan Invades"
The effective partition of Sudan along largely religious/ethnic lines (with South Sudan as a newly independent state recognized by Khartoum) has not so far proven a solution to decades of conflict. The two countries have escalated disputes regarding border demarcation, natural resources and oil transmission (largely from South Sudan through north). Sudan proper's leaders have exhibited autocratic tendencies, waged war and ethnic cleansing against their own people, and many have been indicted by the International Criminal Court. In meantime, South Sudan's leaders have failed to take effective steps to either stem tribal conflict or to enhance development in a desperately poor land with abundant petro and other natural resources. Leaders both in north and south have seemed more interested in settling their own political scores and accusations of corruption are rife in both countries. Having witnessed the disintegration of Yugoslavia, I'm of the view that ethnic divisions can be even more readily exploited even if by one side to stem reform, democracy and open societies. The partition of Sudan has not produced much positive, and for some regions in the north as Darfur and Nuba, it has actually meant an unleashing of greater force/repression. A fundamental change is necessary in the relationship between the two countries, and even more so in the leadership and methodologies of politics.
Ambassador Muhamed Sacirbey - FOLOW mo @MuhamedSacirbey

Facebook-Become a Fan at "Diplomatically Incorrect"







Twitter – Follow us @DiplomaticallyX







See more at our Popular Video Blogs & Current News Event Articles – www.diplomaticallyincorrect.org
Photo - Heglig after Run-Over by South Sudan forces (Courtesy Washington Post)