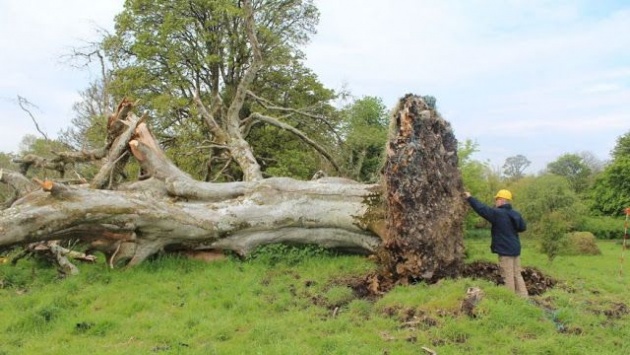 A group of archaeologists in Ireland have shown some excerpts of the mysterious medieval skeleton found in the root of a tree of 215 years old.
The old tree that is located in Collooney, Sligio, fell during a storm earlier this year, revealing its macabre secret that hid their roots buried. The Irish National Monuments Service brought experts from the Archaeological Survey of Sligo, to dig and analyze the remains of this rare find.
"This man had died violently," Marrion said Dowd, director of the archaeological service Sligio. "We stab wounds in the upper chest and they were made with a knife, you can also see a knife in his left hand, which suggests that he was trying to defend himself," the skeleton is of a man young between 17 and 20 years. The carbon analysis indicates that the remains date from the years 900 and 1000. However, it can not determine whether he was killed in combat or a dispute of a personal nature.
Dowd said the body was buried in a Christian manner which is easily detectable, because his head was pointing west. "Your family or community should have buried," she added. Dowd told local media that whoever regardless of who planted the tree, was not aware that there was a body under buried. "It's a complete coincidence, because the context is unusual," she said. "There are historical documents claiming that there was a church and a cemetery in the area, but nothing visible on it." Another aspect that intrigues excavators is the height of the young, about 1.74 cm, "which, Dowd says, "is a considerably high level considering the medieval society."
Researchers have relied on forensic experts to determine specific aspects of the young man appeared entangled in the roots of this ancient Irish tree. For now the community does not leave his astonishment to see how the body was exposed by the storm that ripped the tree root. However, tracks that have been given so far with respect to the body have greatly helped to explain the circumstances of his death.
Probably because this crime has remained unsolved, but definitely a very striking mysterious piece.