Things to See at Tsim Sha Tsui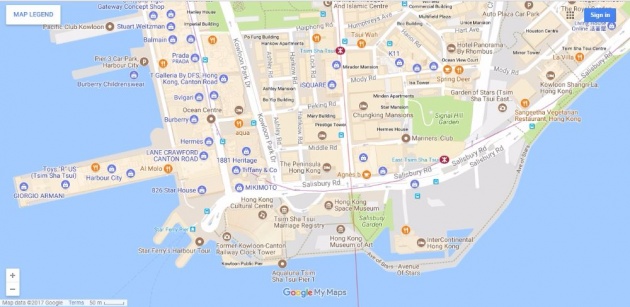 Photo credit: Google Maps
Tsim Sha Tsui is in the southernmost part of the largest island in Hong Kong. There are many sights to visit and explore around this part of HK.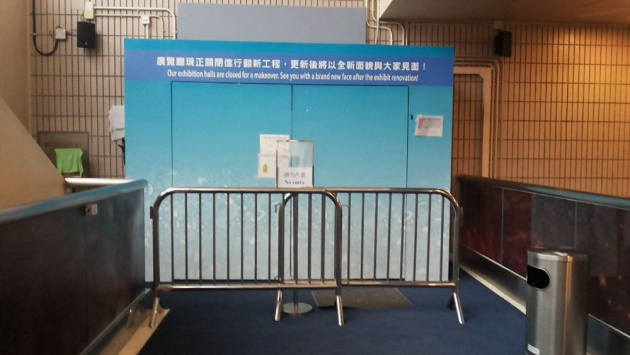 Photo credit: lapiz-lazuli
But if you want to see all, if not, most of them, I suggest that you check each attraction's official site first and see if they're open during your time of visit. We hadn't had the chance to explore most of these because they were closed for renovation.
It was saddening indeed, but I also have to add that we ran out of time just by touring a couple of these attractions. If you want to maximize your stay at Tsim Sha Tsui, be there as early as you can.
Well, onto our list:
Hong Kong Space Museum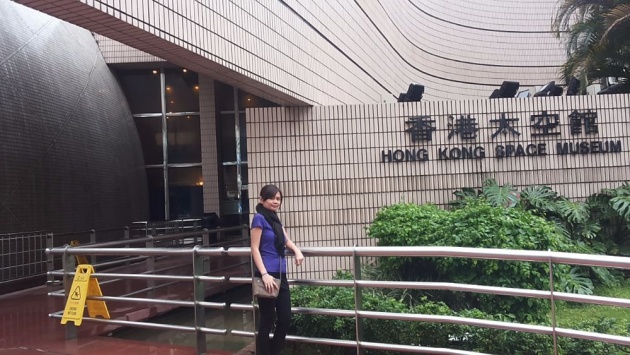 Photo credit: lapiz-lazuli
The stars were aligned in 1977 for Hong Kong Space Museum, the year where it was built, with an architect as the brainchild. This planetarium is a stellar sight to see because of its domed shaped construction which houses its theater, its Omnimax screen, and one of its exhibition halls, the Hall of Space Science. The west side of the building also has an exhibition hall, called the Hall of Astronomy.
The IMAX theater plays different scientific documentary films, not just astronomy-related movies. The exhibition halls display different artifacts and dioramas of heavenly bodies, and from what I've read, you can also view and study the different constellations that we can view from earth.
Hong Kong Art Museum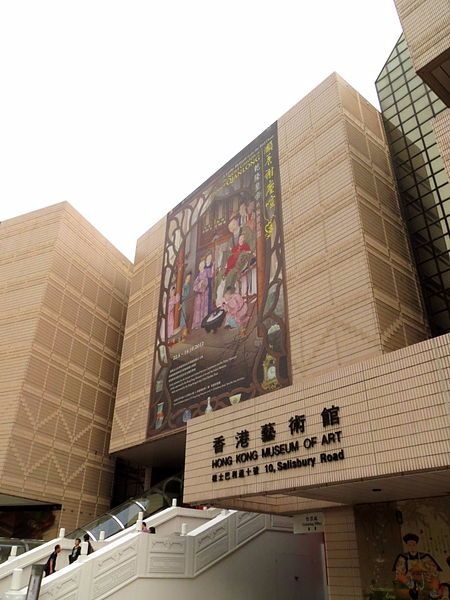 Photo credit: MK2010 via Wikimedia.org
Are you an art buff? If you are, you might enjoy what Hong Kong Art Museum has to offer. It's filled with rich Chinese-inspired masterpieces and more are added to their inventory on a regular basis. It used to be a museum for history and art, but because of their growing collection, one had to leave out of the door (History Museum is now located around Kowloon Park).
The art museum has interesting artworks, where most of them are calligraphy pieces, paintings and sculptures. You will mostly find Chinese-made magnum opus in the bunch, but from time to time, you'll also encounter Western pieces as well.
Hong Kong Cultural Centre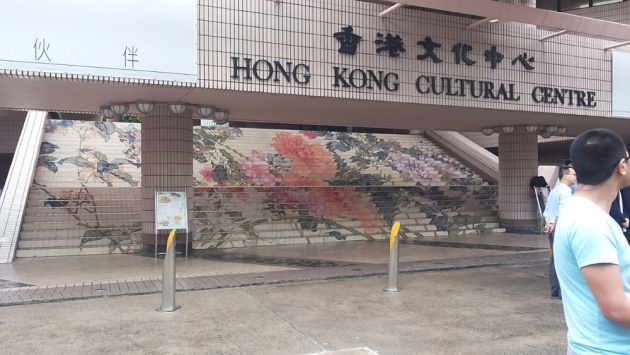 Photo credit: lapiz-lazuli
The Hong Kong Cultural Centre, completed in 1989 and located on the waterfront of Victoria Harbour in Tsim Sha Tsui, is the prime venue for a variety of cultural activities including world-class concerts, operas, dance, drama, theatre and musical productions, film screenings, conventions, conferences and exhibitions.

- From discoverhongkong.com
Hong Kong Cultural Centre is somewhat synonymous to the Cultural Center of the Philippines (CCP). If you appreciate this kind of entertainment, I bet you'll get a kick out of this (at least I do). Tickets are very expensive, however, and I don't know if they perform using the English language, or if there's some kind of interpreter, but hey, it's an once in a lifetime experience nonetheless.
Harbour City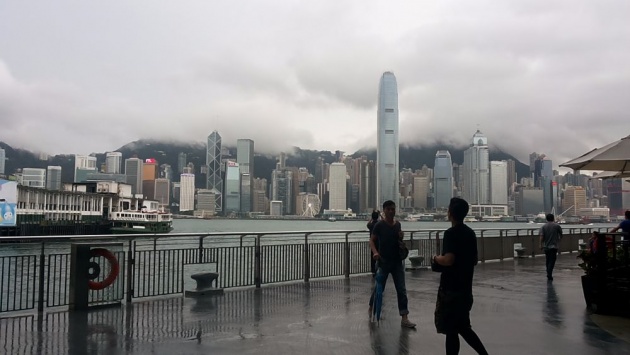 View at the edge of Harbour City. Photo credit: lapiz-lazuli
They deem Hong Kong as one of the top shopping centers in the world and I think I agree to that. If you're brand conscious and want to shop 'til you drop, then head over the Harbour City. It's the largest shopping spot in Hong Kong! The place is teeming with luxury designer brands like Ferragamo, Burberry, Chanel, Louis Vuitton, and many more. If I remember correctly, I've also seen designer watches and jewelry shops.
You can also just window shop (read: just look around) and see what's on vogue for the season. The place is quite clean and chilly, so you better have a handy shawl or blazer while you're at it.
Clock Tower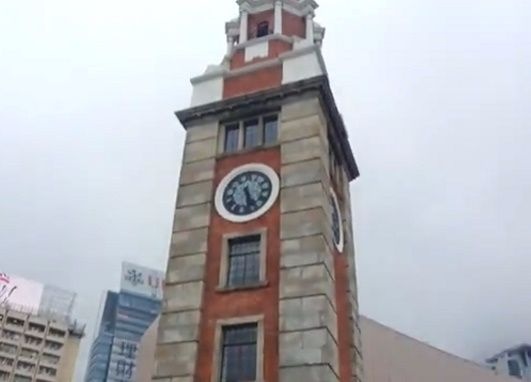 Photo credit: lapiz-lazuli
Standing 44-metres tall, the old Clock Tower was erected in 1915 as part of the Kowloon–Canton Railway terminus. The once-bustling station is long gone, but this red brick and granite tower, now preserved as a Declared Monument, survives as an elegant reminder of the Age of Steam. It has also been a memorable landmark for the millions of Chinese immigrants who passed through the terminus to begin new lives not just in Hong Kong, but in other parts of the world via the city's harbour.

- From discoverhongkong.com
I can say that the clock tower has its fair share of 15 minutes of fame from every tourist gazing upon the said monument. It doesn't look glamourous, but it is special and is a cool remnant for the locals.
Star Ferry Cruise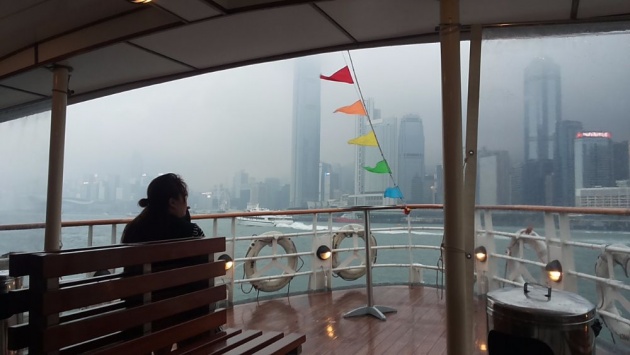 Photo credit: lapiz-lazuli
Ready your Meclizine tabs for this. The Star Ferry Cruise is a one-hour round-trip ferry ride around southern Kowloon and the northern outskirts of Hongkong Island. There's no seating arrangement, so you can hang out anywhere on the boat the skipper would allow. A choice of drinks and a local snack is included in the fare, plus the boat plays an audio for historical tidbits of the buildings you'd come across.
Video credit:
lapiz-lazuli
via
bitlanders.com
It is a wobbly ride, especially if around nighttime and when the weather's acting up, but very enjoyable and you get to have some breathtaking view of the buildings from the sea.
Aqua Luna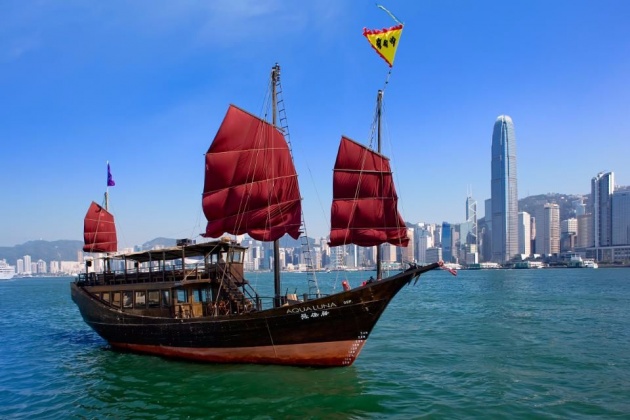 Photo credit: Aqualuna.com.hk
If you're old school, you might want to ride the Aqua Luna. It's a junk, but not quite. I mean the boat type is called a junk, but it is quite a beauty. Sailing in the Aqua Luna might be an heart-racing experience because it really looks antique, a seagull might topple it over (exaggerating), and at the same time, nostalgic and an experience of a lifetime. I only get to pick one so I chose the star ferry over this ancient beast (haha), because the ferry cruise is more economical and "safe-r."
Avenue of Stars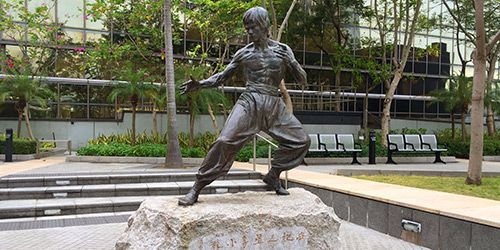 Photo credit: discoverhongkong.com
Are you a Bruce Lee fanatic? What better way to commemorate his rise to fame that to visit the Avenue of Stars. I think the Hong Kong movie boom really started with the creator of Jeet Kune Do, then others followed suit. If you're a movie fanatic instead, well, you'll still have fun traversing this almost-half-mile long stretch. They have many a memorabilia about the Hong Kong movie industry as well as their stars. I was eager to see Avenue of Stars but sadly, it's closed for renovation.
Symphony of Lights
I put this last on the list because this event only happens every 8 o'clock in the evening, so this should be the last one you get to experience when you're around TST (Tsim Sha Tsui). For less than 15 minutes, you get to see a play of lights in every skyscraper opposite of Kowloon. From what I've heard, music is also played near the Hong Kong Cultural Centre in sync with the lights, so it's best to wait for the light play near this building.
Video credit:
aroma141
via
youtube.com
I wasn't able to witness such free but extravagant entertainment because my uncle was waiting for us at the hotel and he's hungry, so we ditched watching Symphony of Lights. I can only admire it from a youtube video I posted up there. Well, that's OK for me. I think.
Querlo Chat
I hope this list would help you in planning your trip in Hong Kong. For other travelling queries, you might want to answer this Querlo chat:
End note: Pictures, videos and write-up are originally made by lapiz-lazuli, unless otherwise stated. Views and opinions in this blog post are truthful but subjective and are not influenced by sponsorship of any sort.