image courtesy of oslobwhalesharks.com
"Gentle giants, Whale sharks, Tuki, Butanding - these are the terms used referring to the huge sharks which have been visiting this specific area in the municipality of Oslob in the province of Cebu, Philippines."
Oh my whales! I can't get enough of the whale sharks in Oslob so I have to come again. My first experience was in 2012 when this tourist spot started, my second time was last year, 2015 together with my brother and sister in law and the third time occurred just a few weeks ago.
Rates in this specific activity range from Php 300 and above depending if you are a Filipino or a foreigner. However, for locals, it would only be Php 50. And since I just got hold of my Voter's Certification stating that I am already a local of Oslob, Cebu, I had to only pay Php 50 this time. The rate was actually the only thing that has been holding me from swimming with the whale sharks again.
WHAT HAS CHANGED?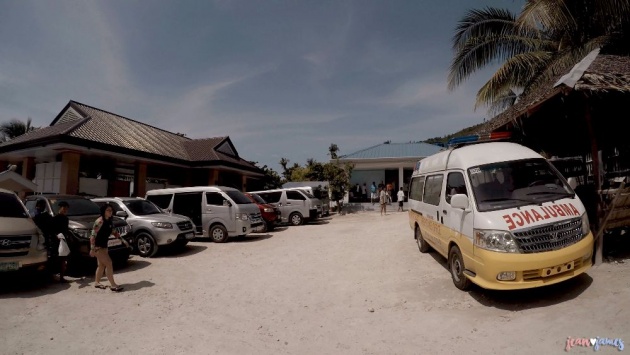 A couple of things has been changed since the first and second time that I had visited this area. In 2012, the briefing area was located in another spot but this time, it has been moved to another spot which is much closer to the shore. There's now a building which accommodates everyone for the briefing, the registration and the cashier.
Aside from that, comfort rooms have been established too which were located beside the briefing area. If my memory serves me right, there were four doors for the comfort rooms where one can change or can pee/poop.
One new thing that was quite obvious for me were the showers at the shore area. I believe these were the major ones which have been added. Oh and one more, there are now microphones to call on priority numbers.
It looked like a lot has changed though and I like the thought that it is improving, at least we are seeing that there have been results to the thousands if not hundreds of visitors coming over to see the whale sharks. And again, it boils down to the monetary side of this activity.
HISTORY - WHAT YOU NEED TO KNOW?
September 2011 when the whale shark watching activity had started but the truth is that whale sharks have been a constant visitor in this small barangay called Tan-awan in Oslob, Cebu. Fishermen had been spotting these huge creatures almost everyday when they are fishing. The whale sharks seemed to be asking for food from the fishermen and while they don't really like to see these huge creatures since the fishes would ran off from the area, they had somehow created the habit of giving some shell meat or shrimps to them and they believe these giants appreciate it. Surprisingly, the whale sharks grew in number and would always be visible in this area and even in the other parts of the town, in fact my father in law had seen one when he was also fishing near their barangay.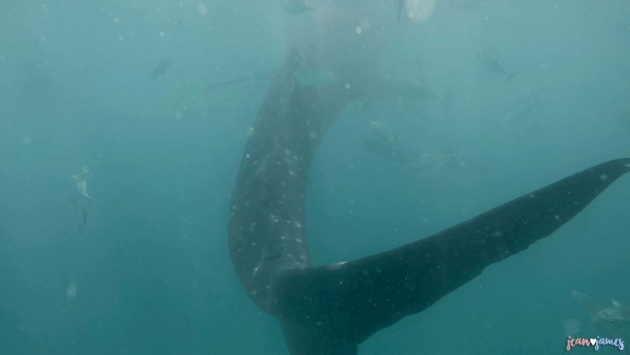 And the rest is history as it has been five years and the whale sharks has no plans of leaving Oslob. Everyday, 99% guaranteed that these creatures will be visiting the town. So it is also guaranteed that the fishermen who had been feeding these creatures before until now are also able to provide food for their family.
As the news of whale sharks visiting the almost shore of Tan awan spread like fire in the internet, visitors, tourists, local tourists and even the foreign ones had started flocking to Oslob. I can still remember my very first time in February 2012, that's around six months since they started the said activity, we arrived at the area at five in the morning and the line was already long, long in a sense that the straight line has to bend to make way of the new heads arriving at the area. As a matter of fact, we had swam with the whale sharks only at almost eight in the morning whilst the activity starts as early as six in the morning.
Thankfully, the internet had given the town of Oslob a huge favor of blasting off this news and reaching all the countries of the world which is encouraging foreigners to come and visit the town. This doesn't just provide jobs to the local fishermen but also has helped in the economy of Oslob as well as the country overall.
WHAT TO EXPECT?
I'd like to list this in bullets:
Bullet 1. Populated
Imagine a famous area, perhaps some place like Boracay Beach during a summer or Dubai Mall on a New Year's eve or outside Burj Khalifa on any day. What do you see in common on these areas on these days? Yes, you got it right - people! So expect the same when coming over to Tan-awan, Oslob, Cebu.
I had been here three times and the number of people are almost the same! There were rumors saying that the number of visitors had decreased because the number of whale sharks are also decreasing but when I spoke with the local fishermen, they said the whale sharks are even increasing and that the number of tourists and visitors are still a lot!
Bullet 2. Language Overload
Expect the area to be noisy and don't wonder why you are not able to understand most of them. There are more than ten languages around the area. You'll hear Bisaya, the local dialect of Oslob, you'll hear Tagalog speaking, the national language in the Philippines and is usually spoken by those from Luzon, then there's English of course for the other foreigners, there's Korean, you'll probably hear Anyeong (waves to Jvanity), then there's Chinese, Japanese and some other European languages. I can't enumerate everything but basically, there are lots of different languages around the area so you don't have to listen to everyone speaking, you'll just have to focus and think about what you'll have to do once you are at the water.
In fact, when hubby and I was there few weeks ago, I can barely hear Bisaya. Most of the people around us were Koreans.
Bullet 3. Selfie and Photobombers
Don't get too annoyed by them but they are definitely be there. I guess only hubby and I were not doing it when we were at the area. I am not used to doing selfies but I am or shall I say we love to take candid photos.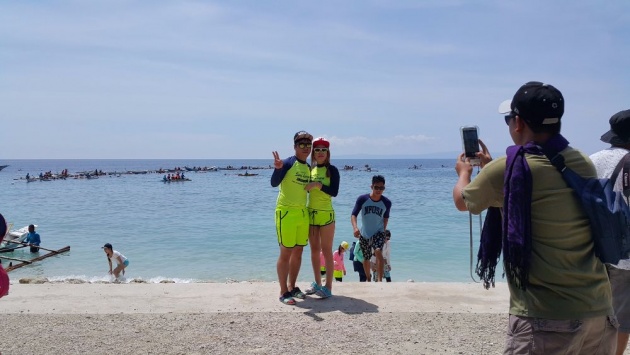 So I guess we were the only ones who were really observing our environment as everyone else were busy with taking selfies, group photo opportunities were there too and when taking photos with the sea as the background, expect you'll have people moving around here and there and you can't control them so expect to see photo bombers in your selfies. There are ones who are not aware they have photo bombed your selfie but there are also others who does it in purpose, I saw local fishermen doing it!
WHAT IS THE PROCESS?
Let me give you the step by steps process from start to the end as this has been becoming polished compared to the first visit. Note that this might change as well in the near future but for now, this is based on the 2016 process that the team in Tan-awan is following.
Step 1. Registration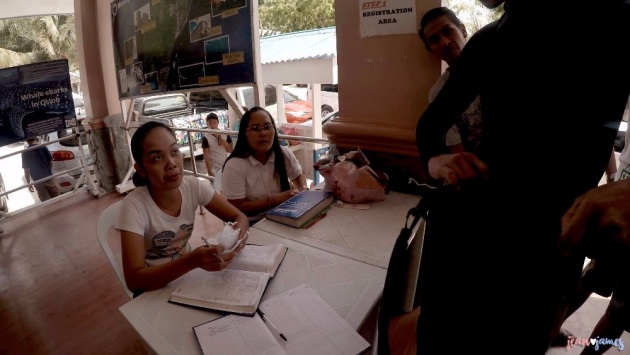 Upon arrival, a visitor must go directly to the Registration Table given that the visitor has already parked their car or motorcycle properly at the parking area. (Peace)!
The registration table is quite obvious as it is located at the mouth of the briefing building. A notebook is provided and a pen of course so one can add his or her name, country of origin and signature. This is actually for statistics purposes. The number visitors signing here are monitored to help the local government unit determine if the number of tourists are increasing or just maintaining the number.
Step 2. Pay at the Cashier
There are different rates depending on your nationality. Here's a list:
Local Oslob Resident - Php 50

Philippine Resident - Php 300, this means whale watching only in the boat, no swimming but life jackets are included

Philippine Resident - Php 500, this is snorkeling with the whale sharks and life jacket also included

Foreign Tourists - Php 1000, this is snorkeling with the whale sharks and life jacket also included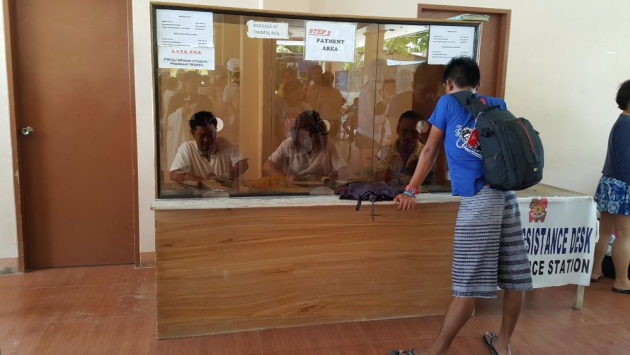 Hubby and I are glad we only paid Php 50 for each of us this time. In my head I know that we can do this anytime we would like to since the rate is much much lesser than what I had paid before.
After paying, someone will provide a priority number on the receipt. Later on, someone will be calling the number once its your turn.
Step 3. Orientation / Briefing
This is an important and necessary par as the officer provides the Dos and Don'ts when you are in the waters. This takes only around less than ten minutes.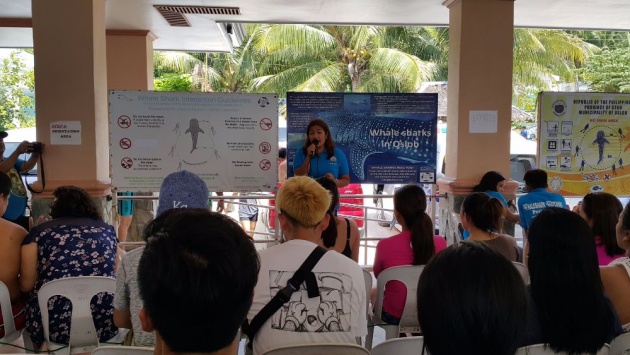 The list below is still the same:
1. No touching the whale sharks, keep a four meter distance away from the whale shark. This is because they are sensitive and the act might shoo them away.

2. No flash photography. It is very important to do this as it might scare the whale sharks plus, flash photography is not a good idea when under the water!

3. No splashing! Whilst one arrives at the waters and seeing the huge whale shark excites you, ensure you slowly jumps off the boat to not create any scene or splashing as the whale shark might thought its their food!

4. No sunblocks or lotions for those who are swimming with the whale sharks. This is because there are chemicals in these lotions which might be dangerous to the sharks. Now if you had already applied them, you can take a shower to rinse it off.

Thirty minutes of swimming, snorkeling will be given to the visitors. This starts from the time of interaction with the water.

Step 4. Wait, Patience is a Virtue
Unlike before, there's now a Priority system. After paying the rates, the receipt will be marked with your priority number. This will later be called by another officer using a microphone so you can go to anywhere in the vicinity and wait for someone to call your number.
We had to wait for an hour for our turn to be called. There were really lots of visitors at that time because it was a weekend so we have to be patient. While waiting, we had observed the surrounding, the locals, the fishermen, the tourist guides, the tourists of course and we had fun!
We were called together with two young Japanese to ride on the boat which brought us to the waters where the whale sharks were being fed with their breakfast meal.

WHEN IN THE WATERS, WHAT TO DO?
It may tend to be overwhelming and most of the time, tourists became very fond of the whale sharks that they tend to forget the do's and the do not's provided during the briefing. So it is essential that one would stay calm and just enjoy the activity.
To whose who knows how to swim, taking off the life jacket is fine when at the vicinity and given that the fisherman slash the tour guide has the life jacket. To those who are not comfortable with taking off the life jacket, that is also fine.
Option 1: Take a photo/ video of the whale shark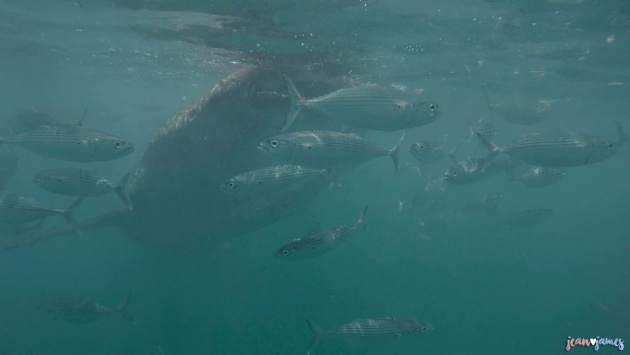 Common thing to do there is of course to take photos of the creatures. Remember that you are not the only one swimming so be vigilant and ensure no one is getting hit by your flaps or your hands like in my case, I hit my husband while swimming towards the whale shark. I apologized afterwards.
Note as well that the whale shark appears and disappears without you knowing so be very careful that you won't be blocking its way.
Option 2: Take a photo of you with the whale shark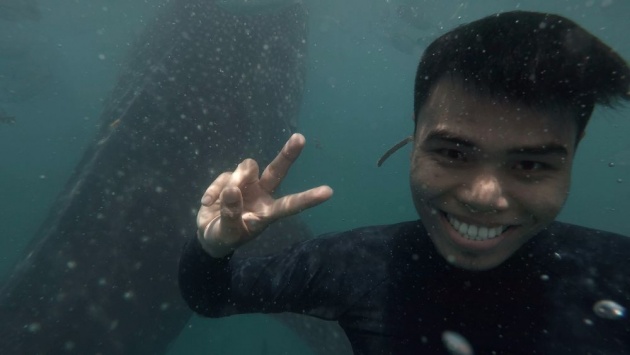 The fisherman guide will give you the opportunity to take a photo of you with the whale shark. The guide will push you down while the other fisherman takes a photo of you underwater.
This is quite challenging specially to those who can't keep their breathing for a longer time like me. Our guide had tried to push me down like five times and there was no successful video because I can't anymore breath properly so I have to go up back to the surface to breath in.
Do not forget that your camera might be too close to the whale shark that you are only taking a photo of its tail or face which happens most of the time. It is better to stay away from it so you'll get a good full shot of the whale shark.
After thirty minutes, our guide asked us to go back inside the boat so we can go to the shore as we were done with the activity. I must say that I was not really satisfied with the videos as all of our attempts to take a photo of me with the whale shark all failed.
But I don't have to fret as I can still go back some time soon and be very early so I can take a photo with it all with myself.
Hope you enjoyed today's blog. The video below shows one of my footage where I got to take under water.
Copyright 2016 Jean Beltran-Figues
All rights reserved.