Our two wheeled vehicle's engine ignited, the sound of engine starting and wheels moving excites me a lot and that is because it is a sign that a new adventure begins.
Video credits: Jean Beltran-Figues via bitLanders.com
EN ROUTE
Yes, the weather was not really helpful traveling towards Oslob today morning, it rained real hard but we were both glad we had reached the South Bus Terminal in Cebu before the rain started pouring.
It halted after the Sunrays bus moved its wheels to the main highway, but we originally was supposed to be inside the Ceres Liners if those other passengers didn't overtake us when we were honestly following the line as how it normally should be. It was our first time to take the seven in the morning bus schedule, we normally go to Oslob by night but due to the past experiences where there's a long line and long waiting time, we decided to postpone our trip and go by the morning instead.
While it was raining lightly outside, it started raining inside the bus too. Sunrays Liners have been known for their old buses and although we were in an air-conditioned bus, there was still a problem as their air-con passes started pouring too. A passenger opened his blue umbrella inside the bus and it was a bit hilarious, I however stopped myself from bursting into laughter.
En route, it kept bothering me where should we go this time? It was a gloomy day and it seems going to the beach is not a perfect idea. But we have to risk it and pray that Oslob has a better weather compared to Cebu City's.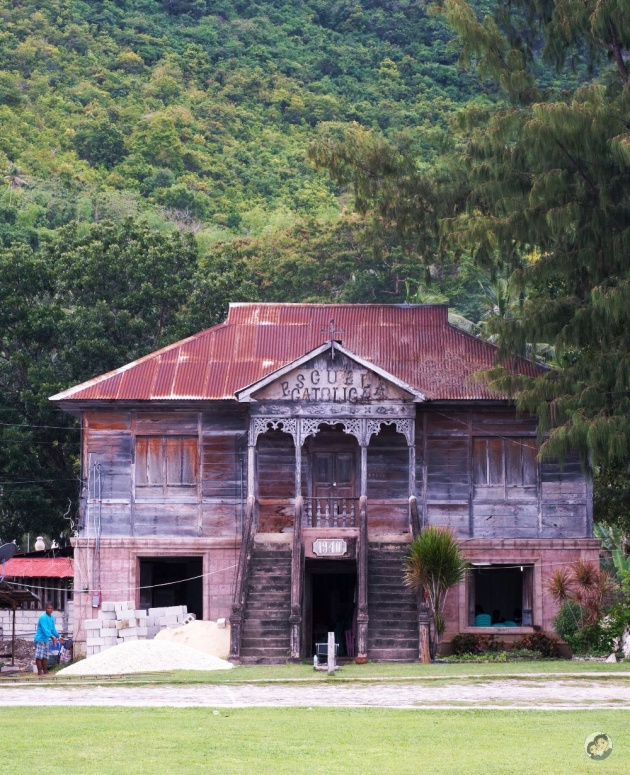 Photo credits: Jean Beltran-Figues via bitLanders.com
BOLJOON
Finally, we got a place to fit the gloomy day - a visit to historical structures of Boljoon. These ones have been in my bucket list for quite sometime but since they are easy to go to, it didn't go at the urgency list.
In continuation to the intro sentence, Boljoon is just around ten minutes away from Oslob. The motorcycle gave us the freedom to film the ambiance while on the road. Green trees along the sides of the provincial road felt really good and I can't thank God enough for giving us a much better weather than what we had in the morning.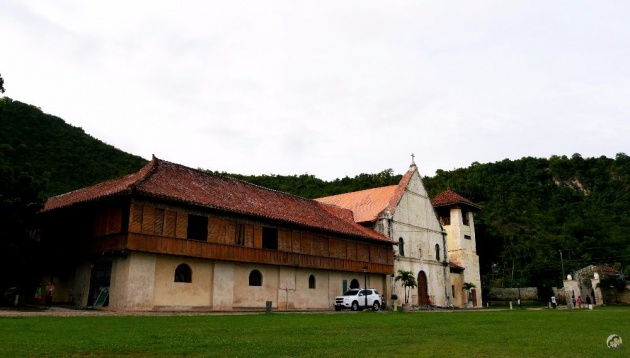 Photo credits: Jean Beltran-Figues via bitLanders.com
In less than ten minutes, the face of Boljoon started revealing to us. Reached their main town and spotted a lot of young people practicing their dance routines, also spotted other groups in front of the plaza as well as the green grassy lawn at church front, those made me wonder what's up with all these people? Are they in preparation for a huge event? Later on I found the town's annual fiesta's coming up in a just a few weeks from now so they are getting ready for that. The town's gymnasium as well was very busy and noisy at the same time because of the ongoing volleyball and basketball league.
EL GRAN BALUARTE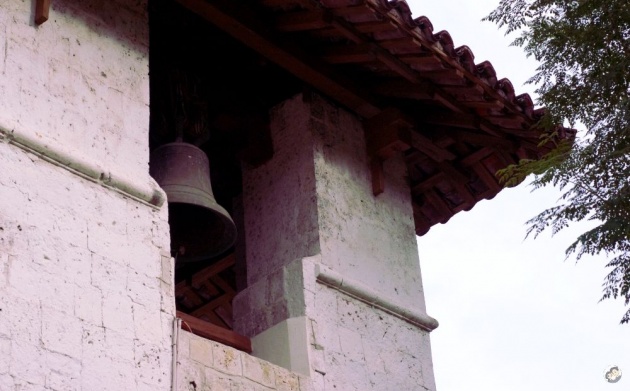 Photo credits: Jean Beltran-Figues via bitLanders.com
A green painted metal board with curly embellishments at its sides stood right next to the coral stone made structure which is a common material used in building structures during the Hispanic era together with egg whites which are used to stick these stones together.
The information board states:
The largest extant Spanish watchtower in the Philippines, build by Fr. Julian Bermejo, OSA in 1808. It is the main fortress on the vast church complex's fortification. During the heights of the Moro raids, these structure served as Fr. Bermejo's command center in his elaborate defense on the Visayas seas. A prison cell with preserved mural paintings by the prisoners are still intact at the lower ground floor of the structure.
The last sentence made me wondering what that prison cell mural paintings look like. But the doors were closed with padlocks on so that's something we have to skip instead during that visit.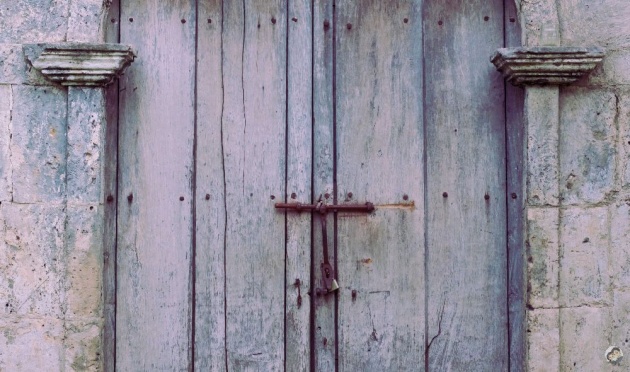 Photo credits: Jean Beltran-Figues via bitLanders.com
I instead found an interesting subject at the distance - an old electric generator. Maroon with a blend of brown in color plus rusty but it reminds a huge information about how the locals of Boljoon were blessed during the past early years.
Another information board states that was a Kubota Electric Generator, sounds Japanese-sy. This is a three cylinder diesel engine generator with 50 horse power managed by the local electric cooperative. It was obtained through a loan in the amount of Php 62, 579.55 from the NEA on the year 1967 in which they only operate it between six in the evening until six in the morning until 1971. The generator gave the early Boljoanons their taste of first use of electricity.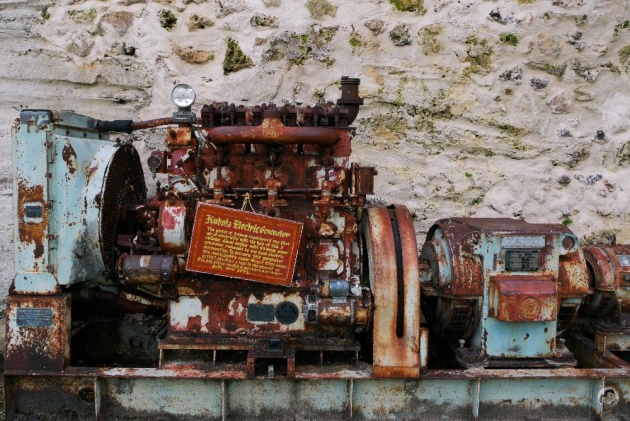 Photo credits: Jean Beltran-Figues via bitLanders.com
Now that was one of a kind! I believe the brand is not anymore in the generator business this time. I googled and found its a tractor company now, well I searched again and found they are still in business, check this out: generator.kubota.jp
ESCUELA CATOLICA
Photo credits: Jean Beltran-Figues via bitLanders.com
Spanish and very understandable to us Filipinos most specially the Bisayas (represent!).
Escuela easily means school and Catolica means catholic.
So it doesn't require much brain to understand what this structure is all about. A few elders on their blue and white uniforms were spotted in the ground floor of the wooden heritage structure which made me think this has been converted into an office of the local Cathechist group. I know because I overheard them talking about it.
A construction however is ongoing at the side as they were working on the comfort room extension of the building. Curious as I am, I asked them if they were renovating the Escuela Catolica but they made a "No" sign and added the heritage structure can't be renovated at all, instead they would need to destroy it and construct a new building, if instructed. I get what they were talking about.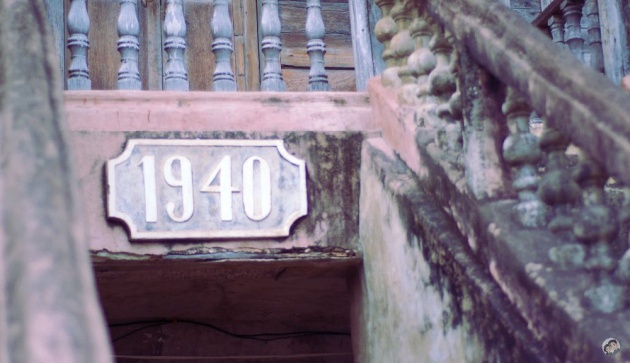 1940, somehow reminds me of the series Vampire Diaries, I loved their throwback scenes! Photo credits: Jean Beltran-Figues via bitLanders.com
The long double wooden staircase of the school building are both interesting. I should state that this has witnessed love stories caught on photos for pre-nuptial e-sessions as well as weddings. Night photo shoot is also a great option because of the lights surrounding it, which gives this spot more justice.
Now the only thing I had been wondering was why the roofs are already made of corrugated metal sheets unlike the rest of the surrounding structures which have the amazing Tisa roof tiles. But I found a stock of these Tisa roof tiles at the building's right side which perhaps mean that these were reserved either to be placed back into the heritage structure or used in another building. I made good use of it by taking lots of photos and I also found an interesting subject - base cut of a tree trunk with two foliage happily growing.
Skies turned gray, some sound of thunder signifies rain is about to come so I have to move to the last heritage structure in this area, the Boljoon's Nuestra Senora Del Patrocinio.
BOLJOON'S NUESTRA SENORA DEL PATROCINIO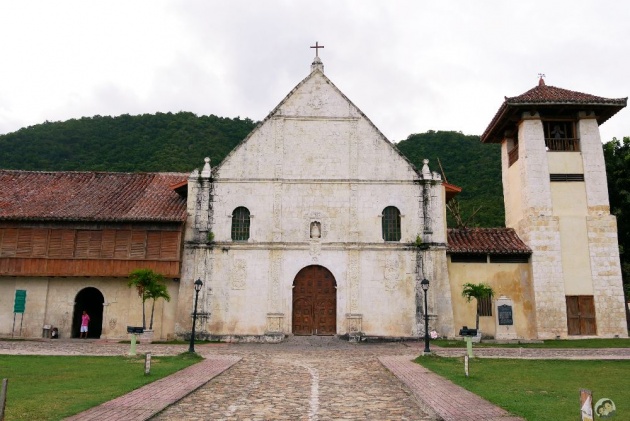 Photo credits: Jean Beltran-Figues via bitLanders.com
James was at a distance, filming the details of the local parish church while I was peacefully watching him from the park's lined up benches. I always love sitting in these benches ever since. It was a mystery that there were no occupied bench, all people were either sitting on the bermuda grasses or dancing. It felt good to see the youth enjoying their dance practices though, kudos to the LGU for their activites.
Found myself day dreaming about the ancient times and I had to stand on my feet so I can go back to reality. I went a little further away as I was using a 50mm lens and I can't capture the entire church, I still couldn't and I had to ditched that idea as I realized James has a wider lens on his camera.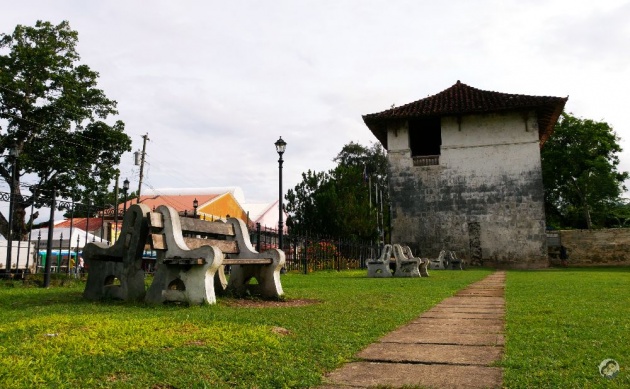 Photo credits: Jean Beltran-Figues via bitLanders.com
I went nearer to the church and took a few shots of its second floor, well that was in fact the convento or convent which has been structured in an L shape, somehow there's a significance to that but I didn't bother checking what it was. The church as how other Hispanic Catholic churches in the entire country has been made, out of coral stones with huge and nicely carved doors.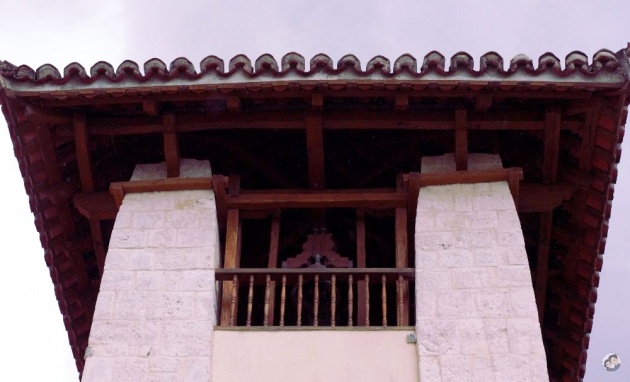 Photo credits: Jean Beltran-Figues via bitLanders.com
At the front of the church stands a myguide.ph QR code which provides information about the heritage structure. Here's some bits of the info:
The church of the Nuestra Senora del Patrocinio was started a year after the Moros destroyed the old one in 1782, the current structure was completed only in 1841. The church served both as a place of worship and fortress for the people during the Moro sieges.

It is the only extant fortress church in the country that still has an almost intact enclosure. The church was declared by the National Museum as National Cultural Treasure in 2001, the only heritage structure in the province honored with that designation.
These stanzas state a lot about culture and heritage of the town, the structure says a lot of historical events and proudly stands through time. I was glad we came here despite the bad weather.
Video credits: Jean Beltran-Figues via bitLanders.com
But I guess I jinxed it because it started pouring again. We found shelter in the ground floor of the church convent. We had no idea that there's in fact a Church Museum inside! Oh what a surprise!
Now you should have an idea what happened next. Watch out for my next blog then!
Blog entry written and published by Jean Beltran-Figues, A Pinas traveler and photography hobbyist, find more travel stories in my blog section, click here.