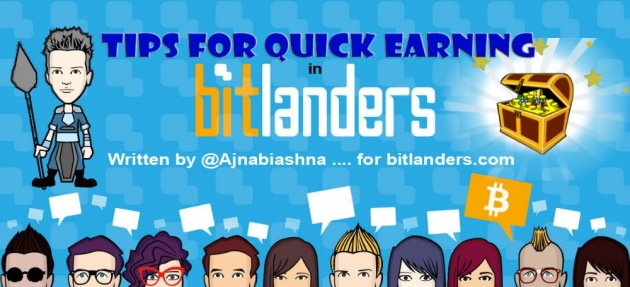 (Photo captured from bitlanders website and edited for this blog)
Hi Guys! In this Blog we will discuss some useful tips and short cuts for Quick Earnings and higher buzz score ranking in bitlanders. But before that I recommend all newbies to read my previous blogs "Working with bitlanders as a newbie"
Working with bitlanders as a newbie (Part-1)
Working with bitlanders as a newbie (Part-2)
Working with bitlanders as a newbie (Part-3) A complete Guide
If you just joined bitlanders and don`t know about this site, I recommend you to must read FAQ section for better understanding about bitlanders.
WHAT IS BITLANDERS?
bitLanders is a digital platform whose entire user base earns bitcoin for their content and social activity. The goal of bitLanders is to promote worldwide access to the genius of Blockchain technology in a fun, unique, and safe environment.

bitLanders users build and engage content (videos, blogs, photos, advertisements). The quality of this content, as well as interactions and internal/external sharing are constantly monitored by our patent pending measurement and reward algorithm, the BUZZ SCORE.
(Quoted from Bitlandrs.com)
You should also watch this video, it is an interview with bitlanders founder.
Interview with bitLanders Founder: Francesco Rulli
(Credit: youtube.com)
HOW TO EARN AT BITLANDERS?
Now we already know that our bitlanders earnings totally depends on our activity and BUZZ score. So it is more important to get more buzz for quick earning and higher leaderboard chart ranking.
Read Carefully about BUZZ score:
The base Buzz Score consists of your rated content score, Influence score, subscribers score and sharing score.

1. Rated content score: Click the following link for tips to submit high quality content "Content Review" feature - What is it and how do I use it to increase my Buzz Score?". Currently, Blog Posts, movies and galleries may be submitted for review. Only rated blogs count into base Buzz Score.

2. Influence score: Buzz received on your rated contents. Only the buzz given and received on content (blogs, videos, galleries) that has been rated 2 stars or higher will count in the BuzzScore.

3. Subscribers score: How many users subscribed to your account.

4. Sharing score: Sharing contents on social media sites by clicking on the social media sharing buttons.
(Quoted from Bitlandrs.com)
Have you noticed there are four main activities to increase you base buzz.
Yes:
Rated Content score: it is most important part for getting more buzz. If you are good blogger, have full command at English language and know how to write a good Blog, you will easily got 5 star rating at your all blogs. If you have 5 star rated contents (Blogs, movies and galleries) in your profile, those posts bitlanders will recommend users to visit, as BM posts at main wall or in the "Daily Quests" section. If you are a good observer then you will find there are some users in leaderboard chart, those are inactive from years, their last posts were 4 years old but they are still in top 30 earners chart. Strange but it is true. So try to get 5 star rating at your content.
Influence score: This score only count your rated content influence (2 star or higher), so must post your content for review to get minimum 2 star rating, when users will visit and comment or buzz at those posts, you will get more base buzz.
Subscribers score: Are you an active user? If yes, then you will already getting some subscribers on daily basis. This score is based on your daily subscribers. If you will get more subscribers daily, you will got more base buzz score.
Sharing score: This is an easy task, when you posts something, you will find 3 social media sharing button after end of every posts. These are facebook, google+ and twitter button, so must share your posts by using these button at your these social plateforms, your base buzz will be increase on daily sharing basis.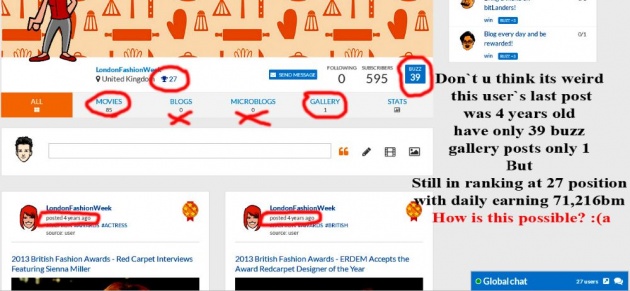 (Pic captured by printscreen option from original website)
So you think it is weird? no. This user have 85 movies, most of them have 5 star rating, so this user getting daily buzz, no matter he/she inactive or not. some of the 5 rated content will appear at your main wall just like this.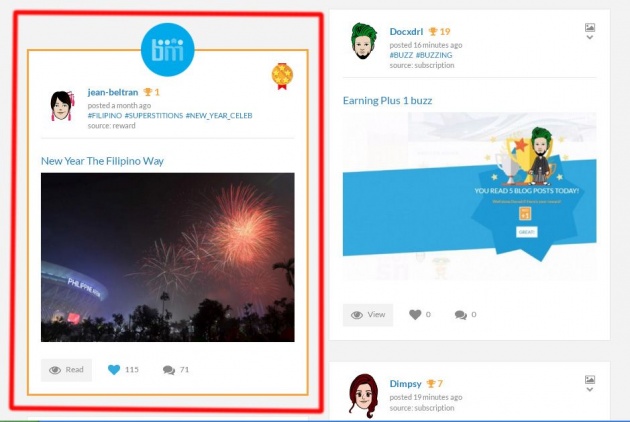 (Pic captured by printscreen option from original website)
No matter you subscribed that user or not, but bitlanders spreading these 5 star rated content to all bitlanders profile. when you visit this post, you will find a quest box with +10bm and writer of this content will get influence score.
So these are the things we will get base buzz score FAQ section, Now I will guide newbies that how they will get more buzz in their initial days and boost their ranking in leaderboard chart.
MOST IMPORTANT TIP FOR NEWBIES:
One thing I already mentioned in my all blogs and will quote it here too, because this is the most common mistake newbies are doing frequently here, so they lost their bitlanders account in just first week. Please read this FAQ section.
Account suspension & termination

The following activities may lead to the suspension or termination of your Account:

1. Spamming in micro-blogs and comments, and on the chat with buzz/sub requests.

2. Posting duplicated content copied from the web, blogs and videos.

3. Using text scramblers and posting unreadable blogs.

4. Posting sexually explicit, offensive or racist content.

5. Cheating, using external software to control, modify or automate the usage of the website. Some of these tools or websites are known as 'Autopilots'.

6. Providing fake or doctored ID documents for payment requests.

7. Repeatedly not using English in global chat (you can speak any language you like in private chat)

Publishing a blog post copied from the web (even partially) or with scrambled (nonsense) will result in the immediate termination of your account.
The unrequested balance on your account will be lost after the 3rd suspension.
(Quoted from Bitlandrs.com)
Please follow these rules, bitlanders will not banned you for your quick earning tips and tricks but they are zero tolerated for plagiarism, don`t copy stuff for your blogs from other sites. And also follow the other rules mention in above FAQ section.
TIPS for Quick Earning:
This is the most important thing to Login your bitlanders account daily. Don't miss a day and don't miss your daily reward quest box opening, mostly your daily earning quest box appear after 5pm, so must login after that hour.
For newbies it is most important to be active and get more subscribes to get higher subscribers score. So you have to do some actions daily. Try to subscribe 20-30 users daily, when you will subscribe others, most of them will subscribe you back in return. (REMEMBER: don`t ask for subscription in global chat or in comments at any post, this is strictly prohibited here). It is better that subscribe only active members, you will find active users at other posts in comment section or also subscribe top 30 earners.
Try to write 10 micro-blog posts and at least one blog (with 2 star rating content) daily, if you are not professional with blog writing, don't be upset, if you have a good topic and presented well you will easily got 2 star rating on that content.
Post photo gallery and videos too, but if you think your photo gallery and videos are not good for getting higher rating then don't give it for review, just post those content for review that is original and have good quality.
The more important and useful trick for getting more buzz score, try to be active and visit others posts and comment or buzz them as much as you can visit more posts in a day. (REMEMBER: don't ask for BUZZ back in comment or in global chat, it is prohibited).
Try to login in your bitlanders account multiple times in a day, and do the different activities in that period of time.
If you have subscribers and follow others, so just try to visit everyone`s profile and give some comment and buzz at their posts.
Don't waste your GEMS to buy fashion item in initial days, try to use GEMS for content review only, first 3 posts review is free, try to get 5 star rating in those reviews, it will give you more GEMS in return so you have qualify to post more content for review.
After joining bitlanders give you $1 as welcome gift. Save this amount and try to collect more $0.80, after collecting this amount purchase 10 GEMS from store, it will cost you $1.80, use those GEMS for blog content review. Don't worry this amount will be back only in two days if you are getting more BUZZ from your posts.
Invest your GEMS to buy those items that have +BUZZ attached with them.
Share your referral link and blogs link at other social sites (Facebook, twitter and also send in whatsapp groups) you will get 20% of your referral earnings for life.
The more traffic you have at your posts you will get more influence score, so posts your link in traffic generating sites. I am using EasyHits4U to get influence and referrals.
Here are some proof of my Quick Earnings with these tips. Look at these sceen shots.

(Pic captured by printscreen option from original website)
This screen shot I have capture at 18th January when my first week was completed, you will see the reward only 41618BM equal to $0.04 ... Now see this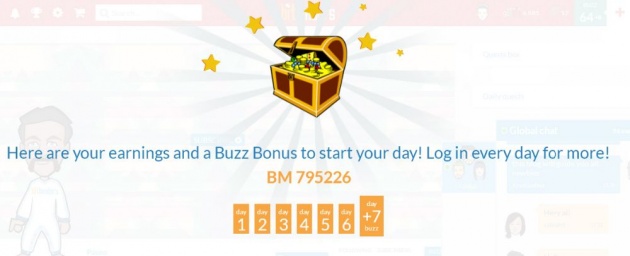 (Pic captured by printscreen option from original website)
This screen shot taken at 11th February. daily Earning shows 795226bm equal to $0.79. it will be higher but I have not posted blogs in this period. Now here are proof of my leaderboard chart achievement.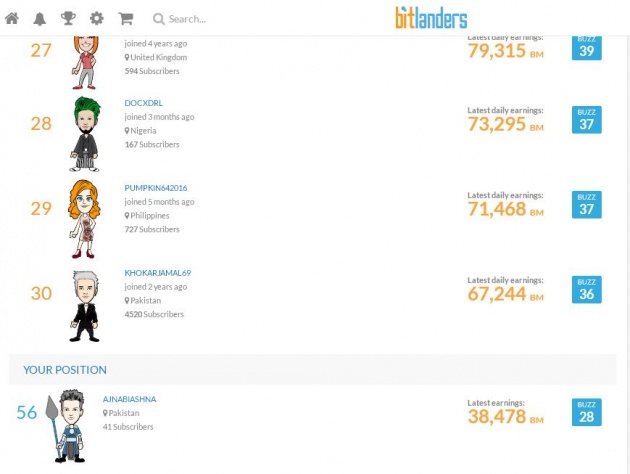 (Pic captured by printscreen option from original website)
This screen shot was after my 10 days regular activity. but Now I achieved at 17th Position at 8th February. May be when you will read this blog my ranking will be more better :P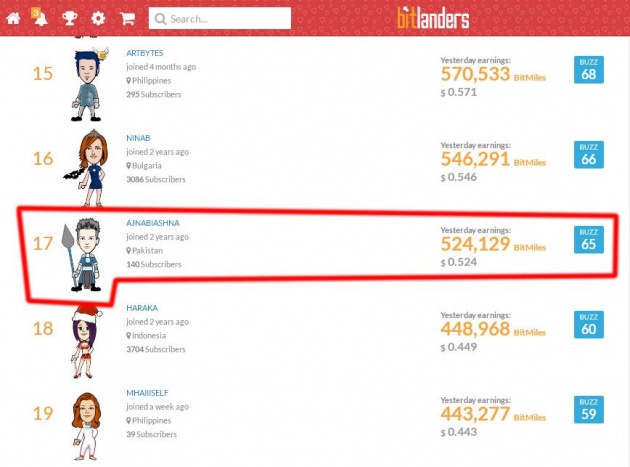 (Pic captured by printscreen option from original website)
There are many other ways for quick earnings in bitlanders, you will find them with your own efforts. If you will follow my TIPS you will easily enter in top 30 leaderboard chart, and your daily earnings will reach minimum $1 daily only in 15 days. Just try.
Remember: Helping each other will give you a chance to earn more.
Wish you good luck for your earnings.
If you like this blog just give me a feedback. It will be appreciated,
Thank you
Ajnabiashna