'To Live The Life Of My Dreams'
The biggest adventure you can take is to live the life of your dreams.

- Oprah Winfrey
I was once told by a good friend of mine of which I called as Ate, that I need to write the things that I want to do so that I'll be able to track and remember them always.
I am quite a dreamer and a wanderlust but things don't go well to what I really want to have because I am not from a very rich family. Still, it doesn't hinder me from being a dreamer and trying to reach some of those. As I grow and my age is annually added a plus one, my dreams and goals in life are also growing, which makes the list goes on and on. That is because I'm still part of the young ones with wild and adventurous imaginations.
Every individual has its own dreams and goals in life. It can either be reached in short term, long term and perhaps, a lifetime term. They say that you should try to catch your dreams, achieve all your goals and endeavors in life but honestly, not all of them can be catch that easily.
Like for example, I've been wanting to become a doctor then become a military. Either of the two professions will be a joy to my heart. However, circumstances happen that my dream of becoming a doctor or military or a combination of both will always remain as dreams.
Though I'm happy with who and what I become today but if given a time turner, I might choose stethoscope or an M16. Hah! Now prior to the topic, the things that I'm going to mention in this blog are the things I really want to fulfill from the day I graduated in college. A year has passed in which thankfully I was given an opportunity to do some of the things I want, hence, some things that I've done already are included because I still want to do it again.
ON MY BUCKET
I'm going to enumerate it all. I'll just limit it up to 10 since it might take me too long to finish the blog. The following are arranged in no particular order.
CLIFF JUMPING
Image Credits: kneelyrac via facebookfacebook
I know how to swim but because I can only hold my breath for a mere 10 seconds, lucky enough to extend it to 20 seconds. With that, swimming that is beyond 5 feet wherein I could not touch the seabed causes me to panic.
Now when I was given a chance in which our team building in my second employment was held in Siquijor. Siquijor is known for its crystal blue water and the cliff jumping itself. I've seen it on the television where Salagdoong Beach Resort was featured and I told my Papa, that I want to go there. They told me that I've been to Siquijor because Papa's younger brother died and the funeral was held on Siquijor. But I was just a toddler that time, I don't even remember a single thing.
When I was in Salagdoong in flesh, I chickened out even though the boys said they're ready to save me though they will laugh at me first.
Thankfully, some of the gags extended the trip and I tagged along and told them, "I'M NOT GOING HOME UNLESS I'LL BE ABLE TO JUMP IN THIS 24 ft HIGH JUMPING BOARD."
Months later, I was able to go back and this time, I challenged myself to jump the 36 ft high jumping board! AND I DID IT! So worth the butt pain because of the pressure! I'll surely go back to Siquijor and maybe I could jump without a life vest! Hah!
Also, I'd love to do cliff jumping in Kawasan Falls, Cebu and the other parts of the globe!
HAVE A SWIMMING LESSON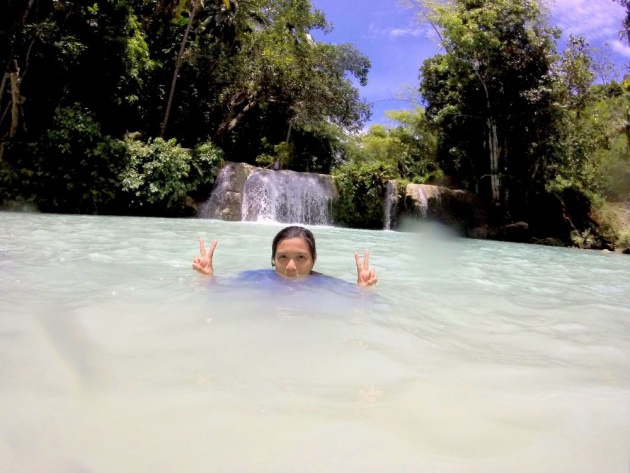 Image Credits: kneelyrac
As I already stated, I know how to swim but the thing is I can't hold my breath for too long. Also, I'm still hoping that my asthma will be dormant a hundred percent! I planned it before but due to the hectic schedule and the fact that I'm not a morning person makes me hard to enroll.
But still, I will make this one possible because, as mentioned, I'll be doing a cliff jumping without a vest, soonest!
LEARN HOW TO PLAY THE DRUMS
Image Credits: julenphoto
I always admire people who play the drums! Boys or girls, no exception when it comes to drums. I would normally stare at them, appreciate the beat they're creating but also, in my mind, "I need to learn how!" keeps on swirling on and on. Drummers lead the band, it gives the signal to the members, the banging of the stick and the set and the banging of head while doing so are such a pleasant view to witness! Someday, I'll be able to attend a drum lesson and to have my own drum set!
Now let me share with you guys the drummer girl I've been wanting to meet in Taiwan! Someday!
Video Credits: S. White via youtube
VISIT JAPAN
Japan O Japan!
Why do I love thee?
I've been wanting to visit you one day
I was only a snotting kid
When I laid your beauty on my lid
You never fail to mesmerize me
As I've been longing to see you someday
Japan O Japan!
When will I going to hug you with my arms?

- kneelyrac
I've been wanting to visit Japan the day I learned that Anime is from Japan. And I started watching anime when I was a 5-year-old snotting kid. Wondering why I remember it? Well, it's because the memories of me singing the soundtrack of Dragonball Z is still fresh and same goes to my Mama and most especially to my Kindergarten Teacher who has the priceless face and reaction if I suddenly started singing in the middle of answering the seatwork!
Image Credits: Japan Magazine
Now, if you're an anime lover, I bet you'll surely relate to this!
Either working in Japan or visit her for a week or 2 is enough for me, but if I were to choose, working in Japan because that means I'll be staying in Japan for a couple of years! Hopefully, in God's will!
TRAVEL AROUND THE GLOBE
Image Credits: Carrus-Cicli
This is very difficult to achieve because I need a large sum of money to be able to travel the globe. This may take a decade or more but I'm hoping to travel a two to five countries before reaching the maximum number of the calendar.
My Top 5 countries:
1. Japan - Become a Ninja for a moment.
2. South Korea - I want to see my Oppas! Hehe
3. Hongkong - Treat the kid in me! Disneyland!
4. Greece - Mesmerize by the beauty of Santorini and do the cliff jumping!
5. France - Have a picture of the Eiffel Tower in which it will be in a bokeh effect!
LEARN MUAY THAI
Image Credits: John Douglas
As what Melissandra from the Game of Thrones said, "The night is dark and full of terrors."
Yes, it's true! There are plenty of rape and murder cases these days. Men are known for its strength, they are made with higher muscle mass and a stronger grip or force, hence, as a woman, I need to be ready. I need to learn even just a basic self-defense. My father taught us some of the basic but there's this urge that I have to enroll and help myself by avoiding to become a victim.
Miss Universe 2017 is Demi-Leigh Nel-Peters from South Africa. In one of the interviews held by the management shown during the pageant, she said that she was carjacked and had a gun pointed at her before her coronation night. She was able to escape and seek help by punching the attacker hard. One of her agenda as the Miss South Africa 2017 is women empowerment in which she held self-defense workshop and she's planning to continue this in her reign.
EXPERIENCE THE EXTREME SPORTS/RIDES
Image Credits: Remember Italyland
When my boyfriend and I went to Dapitan City just to visit his best bud doing his field works which happened to be my colleagues. I was the only girl in the group and we had so much fun in Fantasyland. We were able to buy the ticket promo - unlimited rides to all rides and a day to visit the Dakak Beach Resort (Planning to make a separate blog on this). Then I saw drop zone and beg the three boys to ride with me but they refused not to. If anyone who's willing to do a drop zone, please let me know. I'm looking for a buddy. Thank goodness, I was able to enjoy the Zimmerman of which I rode multiple times and to the point, the three boys gave up and waved the white flag.
Image Credits: greatadventuretreks
Next, the bungee jumping! I saw Nina Dobrev's video doing the bungee jumping in New Zealand and it was one of the scariest jumps I ever saw yet I really want to try, maybe not in New Zealand right away, here in the Philippines perhaps.
Other
I am somehow afraid to do this but still, I want to challenge myself. Now, these are some of the things I really want to try.
1. Parasailing
2. Parachuting/Sky-diving
3. Paragliding
4. Go Kart from Highlands
5. Surfing
ATTEND THE ONE OK ROCK CONCERT
Image Credits: One Ok Rock Official Website
YES! This coming January 29, 2018, ONE OK ROCK, will have their Ambition Tour here in the Philippines and I still don't have a ticket because I'm in a state of bankruptcy. I want to buy the ticket where I can meet and greet and take a picture and even a selfie with them. But still, even if the location of my seat is the farthest and be able to see them as small as the ants, then yes, I'll be a 100 percent happy with that kind of set up. But if I have enough money, a meet and greet for sure! Someday!
VACATION WITH MY FAMILY
Image Credits: kneelyrac via facebook
Philippine Beaches are world-class. It is known for its crystal blue sea and diverse underwater creatures. Every island, places, and beaches have something to offer. Also, there are plenty of mountains where we could have some trekking. It would be a shame if I will not be able to see the beauties in every part of the country.
Hence, as much as I want to include my parents in the mountain trekking, I just want to have a beach escapade with them. Just feel the sea breeze, no customer to think and serve with the food they ordered. I want my parents to relax and to be pampered by their eldest daughter together with my 3 siblings and if God permits, with our grandma (Mama's side) and grandpa (Papa's side).
So I'll end this blog with a video showcasing the beauty of the Philippines!
Video Credits: Lost LeBlanc via youtube
- kneelyrac -