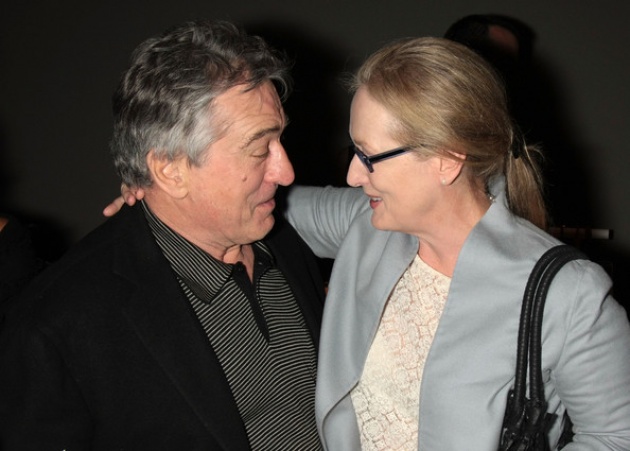 Alcoholism, mysticism, scandal, oh, and two sixty-somethings falling in love -- these are some of the subjects in Anne Leary's novel "The Good House." And now, the Huffington Post is reporting that Meryl Streep and Robert De Niro will team up for the fourth time to bring the book's romantic leads to life.
Previously, the two acting greats starred together in 1978's "The Deer Hunter," 1984's "Falling in Love," and 1996's "Marvin's Room."
And now, here comes the dark comedy "The Good House." Pulitzer Prize-winning author Michael Cunningham ("The Hours," "A Home at the End of the World") will adapt the novel.
If done right, I can see Oscars all over this film. Streep to star as a raging alcoholic? Check. Streep and De Niro matching each other wit by wit? Check. If you haven't read the book, take a look at its description from goodreads.com and tell me if you can't picture Streep in the lead:



Ann Leary's The Good House tells the story of Hildy Good, who lives in a small town on Boston's North Shore. Hildy is a successful real-estate broker, good neighbor, mother, and grandmother. She's also a raging alcoholic. Hildy's family held an intervention for her about a year before this story takes place—"if they invite you over for dinner, and it's not a major holiday," she advises "run for your life" — and now she feels lonely and unjustly persecuted. She has also fooled herself into thinking that moderation is the key to her drinking problem.

As if battling her demons wasn't enough to keep her busy, Hildy soon finds herself embroiled in the underbelly of her New England town, a craggy little place that harbors secrets. There's a scandal, some mysticism, babies, old houses, drinking, and desire—and a love story between two craggy sixty-somethings that's as real and sexy as you get. An exceptional novel that is at turns hilarious and sobering, The Good House asks the question: What will it take to keep Hildy Good from drinking? For good.