Too Cool for School in Monsters University?
From a Childhood Dream
As almost everyone grows up, we are asked several times by adults what we want to become, be it a doctor, teacher, lawyer, or something else entirely. This is a motivation for us to study hard and hone our talents and the necessary skills to pursue our dreams.
Oftentimes our dream is inspired by someone or something we've seen when we're still kids. Nonetheless, some are motivated to pursue a lifelong career because it runs in the family. Either way, school helps us to achieve this goal.
Monster's University by Disney and Pixar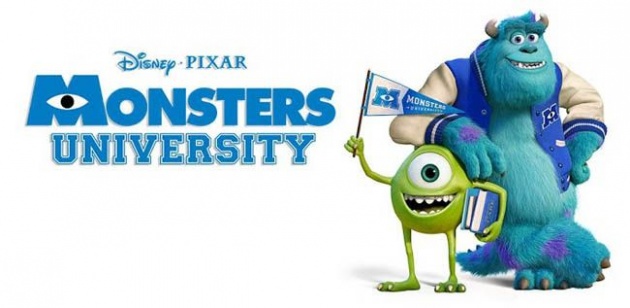 Mike Wazowski and Sulley. Photo credit: androidgame365.com
Concept and Theme
Monsters University is a prequel to the box-office Disney movie, Monsters, Inc, but chronologically, the former was released later in theaters, presented like a back story. In both movies, there's this monster world and it is their prime business to scare kids, because a kid's scream powers up their world. Disney made the proverbial bogey-man come alive, but they are taught in school of every situational scare tactic to keep children on their toes.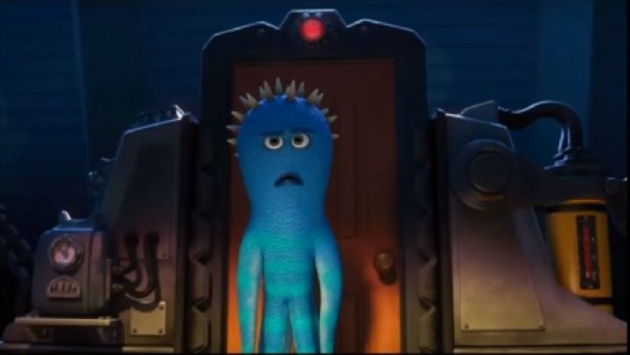 Monster (Frank Frightening) with door portal and canister (right). Photo credit: blue1kitty1cat1 via youtube.com
We still follow the life of one of the best duos in the scare business like in the first movie, but in Monsters University, we get to see why they have become one the greatest in the industry, even if they.ve flunked school. It is their determination, cooperation, hard work and humility on top of their abilities and personal skills that made them the way they are.
Characters
There are recurring characters in Monsters University, but they are shown to have some different personalities from the first movie. They also created new and interesting characters that are funny and amusing.
Mike Wazowski
Student Mike is a one-eyed little green monster who's determined to be a scarer, even though he doesn't look the part. He's a theoretical genius and is brimming with optimism.
James "Sulley" P. Sullivan
Sulley is a big, scary, furry monster who comes from a renowned family of scarers. Because of this, when he was still in school, he has grown arrogant that he'll pass every test without flipping a single page.
Randall "Randy" Boggs
Randall, as a student, looks like an awkward color-changing salamander-like monster who wants to fit in with the cool kids in school. He's Mike's roommate.
Dean Hardscrabble
Abigail Hardscrabble. Photo credit: JMAS via disney.wikia.com
Dean Hardscrabble is dragon-centipede chimera who has the highest scream record in the university. She's seen as strict, not-to-mess-with type of educator who has a keen eye for bonafide scarers.
Oozma Kappa Members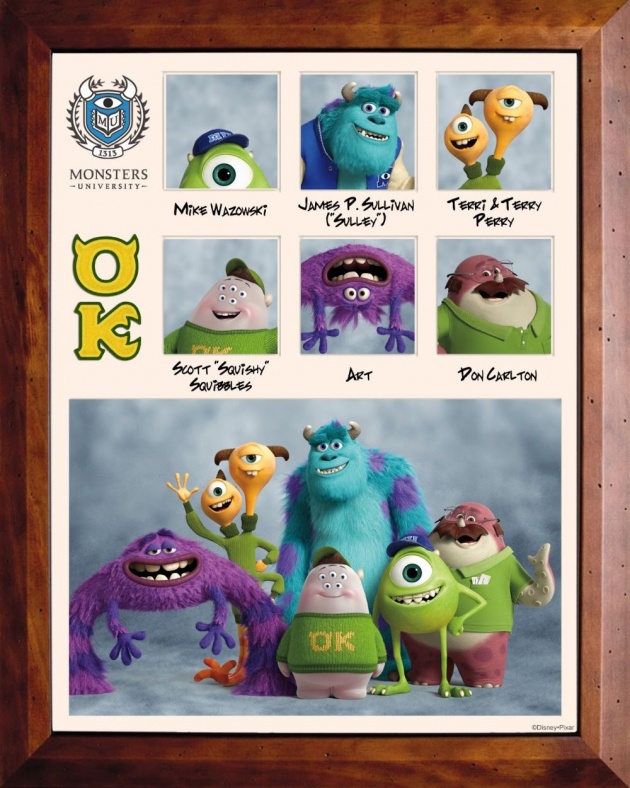 Oozma Kappa Members. Photo credit: Gray Catbird via pixar.wikia.com
Oozma Kappa (OK) is an unpopular fraternity house where the members are regarded as cute, weak and uncool. They comprise of Squishy (many-eyed plump monster), Don Carlton (monster with glasses, mustache and tentacles), Terri and Terry Perry (two-headed monster with different traits), and Art (a violet hairy monster). A special mention here is Squishy's mom who provides housing, transportation service, moral support and general upkeep of the brotherhood.
Roar Omega Roar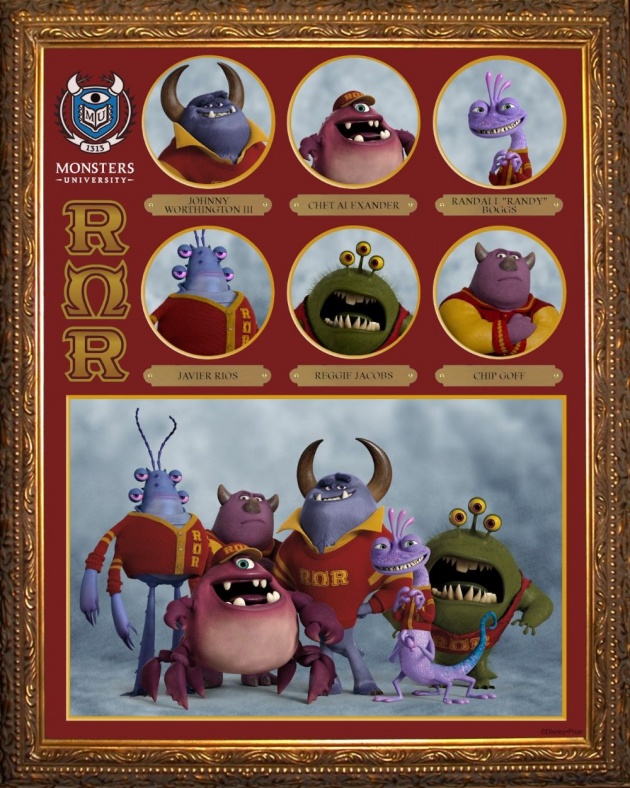 Roar Omega Roar Members. Photo credit: Lightening McQueen via disney.wikia.com
Roar Omega Roar (ROR) is a famous fraternity in Monsters University where they recruited Sulley because he fit the bill but later removed him because of his conduct. Johnny J. Worthington III is the team's leader.
Summary
Monsters University Trailer. Video credit:
Disney-Pixar
via
youtube.com
Warning: Spoilers.
Mike went into a field trip to Monsters, Inc. when he was little. Being too small but curious with whom no one wants to pair up with, he sneaked into one of the doors leading to a human kids' dorm. He was retrieved later and the designated scarer of that door gave him an M. U. (Monsters University) cap. Mike was then inspired to be a scarer.
Fast forward to college, Mike enrolled in the scarer course, the ones responsible to scare kids and harvest their screams. He's annoyed by this famous freshman in school, named Sulley, who's getting all the attention because of his family name. One night, Sulley barged into Mike's room to retrieve an escaped pet scare pig, an initiation of some sort from a fraternity. Mike captures the pig, but the credit was given to Sulley, granting him membership in Roar Omega Roar.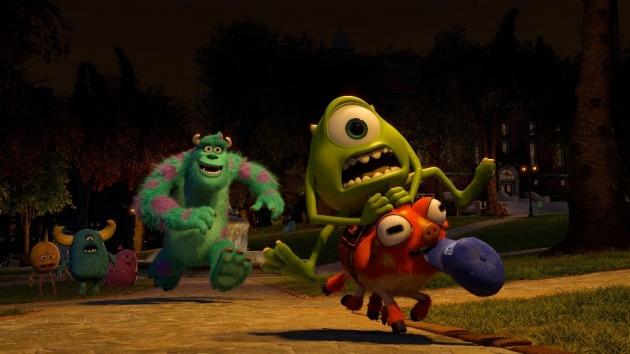 Sulley with Mike riding the pig. Photo credit: Gray Catbird via pixar.wikia.com
As Mike studies hard, Sulley's school performance dwindle down. On their final test, they bumped into each other and annoy one another until they bump and break Dean Hardscrabble's record-breaking scream capsule. Because of this, the dean pulls them out of the program while ROR also kicks out Sulley from the brotherhood, recruiting Randall as replacement.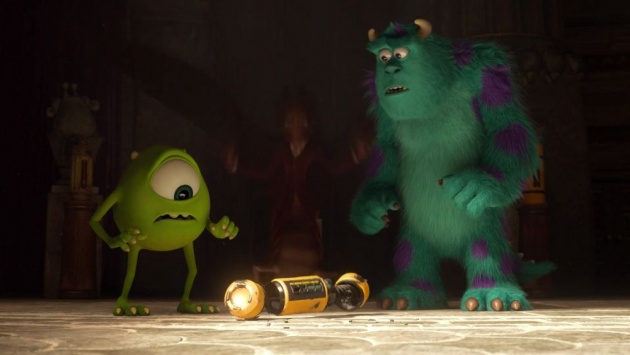 Broken Canister. Photo credit: RodRedlineM1 via monstersincmovies.wikia.com
There's an upcoming "Scare Games" and Mike makes a deal with the dean to join the game and that he's got what it takes to be a scarer, but if he loses, he's out of school for good. Entering the Scare Games requires a fraternity, so Mike joins Oozma Kappa. However, they are short of one member, so Sulley eventually seals their entry by also joining OK.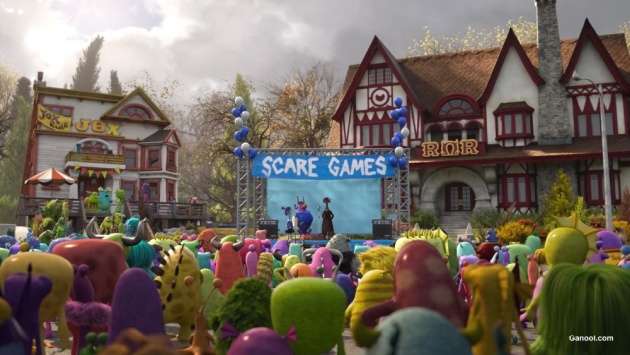 Scare Games. Photo credit: Dann Scooby via monstersincmovies.wikia.com
Johnny: Enjoy the attention while it lasts, boys. After you lose, no one will remember you.

Mike: Maybe. But when you lose, no one will let your forget it.

- MIke to Johnny, Monsters University
At first they merely won by luck but the team is still not put together, until they sneaked into Monsters, Inc. to find inspiration. Day by day then, they train hard, and on each competition, they get better until their team and Roar Omega Roar are the only ones left. Before the final test Dean Harscrabble had a talk with Sulley if Mike was fit to be scarer, to which he replied negatively, so on the final day, Sulley cheated their way to victory.
Sulley was remorseful by the team's false winning and admitted his fault to Hardscrabble. Meanwhile, Mike wants to prove that he can really scare well so he broke into the school's human world door portal. Sulley also went in, with the help of Don as diversion, and together with Mike, they managed to excessively power up the portal to make their way back into the monster world.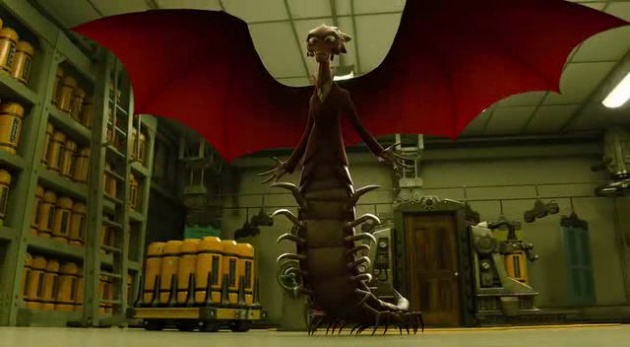 University's Human Door. Photo credit: Lightening McQueen via monstersincmovies.wikia.com
After a surprising talk with the dean, they were both expelled while other OZ members got accepted into the scare program. But their dream didn't stop there because they applied as mail sorters at Monsters, Inc, then janitors, then cafeteria crews, then canister wranglers, and eventually make their way to become top team scarer (by the company's open tryouts).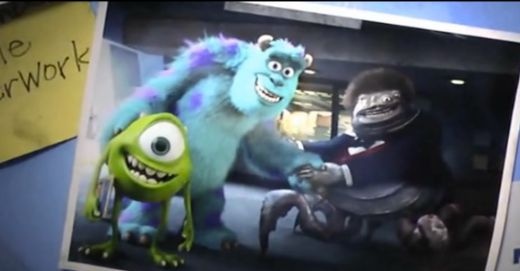 Photo op with Monsters, Inc CEO. Photo credit: movies.stackexchange.com
Review
Mannythemovieguy's Review. Video credit:
Mannythemovieguy
via
bitlanders.com
This movie reminds me of dropouts like Mike Zuckerberg and Bill Gates. However, in reality, they were already geniuses in their field, and, while still in school, are involved in projects which catapulted them to success. Their stories are great stories to tell to those who failed though, and probably has become effective for some, but in this day and age, for those in school, your education (plus your attitude) is still a very strong springboard to success.
Nonetheless, Disney has really a magical way to present this type of (social) issue in a very lighthearted way. They point to a very positive feeling and inspiration in pursuing one's dream, even if one thinks it's the end of the road for them. Just like Mike never easily gave up in the scare course, one should also never easily give up on your dream. But also like Mike's, you should never take it too far.
It's also never too humiliating to start very small (see: Amazon's first office). Small things are stepping stones to bigger things, just like the monster duo did: from mail sorters to janitors and so on and so forth.
Disclaimer: pictures, videos and write up are originally shot/written by lapiz-lazuli, unless otherwise stated. Monsters University (digital content, merchandise) is property of Disney. Views and opinions on this blog post are truthful, but subjective, and are not influenced by sponsorship of any sort.