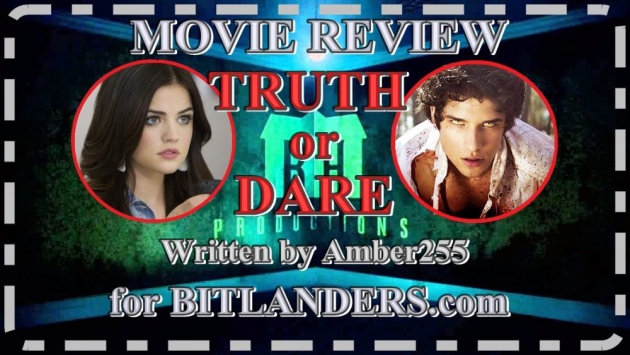 TRUTH OR DARE movie review - Photo credit: Amber255 via Bitlanders.com
Welcome to read my new blog, this time, again movie review - TRUTH OR DARE. Truthfully, I rarely watch horror movies. When I was younger, I liked this kind of movies to watch with my friends, we even scarred each other, and then had a much laugh. With a time I started to prefer more serious movies that force you to rethink life's values. But I like Jason Blum's horror thriller movies, and truly waited for this one after first watched a trailer.
Anyway, last Friday, we went to watch exactly TRUTH OR DARE, which not long ago appeared on the screens of our cinemas.
Jason Blum, a film producer specialized in horror thriller movies of low budget, nominated for two Oscars, now presents a mysterious and extremely intriguing project about the death-threatening game. And in order to fulfill his ambition, the film producer invited screenwriter and film director Jeff Wadlow, creator of very effective movies for youth to sit on the film director's chair. He was given a truly challenging mission - to give spectators not only good entertainment in the cinema, but at the same time to cause them the horror of watching the movie.
What we did was we just sat around and talked about the game. Why does the game work? Why do people love the game? We started to really bear down on things like, the game is so popular because it exposes your secrets. It forces you to face your fears. It gives you permission to do things you wouldn't normally do and say things you wouldn't normally say. It puts you in sort of an antagonistic dynamic with your closest friends... - Jeff Wadlow

Credit: vulture.com
While reading, you can kindly check Querlo chat:
The short story of the movie
A group of college buddies decides to spend their spring vacation in Mexico. And it would be good if not the last day that made it fateful. On the very same day, getting familiar with the adorable young Carter, they all agree to play the seemingly innocent and extremely interesting "Truth or dare" game. However, they did not even suspect that this game will start chasing them after coming back home. Friends have no choice but to accept game rules when everyone has to answer the truth to the question asked or to fulfill a courageous task.
Soon, a simple game of truth and courage is turning into a race of death when players decide to play against the rules and use a lie that carries death. Who will defeat the death in a brutal game and will stay alive? If you want to know that - watch the movie. I will stop describing a plot of the movie now as do not want to spoil the intrigue of watching.
TRUTH OR DARE (2018) Full Movie Trailer
Video credit: TRAILER CITY via Youtube.com
The content of the movie
I am a big fan of producer Jason Blum and his Blumhouse Productions company because I think this guy is really talented. Indeed, in this era of comics, you need to have the genuinely substantial talent to create high-quality, low budget thrillers and horror movies that not only earn back spent money on film creation, earn additional money, but also would attract crowds of curious spectators.
Just last year, three of his film projects (GET OUT, HAPPY DEATHDAY, and SPLIT) greatly surprised not only me but also millions of other cinema lovers. It was eye-catching and somewhat interesting films that not only managed to create an intrigue while watching them but also became quite an entertainment for every watcher who bought a ticket to those movies.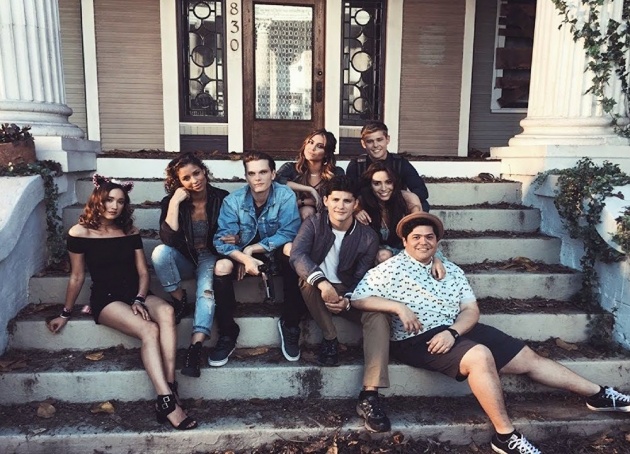 Scene of the movie TRUTH OR DARE - Photo credit: youtube.com
In this respect, we can also commend the contribution of this cinema producer, because he knows what the masses like but at the same time, he knows how to make an impression and show a higher level for filmmakers. I remind that GET OUT was nominated for four Oscars, from which he scored one for the best original script. I think it was really a great achievement.
That's why I was eagerly looking forward to this movie, which from the first glance looked to be related to the horror thriller movie HAPPY DEATHDAY, already mentioned above. At least from the trailer, we could guess that the amusing youth will again be in the center of the movie, the brutal deaths will be shown again, and there will again be shown nonsenses of comic tone. And what else do you need to have fun in the friends' circle while watching a thriller with horror elements? I think this is the ideal recipe for a light session.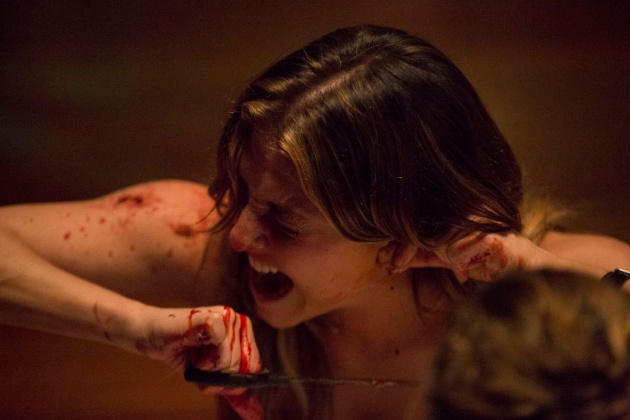 TRUTH OR DARE movie scene - Photo credit: exclusive424.rssing.com
This kind of the plot I also expected from the movie TRUTH OR DARE, which the first trailer made me very intrigued by a story that is interesting enough. I imagined the very intriguing movie and expected to be involved in the plot with whole my heart. However, unfortunately, the film did not justify my expectations. I'm not saying that it is very bad because that's not the case. You can watch it, but it does not cause any surprise as it was with the movies I mentioned. Especially with the HAPPY DEATHDAY, when it was hard to predict who is the real killer.
The biggest problem with this movie, in my opinion, is that the storyline is not only boring but it is also very monotonous developed.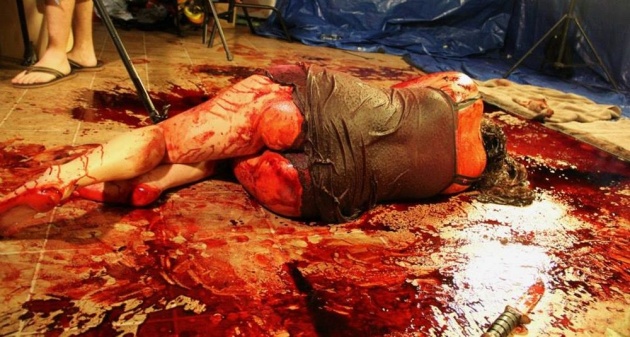 Horror thriller movie TRUTH OR DARE - Photo credit: horrorfreaknews.com
Each death seems to be very stretched, uninteresting, and most importantly, most of these deaths are simply stupid and incapable of surprising. I know that I am speaking like a sadist, but I still think that if I came to this kind of film, so I have the full right to demand something special and really tense. Why was it not possible to offer something original or unusual? All the tasks done by the victims were very banal.
But let's leave those tasks aside. The most annoying is the idiotic origin of the game. I will not tell you anything because I do not want to spoil the watching, but until the real nature of the game was revealed, it was still possible to have fun and at least guess what and why, but then...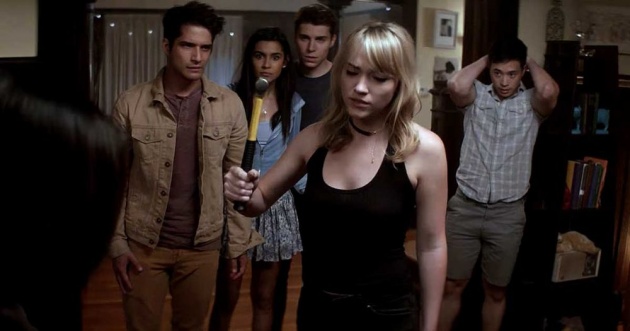 TRUTH OR DARE movie scene - Photo credit: zombiesinmyblog.com
And yet, many logical mistakes can be seen there without even efforts to see them. Those last 40 minutes turned the watching into some kind of clown show. The only good moment in the second half of the movie was its end. I do not lie, the movie was finished really well and even interestingly, and wisely. Really so. There the fantasy did not get spoiled and got a really decent end, which seemed to warn you about a possible extension may come in the future. We will see how it will be.
Maybe the creators will improve it and will create a movie that will be worth our attention. And here we would not be surprised, because they did so a few times. Jason Blum's "The Purge: Anarchy" and "Ouija: Origin of Evil" are much better movies than were their predecessors.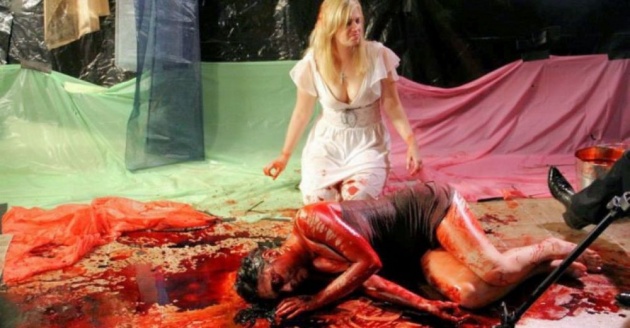 Horror thriller movie TRUTH OR DARE - Photo credit: horror-livingdead.blogspot.com
I want to pay attention to the heroes too. Well, there was a girl trying to fight with her flaws (alcohol), and an Asian gay man. Such a set of characters was not surprising, but was not annoying also. All of them were so neutral that when I saw some of their deaths, I was staying indifferent. Therefore, I do not see the meaning of anything to say about them. They're just not interesting.
And although the film did not cause any big emotions, sometimes it was too tedious and solid, and it was not completely frightening - it is still worth watching. Just maybe not at the cinema, but at home, on a Friday evening with a bottle of a good beer in hand or making a fun movie night with a friends' company.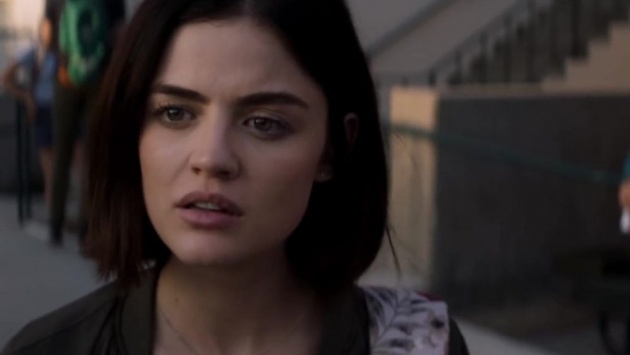 Actor Lucy Hale in a movie TRUTH OR DARE - Photo credit: happywonderworld.com
The technical side of the movie
Believe it or not, but in this film, there are also special effects that were put on film actors, so that their smiles would appear to be very scary. It made me smile because somewhere it seemed just ridiculous and funny, but the creators save a time, never bothering to paint the same faces every time from the new.
The camera work left me a good impression. Especially some scenes with landscapes presented and the deaths of actors shot from a certain angle. Also, the soundtrack did not cause any unpleasant feelings. There, we could hear not only the musical compositions created by composer Matthew Margeson, adapted to the daunting moments but also a few vibrant songs.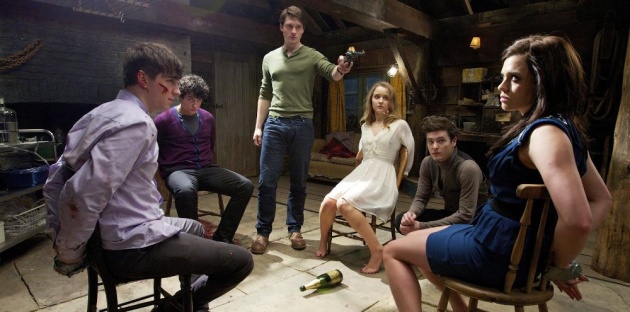 Movie TRUTH OR DARE - Photo credit: wallpapersin4k.net
The sound editing is great, especially it was well-balanced in scary scenes.
The video montage is too coherent and boring, some of the scenes are too long and monotonous, so if you shorten the movie for 20 minutes, it would give more life to it. Anyway, it really lacks some energy.
The collective work of actors
It is too difficult to assess the acting of the actors because they almost did not play here, but were like themselves. Some of them for a longer time, others shorter. Actor Lucy Hale, who played the role of Olivia, was the only actor who really puts effort into her role. Although, to tell the truth, she was attractive to me just because of her appearance, but not because of her played role. I did not feel the fear of her, which should pass to me as to the watcher as well. Often, in a movie, the actors are able to force the viewers to personalize into their roles and identify with them.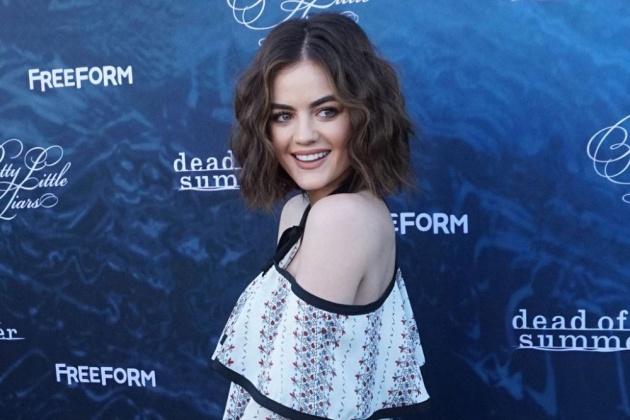 Actor Lucy Hale - Picture credit: wegotthiscovered.com
There are many movies where you see the eyes of the actors full of fear and you feel the worry with your whole being. And here, unfortunately, I felt nothing.
Other actors of this movie I can mention: Tyler Posey, Sophia Ali, Violett Beane, Nolan Gerard Funk and others. I will not say anything about their acting, because they were all templates and no charisma, and their characters were gray and unattractive to the eyes.
Blumhouse Productions' movie TRUTH OR DARE premiere
Video Credit: hollywoodstreams via Youtube.com
On a final note - Verdict
The horror thriller movie TRUTH OR DARE created in a legendary movie studio by Blumhouse Productions will remind you the game played hundreds of times, making you wonder if you're determined to play till death? I guess, many of the watchers have played this game and expected a very interesting plot. Creating movie by this game's scenario gave a big potential to the movie. However, I feel like this movie is more suitable for teenagers. For me, it was too boring.The second time I would not watch it.
TRUTH OR DARE is one of those horror thriller movies that at the first glance have an extraordinary potential, but it never took full advantage of it. Instead, the viewers received a rather boring and completely monotonous movie with characters that are not very charismatic and their idiotic actions when at any cost trying to avoid meeting with death.

Actors of the horror thriller TRUTH OR DARE - Photo credit: justjared.com
Of course, this is also one of the worst producer Jason Blum's films over the last few years, which, despite its seemingly incredibly appealing looks, is not suitable for the watching in the cinema but for watching it at home. Of course, if you want to, you can watch it at the cinema, but I would advise to watch it at home. You will lose nothing.
Have a fun watching if you still decide to watch TRUTH OR DARE, the movie that is testing the limits of your fear.
***************************************************************************************************
Thank you for stopping by and reading my blog.
2018, All Rights Reserved.
You are very welcome to join Bitlanders and share your valuable knowledge and opinion.
***************************************************************************************************
You can check my other blogs with movie review:
1. RAMPAGE movie review: the movie pleasant to the eyes and perfectly relaxing brain
2. THREE BILLBOARDS OUTSIDE EBBING, MISSOURI movie review: the story that keeps you in unknown for two hours
3. Movie review: READY PLAYER ONE - a visual masterpiece of Steven Spielberg's science fiction adventure genre
4. Movie GRINGO Review - Crime Comedy Full of Sarcasm
Come back to find more...
**************************************************************************************************