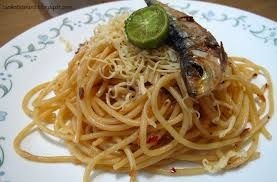 This Tuyo Pasta recipe is dedicated to Renz. He wrote to us asking a question as to how to cook tuyo without having that awful odor. First and foremost, I think that tuyo is not that bad – but we need to be considerate of other people especially if we live outside of the Philippines. My response to Renz was to wrap the Tuyo in Aluminum foil and bake it in the oven; it eliminates at least 50% of the fish smell.
This recipe that we have which I am calling tuyo pasta do not entail a lot of cooking; all you need to cook are the Spaghetti noodles. The tuyo that we will use are already cooked and packaged in a small jar. All we need to do is drain the oil, shred the fish, and toss – simple isn't it?
Why don't you get hold of bottled tuyo and spaghetti noodles, the rest of the ingredients should be available in your pantry. This dish takes less than 20 minutes to prepare and it tastes absolutely awesome. I recommend having garlic bread by this side to make your experience more exciting.
Try this Tuyo Pasta Recipe. Enjoy!