This is a continuation of my previous post "My Experience with Humanatic Call Reviewing".
Humanatic announced their Shortened Calls (removed dead air that occur during hold times) 14-July-2016.
I noticed my "Live conversation -- inbound" accuracy dropped drastically (from 97% to 71%) and I wondered why. :(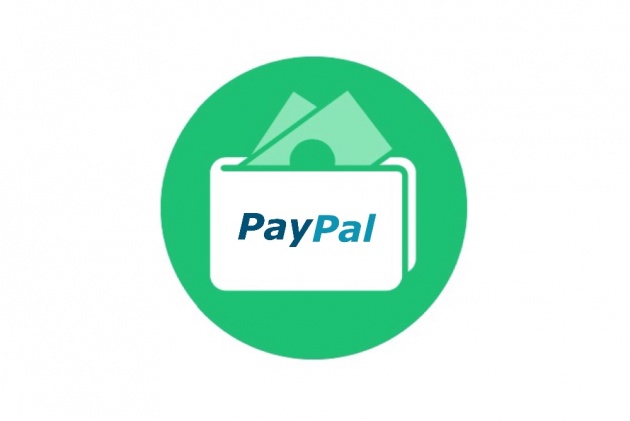 CASH OUT
• Requested 8th PAYOUT $16.12 July 18, 2016. Received $15.80 in less than twenty four (24) hours.
An internal server error occurred July 19, 2016.
I reached LEVEL 16 23-July-2016. I could have finish reviewing 1,220 calls earlier and earn more than $10/week if no internal server error occurred.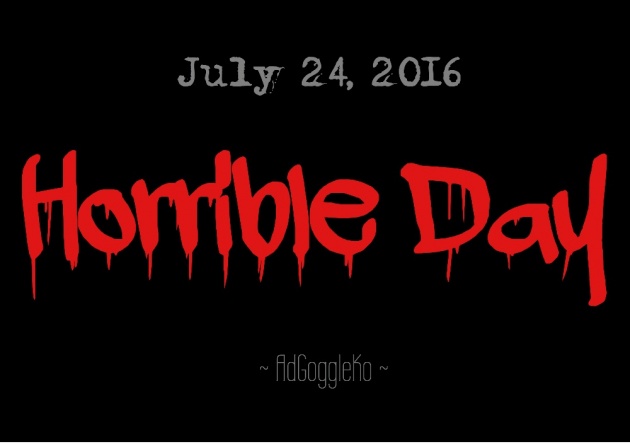 Time Difference: 10:00 a.m. in Humanatic is 5:00 p.m. in the Philippines
• Requested 9th PAYOUT $9.33, 25-July-2016, 5:21 pm, received 27-July-2016, 1:02 a.m.
Payment was DELAYED (1 day) for the very first time. I assumed it was because my account was FLAGGED by Humanatic mediator(s). I disputed my SO MANY penalized calls that they considered them as INVALID DISPUTES. I marked them as "NEVER CONNECTED TO QUALIFIED AGENT" and I insisted the reason "connection was lost", "call was cut" blah blah. For one of the mediators, it is horrible for me to insist that "connection was lost" (they didn't know it's ACTUALLY LOST). Mediators insisted that "connection was NOT lost", "call was handled and properly closed" blah blah blah.
Do you think I cannot determine LOST CONNECTIONS and PROPERLY ENDED CALLS?
I guess even the dumbest person can!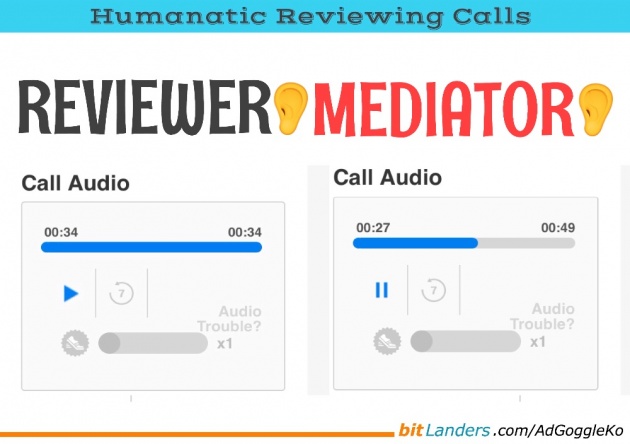 One of the mediators made me realized that the Call Audio he/she was listening to was ended in 40 plus seconds, while the Call Audio I was listening to ended in 34 seconds. NO WONDER why other mediators insisted "connection was NOT lost". I e-mailed and attached screenshots (call ID #s included) to Humanatic Tech Support for them to investigate.
I supposed to post my concern at Humanatic forum but I wondered why I cannot create an account at that time. I gave up after several attempts. Maybe I'm just so dumb using the site. I tried registering again the next day. Registration successful but I changed my mind so I did not post this:
May I humbly voice out my concern and observation on how some Humanatic MEDIATORS handle our DISPUTES.

Since I am relatively new at this kind of work, I was hoping our mediators would be a bit more subtle in calling out a perceived discrepancy I made.

At one time, I was even called horrible in disputing penalized call by a mediator. As one of the many newbies in this field, we certainly must learn from our mistakes and avoid repetition thereof.

We look at our mediators as our COACH and MENTOR. With proper guidance and advise, I am sure us newbies can perform at our very best for Humanatic.

I personally enjoy the job but I hope mediators can also help us through the learning curve. I love this job and I know I can give it my very best shot!

If REVIEWERS and MEDIATORS cite connection/disconnection TIME (seconds/minutes) and specific when commenting/replying, disputing calls can be resolved SMOOTHLY.

Please do not get me wrong. No offense made to our mediators. Just my little constructive suggestion.

Thank You!

After that "Horrible Day", I hesitated to continue reviewing calls from my iPhone. I am not sure if the problem is with the browser I am using (Safari). Humanatic recommends Google Chrome but I didn't like Chrome on my iPhone. Maybe it works better on Android.
NO ONE IS PERFECT! TECHNOLOGY IS NOT PERFECT EITHER. IT IS MAN MADE!
So, for newbies out there my advice is:
Use Google Chrome browser for Humanatic.
Always cite connection/disconnection TIME and be SPECIFIC when commenting/disputing calls i.e. @ 1:05 Micky from Service Department picked up the phone, scheduled service appointment Saturday 9:00 a.m., caller agreed and ended call @ 1:43.
Always save SCREENSHOTS as evidence. Or,
BETTER NOT COMMENT/DISPUTE even if you believe you are correct because there are mediators who will just flag your account without further investigations. I am basing this thru my recent experience.
Now, how did I know that my account had been flagged?
Notifications popped up on my screen (see below screenshot).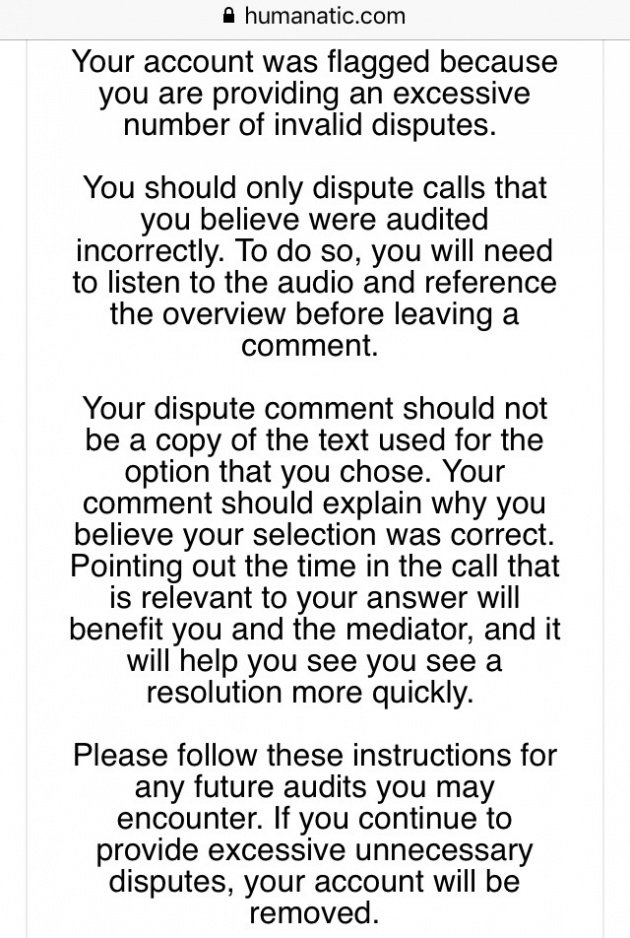 I was reviewing "Inventory Discussion+" category but let me use the same example I used on my previous post.
Example #1:
Agent: "Thank you for calling bitLanders. This is @Jennifer. How may I help you?"
Caller: "Hi, Jennifer. @lRy here. I'd like to set an appointment with Francesco regarding bitMiles.com."
Agent: "Ok, would you like to come....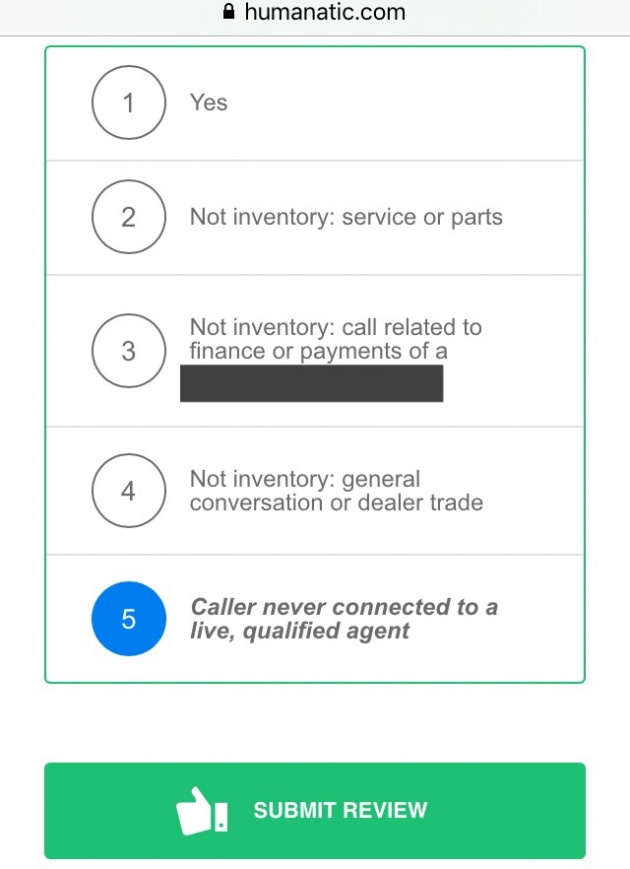 The last word I heard was "come..." so I marked it #5. As per overview,
Select this option if the call never connected to the intended person, and was not handled by another qualified agent.

Select this option if the call reached voicemail.

Select this option if the caller was left on hold.

Select this option if the call connection was lost.

Select this option if the caller leaves a live message.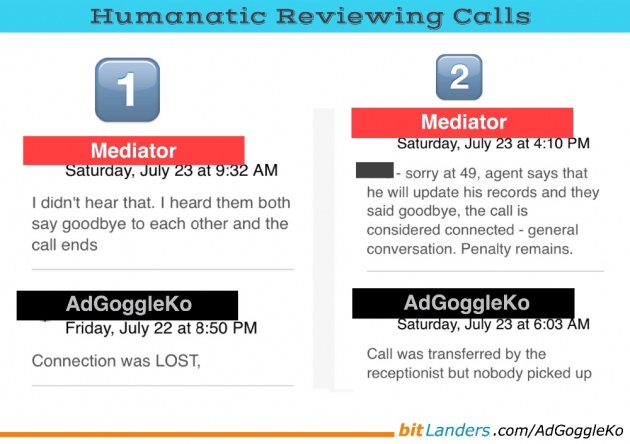 I was then penalized. So, I commented "Connection was LOST" (not copied from selection option but referenced to overview). Mediator #1 replied "I didn't hear that." Blah blah blah. I insisted the last word I heard was "come... Call was cut". Mediator replied and I replied again until he/she told me "You are horrible at this." Blah blah blah and he/she then flagged my account. Who else did it, right? Notification popped up on my screen twice on different dates. I am not sure if I was flagged twice by the same mediator or was flagged by two different mediators.
I wouldn't argue if the mediator say "it is considered as connected -- general conversation because caller already shared information (with whom and what he wanted). Agent can call him back after that. Penalty remained."
Example #2:
Caller: "Hi, this is @kRs. Is @mauryr around?
Agent: "Yes. One moment please."
(Ring...ring...ring)
I marked it #5 but again I was penalized. So, I commented "Call was transferred by the receptionist but nobody picked up". Mediator #2 replied "AdGoggleKo, sorry at 49," blah blah blah. He/She said "at 49"! The Call Audio I was listening to ended at 34! Mediation RESOLVED SMOOTHLY because we found out that there was a TECHNICAL PROBLEM! It must also be the reason why my "Live conversation -- inbound" accuracy continued to drop. :(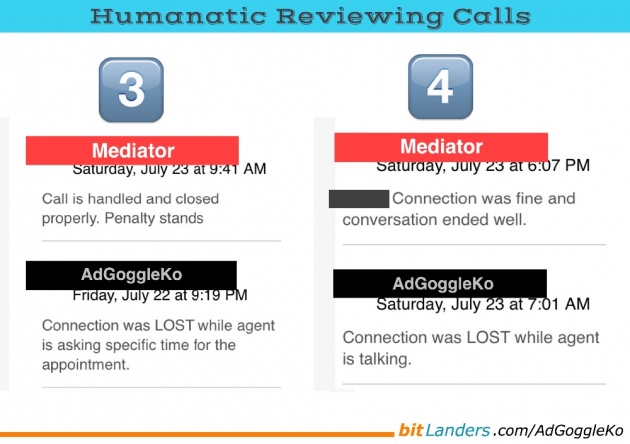 Above is a screenshot of my other disputes. Please note, mediators DID NOT cite time in their replies. :(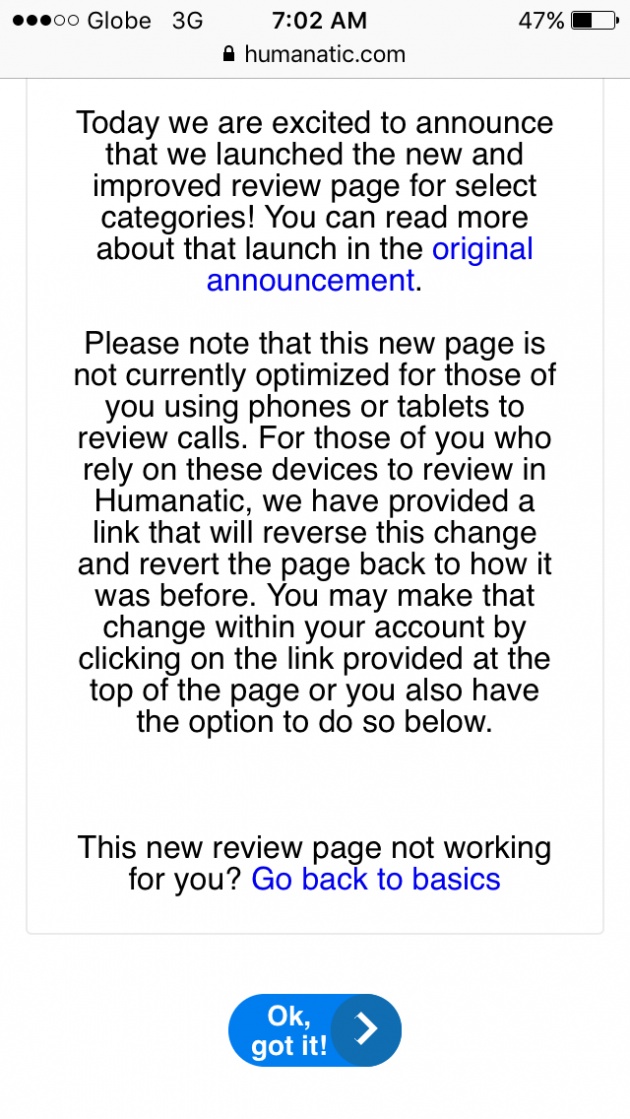 Humanatic announced that they had launched a new and improved review page on selected categories last 29-July-2016 but it is NOT working on my iPhone.
What should I do?
Perhaps, it's just best for me to sing or whistle a tune to make life much easier for me... So they say, "Never give up!" LOL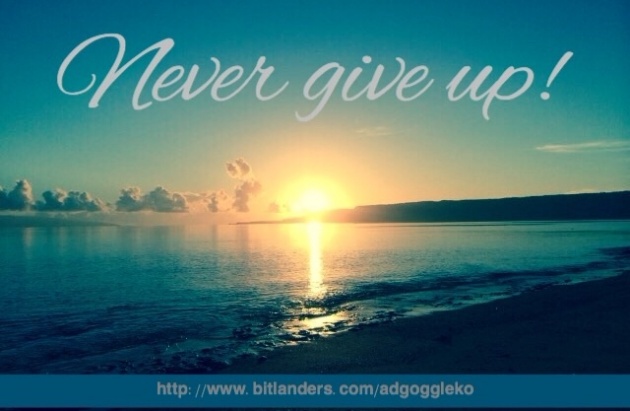 [UPDATED: 31-July-2016]
***Images are my iPhone screenshots edited with Phonto app***