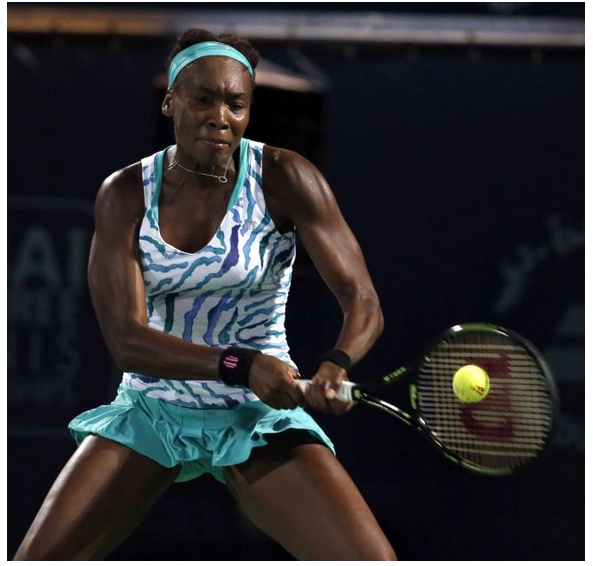 Venus Williams, in her finest form since turning 30 more than four years ago, is hoping her revival can help her retain the title at the Dubai Open this week.
The seven-time Grand Slam champion attributes her widely welcomed revival at least partly to a careful schedule, to genetics, and to what she did as a teenager.
Or more exactly what she didn't do.
According to the elder of the two sisters, she and Serena Williams now reap the physical benefits from not having played junior tournaments more than a decade and a half ago.
Venus also suggested that her decision not to join Serena in an emotional return to Indian Wells -- next month should be the first time either has gone back since their hostile treatment from spectators in 2003 -- is due to the need to control her schedule and maintain her remarkable recovery from chronic illness.
"I've got to stay home. I deserve to go home. I think they will understand," she said.
"I've got to go home, and, you know, there's only a little time and then I have to start training again. So I'm going to go ahead and take care of myself."
Venus' willingness to discuss the reasons for her accelerating improvement well into her 30's indicates she believes she can again make a strong challenge to retain the Dubai title and perhaps win it for a fourth time.
The benefits of not playing junior tennis all those years ago have been reinforced by Mary Jo Fernandes, the US Fed Cup captain, she said.
"I was talking to Mary Jo and she said, yeah, if she hadn't played as many juniors, she could have played a bit longer.
"So for longevity it is important to pace yourself," Venus said, adding another dimension to the theme. "I have never spent a ton of time on the practice court. Not that I don't get the work in, but I stopped practising twice a day when I was about 20 or 21.
"It's not normal to hit, you know, a thousand forehands a day."
But how her athleticism has been maintained may have a different explanation, Venus believes.
"Genetics," she asserted, raising a laugh by adding: "Thanks mom, thanks, dad.
"I think a lot of that comes natural, but I have to work on it. As a tall person it's easy for me to get slow if I don't work on it. So I'm constantly working on my agility and my movement."
'Penetrate more':
But can she enjoy it as a 34-year-old as much as when she was 17?
"At a young age I just expected it," she said. "Now it feels good getting wins, because everyone is playing so well."
Venus' continued revival probably depends on her dealing with a rod she made for her own back, she feels, for the steady rise in the standard of the women's game is something she and her sister as trailblazers helped generate.
"I guess I made it harder for myself," she reckoned. "I like to think and hope I'm still part of the reason the bar is going higher.
"Once I'm at home and watching it on TV one day -- and hopefully not commentating -- I will be like, man, I can't keep up with these girls."
Venus has been attempting to delay that day by working on "hitting clean, to penetrate more."
She added: "I think that helped. I know I can get better and more consistent. So I'm trying to work on my game out there and do the right thing."
The evidence of her opening match in Dubai, an impressive 6-1, 6-2 win over Belinda Bencic, perhaps the world's most promising young player, is that that may indeed be happening.
She next faces Lucie Safarova of the Czech Republic on Wednesday.