Bohol province has so much more to offer than the Chocolate Hills, the Tarsiers, the white sand beaches of Panglao and Anda and the old church in Baclayon. Currently, there are resorts emerging from this part of the island which has been referred before as just a gateway to Argao, Cebu. And today, I would like to share a review on the newly opened leisure farm located in Loon, Bohol. I am referring to Vita Isola Leisure Farm.
Disclaimer: All photos and Videos posted within this blog are my own.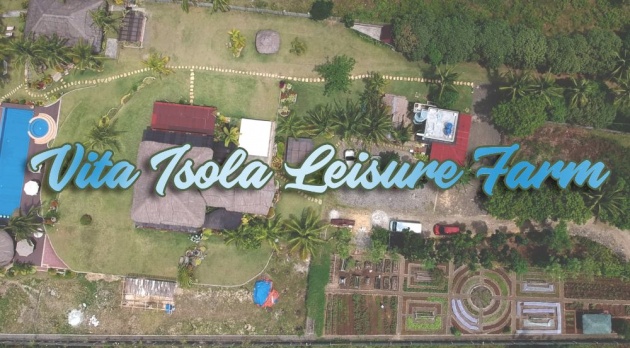 For the long weekend, I brought my family with me to Vita Isola Leisure Farm as its management is really good with social media hyping. I have seen several photos online showcasing its provincial vibe yet providing the freshness and relaxation found while in a resort atop a hill in a cliff facing the Cebu sea. Allow me to bring you with me as I state what I love about the location as well as what I dislike. This is not a sponsored review, in fact, I am providing this blog for those who are planning to also visit the said resort so that you are aware what are the pros and cons.
Sandingan, Loon, Bohol, Philippines - This brand new venue out for all those Instagram fans will definitely catch your attention because of their Instagram-worthy pictures posted from both their website as well as their social media accounts. Their online site tagline states:
Experience the beautiful Island Life here at Vita Isola!
True to its tale, the resort has this vibe which compels the guests to reconnect with the inner selves. Its peacefulness and calmness make you want to stop and be right back at the slow pace of life. Being in a city where vehicles move here and there in such fast phase and then with work and online jobs, all those deadlines and email response requirements, these needs immediate replies and further resolutions. This slow-paced environment becomes a breath of fresh air, resetting the flow of time.
With Vita Isola which by the way is an Italian phrase for island life, it is no wonder why guests would tend to chill, relax and just enjoy the ambiance because the resort itself will bring you to that state, simple and laid back.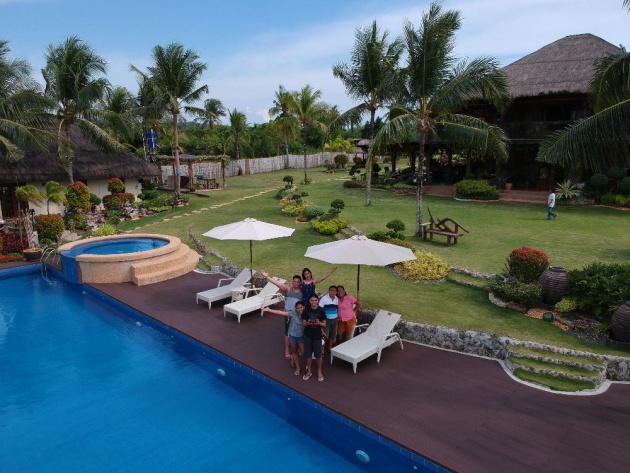 • What Do I Like in Vita Isola Leisure Farm? •
In times like this when I see the view of the horizon plus the dancing leaves of the tropical trees and a rustic restaurant which has almost every corner Instagram-worthy, I somehow feel envious of the owner. What I like about the resort can be threaded into three parts:
1. Ambiance and Design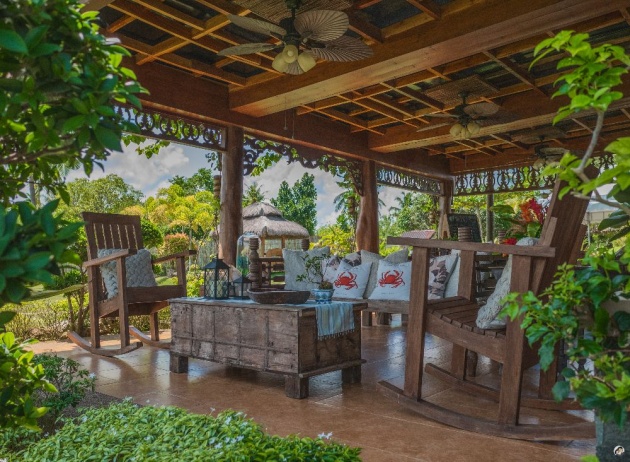 I had mentioned this like four times already but I will say it again, the Vita Isola resort has interesting spots in every corner. It is like being treated in a social media worthy type of place, I didn't regret bringing my parents here.
From the entrance area where we the path was shaded by grown fruit trees, I remember seeing a mango tree, to the caged animals like goats, chickens, and ducks, to the organic farm as well the nicely designed restaurants which contain all accessory and furniture wonderfully thought about, I also believe they had bought these items from either outside the country or mainly made to order within the country.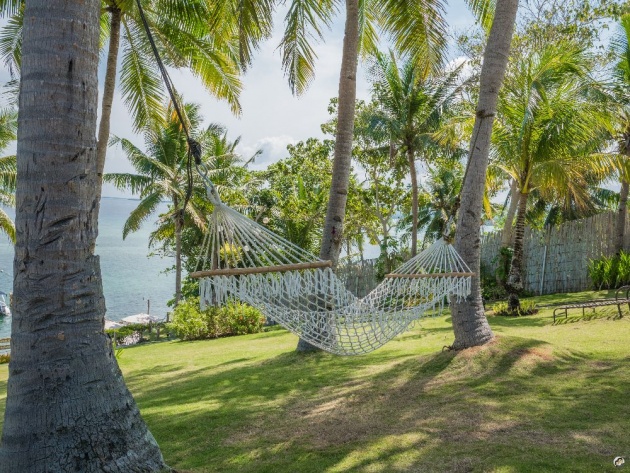 I saw table pieces, some had flower bouquets in it while others have candles. I was delighted to also see some wood arts, there were metallic candle covers and even vintage fishing items like this circular thingy which my mother said my late grandfather who was once a fisherman would bring with him when fishing.
Nicely made doors with intricate designs and mirrors deployed in certain parts of the building plus the glass walls which made me thought of Japanese homes. And not to mention that they have different table designs from the restaurant down to the boardwalk area.
Two white hammocks were very in demand by ladies who would come into the resort, I myself stayed in the hammock for some time and I felt like sleeping! I love the view of the sun from above as I lay down there, swinging it by myself. The rays of the afternoon sun were beaming from the leaves, it was a nice sight!
2. True Organic Farm
That although the organic farm was still not fully functional because the plants and the vegetables are still young, I definitely love the idea of having an organic farm right at the side of this resort.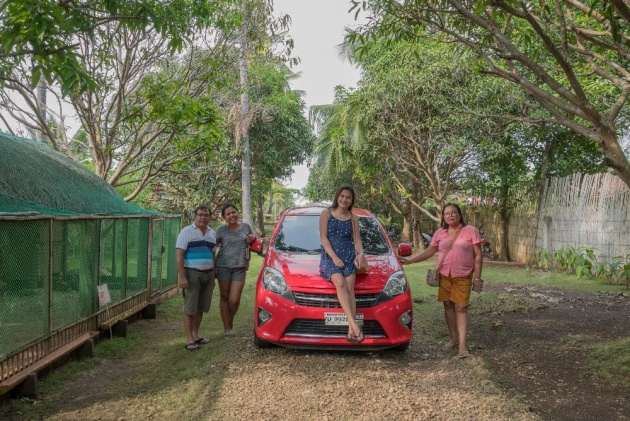 Vita Isola Leisure Farm was visible from the top while flying the drone so I have seen myself that they had made a pattern of the said garden. Circular at the center with square shapes binding it. There was the high-value type of herbs like cilantro, rosemary, and dill while certain vegetables like lettuces, eggplants, local spinach were also available. In fact, the resort's restaurant is harvesting the vegetables straight from their garden!
The chickens and other animals were also there for a purpose and I want to apologize to those Vegan individuals reading this post, those animals were going to be eaten, they were brought and taken cared of just so humans could eat them.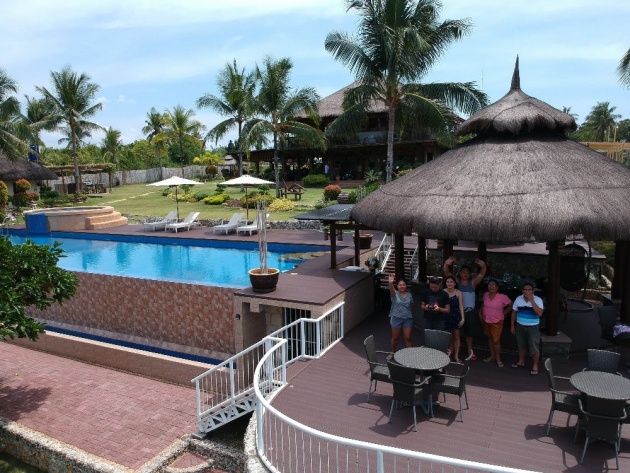 This is the best way to a sustainable resort, I salute the management, the brain over everything in it and those who are taking care of these plants to provide what the resort needs for their guests. Although the animals are not yet ready, I believe in a few months from now, the farm will be able to supply the needs of their resort in-house restaurant.
3. Their Chef
The menu had a limited number of available food which they can serve while in the resort. Most of these were pure Boholano viands so every Boholano will certainly fall in love with their chef's cooking.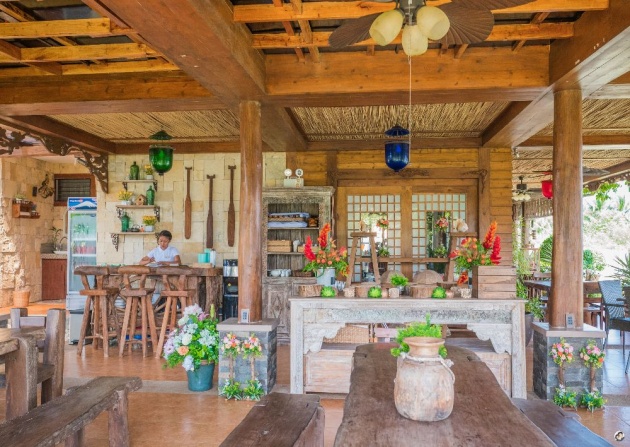 My favorite was actually the bangus dish which they call as "Nag-uros na bangus" which means sizzling milkfish. I also love the vegetable option with a homemade salted fish.

• What I Didn't Like in Vita Isola Leisure Farm? •
Indeed, Vita Isola Leisure Farm offers a sanctuary for those souls who are searching for a way to afresh their lives, to restart and bring back the slow pace of life. I truly recommend it to those who want to experience the same thing.
However, there's no perfect thing in this world nor so does Vita Isola. Though I love the entire resort by itself, there were certain things which I dislike or such that the resort can definitely improve on.
1. Menu Pricing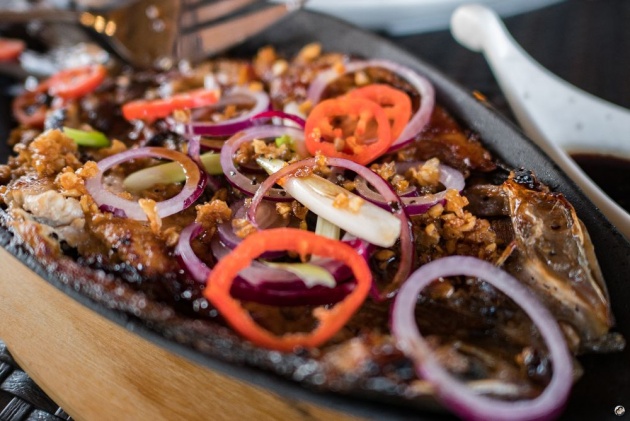 Food was great, the entire family loved it! But the downside was that the menu prices was too much. I was looking at the menu signboard, it was handwritten with a board chalk and I asked if each serving would be good for a single person and they nodded. Imagine a small size of squid costs Php 480. I was anticipating that it would be a huge one but when served, it was a small stuffed squid.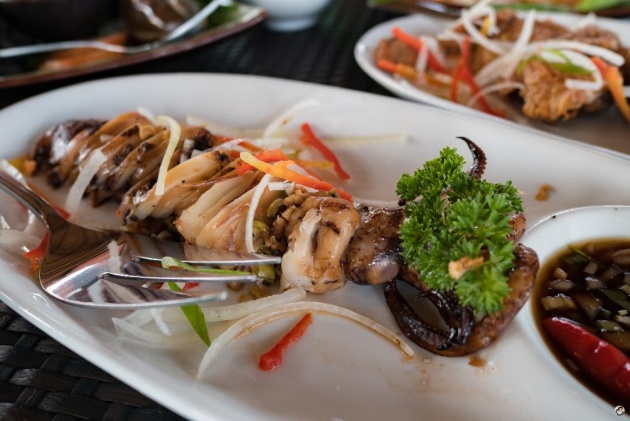 Then the drinks for a single glass costs Php 120! It was too much for me that I only ordered soda instead! I don't want to talk about the other prices as it might make my head hurt and my pocket too. For me, those prices would be okay if the servings would be good for around 3-4 persons. Anyways, the view had compensated that high pricing.
2. Not Ready Amenities
I truly understand that the resort is on its soft opening which is why there were still some amenities which are not available. I advised my parents not to bring any swimwear since their pool is not yet ready.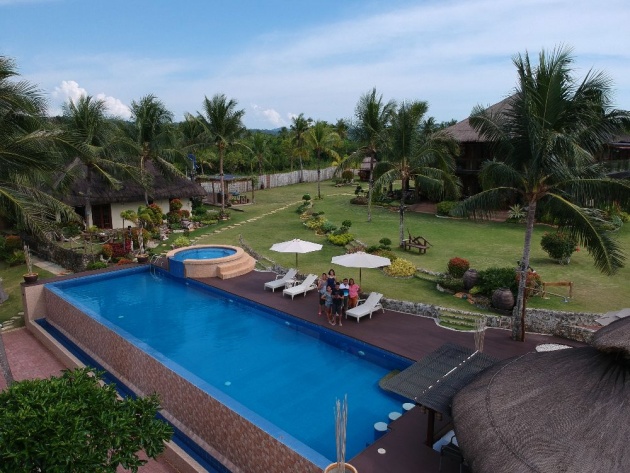 But when we arrived, I learned that everything is ready! The infinity pool is inviting with this blue colored floor tiles, there was even a mini Jacuzzi. The only issue was that they have no lifeguard just yet!
I don't know if that requires a lot of processing but then if they opened up a resort like this, they must also be ready with the needed staff.
3. Corkage Fee
It was my father's birthday on the 27th but since I was in Cebu on that day, I decided to just celebrate God's goodness to my father's life in Vita Isola.
I emailed them few days before about bringing a cake! But I was taken aback as the corkage fee was at Php 1200! That would cost more than the cake that I would be buying so I ditched the idea. I totally believe that was way too much. Don't you think so?
There you go, I laid out my likes and dislikes, a purely personal review of the Vita Isola Leisure Farm. Don't forget to participate in the following Querlo Chat Survey below.
---•••------•••------•••------•••------•••------•••------•••---
Blog entry written and published by Jean Beltran-Figues for bitLanders.com
For more travel blogs, go to my blog section