What doesn't kill you makes you stronger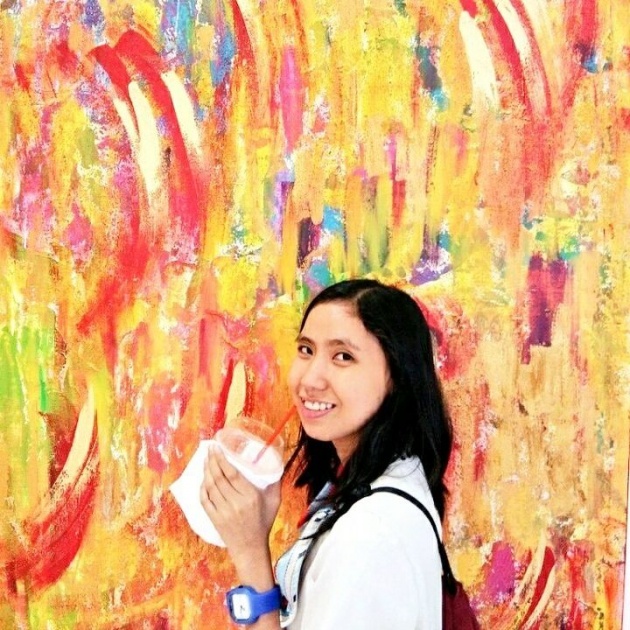 I know 2018 had been running for how many days now but I believe it is not too late to look back on how my 2017 affected and molded me and made me who I am now. Indeed last year was a tough year for me (and maybe for you too). But on those months that I've been so tested, I am able to acquire so many lessons in life that made me stronger. So come and let's go back to what 2017 had offered me to become the self I am now.
Source: Kelly Clarkson Vevo via youtube.com
Actually I really love the song titled "Stronger" by Kelly Clarkson, it fits my experiences last year. So start with it, January 2017 we had our first ever "Sweet Escape" with my officemates. So me and my officemates decided to go to one of the main attraction in Tagaytay which is the "Dreamland Arts and Crafts Cafe"
At Dreamland Arts & Crafts Café, you would feel a sense of belongingness and camaraderie with all its staff and crew. They radiate positivity and good vibes to all its guests and strive to offer the best service they could provide. "We are not a fast-food restaurant or alike. We offer a stay that could enrich the artistic ability of every guest through our arts and crafts. We prepare every food with passion and fussiness cropping up to a quality food we offer to our guests.", says Loidz Magbuhos, operations manager of Dreamland Arts and Crafts Café.

- Source: psst.ph
Photo credits: @forever.favored via instagram.com
This experience taught me that sometimes, It is better to hang out unexpectedly. For sure we are aware of the saying "Go with the flow" and that literally what happened to us. It was all unplanned, I remember asking my officemate if the place was a good place to hang out then she suddenly asked me If I wanted to go to experienced it myself. Although we spend the night until dawn only, surely it was a great experience for us, to make our relationship as officemates stronger and enjoy even just for a while.
Then on April, me and my college bestie @Caams decided to go twin hike! And believe me, I've never been so excited and nervous in my life before. It is my first time to go to the mountains and go hiking. Not to mention that as much as I spend time online and do Arts, I am also an outdoor person! I enjoyed outdoor activities and hiking is a great example of that.
So we decided to go to Montalban Rizal (In which it is a popular place where mountaineers go) Imagine a first time hiker with asthma doing a Twin hike. Believe me, I am too nervous that day but my excitements overwhelmed me so much that my nerves coordinate with me that day. The first mountain was Mt. Binacayan
Mt. Binacayan, which is shorter than Mt. Pamitinan by just a few meters, has two different approaches, both of which feature a profile similar to Mt. Pamitinan, though the latter is a bit more unexplored (as of Feb 2015). Instead of a forested ascent, however, Binacayan offers a more agricultural terrain, followed by the same rock and bamboo ascent. The final leg is through a ridgeline with thick foliage, requiring long steps and reaches from one limestone formation to another.

-Source: pinoy mountaineer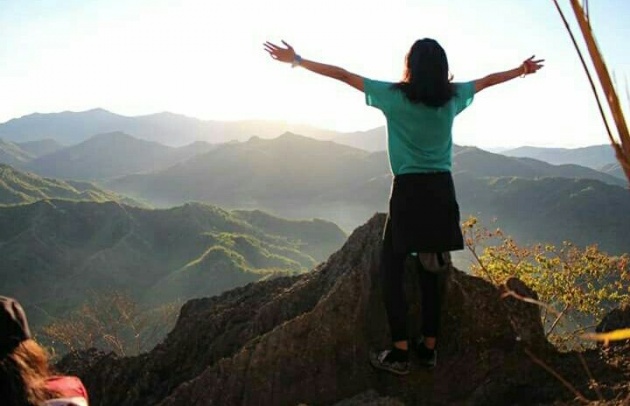 Photo credits: Camille Arellano via facebook.com
It was so nice to see the sunrise up in the summit, it feels like all your sweat, bruises and hard work for the past 1 or 2 hours paid off when you see the view. Seeing the nature made me realized how great our creator is and how awesome He is to give us such wonderful gift. But that's not all, our second mountain is Mt. Pamitinan
Mt. Pamitinan has a more established trail that takes roughly 1.5-2.5 hours going up. The first part is forested, passing through some attractions such as an ancient balete, the rock climbing. The Hapunang Banoy Junction is a rest area prior to the second, rocky part the trail. This part will be enjoyable to those who are used to rock climbing or bouldering, and a bit of a challenge for beginners – for whom it will be manageable, but requiring of concentration and care. The rocks are surrounded with bamboo trunks, some of which have alternating sections of holdable green and thorny brown trunk segments. Wearing gloves is recommended to ensure a comfortable grip on the jagged edges of the rocks and keep your skin off thorns.

-Source: pinoy mountaineer
Photo credits: Camille Arellano via facebook.com
When I conquered the first mountain, it feels easier to climb the second mountain, but the summit still gives satisfactory experienced! And as we go, it made me realized that when you go hiking bring necessary things only like water and spare clothes. Because the struggle of climbing the mountain while having heavy bag will double the pain that you will carry.
But as we seize the moment, some unexpected thing happened that changes the life of all of us. We went up into the mountain altogether with total of 10 people but there are only 9 of us went home. It was supposed to be an Unforgettable experience to cherish but it turned out traumatize for all of us. (Well although it will be still unforgettable for us). One of our friend was able to be in the hands of our Lord in heaven that day. It was painful. Although I met him on the same day that we hike, I know that he is indeed a great person. We all condemned ourselves for what happened but I guess that's what life all about iis. It was a devastating experience, honestly. But God is taught me one thing that day, "He holds everything in the palm of His hands, even our life". This might be the toughest test God gave me last 2017. But despite of what happened, God taught me so many things in that experience. And one of it is to cherish your life.
As what they say:
Live your Life to the Fullest, not to the Foolest.
And sometimes God hurt us, for us to go back to Him. For Him to give us a new heart when our pain shattered it. I'll always remember the small things he did to me that day, and I will be forever grateful for your life buddy. May you rest and enjoy your life with the Father in heaven.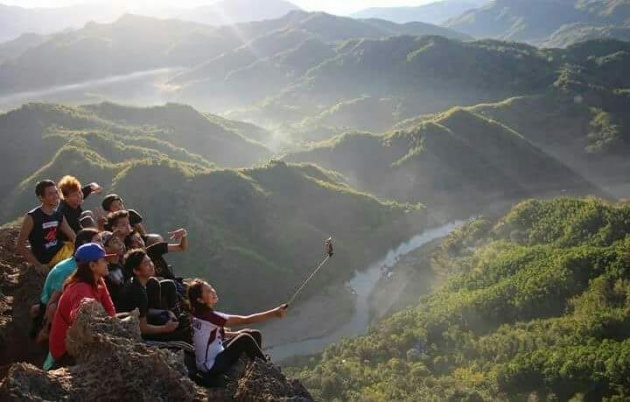 Photo credits: Camille Arellano via Facebook.com
Okay moving forward, that was quite emotional but Thank God for giving me Joy though Him. As I find my way back to having genuine Joy, I am so grateful for my facebook community/ family who help me go back to the track in my craft. As you can see, my work had been consuming my time the very reason I wasn't able to go and work in my craft. But last June, The Calligraphy Hub launched workshops and pen meet, and gladly one of my dearest virtual friend April Covacha held a loose floral watercolor workshop. And without any hesitant I signed up together with my college bestie and co-artist. But sadly she ditches me when the day of workshop arrived.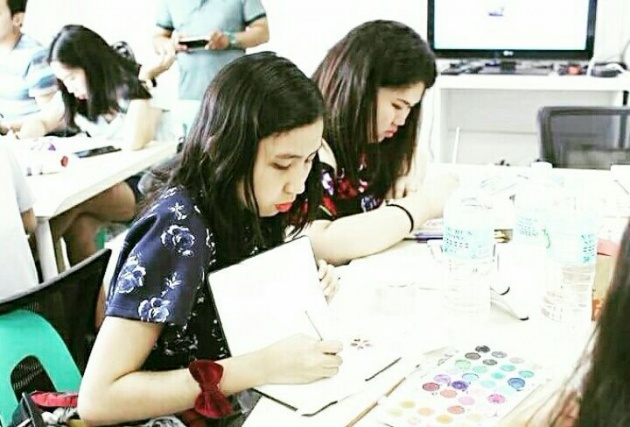 Photo credits: @forever.favored via instagram.com
This is another experience that I will treasure, meeting different kind of people and Artists. Enhancing our craft and winning so many prizes (actually it was just a bonus). I never regret travelling for more than 3 hours just to get to the venue because I learned so many things from people who demo. And unexpectedly, I was so blessed to win another set of Simbalion watercolor and not that just that, but I won the 2nd prize which is a Pen holder from seven days of work (Just to share with you, this is my 2nd wood pen holder that I won in a contest hehe).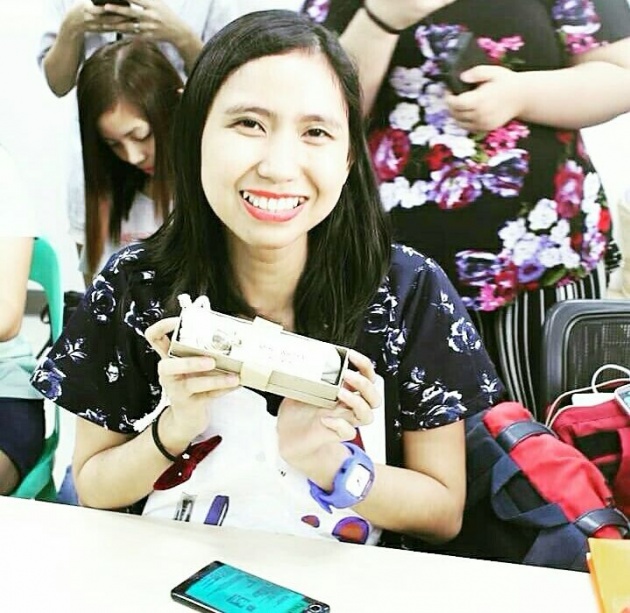 Photo credits: @forever.favored via instagram.com
But the real thing here are the people. I am so blessed to meet Ms. April Covacha, a virtual friend, a photographer and my mentor together with the main admin of TCH Sir Chris Bakunawa, the most humble Artist I know in the metro. This experienced taught me that if you are doing it all for the glory of God, He will never hesitate to bless you more for you to become a blessing!
Source: Destination hamilo via youtube.com
Next lesson that I appreciated so much is the gift of second family and friendship that I found with my officemates. Last July we had our Team building in Pico De Loro. As we all know, we have a very busy, stressful and full of pressure kind of work. It feels like everyday we are competing. (Well yes, competition is always present in every kind of work) But this time, we we're able to bond and build a strong relationship not just as "workmate" but as people and friends too.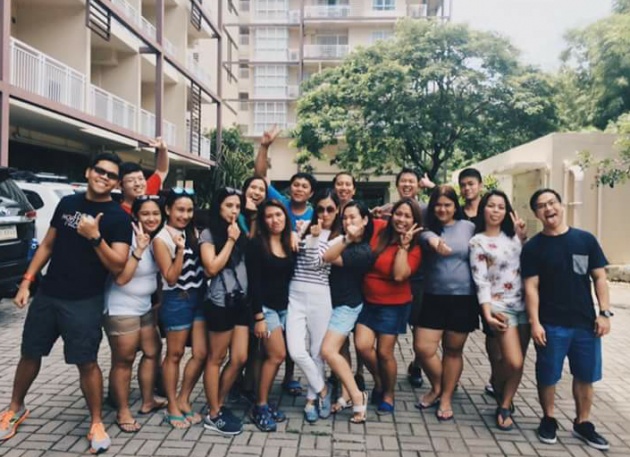 Photo credits: @nicamblc via instagram.com
They say that having friends in your workplace can help you to become motivated and more productive. And yes, I believe that so. I feel so blessed to have such a workmates whom I can count in to. Sadly one of them resigned already and she was the closest to me. My partner in Christ whom know every details happening in my present life. But that leads me to another lesson, some people were just dropping by in your life but they will surely lead a great impact in your life.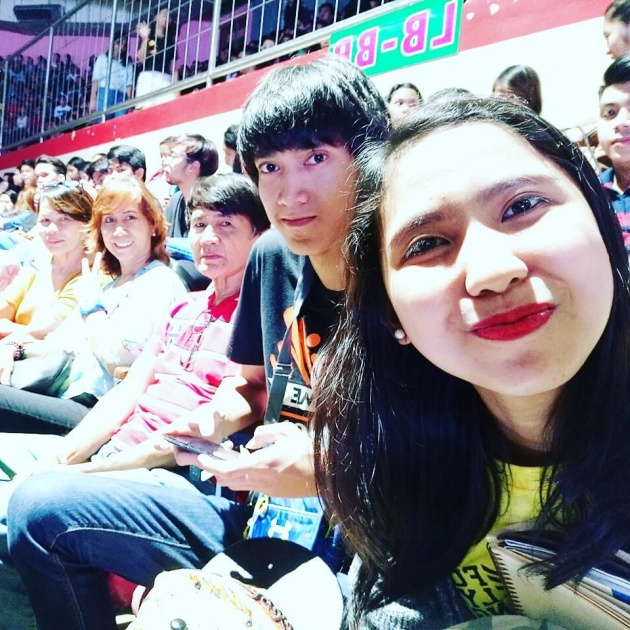 Photo credits: @forever.favored via instagram.com
Finally we've come to an end, Treasure your family and love them as much as you can. I'm taking about both spiritual and biological family. God gave you such people to help you, motivate you and most of all be with you whatever situation you are in your life. So don't neglect them nor their presence, they are the very last person who will leave you.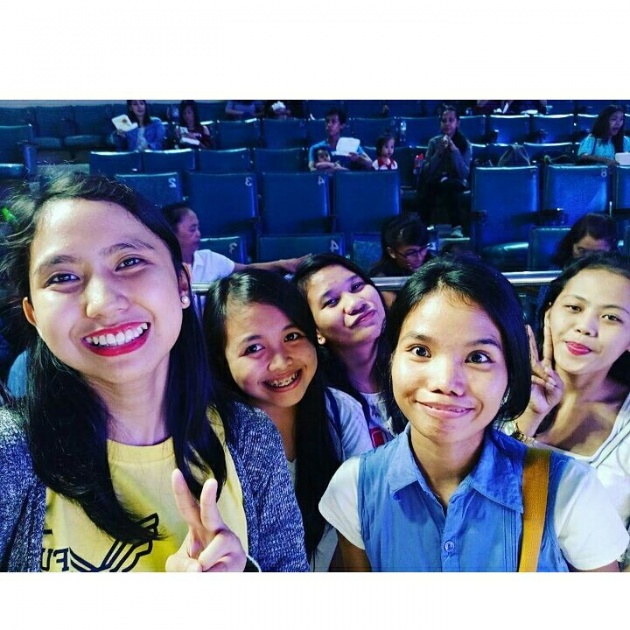 Photo credits: @forever.favored via instagram.com
Indeed God tested me in so many ways this year, I've been in my worst destructive self. Lost, empty and anxious. But He didn't allow me to stay that way, He is always there to rescue me. I am just forever grateful that I established such relationship to our God. From my weakest moment, I learned how to repent and go back to Him. And I guess that makes me stronger last 2017, all the hardship, pain, joy and love lead me to the person who I am now.
Yay! So that wrapped up everything, thank you for reading!