What I'll Speak About Victoria's Peak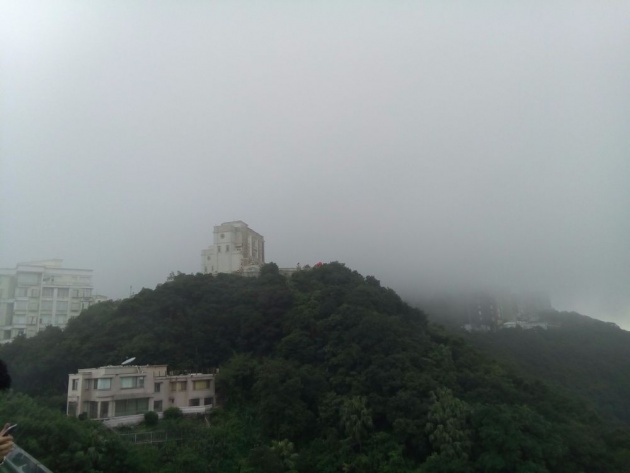 Photo credit: lapiz-lazuli
They say that the journey is more memorable and important than the destination itself. What better way to make Victoria's Peak memorable than ride the Tram?
A Little Something about Victoria's Peak Tram
"Standing at 552 metres above sea level, the Peak is the highest mountain on Hong Kong Island and a natural signaling post for incoming cargo ships in the nineteenth century. The more privileged early residents, however, found it the perfect retreat from Hong Kong scorching summer heat.

With a regular and reliable form of public transportation now available, the Peak quickly became renowned for its spectacular views of the city and the harbour. Today, the Peak attracts some seven million visitors a year, making it one of Hong Kong's top tourist destinations."
- From ThePeak.com
Because it was the highest mountain in Hong Kong, the place was very cool. Most (wealthy) expatriates took advantage of this fact because they weren't accustomed of the Hong Kong's climate. They use manned sedan chairs for transport to reach the summit, until a train worker proposed to the then governor to build a tram instead. Because of this convenience, the Peak attracted many visitors since.
Choo-Choo, Bless You!
Your Hong Kong trip isn't complete if you won't ride the Peak Tram if you plan to hang out around Hong Kong's highest summit. It wasn't the initial plan because we had grandma with us (she might have a heart attack!), but were ready to brave those lone lines at Central Station.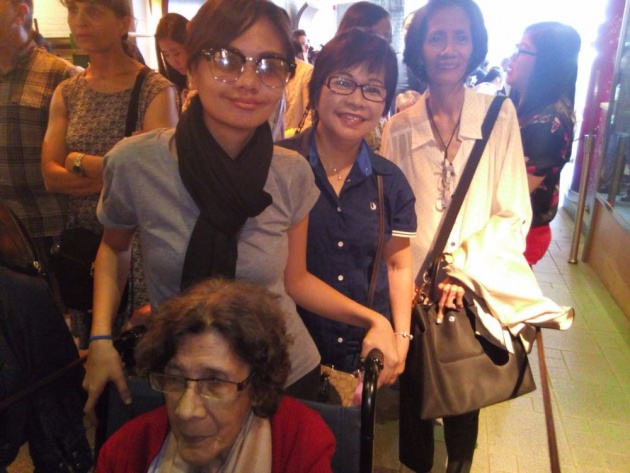 First in line at a separate isle. Photo credit: lapiz-lazuli
I thought that we'd be at a disadvantage because grandma was on wheels and people are viciously jamming their way to get inside, we won't be able to slip through. Lucky for us, there was a special isle for people on wheelchairs and it was empty! Yet, even the first in line, we still waited for about 15 minutes to get to the train. While waiting, you can read and view some historical gallery to the right of the line.
Video credit:
lapiz-lazuli
via
bitlanders.com
The ride was exhilarating and fun, you will either feel that the buildings you see were leaning like the Leaning Tower of Pisa (as you can see from the video). We had no great view of the expanse below because of the trees, but it was still an enjoyable experience.
At the Peak Tower
Madame Tussaud's Wax Museum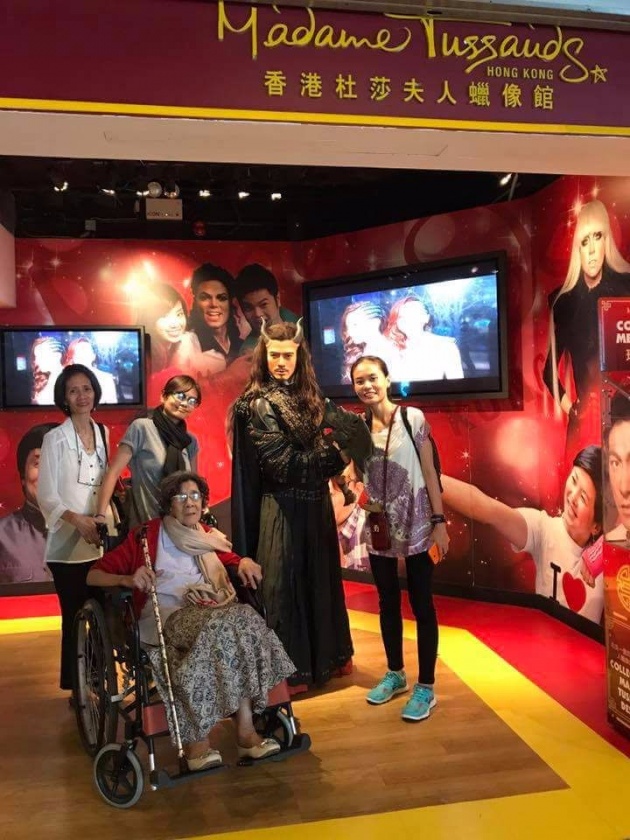 Photo credit: Aunt's Facebook Pictures
We arrived late afternoon at The Peak. We passed through a flea market inside the Peak Tower, and the end was Madame Tussaud's Wax Museum and the seemingly straightforward escalator (but still, I was weak at directions). Since we didn't avail tickets for the wax museum, we just grabbed some photos with the wax figure outside near the entrance of the museum. Then, we passed through Bubba Gump Restaurant, where we dined after visiting Sky Terrace 428--read all about it here.
Sky Terrace 428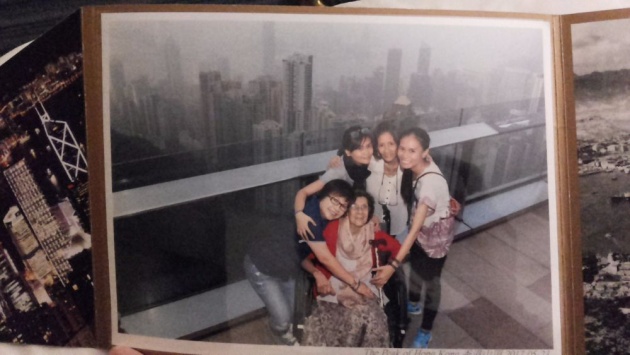 Photo we availed. Photo credit: lapiz-lazuli
It was drizzling and foggy when we got to the rooftop. There were so many tourists sightseeing at the Sky Terrace, we didn't know where we'd hang out. Aunt availed of the open photo booth at the Sky Terrace, and we did several poses (guided by the friendly photographer). He and his assistant spoke English very well, and we had fun because he was full of positive energy.
The Wishing Corner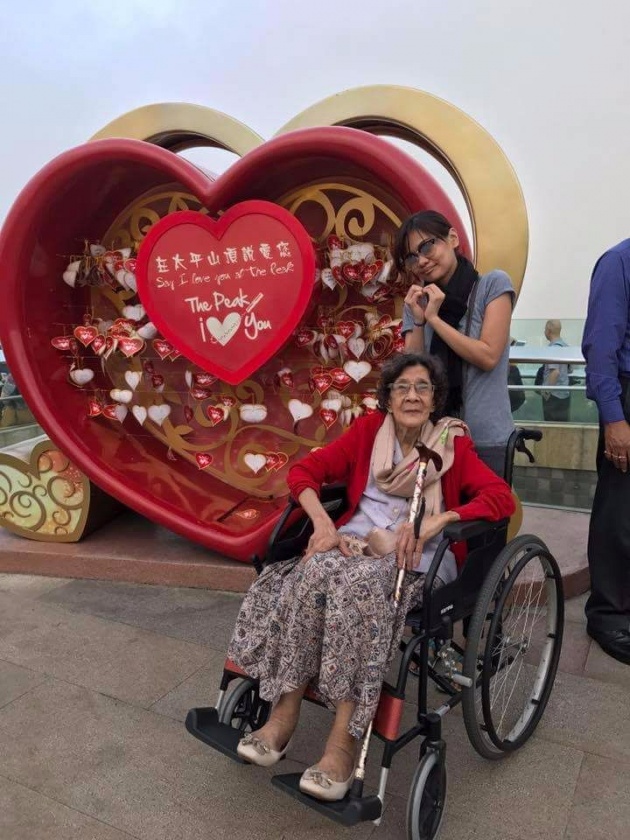 Photo credit: Aunt's Facebook Pictures
The terrace was wheelchair friendly, but the isles were a little narrow for my liking, and to add to that, the tourists. The inner part of the rooftop was elevated so we needed to use the wheelchair aisle instead of the stairs with few steps. There was an area on the raised flooring for picture taking. It had a big, cute heart-shaped statue with written heart-shaped notes inside. I took a picture with my grandma to savor the moment.
Something Almost A-mist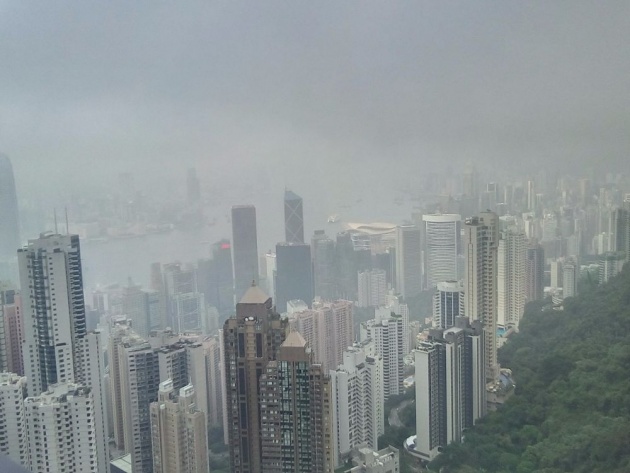 Photo credit: lapiz-lazuli
The mist forming on mountaintops was a thing to behold. There was also a sheer fog on the terrace faintly seen when touring around the rooftop, but the weather was not that chilly. You can also see fog forming around the top of the buildings on the other side of the island. It sets the chilly mood in the air.
The Peak Galleria
After light dinner, we still had to visit Hong Kong's Trick Eye Museum. It was really getting late so we hadn't had the time to explore The Peak Galleria. The Peak Galleria was in front of the Peak Tower, so we had to find our way out of the Tower, which was frustrating and at the same time, confusing (good thing some staff aided us). Mom, aunt and grandma weren't interested and were already tired so we left them at the ground floor of the Tower.
HK's Trick Eye Museum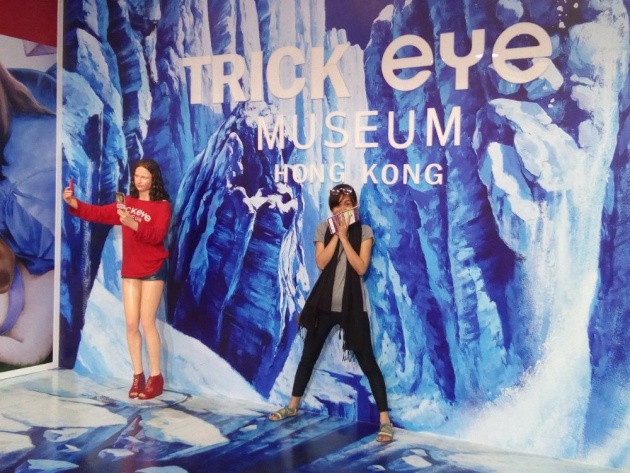 Photo credit: lapiz-lazuli via bitlanders.com
An interactive 3D museum, Trick Eye Museum opened its door in 2010 at the heart of Hongdae, the city of art and culture, in Seoul, South Korea. The museum was built to create a pleasant and enjoyable environment for learning through art outside of the classroom. The Trick Eye Museum makes use of the Trompe-l'oeil technique, which had previously not been widely known in Korea, and aims to promote and share its experimental effects and educational values.

The prominent travel site TripAdvisor, through use of customer testimonies, recognized the Trick Eye Museum as the No.1 museum and gallery attraction in Seoul in 2014. In response to high demand and increasing popularity, the Trick Eye Museum now has three domestic and two overseas branches in Singapore and Hong Kong.

- From TrickEye.com
Video credit:
lapiz-lazuli
via
bitlanders.com
I can't say much because it was my first time to visit a 3D Art Museum. Good thing my sister had experience so I didn't look like an idiot exploring the place. There were yellow marks on the floor for you to step on to get the best shooting angle at each scenery. There were also directions on how you should pose on some intricate 3D illusions. There's also this cool interactive video game where your avatar is your whole body. My sister tried it out for the kicks.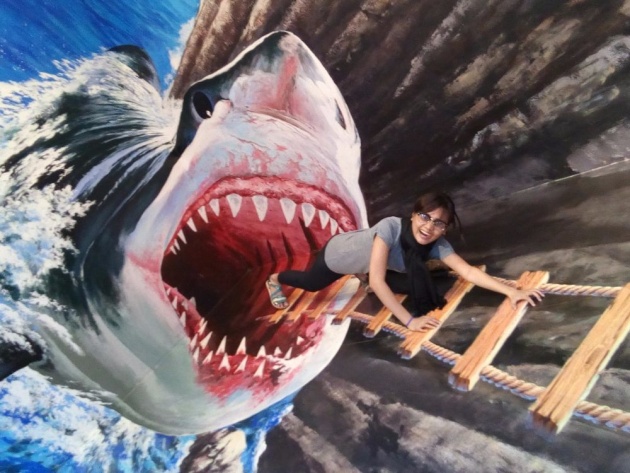 Photo credit: lapiz-lazuli via bitlanders.com
Pose away to your creativity's (and backbone's) limit! Haha! I did some wacky poses (seen here) which I found very hard to keep still. It was worth a shot, though. We went really late (we almost beat closing time) so there were only few people and we weren't that shy to pose around. Because time was running out, we didn't manage to take pictures with all the paintings and illusions.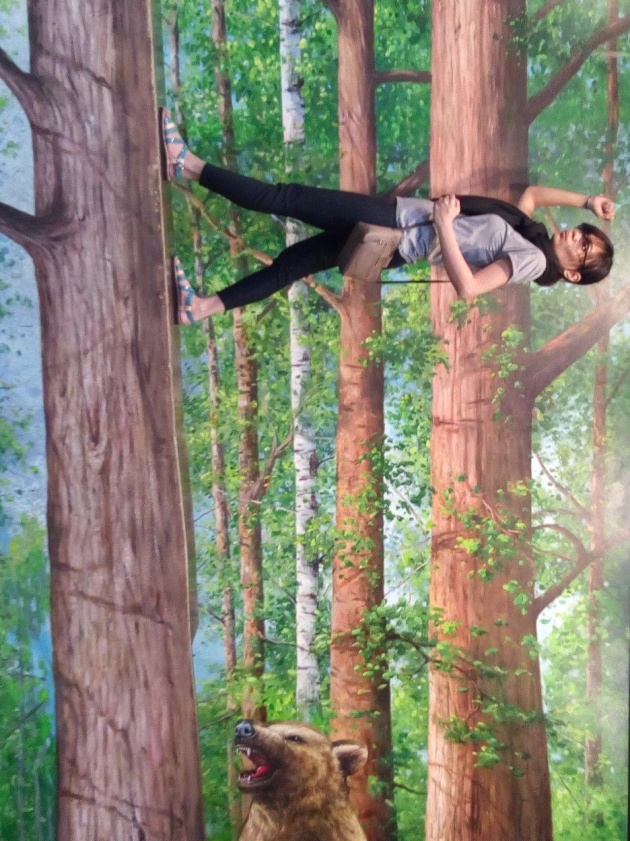 Photo credit: lapiz-lazuli via bitlanders.com
Taxing Taxi
We hurriedly went out of the Peak Galleria to meet with the others. The Peak Tram's line was very long so we just decided to hail a cab to get back to the hotel. It was very taxing because waiting for one to arrive took ages, and when we finally found one that accepted our offer, the cost was a real rip off. Well, it was that or the Tram.
Victoria's Peak Wrap Up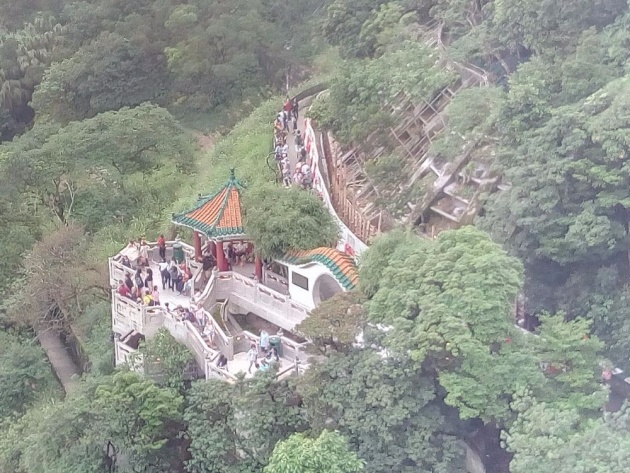 Photo credit: lapiz-lazuli
We weren't able to explore everything around the pinnacle because we arrived there around late afternoon and it was drizzling, so if there'll ever be a next time, I'd go there early in the morning. I also plan to traverse up to the Peak's summit and tour around some historical buildings (like the Lion's Pavilion, which I only snapped a picture of at a distance).
Tiring as it was, in the end, I can say that we really had fun. We got lucky riding the Tram first in line and first in the seats so it added up to the happy experience on our travelling to Victoria's Peak. If you have some travelling experience or if you plan to travel, here's a Querlo chat about travelling:
End note: Pictures, videos and write-up are originally made by lapiz-lazuli, unless otherwise stated. Views and opinions in this blog post are truthful but subjective and are not influenced by sponsorship of any sort.