Image Credits: Sharon Lopez via Bitlanders
Following the success of her first blog post, Carry On by Rainbow Rowell (Book Review), Shayne was inspired to write another review. But this time, it is a game review. Let us all see what she has prepared for us today.
Image Credits: iTunes Store
Mystic Messenger is a female-oriented visual novel mobile game or an Otome game; it was made for all the single ladies out there who want to have cute and cool boyfriends. This game was made by Cheritz, a game developer from South Korea who creates games that are for females in order to fulfill their dreams and desires.
Mystic Messenger was made on July 8, 2016, and has taken over the world by storm up until now. This game has fulfilled many fangirls' desires which Cheritz really worked hard on.
Image Credits: Cheritz Team via YouTube (video Screenshot)
Mystic Messenger is a mobile game in which you attempt to assemble a party with an objective of winning the heart of the object of your affections. It is as if you stumbled on this mysterious app which turned out to be a messenger and you magically start chatting with cute guys. You may think that it is an easy task and it is a typical love story game, but it is not. Mystic Messenger has deep secrets that are yet to be discovered, deep back stories and how it all connects to the present. Each character has a route and each of it has a mystery waiting to be unfolded. But not only that, this game also requires major commitment and patience, it is not games that you can just play in one go.
Image Credits: Sharon Lopez via Bitlanders
The story goes for 11 days and each chat room has a specific time, a chat room can pop up in the middle of the night, 3 in the morning or even first thing in the morning. The player can't control the time of the chat rooms. Do not worry though; although the chat rooms pop up at all hours of the day and night, you are not required to action every single chat room. The minimum requirement in order to advance and secure a particular ending must be around fifty percent (50%).
Image Credits: Sharon Lopez via Bitlanders
Here are the things that made Mystic Messenger really awesome!
THE OPENING SONG
Video Credits: Cheritz Team via YouTube
Every game that I have played has an opening song of their very own which is cool, but the opening song for this has got to be my favorite. The song makes me unleash the dancer side within me whenever I hear it and I am sure that many fans will agree with me. Of course, Cheritz made the lyrics of the song which is perfect for the game and both the Korean Version and English version were sung by 'Han'. Because this opening song was loved by many, some people started to make their own covers and renditions of it, and must I say, some of I heard are really good. However, there is this particular cover that I really liked by 'Aruvn' who covered the full English version of the song and I was really mesmerized by his voice.
NOT A COSTLY GAME
Image Credits: Luxstorm via Pixabay
Most of the female-oriented visual novel games that I encountered needs to be purchased in order to play the whole game or requires in-app purchases in order to continue the story. I really have a hard time finding an amazing Otome game that does not require too much spending in order to get a good quality game. But viola! Cheritz has given me Mystic Messenger that does not really require spending. Of course, there are things you still need to purchase, like the Deep Story, Another Story, After Ending, Secret Endings, Valentine's Special and other DLC's that you can purchase by using hourglasses. But you don't really need to buy hourglasses while playing the game you can earn some hourglasses and also by collecting hearts. You can convert those hearts to hourglasses, 100 hearts is equivalent to one hourglass. Each character has its own color of hearts, and you can focus on getting a particular character by aiming to get a particular colored heart. You can also get free hourglasses or hearts by clicking on the UFO when it reaches the bag of chips on the home page. But the best thing about Cheritz is that they are very generous, they give hourglasses every once in a while whenever there is a new update or they also give hourglasses as a compensation whenever the game encounter some problems.
THE GAMEPLAY
Image Credits: Sharon Lopez via Bitlanders
As mentioned before, this is a game where you will be interacting with the characters through a messenger. However, if you missed a chat room but you want to participate in it you can pay five hourglasses in the Casual and Deep Story and fifteen hourglasses in the After Story in order to participate in the missed chat rooms. But it is not all chat, sometimes the characters will call you and that has got to be my favorite part. There are also visual novels where you can interact with the characters face to face or see their backstories, and since your major reason for coming to this messenger is to hold a party, you can invite party guests that the characters recommended and interact with them through an email in the app. Whenever you give an answer to a chat or text, hearts in different colors may fly out which goes off as a sign that the player has given an answer in favor of a certain character. The color of the hearts will determine which route you will get during the first four days of gameplay. It is imperative that the player take note of the color of the hearts. In Casual Story the player should collect either yellow, grey, or green hearts, In Deep Story, the player should collect either red or purple hearts. Teal or magenta hearts should be collected in Another Story in order to make important progress- especially in the first four days of gameplay as this would determine the route the player will obtain at the game branch on Day 4. The player may collect yellow, green, grey, red, or purple hearts at any of the stories as well, but too many will change the game progress and may result in Another Story Bad Ending instead.
Image Credits: Sharon Lopez via Bitlanders
THE VOICE ACTORS
Voice actors are essential parts in making the characters alive. The voice actors chosen for this game is no joke the best. The voices of these actors are a perfect fit for these characters and the voice actors really played the part. I really admired how the voice actors carried their roles and voiced these characters as if it was them, each giving a character more life and more color. That is why, as mentioned above, the calls are my favorite part because it gives off a vibe that I am not just chatting with a computer and it is more realistic. Also, if you want to keep listening to their voices you could also call them but it costs five hourglasses for the Casual and Deep Story and fifteen hourglasses for the Another Story. Though there is no guarantee that the characters will always pick up every time you call, just try it and maybe you will be lucky and your favorite character will pick up your call.
THE VARIOUS ENDINGS
This is not a typical Otome game that only has a good and bad ending. Each of the character's routes has seven different endings, 1 Good ending, 1 normal ending, 3 bad endings, and 2 Bad relationship endings. Whatever endings you may get is all reflected your choices, so choose wisely. Even though the good ending is the best choice, the other endings are still interesting and I suggest replaying and replaying the game so that you can get all the endings. In order to get the good ending you need to reach the last day which is the day of the party and have at least 10 or more guests for the Casual and Deep Story and 20 or more for the Another story, if you failed to get the required amount of guests on the last day you will get the normal ending.
THE MERCHANDISE
Cheritz made a package for those who want to be VIP members; it is called a RFA VIP Package. It includes 1 VIP card with a barcode that enables paid features in Mystic Messenger such as 1000 Hourglasses, all of the Casual and Deep story characters' phone call cards, which means you can freely call them whenever free of charge, and some additional ringtones. The package also has six business cards of the RFA members, the original soundtrack with free talk session, free talk sessions with five characters with English translation script, a 62-page RFA Orientation Guidebook, a 44-page RFA's top secret and two A4 posters.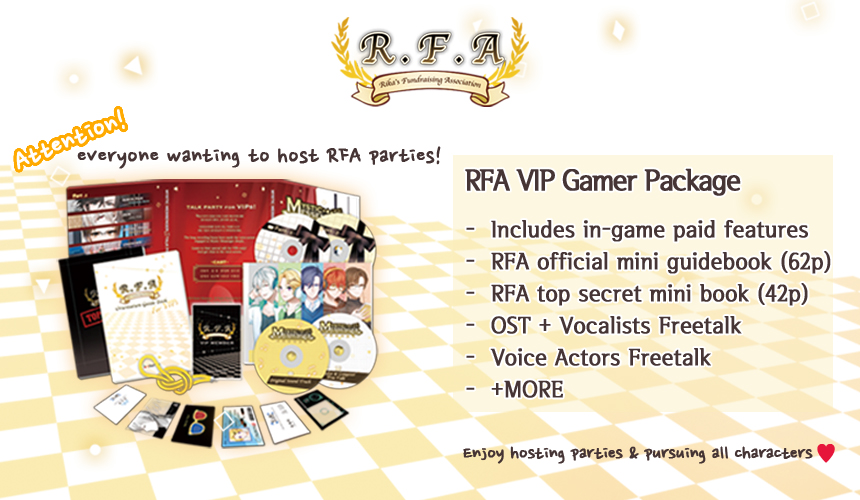 Image Credits: Captain Rea via Pinterest
(RFA VIP Package)
Cheritz also sells original merchandises like characterized pillows, mouse pads, and clear files. There is also a new package that came out alongside the release of the another story; it includes 1 mint eye believer card with a transparent card case, 4 cards, 1 OST jewel case with 2 CDs, a DVD Case that contains a Voice Actors Talk Party and Special Video, 1 A5 Scrapbook, 1 A5 Diary of one of the characters and a 200 hourglass coupon.
Image Credits: Cheritz Team -Tumblr
THE CHARACTERS
Of course, I won't forget about the characters they are the ones who make this game really interesting. The game started with just 5 characters but more and more fans kept requesting to Cheritz to make more character routes, cause 5 is a way to less, and hence now the game has 7 character routes in total. When the game first released it only had 5 character routes; Zen, Yoosung, and Jaehee in the Casual Story and Jumin and 707 in the Deep Story. Cheritz just recently released the Another Story with two new character routes, V and Ray. Not only the characters have irresistible visuals, each character has a unique characteristic that you can't help but swoon over them. As mentioned above; each character has a colored heart of its own, grey for Zen, green for Yoosung, yellow for Jaehee, purple for Jumin, red for 707, teal for V and magenta for Ray; you can get your favorite character by focusing on getting a particular colored heart.
These are the reasons why Mystic Messenger an awesome visual novel game like no other. It is indeed the most top grossing visual novel games up to date and day by day new users are logging in.
Video Credits: Aruvn via YouTube
Thank you, everyone, for dropping by!
DISCLAIMER: The views and opinions expressed in this blog post are that of the author and does not in any way represent the agency or department she currently belongs.
ADDITIONAL NOTE: The sites mentioned in this post are for information purposes only and links are provided for easy access. The author does not receive any remuneration from the said companies or sites.
______________________________________________________________________________
Written for Bitlanders
by Shayne thru Sharon Lopez
Date: June 02, 2018
Visit my blog profile for more BLOG POSTS
Let's connect on Facebook
The author is the owner of: