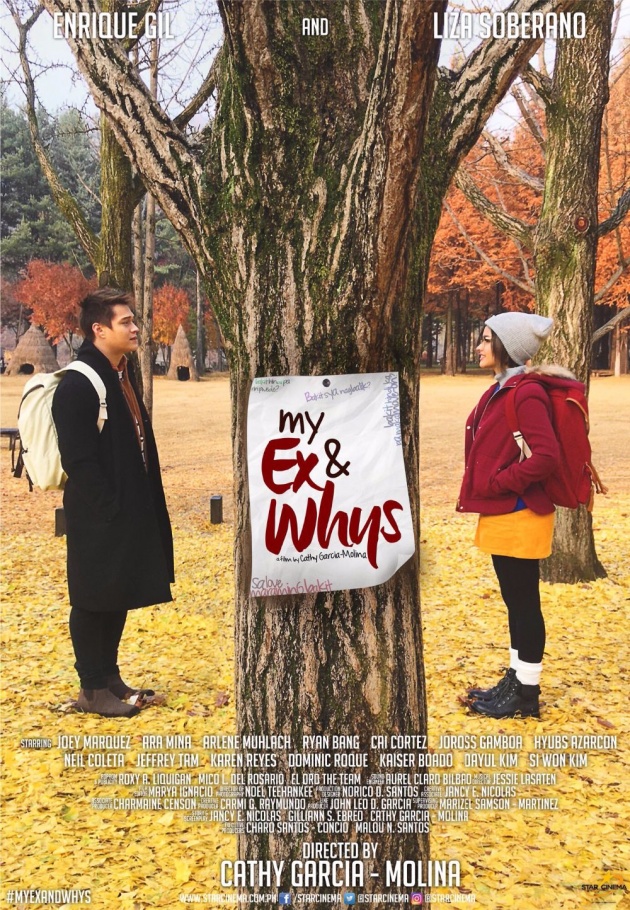 Image Source: My Ex and Whys via Starmometer
Cali: Pangit ba ko? (Am I Ugly?)

Cali: Kapalit palit ba ko?? (Am I replaceable?)

Gio: No!

Cali: Then Why?!
MY EX AND WHYS
Hello! NellShaOza here! Before we start, visit my two latest blog - Ready to take a bite Pizza Goodness and Project Almanac. I've been into movie blog this past few days and I would be busy for the next couple of days so here it is. To uplift filipino movie, I'm going to share and review about this movie entitled, My Ex and whys. Ask me why I've choose this as my first filipino movie review? Simple, It hook me up until the end that It never let my face go blank, in short Happiness. So as I always say, Sit back, relax and enjoy filipino movie! :)
ABOUT
My Ex and Whys is 2017 Philippine romantic comedy drama movie which was first seen in public like commercial in February 15, 2017. It was directed by Philippine's Famous Director, Ms. Cathy Garcia Molina. My ex and whys is produce by Star Cinema and ABS-CBN Film Productions, Inc.
Star Cinema is known for its produce quality and indeed meaningful movies in uplifting Filipinos heart and the world also. This movies are Can't Help Falling inlove, Dear Other Self, Talk back and You're Dead, Call Center Girl, My Amnesia Girl, Bride for Rent, Unofficially Yours, Can we still be friends, You're my boss, Para sa Hopeless Romantic and many more.
Almost all of Star cinemas movies are block buster, no wonder that "My Ex and Whys" is a big hit in the Philippines, Grossing ₱341 million or 6,820,000 dollars worldwide as of March 3, 2017 which made it a Block buster movie of 2017. The Famous Filipino Love team, Lizquen, also made a total impact in the movie.
My Ex And Whys is Garcia-Molina's highest grossing non-sequel film and the highest-grossing film to be starred by Liza Soberano and Enrique Gil to date. The film currently holds the record for being the highest-grossing Philippine film of 2017.

-My Ex and Whys via Google.

Image Source: Star Cinema Movies via Google
Video Source: My Ex and Whys via Youtube
STORY OF MY EX AND WHYS
The Question of My Ex and Whys started when a girl named Calixta "Cali" Ferrer, had a heartbreaking past to guy named Sergio "Gio" Martinez. She was her first love in her innocence days and was her strength in times of her Father kept on cheating on her Mother all over again. As a daughter, Cali also broke her heart whenever she sees her mother on sorrow. So as her boyfriend, Gio promised that he will never do the same thing as her father did.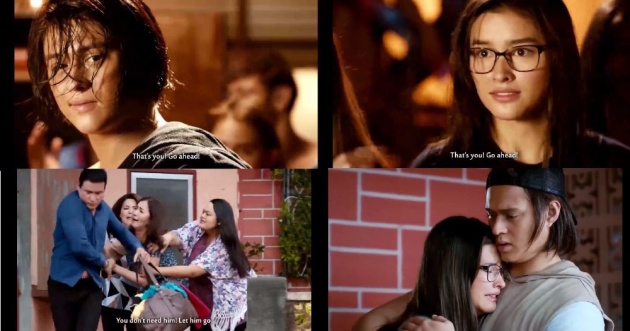 Image Source: Movie Scenes / Edited by: Me
With all her heart and mind, She gave her 100% Trust to Gio. However, Promise is not a reliable word in the movie. As what her Father did to her mother, Gio breaks Cali's poor heart. and this what make Cali a Pusong Bato (Heart that is hard like a stone)
Rage and Despair surrounds Cali after the heartbreaking encounter. She started to make a blog about heartbreaks and especially why Cheaters should never be forgotten, why exes would never be together again and from that She created the "Bakit List" Why List (Bakit List Girl) with her code name, Delilah.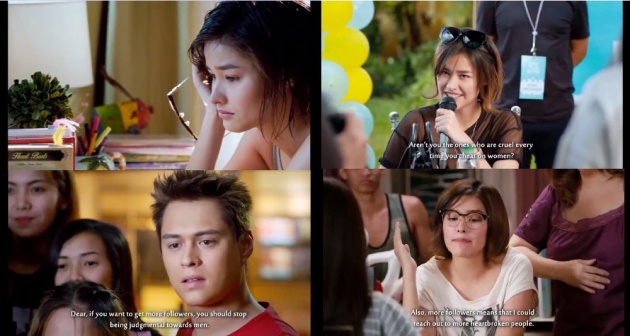 Image Source: Movie Scenes / Edited by: Me
Overtime, She encountered a user account with a name, "Dahil List Boy" Because List without her knowing it's her long time ex, Gio. who answer all her questions and was pushing for another chance. Then She became famous for her different style of blogging, and became an ambassador which leads her to meet Gio in person again, The guy who brokes her heart.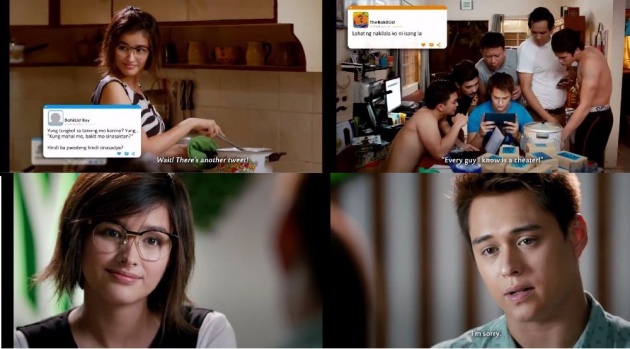 Image Source: Movie Scenes / Edited by: Me
Will She forgive the person who tends to answer all her questions and at the same time broke her heart? Will you trust again? My Ex and Whys..
CAST AND CHARACTERS
1. Calixta "Cali" Ferrer - The girl who have a broken heart and rage to cheaters, Also the owner of Bakit List blog.
Actress: Liza Soberano
2. Sergio "Gio" Martinez - The guy who broke Cali's heart and also the guy who seek forgiveness and second chance.
Actor: Enrique Gil
3. Master Pops Martinez - Father of Gio which is a total womanizer, He influence his sons to do the same too and that's why they are tag to be the Family of Cheaters.
Actress: Joey Marquez
4. Tita Libby - The kind auntie of Cali which help and support them in times of Cali's mother and her, devastated moment.
Actress: Arlene Muhlach
5. Mommy Dolly - Loving Mother but also Hurting wife.
Actress: Ara Mina
6. Lee - Bestfriend of Cali since Gio and her met, He's also one of the reason why Happy ending exist.
Actor: Ryan Bang
7. Nina - Supported friend of Cali and also there's a lot of rage in her heart like Cali.
Actress: Karen Reyes
The Cast listed above are those who contribute well in making the plot possible.
BAKIT LIST OF CALI
Bakit List Why List is a blog that made by Cali, which technically she was called 'The Bakit List Girl' It was a refreshing in the eye to use this idea where in they made a character with a blogging hobbies that made the movie more interesting especially to me cause I am fond of blogging. The List is containing of all the questions that Cali is urge to know, Why why why.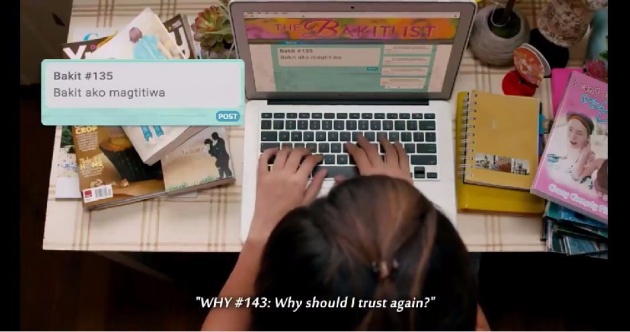 Image Source: Movie Scenes
"Bakit #143: Bakit … ang hirap?"

(Why #143: Why... It is hard?)
"How can I ask for it if I denied the man the same forgiveness and trust?"
Ouch! I feel the Pain and devastating heart of Cali. While I was watching her, you can see her wrecked eyes and grieve heart. My eyes are teary in every thing she says. Honestly I've never been in a relationship but this one got me, it got me big time! It's like I can feel those words and thoughts she's hiding in those smiles.
"Ang totoong magpapakamatay 'di nagpapaalam. Bakit kapag nagpakamatay ba sya titigil sa pambabae boyfriend nya?"

(If She really going to kill herself, She'll never say goodbye. Why? Does her boyfriend will stop being a womanizer if she died?)
You might laugh and thinks that her "Bakit List" is silly and just for fame but NO. She really want to express and let go of all the pain she's hiding. And this what I like about the movie, The feeling is emphasize, The realistic happening in our generation. Women, Men, Gay, Lesbian, Trans gender. Who ever you are, You're vulnerable of the pain.

Image Source: Movie Scenes / Edited by: Me
Left: So in just one sorry, You want to be forgiven already?
Right: It's not just one sorry, I've done it many times, but you didn't care about me, Until you move in your new house, Until I've never see you anymore. I Search for you but I didn't found you..
LIKE FATHER, LIKE SON
This facts that made the movie alive is the Like Father like son scenes. Where in, Gio with his brothers and of course their father is a certified womanizer in different ways. Thats why Gio was called that he is from the family of cheaters.
I think this made Cheating Man who cheats onto their girlfriend or wife as a society norms, Its been a normal situation in every places in the world and this leads to a much suffering of every family. Married to Divorce, Thats just so sad. So I felt Mixed emotions while watching this scenes.

Image Source: Movie Scenes / Edited by Me
"Men will always be Men"

-Men via timesofindia
In the movie, they show the other side of those heartless cheaters. As they said Man are natural polygamous, in animals this like having more than one mate. Is this true? Whoever read this, Clarify and justify it in the comment below (Especially Man) ~
KOREANVENTURE
My favorite in the movie, The Korean-adventure! Yep! It's cool to see the refreshing ambiance of Korea, and seeing Lizquen together while having fun is indeed relaxing! I was even captured to the Picture pose scene where in you'll see the craziness and silliness of the two, I literally can't stop from smiling.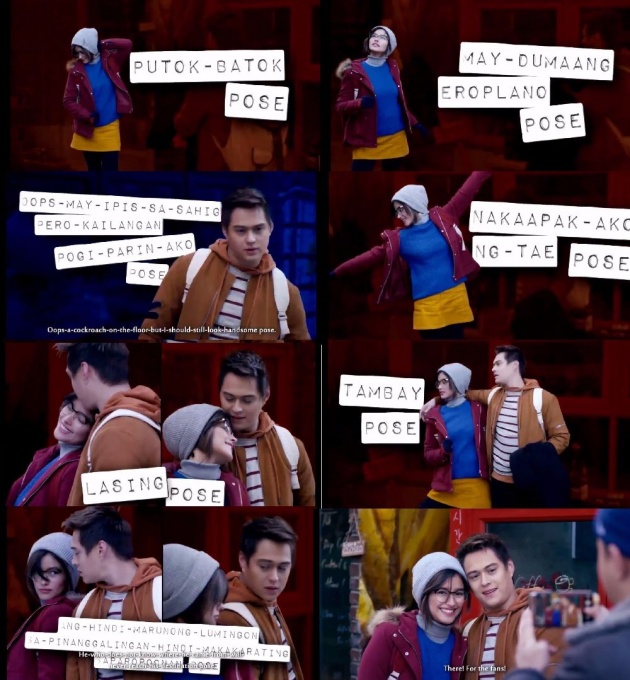 Image Source: Movie Scenes / Edited by: Me
Putok Batok Pose - My Neck Hurts Pose

May Dumaang Eroplano Pose - Look there's a airplane Pose

Oops may ipis sa sahig pero kailangan pogi pa rin ako Pose - Oops there's a cockroach on the floor but I should still look handsome Pose

Nakaapak ako ng tae Pose - I stepped on a crap Pose

Tambay Pose - Chill Pose

Lasing Pose - I'm drunk but I can manage Pose

Ang hindi marunong lumingon sa pinanggalingan, hindi makakarating sa paroroonan Pose - He who doesn't know where he came from will never reach his destination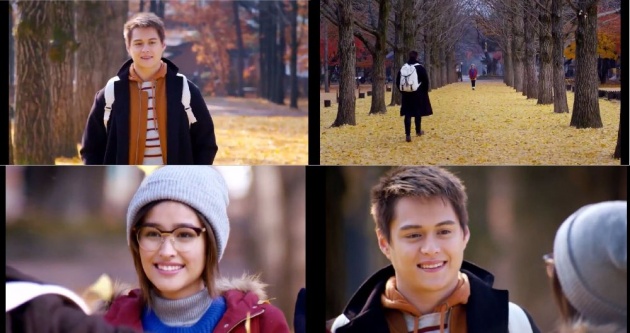 Image Source: Movie Scenes / Edited by Me
Gio: Would you have said yes?

Gio: kung nagpropose ako sayo nun dito? (If I was able to propose to you here..)

Gio: Would you have said yes?
After the cute moment with the cam, This is the moment when the two is reminiscing all the things they've done before, all the things that was supposed to be happy but it didn't turned out well, but of course the happy part of the past.
ALL IN ALL
The movie was sweet and simple. Cast and Characters are Perfect and the Chemistry is just so wow! Even the story is kind a unique ~
Filipino are natural sweet and tender when it comes to movies, Filipino movies intend to make you feel good all the time. The Lines are very committed to the generations today, which made the movie a interesting one. So I recommend you to watch this with you're love ones or friends.
Here's a sweet song from the movie, Enjoy! ~
Video Source: My ex and whys via youtube
SEE YOU ALL ON THE NEXT BLOG
THANK YOU EVERYONE!
KEEPSAFE!
and
SPREAD LOVE
Best Regards,
July 2017