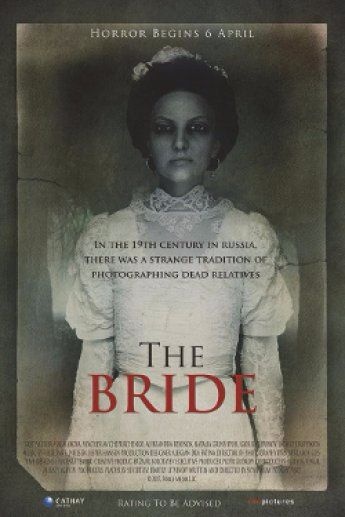 Image Source: The Bride movie via Insing.com
Vanya: Close your eyes, Do not Breathe and then run!

- Movie Line
THE BRIDE
Hello buddies! After the horror-comedy movie review, Goosebumps. I'm here again with something more darker and creepier than my two other movie review blogs (if you still not read about it, click here for home and for goosebumps). I've decided to take some reviews out of this because I can feel such a different kinds of emotion and figures in my mind after we've watch it last week. If you still didn't watch this, BEWARE OF SPOILERS. so here it is.
ABOUT
The Bride (Hebecta) is a 2017 Russian horror movie which was first seen in cinema on January 19,2017 in Russia and May 10,2017 here in the Philippines and some part of Asia. It was produced by Focus Plus Cinema and directed by Svyatoslav Podgayevskiy.
Its producers company, Focus Plus Cinema also done movies like Intimate Parts and Moimi glazami. I observe here is that, the company always makes a movie which has a part on which the history reflects the movies in someways.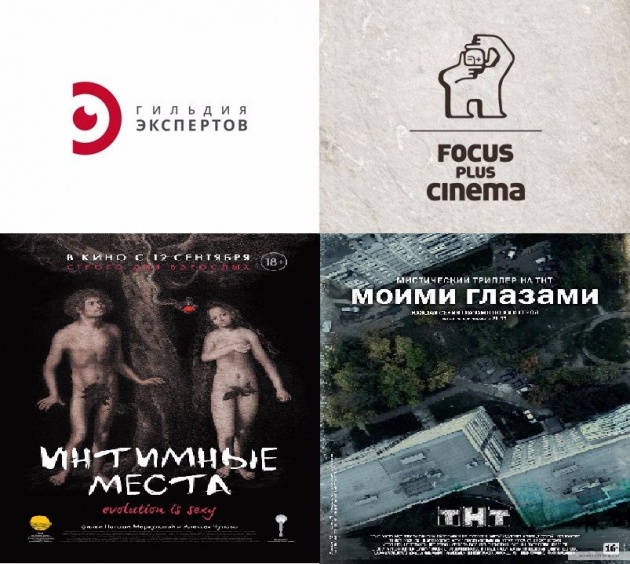 Image Source: Focus plus cinema via imdb.com / Edited by Me.
The spirit of a dead, turn of the century bride returns to terrify in modern times

-The Bride (horrorpedia)
Video Source: The Bride 2017 Trailer via Youtube
STORY OF THE BRIDE
There was a time in 1800, when people believe that photography is not just for taking memories but also to enlighten and give an energy to the dead body and soul using the bright flash of the old camera called Obscura. Years passed, a photographer who made portraits of dead family members buried his dead wife with a virgin young girl from the farmer's village. This is what they called ritual, in which the soul of the dead body will come and conquer the virgin's girl body.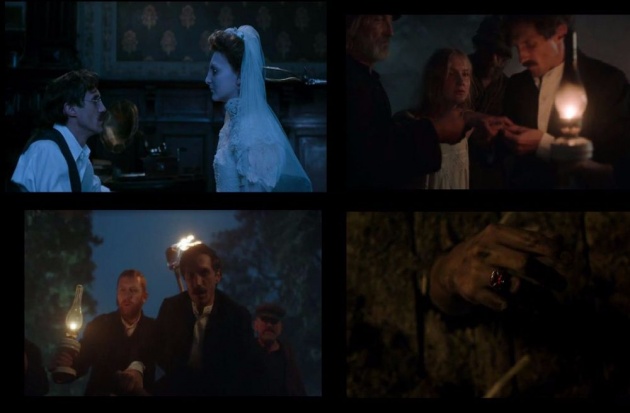 Image source: Movies Scenes / Edited by: Me.
Jump from 1800 to 2000, Somewhere in the city, a young couple named Nastya and Vanya decided to get married. Vanya's family want to meet his bride. So they did, They headed to this hidden mansion in far away place. Its like an old type, the 19th century Russia living. Time to time Nastya felt creepiness and perilous guts. She and her husband decided to go back to the city but the day they was supposed to leave the mysterious mansion, Vanya went missing.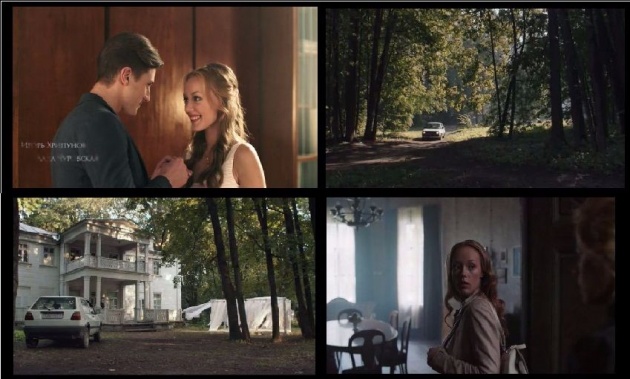 Image source: Movie scenes / Edited by Me.
Without Nastya knowing, she was in a great danger. It was between life and death, body and soul. for the sake of the family, Vanya's Sister forced Nastya to be the sacrificial body for their so called 'Mother' to have its own fresh body and leave it neglected appearance.

Image source: Movie scenes / Edited by Me.
Revelations and secret was slowly unfolding,The cursed would never end till someone would shattered the gallery hidden somewhere part of the house. Sacrificing is the only key for the family to live.
The Exciting Part here is that the feeling of Pewdiepie playing in the woods via Outlast 2. The running away from the spirit part is something to watch for, I do not want to spoil you with the scenes but I just can't stop myself from expressing it. Well, after all this is a review hehe.
CAST AND CHARACTERS:
1. The Wife - The dead lady who's spirit conquered different kind of virgin body, it is also the wife of the aggressive photographer in which she also killed because of the spirit dangerous aspect.
Actress: Miroslava Karpovich
2. Nastya - The sacrificial virgin body that was bought by their family member, Vanya.She's a girl who doesn't know the real intention of her boyfriend from the day they met but eventually the guy's mind change time to time as he falls to Nastya.
Actress: Viktoriya Glukhikh
3. Vanya - Husband of Nastya that have been the reason why Nastya suffer nevertheless he also did everything to make Nastya safe
Actor: Vyacheslav Chepurchenko
4. Lisa - Sister of Vanya that was one of the people who lead the ritual.
Actress: Aleksandra Rebenok
5. Barin - The photographer who initiate the death ritual, also the husband of the "Wife"
Actor: Igor Khripunov
6. Vanya and Lisa's Father - a mysterious non-talking old man (He didn't really played a big role here)
Actor: Viktor Solovyov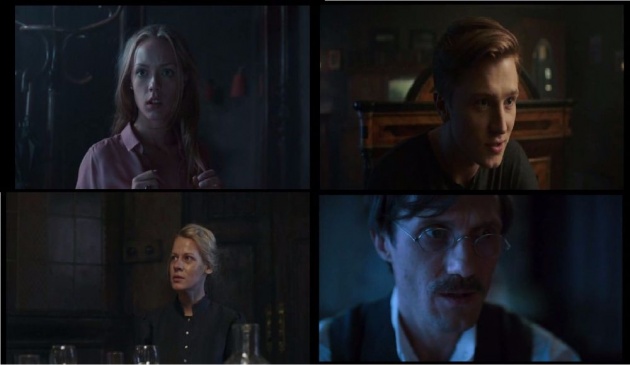 Image Source: Movie Scene / Edited by Me.
The 2017 Russian horror movie, The Bride or known in Russia as Hebecta was kind of interesting. Watching the trailer, first comes to my mind, is that this is mind blowing and scary! Well, at first I was expecting it was an American movie I'm not downgrading Russian films but-, the ambiance and the approach of the film was like a Insidious and Conjuring (so thats how my higher expectation takes place)
However, The film might be out of my expectations but it didn't disappoint me in its plot. It was different and creative! They used the 19th century Russian history of taking picture of deceased family member which makes the film more disturbing for us non-Russian people.
The acting are quiet good but not that excellent, the scare factor is okay, Personally I do not like how the antagonist (Spirit) shows up in every situation. I think they have lack of ideas in there owing to the fact that they've focused on the on-going plot. but it's my own judgment and critical observation, bet you'll have yours too if you watched it. Going back to the plot, for me You'll never know what will happen next. Some twisted and unexpected happening will just blow your mind away but then again the Ghost or Spirit doesn't scare me a lot. Well, just watched it guys ~
BRINGING THE PAST IN
They say, Past is Past and should never look back. but here in The Bride, it is something that should be showed and appreciate. I was fascinated by the fact that they've used this kind of setting and idea to show the previous happenings inside of that creepy mansion. I don't intend to be a movie spoiler every review is a spoiler LOL but it is we're Nastya witnessed the bone breaking scene of how the what they called "Mother" killed her husband who gave him another will to the world. Evil is evil, I think.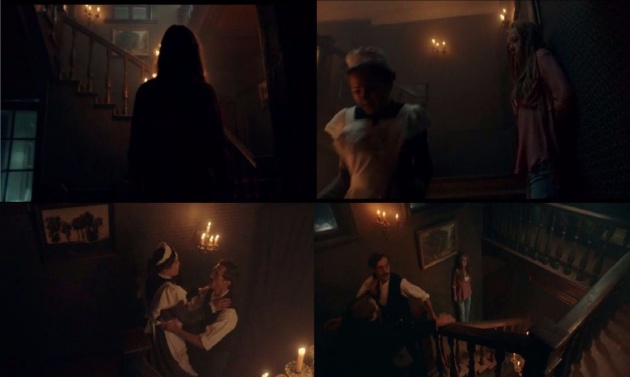 Image Source: Movie Scenes / Edited by Me.
Tell me the truth, You always want to be on a specific past scenes in your life or some mystery history of the world and be on the situation wherein nobody can see you or neither can touch you. Right? I was hoping that too honestly, I think that would be a great experience to experience the past life without interfering into the past events and happening. Well Guess what? That would never happen! :p
POST MORTEM PHOTOGRAPH
Post Mortem Photograph (also known as memorial portraiture or a mourning portrait)
is the practice of photographing the recently deceased
One of the fact that gave the great impact to The Bride is its history and tradition related. It is one of the film assets, during mid-19th century in imperial Russia, As a tradition, they do this kind of Photograph to "Cheat Dead" The movie did this to show the history and of course the dead wife of Barin that would be spot on a ritual. In this kind of photography, The Family members are with their dead love ones, this is to remember their presence even though their in the other side now.
The example of Post Mortem Photograph are the following:
Left: Daughter was the one deceased / Right: The little girl sleeping is the dead one.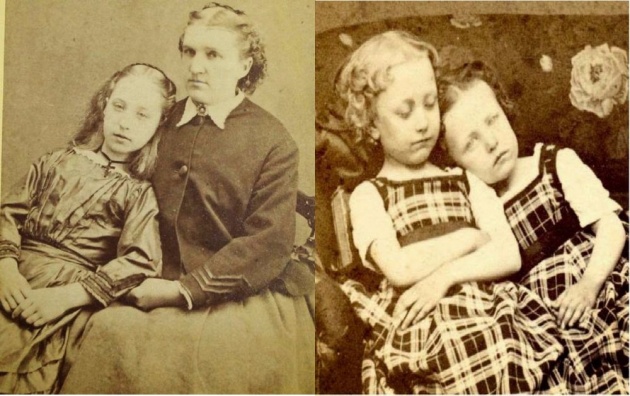 Image Source: vintag.es
Left: Deceased Little Girl with her dolls / Right: Deceased Little Girl with her siblings
(They used a special instrument to make the little girl on the right picture to stand up.)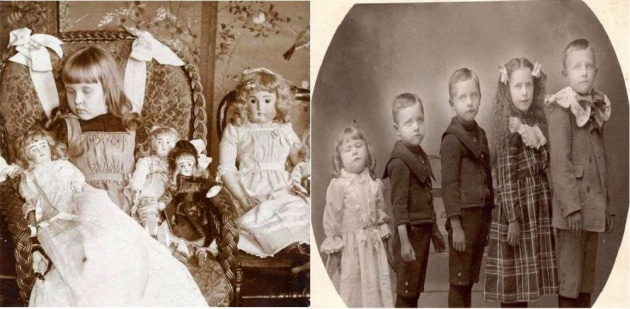 Image Source: vintag.es
Some Post Mortem Photographs that had shown in the movie gave me a quite feeling of sadness. those photos might be creepy and not ordinary but the message has a deepest sadness inside it.
For More information, a documentation about Post Mortem Photographs shows in the video below
Video Source: Post Mortem Photography Docu via Youtube
All in all the 2017 Russian horror movie, The Bride. Shows a great show of kind of horror in Russia. I recommended this for people who wants a different kind of story plot and want to watch some foreign movies. All I can say is, Enjoy watching it and appreciate its unique quality! Enjoy everyone!
Thanks for reading.
See you later!
Best Regards,
Nellshaoza