Image credits: Micky-the-Slanted-Salerno
If you are a bitLanders user for years, you know for a fact that the site is very active in terms of joining celebrations around the world. From international sports to holidays being celebrated in different countries such as the Saudi National Day, to Halloween, Oktoberfest, USA Independence Day, Italy's Republic Day, the Islamic Ramadan, Chinese New Year, Easter, even our very own, Philippines Independence Day with the introduction of the tiaras, and of course Christmas!
Find all the bitLanders celebration list here: The list of celebrations on bitLanders in 2018
Video credits: Jean-Beltran via bitLanders
BitLanders had always been providing their users ways of enjoying the site aside from earning. There are costumes which we can use to dress up our avatars, some are free, others are premium ones but all are very dainty. I still have favorites stored in my inventory, note by the way that we all can increase our storage by purchasing a few slots of inventory for 7 gems. I know its a little expensive and we would rather spend our gems for blogs but still, this is a good investment in case you don't want to purchase your costumes and accessories every now and then.
So, speaking of costumes and accessories, I had just read the blog posted by Micky about the bitLanders offerings for Christmas. I guess it has been four years since the start of this festivity presents but this year is somewhat similar except for one which is the introduction of the Christmas Querlo Chat. What's good about having a Querlo Chat for this blog? We will dissect each section within this blog.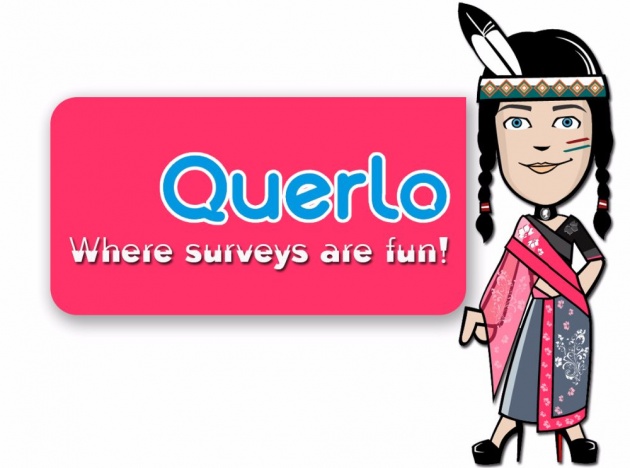 Image credits: Jean-beltran via bitLanders
Christmas Querlo Chat Has All the Information For You!
It was midnight when I read the blog post by Micky-the-Slanted-Salerno, talking about the Christmas celebratory items available for all users this coming holidays, we all want to receive presents and gifts on the most wonderful time of the year so it is good to be aware of what we will be getting!
Image credits: bitLanders Society via Facebook
But Micky's blog was short and very different from the previous announcements! What happened this time?
Well, if you read the blog, all the information about the celebratory items are now coded within the Querlo chat! Awesome! Now, there's no excuse of not interacting with Querlo, the chatbot with a heart.
Learn more about Querlo here: Everything about QUERLO
What Has Micky Installed for Us for Christmas?
Image credits: bitLanders Society via Facebook
Every Querlo Chat begins with a greeting, Merry Christmas was what Micky used to open up the conversation this time. Then he goes on stating that Christmas will be upon Micky and the entire bitLanders team! Holiday mood is already up three months ago here in the Philippines so Micky, you know that I am already in the holiday mood!
Querlo goes on by introducing the release of the Christmas related goodies for our avatars. There are free ones and some with additional buzz bonus, the latter is what we all been waiting for! Then the options on what I want to know about comes up next as follows:
Costumes and Buzz Bonus
Accessories and Buzz Bonus
Period
Free Goodies
Where Can I Find Them?
Gems
Upcoming Event
Image credits: bitLanders Society via Facebook
One by one as I navigated, the information on each category was provided such as for the Christmas costumes, there will be four that we can get this year: Santa Claus, Santa's Helper, Snowman and Snowgirl, all of these comes with a buzz bonus! There's a preview image of the costumes, I, of course, want that Santa and Snowgirl dresses! I wonder how much each costume would cost? Let's see further!
These outfits are all good for 2 gems only and come with 1 buzz bonus good for 5 days! Let's move on to the next part!
There will also be accessories such as candy cane, gift boxes, snowman, snowgirl, gingerbread, and a Christmas tree! Each of these will be good for 5 gems and will give an additional 2 buzz bonuses for a week!
Image credits: bitLanders Society via Facebook
By the way, if you are not familiar about gems, then you are missing out a lot because gems are like our magic stones here in bitLanders. These red shimmering items are our key to be able to earn more with the site! Every single transaction which includes gems will allow a user to earn buzz scores and possibly increase daily revenues! Gems can be used for submitting your blogs, videos, and galleries for review, it can also be used for purchasing avatar gears and more. Learn more about the bitLanders gems here:
The Gem: Why It Is Important in Bitlanders
Image credits: bitLanders Society via Facebook
In line with those, there will also be eight reindeer festive headbands which can be yours without spending any number of gems! We all know where to find these items so if you are excited to get dressed in Christmas costumes and accessories, then head over to the bitFashionista online store and get them all!
All these Christmas holiday offerings are available from December 15, 2018, until January 9, 2019!
Epiphany Crown
Image credits: bitLanders Society via Facebook
Included on the bitLanders Christmas Querlo Chat is the announcement of the Crown of the Three Kings! This is a crown which all users of the bitLanders community have been looking forward to, I included!
You might ask why, well, the crown is actually a special accessory because it is only offered within 24 hours and that it cost a lot of gems.
This crown costs 500 gems! We must do the math to figure its exact cost in dollars or pesos. So in the bitLanders online shop, within the bitGoodies section, there's no box which has exactly 500 gems so the option is to either buy and accumulate that amount or purchase a big box of 640 gems at once or two small boxes of 250 gems.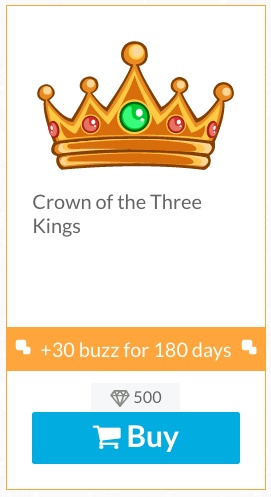 Image credits: Micky-the-Salnted-Salerno via bitLanders
The former costs gBM 53.988 while the latter is gBM 21.588. Note that 1gBM is approximately equal to 1 US dollar which is also equal to Php 53. So that is equivalent to Php 2864, this is already a huge amount of money in the Philippines.
But with great prize comes a great return on investment too! This crown comes with huge additional 30 buzz bonus for 180 days! That alone can already pump you to buy this and I had marked my calendar already for this, don't you miss it too!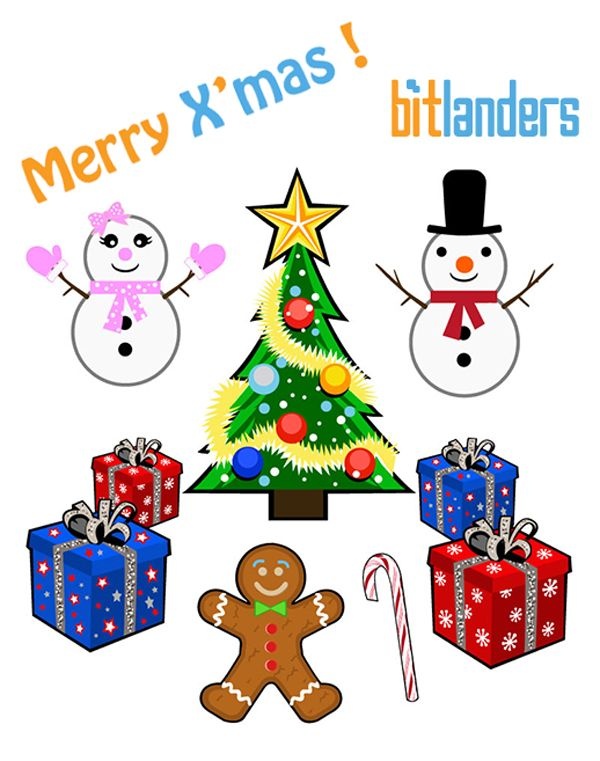 Image credits: Micky-the-Slanted-Salerno via bitLanders
Overall, I enjoyed the Querlo Chat information! This is way better than just a simple blog! Although it makes take some time to get all the information, it is a fun way of learning!
Video credits: Girl Power via YouTube
Creating a Querlo Chat is very easy, its great that we can images and even embed videos within the interactive artificial intelligence and if bitLanders would still give additional buzz points for all those blogs that I have added my personal Querlo in, I could have been continuously creating my very own chats too! Unfortunately, that has been put on halt and I understand why but just in case you want to know how to create one, here's a step by step process of how I created my own Querlo chatbot:
Thank you for reading! Merry Christmas here's the Querlo Chat for you!
---------------------------
About the author:
Jean Beltran-Figues is a photography enthusiast.
A traveler who wants to promote her beloved country, the Philippines.