"The buzzscore is an awesome incentive. [...] You're getting rewarded for sharing your own work. That's rare! - Amy Hill.
Amy Hill is currently in the top 3 on Eren's Picks because she has one of the highest BuzzScore. It means that she is one of the most active filmmakers in terms of uploading videos, writing, sharing her content and influencing others. How does she do it?
She uses different medium to show her work online. Besides having a personal website and a Tumblr blog, she is present on Facebook, Twitter and LinkedIn. Every time she writes a blog on Film Annex or upload a new film, she tweets about it and post the link on her Facebook timeline, always using the Web TV URL. She put the link to her Web TV on her Twitter and Facebook bio so people can have a direct way to see her work.
You can follow her on Facebook, Twitter and LinkedIn.

Below is a short interview with Amy about how she uses social media to promote her work, the kind of opportunities it provides and how it affects her revenues on Film Annex.
Film Annex: When did you start promoting your work specifically on social media platforms?
Amy Hill: Partially throughout university when I found out certain films were being shown at film festivals.
FA: What social media platforms do you use? Which one(s) do you think is(are) more efficient for filmmakers to use to promote their work and why?
AH: Facebook, Twitter, LinkedIn. I'd say Facebook has been most efficient... I have more personal relations on there as opposed to just 'media-related contacts'. They interact and share my stuff more because they know me personally and want to help. It becomes a different ball game when you want people you don't know to interact with your work... but that always feels the most rewarding.
FA: Did you make interesting contacts or create business opportunities by sharing your work on social media?
AH: Definitely, I've had random messages from people saying they enjoy my blogs, a musician liked my film and wanted to re-edit the soundtrack with his own work. I've shared some of my films with my local council that are now keen to work with me and involve me in community projects. I think having a strong presence online reassures people that you know what you're doing and you suddenly start to become more appealing. If you think in terms of 'Who would I want to make a film with?', would you pick a person who is irregular, reappearing/disappearing on social media from time to time or would you pick someone who is in it, stays in it and looks busy? You would want whoever is most memorable.
FA: Give us an example on how you promote your Web TV or work in general on social media?
AH: I want to try and avoid just clicking the sharing buttons... It's a bit of a game, you have to think 'What would make me click on this link?' So now I've started to title my blogs a bit more interestingly (tried!)... in terms of other work, like my art. I might title the link something like 'Should I do more to this?' That way, I'm encouraging people to interact and be involved in the process by giving them some ownership. I think I may start asking questions when I get new content up such as 'What would make this better guys?', 'What do you think?' etc. Sometimes you just can't but I'd like to do this more.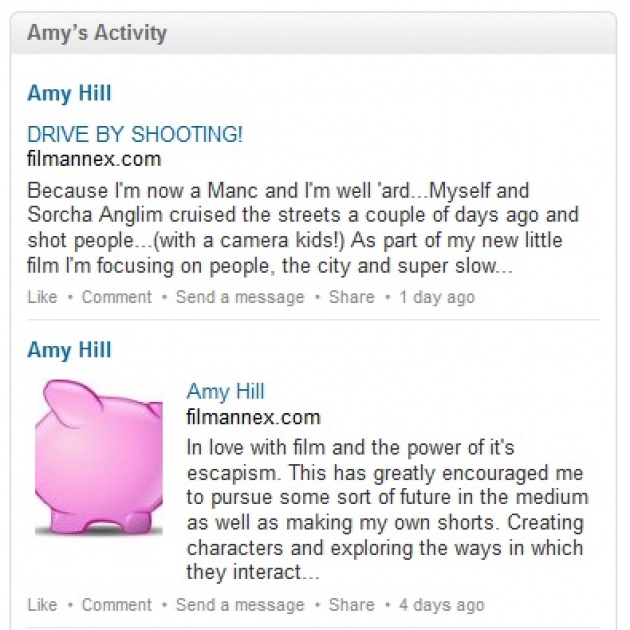 Example of status updates on Amy's LinkedIn profile.
FA: Did you see a change on your revenues on Film Annex after promoting your Web TV on social media?
AH: Yeah totally! The buzzscore is an awesome incentive. I'm constantly checking it everyday and it's become quite a funny competition amongst some of us... You're getting rewarded for sharing your own work. That's rare! I have to admit, when I first got the email about earning revenue for you own Web TV I actually deleted it... I thought it was spam until my friends started making money. I got mine up and running as fast as I could!
FA: Do you have any tips for other filmmakers on how to promote their films on social media?
AH: I know a few people who feel a bit uncomfortable about sharing their own work constantly but if you do it respectively, I don't think it's a problem. Bombarding a news feed is annoying. Give people your work in small doses, don't ask for clicks, ask for opinions. Be interested in what they have to say, take some things on board and let them see that you've thought about it. Targeting specific people helps too... One of my films is about a creative charity, so I sent the link through an email to my local creative council. They watched it because its themes appealed to them. If you've made a music video, send the link to upcoming bands. If you've made a time-lapse, send it to construction companies (Andy Parker style) etc. It's just a bit of logical thinking and again asking yourself 'Why would I click on this?' Putting yourself in your audience's shoes is really important!
Click
here
to read more about promoting films online and on social media platforms.