Recently, I was asked by some fourth year animation students attending the Emily Carr University of Art & Design in Vancouver, BC, Canada to answer some question for a Professional Practices class they were taking. Since I also graduated from the animation program at Emily Carr...way back in 2001, I like to help out students in this way. I remember being in their position and having a ton of questions before graduating into the real world.
The interview was regarding my personal experiences with festivals and grants? For their project, they were interested in researching ways in which to support lives as independent film directors. It seems more and more students are interested in independent filmmaking as careers as opposed to going straight into the industry.
Here are some questions about working with animators on my latest film, Yellow Sticky Notes | Canadian Anijam, the lifestyle of an independent animator, why I sometimes work with Hapa (multiethnic) themes in my work ! Enjoy!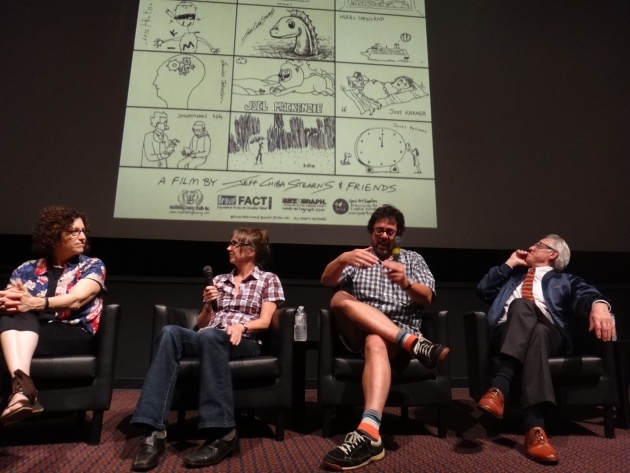 When collaborating with another independent filmmaker or filmmakers in case of Yellow Sticky Notes: Canadian Anijam, What sort of negotiations were established between you and your partners?
Basically, I received a BravoFact Grant and I just split the money up evenly between all the animators, sound designer, and composer. Everyone was paid equally. As well, we've all agreed to donate the proceeds of the film to start a foundation to teach kids animation using the same techniques we used in the film. It is called the Yellow Sticky Notes Project and so knowing the money raised by the film was going to a good cause was helpful in convincing our talented animators to take part in the anijam.
What is the lifestyle of an independent filmmaker like? Do most independent filmmakers find themselves working a separate occupation to maintain their living expenses?
I'm very lucky and I truly believe I've found my bliss. I own my own company, Meditating Bunny Studio Inc., and I work for myself in a home studio. I wake up when I want and go to bed when I want. I love working late when it's quiet, like until 4am. But I'll also make sure I get 8 hours of sleep so I'll sleep until noon if I want. I have the flexibility to travel around the world with my films and take the commercial projects that I want to do. I do my best to split my time 50/50 doing commercial animation and independent projects. I hire freelance animators to help on a project-by-project basis when I need help and I love staying small. I have no ambition to grow into a large physical studio with a ton of overhead, hundreds of employees, etc. By staying truly independent, I get to choose the projects I want to do and make the right decisions. There's less risk involved and I can focus on one or two projects at a time without getting overwhelmed.
Although, even with commercial animation, I usually have huge creative control on the projects because people are hiring my company based on my indie film work. In the beginning I was teaching animation in college to help supplement my living but now I'm lucky that my studio's independent and commercial projects pay the bills. I could just make independent films and still make a living, but it's a lot more hustling and there are less and less funding sources and much more competition these days. I sometimes funnel my commercial work profits into my independent projects if I'm unable to get other funding or not enough funding. Although, as I mentioned before, it's important to keep ownership of your work so you can sell it. When you make a film, you've made a product that has value and can be sold. Marketing and promotion are just as important to a film as making the film.
In the beginning, an independent animator or freelance animator, will probably have to work another job aside from making films, but over time as you get more successful, you acquire more freelance work and should get to a point where you can solely survive off just creating media. It just takes perseverance and a ton of dedication. My advice is to still make films even if you have no funding. Make a name for yourself. Once that happens, the funding will come. Although, no matter what, always keep your integrity intact and develop your own filmmaking philosophy so you know what types of projects will be meaningful to you. Also, don't be afraid to partner up with people to create a company. Sometimes having different skill sets with two or three partners is really beneficial to creating a diverse and successful animation company.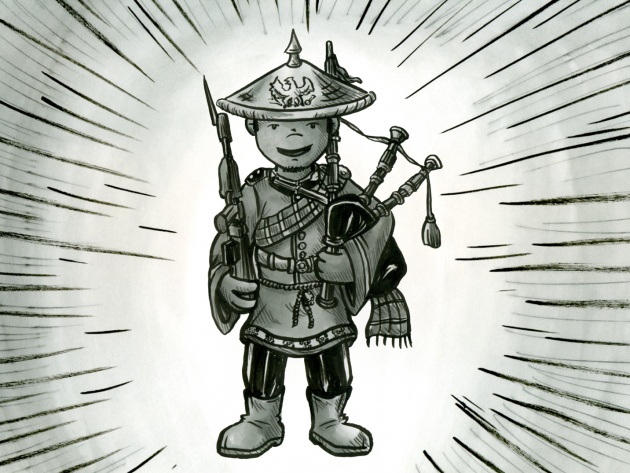 According to Yellow Sticky Notes you became more known for Hapa issues than animation. What made you decide to combine your interests in Hapa issues and animation?
For those who don't know, Hapa is a Hawaiian word and has become a buzzword or term to describe people of Asian or Pacific Islander ancestry. Being of mixed Asian heritage myself has been a large part of my identity and something I explore a lot in my filmmaking. I'm very fortunate that I get to make films that I personally have an interest in. As well, there are not a lot of media makers tackling this subject of multiethnic identity so I've been able to carve out a niche. Therefore, I've coined my style as Hapanimation, which is a combination of my love of North American and Japanese animation cartoon styles, just like me, part Japanese and European descent, but being born and raised in Canada embracing both cultures. I believe it's important to make art and films about themes and subjects that you are passionate about. It makes for a better experience when creating and I'm able to stay motivated throughout all aspects of production!
* I'll be posting a special bonus ASK JEFF blog post in the next few days. Keep updated with new blog posts and video uploads by subscribing to me here on Film Annex. Thanks!