BAGUIO CITY: A Place for Ghost Hunting
(Stories written here may be true or not. These stories are meant to entertain and not to scare.)
It's the Halloween season again. It's time to dress up and attend Halloween parties and events. It's time to bring out your scariest costume. Most of all, it is time for you to tell scary stories of the past and present. Not everyone believes in ghost but we all love scary stories that excites us.
Starting when we were kids, we have been hearing tales of ghost stories that others tell us. Some of these stories were passed on from generation to generation. Some of these stories have been changed from one storyteller to another, maybe to exaggerate or to make the story believable and credible until some of these stories lost their originality, each story a new one as it was passed on.
Here are the places here in Baguio City that have survived the times and because of their ghost stories they have become more popular.
A White Lady At The Bend
(Source: Google)
(Source: lakbaybaguio)
There used to be a tree that stands in a road bend in Loakan Road, Baguio City. Many drivers and passengers plying this road recounts different stories about a lady in white. Many taxi drivers have their own version of encountering that infamous ghost.
Some taxi drivers experienced seeing a lady in white walking along the road or crossing the road. What's interesting is that it happens during the wee hours and it appears so suddenly out of nowhere that it caught you by surprise.
Some even experienced having the lady ride in their vehicle. It appears suddenly, lingers for a moment and gone in the blink of an eye. One driver who experienced such reportedly turned mad after his encounter.
This white lady can play prank on you sometimes. A few of the travelers here in this road experienced cars breaking down in that particular area that puzzled even the most experienced mechanics why the vehicle stopped so sudden. A short prayer will make things okay again.
There were numerous encounters in this particular bend of the road especially when a big tree still stands in the center of the road. The local government decided to cut it because it caused a lot of accidents. According to stories, it took a while before the tree was cut because those who attempted to cut it got ill.
Although the tree was felled, the white lady lives on.
Ghost-Clustered Camp
(Source: Google)
(Source: Google)
Teacher's Camp is located at Leonard Wood Road, Baguio City. The then governor of Benguet, William F. Pack, decided to in 1907 to put up a vacation site for teachers here in Baguio City. It is undoubtedly because of the cool climate that we have here in the City of Pines did the Americans decide to put up vacation places, training sites and houses and Teacher's Camp is one of them. It was in April 1908 that the camp was opened to all teacher's from different parts of the country.
Delegates to this place tell stories of someone breathing behind their back only to find out that there was no one there when they turned around. You can hear audible deep breathing from an invisible person. You can also hear piano playing or lady crying even though there is no piano and no lady.
There were also reports of poltergeist and ghost's possessing somebody's body. Some encountered spirits roaming in rooms and hallways. There was even a report of a headless priest making rounds.
Teacher's camp will surely challenge your audiovisual senses.
Haunted Hotel
(Source: Google)
(Source: Google)
Diplomat Hotel is one of the famous ghost hunting places in Baguio City. This was originally a seminary and vacation house by the Dominicans back in the 1900s making it one of the historical structures in the city. History says that this was then turned to a hotel under a different management. World War II brought a lot of death in this hotel. This was bombed by the Japanese during the war but also turned into a shelter. The hotel alone stands as witness to those death brought by the war, keeping the dead comfortable up until this time.
Residents near this place shared stories of hearing banging doors and windows in the middle of the night even though all that's left of the hotel were bare walls, gaping holes in the walls where doors and windows used to be. If there were windows, the glasses were so brittle that opening it would be break them.
Even in broad daylight, the place looks eerie and gloomy. The tricks of shadow and light gives the hotel that haunted look. It gives you that creepy feeling of someone watching.
Stories of headless nuns and priests are also popular in this hotel.
(Source: Google)
One Filipino movie was filmed in this hotel and entitled the "Diplomat Hotel." This is a ghost story that stars Gretchen Barreto, one of the famous Filipino artists. Other casts included Mon Confiado, Nico Antonio, Sarah Gaugler. This was directed by Christopher Ad Castillo.
It tells of a reporter who wants to get back in the game after being humiliated in one of her big assignment. Spending one night in Diplomat Hotel is the only available assignment and she decided to grab it. This film tells stories about the ghosts of Diplomat Hotel.
This video below shows the director and casts' experience while filming the movie.
Casa Vallejo
The most frequented by ghosts are old places and old structures. One of the oldest buildings here in Baguio City is Casa Vallejo. This is older the city itself, another historical structure. Over the years, this has housed German POWs, British and Indian refugees, government and students. It survived the war and now serves as a hotel, spa, bookshop and restaurant. It also houses a cinematheque now where it shows Filipino movies and foreign films too. It is a small theater that seats 70 persons.
(Source: Google)
(Source: Google)
Years have passed and a lot of people have stayed, some of their spirits remained and never checked out. Some seances and ghost experts confirmed that there were three mainstay ghosts in this hotel, two ladies and one man. There were stories of people hearing showers in the bathrooms turned on even though nobody is in there. Some hotel staff also encountered ghosts in the hallways but only for a brief moment making one wonder if it was just a trick their eyes are playing on them.
Laperal House: White House
(Source: Google)
(Source: Google)
The white house along Leonard Wood Road, Baguio City is one of the ancestral houses in the city. This Victorian historical structure stood the test of times. This was owned by the Laperal clan built in the 1920s. It survived the war and the strong earthquake that hit Luzon in 1990. It had different owners since then.
This house was turned into a garrison by the Japanese soldiers during the World War II. A lot of people were brutally treated, tortured and killed. Men were beheaded and women were raped. It seems the ghosts of these were still trapped and restless in this house. Even Don Roberto's ghost, the original head of the Laperal clan, met his untimely demise here after he slipped and fell in the yard, hitting his head.
The house was closed to the public for a long time. Business tycoon Lucio Tan bought this property and restored it. In 2013, it was turned into Bamboo Gallery. Gallery of Bamboo is an artwork of Filipinos made of wood and bamboo. This is a joint project by the Tan Yan Kee Foundation and the Philippine Bamboo Association. For a small fee of PHP50.00, you can view the artworks and some of the interior of the house turned to museum.
Stories tells of spirits going in and out of the house. There sounds of doors opening and closing even though all doors were locked. Drivers passing by the property honk their horns to drive away ghosts. Passersby feel presence walking alongside them. There seemed to be person/persons standing by the windows watching over them.
Pine City Fright Tours
For you to experience these ghosts, you can now book for tours to visit these famous haunted places and experience Philippine ghosts here in Baguio City.
Pine City Fright Tours is the first and only licensed city tour that offers this one of a kind ghost hunting here in Baguio City. You can click on this link to check out their facebook page. Up to two hours, you can tour around the city and visit these well-known places.
Anton Villa-Abrille, a freelance videographer, decided to put up this kind of business. For someone who loves horror and who fell in love of Baguio City, it is but natural to come up with something like this. The chill and fog of Baguio City plus the available historical places, makes Baguio City a perfect spot for hunting ghosts. These places are already closed at night. However, Pine City Fright Tours has been given special permit by the local government to entertain their guests even after business hours.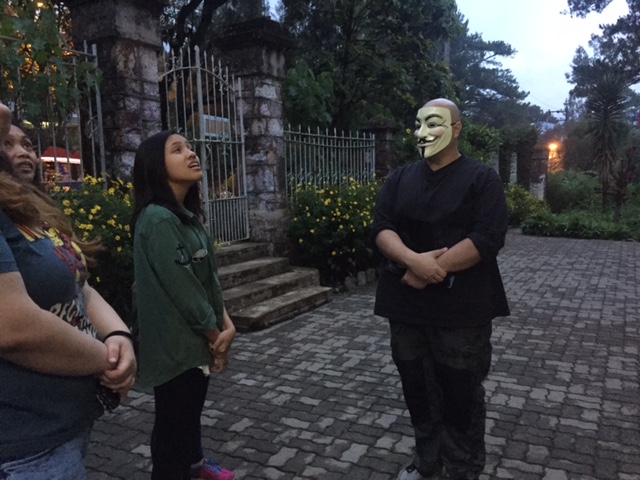 (Anton Villa-Abrille in a mask while touring guests in one of the haunted places. Source: GMAnews)
(Source: Google)
For a minimum of three persons, you can book a tour for a fee of PHP500.00 to PHP700.00 depending on the tour packages. Students get discounts. The tour starts at 5 pm. For a more exciting adventure in Baguio City, be sure to book for a tour with Pine City Fright Tours.
You can contact Pine City Fright Tours at +63 9985480301.
You can also check out their facebook page here.
(Source: Googgle)