Video Credits: FOX 47 News via YouTube

Image Credits: Sharon Lopez via Bitlanders
We Almost Fell Into the Hands of a Scammer
Its been for several weeks since my officemate and at the same time neighbor and a close friend was planning to buy a vehicle. She said she would settle for a second-hand vehicle because she could not afford to buy a brand new vehicle in cash and she doesn't want to buy on installment.
Though I am not amenable to buying a second-hand vehicle, I could not oppose since it was her decision. Personally, I would wait till I could afford to buy a brand new vehicle before buying one. Unless of course, I know personally the owner of the vehicle being sold.
She asked me to look for a vehicle online. She gave me her preferences as follows: 2010 and above model, SUV, diesel and automatic. The price must be between Php 350,000.00 ($7,000.00) to Php 400,000.00 ($8,000.00). I searched for the online stores and found tsikot.com on top of the list. I entered her preferences on the search box and I found several vehicles that match her query. Finally, she told me that she wants this 2012 Innova GS. I placed an inquiry as per instruction of my friend.
Image Credits: Tsikot.com
(Photo above was the original listing we saw in Tsikot.com)
After a day, the seller contacted me through email. His name was Rodulf Hendrik Brils who says he is a Dutch National and he decided to retire at age 51 so he is currently in their country at the time of writing the letter. According to him, he assigned a carrier of his vehicle who will deliver it on an agreed date. He assured that the vehicle is in good condition and ready to use.
I have here the screenshots of the first part of the message I received from him. The original price listed at Tsikot.com was P265,000.00. However, he said it was okay with him to pay P235,000.00.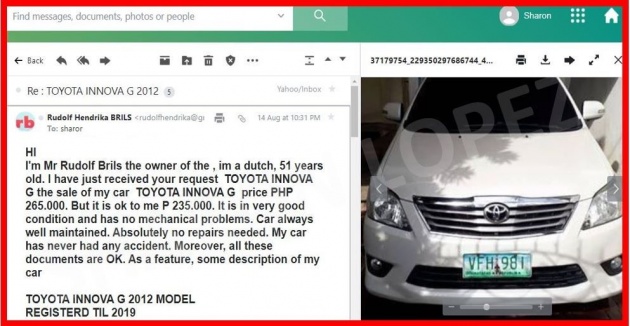 Image Credits: Sharon Lopez via Bitlanders
I have been working online since 2011 and I am already aware of the different forms of online scams but admittedly, this is the first time I experience buying a vehicle using the internet. So my knowledge in this kind of transaction is somehow limited. Had I made a research before I received an email from this person, I would probably sense right away that it was a scam.
Here is the continuation of the letter wherein he said that since he is out of the country, he appointed a carrier for the vehicle who will visit our home to deliver the car at no cost.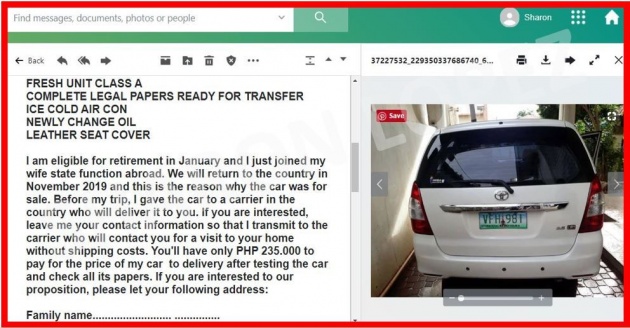 Image Credits: Sharon Lopez via Bitlanders
Showing below is the last part of the message saying that he will inform his carrier to prepare the vehicle for delivery.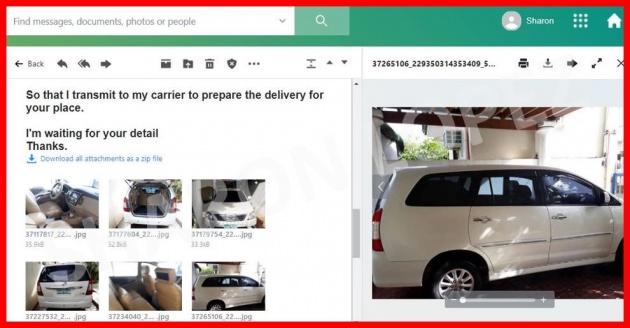 Image Credits: Sharon Lopez via Bitlanders
I replied to the email message informing this Mr. Brils that it was my friend and colleague who would buy the vehicle and upon the approval of my friend, I will give him her contacts details. I was thinking that they would call her to make an arrangement as to when the vehicle will be delivered for inspection.
I received a follow-up email message asking me if we are available on Monday, August 20. He said they are planning to deliver the car on that date. I replied that we are here since we used our compensatory time off considering that August 21 is a holiday.
On Saturday, August 18, I received another email but this time from the carrier who introduced himself as Rhoniel Salgado Romero. The subject: Delivery Procedure About 2012 Toyota Innova. The email contains a list of the legal documents needed for the transaction to be entered into between the buyer and the seller. It also contains the instruction regarding the procedure of delivery.
I almost dropped my phone upon reading the succeeding paragraph of the message.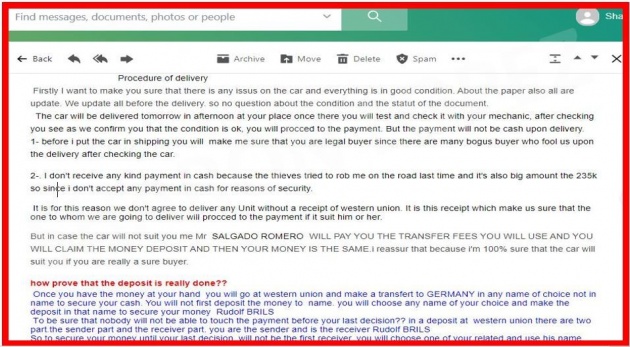 Image Credits: Sharon Lopez via Bitlanders
Here is the second part of the email which even had a scanned copy of the driver's license of Mr. Romero.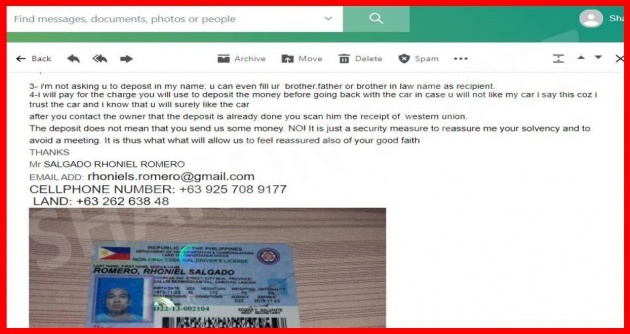 Image Credits: Sharon Lopez via Bitlanders
I immediately texted my friend asking her if she received a message from the above-mentioned person. I told her that I want to cancel the deal as I can sense something is not right.
Prior to this, I always remind my friend not to give any money to anybody without seeing the actual unit. I always apply this policy even with my online transactions. This is probably the reason why she asked me to assist her in purchasing a vehicle.
It was after this experience that I made research about car buying scams. I came across different articles giving advice on how to protect ourselves from falling victim of these untrustworthy individuals.
Here are some of the points to remember in order to protect us when purchasing online. These tips may not only pertain to vehicles but to other items, we want to buy online.
1. Cheap is not always good. We should be wary if the price is extremely low. A scammer will entice you by presenting a product cheaper than the usual.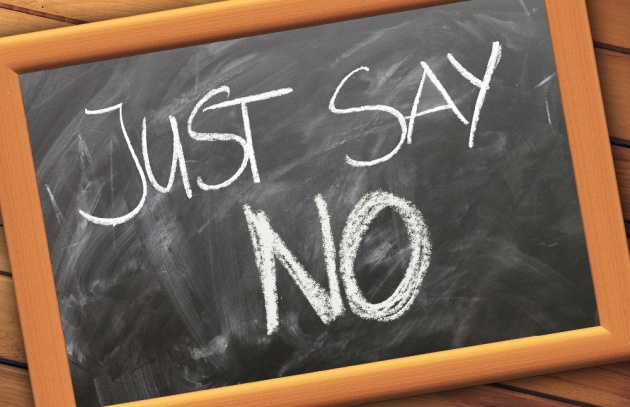 Image Credits: Geralt via Pixabay
2. An advance payment is being required prior to the presentation of the product. Based on the recent experience we had, we are being required to pay the full amount. The scammer was asking for a receipt from Western Union as proof that the payment was made.
3. Using Wire transfers such as Western Union or Money Gram should never be a part of the transaction. These companies are lenient when it comes to showing proof of identity. When buying, we should prefer cash payment wherein we can request a receipt and other documents as proof that we paid the vehicle.
4. The seller, would not usually deliver the vehicle. It is the buyer's right to see and check the vehicle and all its documents. Thereby, the seller should present their permanent address. For first time buyers, delivering the unit may sound enticing, but the truth is the seller is refusing to disclose identity.
5. We should not do the transaction alone. See to it that we have relatives or friends who are with us when meeting with strangers. It would be a better idea if we could take photos of the person we are dealing with. For second-hand vehicles, it is advised that we have an independent mechanic who can check the vehicle for us.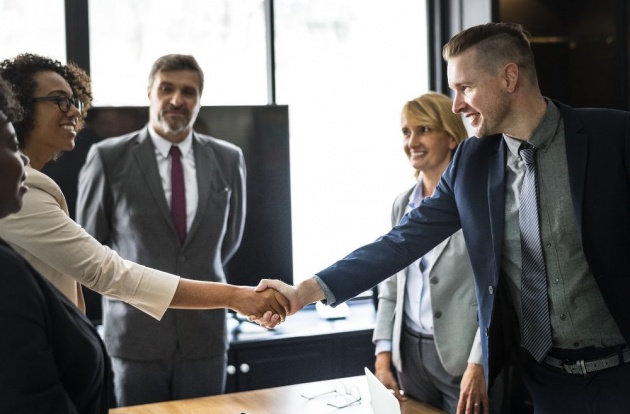 Image Credits: RawPixel via Pixabay
6. We need to know that the seller is the legitimate owner of the vehicle. We should ask for the seller's identity and the registration of the vehicle. If uncertain or we had some suspicions on the person we are dealing with, we can reset the meeting to another date to give us ample time to check the person's identity as well as that of the vehicle.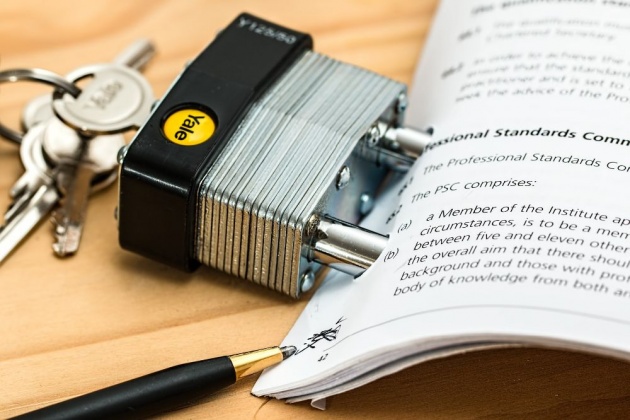 Image Credits: StevePB via Pixabay
7. Avoid pushy people. If you were in a situation where the seller presses you to come to an outright decision, get out of the meeting place immediately. As a buyer, you should be given enough time to decide.
8. Ultimately, it is always advisable to buy directly from a legitimate company. Most often, being in a hurry to get something will most likely turn into a disaster.
I may not have covered everything but at least I have shared something worthy. Watch this video below and learn. As the popular saying goes, "If it sounds too good to be true, it probably is."
Video Credits: Bored Beast via YouTube
On the final thought...
Whether we are the buyer to the seller, it is imperative that we take extra precaution when dealing with other people. Shady individuals are always on the lookout for prey of their unlikely behavior.
Here is one of the articles that I came across with. In the comment sections, the name, Rodulf Brils and Rhoniel Romero were mentioned several times by different people who were victimized by the same modus they tried on us. Click here to read the article.
Thank you, my friends, for reading. Before you leave the page, please answer the Querlo chat survey below:
DISCLAIMER: The views and opinions expressed in this blog post are that of the author and does not in any way represent the agency or department she currently belongs.
ADDITIONAL NOTE: The sites mentioned in this post are for information purposes only and links are provided for easy access. The author does not receive any remuneration from the said companies or sites.
______________________________________________________________________________
Written for Bitlanders
by Sharon Lopez
Date: August 20, 2018
Visit my blog profile for more BLOG POSTS
Let's connect on Facebook
Want to earn from sharing your opinions through blogging? Join us in Bitlanders and claim your 1 DOLLAR REWARD upon signing up. CLICK HERE TO JOIN