As planned on my DIY itinerary, the second day of our Coron Tour was meant to stay at the sea and the 200+ of Coron's islands. This blog intends for you to be excited and look forward to visiting this wonderful creation.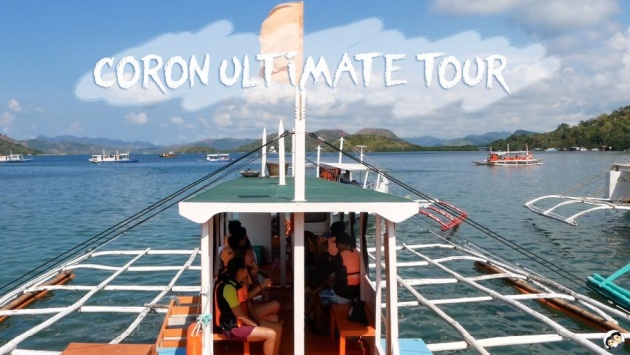 Our boat. Photo is mine.
The day before, I couldn't really decide which tour agency to take since there were a lot of options. In fact, weeks before, I had already looked up on the internet the possible agencies based on their reviews online however, they require down payments and I don't like the thought of sending money to some unknown agency so I didn't proceed with booking with then. At airport though, upon reaching Busuanga, we were welcomed and given with flyers of those agencies so I thought it was just okay not to reserve online since there are hundreds of agencies available to cater our needs.
While at Mount Tapyas, I realized that I have to finalize the agency as we need to be on a group for the Island hopping. The guesthouse which were staying offered us done more flyers of their recommended agencies. Ate Raquel had explained that the agency has been having this positive reviews compared to their previous recommended agencies and aside from that, they also have this pickup services. So I was bought by her feedback and agreed to take the Ultimate Island Hopping for Php 1600 per person.
The island hopping was scheduled at eight in the morning. We were waiting for the pickup but then the agency we a bit behind the time scheduled but they apologized for it so it was all well.
Here are the islands included on the Ultimate Island Hopping tour:
Stop 1. Siete Pecados Marine Park
The boat's capacity was around 18 and as soon as we were at, everyone was able to fill out their names and everyone's needs were addressed, the boat operator started it and off we went to the waters if Coron. First destination is the Siete Pecados Marine Park.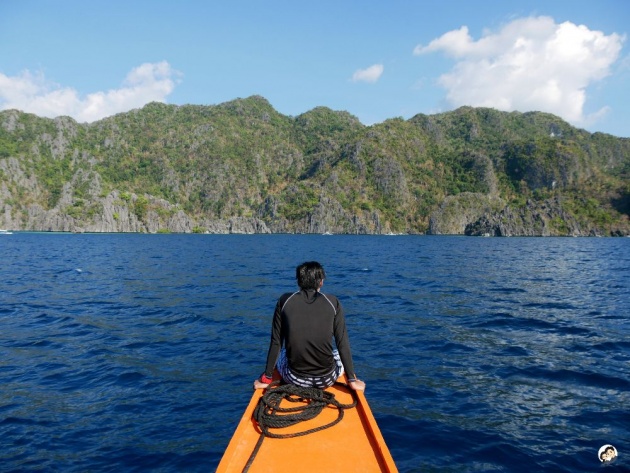 James at the edge of the boat. Photo is mine.
And our first activity is snorkeling for its beautiful under water marine park. Everyone got their goggles up, life vests were mandatory and the tour guides were just simply overlooking us and observing. But before we had dived into the waters, they had reminded us that we should never step on the corals as it might damage them but most importantly, we might get hurt, either a cut or a deep wound if we will be stepping on a very pointed rock. So life jackets were really helpful as it will get yourself floating always as long as it is worn. However, I had to take it out sometimes because it was hard to get an up close shot of the corals with the GoPro.
James decided to take the GoPro and took videos without wearing a life jacket as he swims pretty well. We didn't spend much time here, it was only around 15 - 20 minutes of snorkeling. We found Nemo in there and other corals. Indeed the underwater view is so magnificent that it will take your breath away whenever you spot a creature you have never seen before.
It was also astonishing to see rocks and stones which are alive, alive in a sense where they have their own creatures living within them. These rocks also have their own different colors and variations of shades which were mesmerizing. It would have been more enjoyable if we have a full face mask. But anyway, it was indeed a fun first experience.
Off to the second stop...
Stop 2. Kayangan Lake
You might have been familiar with this view. It is somehow the most taken view in Coron because most posters and any advertisement about Coron has this spot. Familiar with the photo below?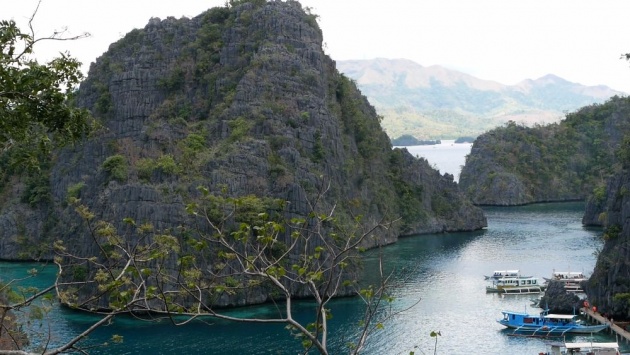 Photo is mine.
Yes, this was taken in Kayangan Lake.
Kayangan

is a Tagbanua term which mean "entrance"

.
Kayangan Lake which is often times declared to be the cleanest lake in the Philippines. The lake which is surrounded by steep limestone cliffs is also referred to as the Blue Lagoon due to its striking resemblance to the lake in the movie of the same name.
It involves trekking 150+ steps up towards the viewpoint and another 150 steps going down to the lake. In total, that's almost 700 steps all in all from and to. Kayangan Lake was actually closed few months ago and we were lucky that it has opened to the public again. The reason? There were foreign tourists who had gone out to swim in the lake at almost night time and were drunk. One of them drown and so the lake was closed temporarily. The local government unit had then made sure that no tourist, Filipino or Foreigners would go for tours without a tour guide.
Photo is mine.
Anyways, the lake was very clean indeed. The waters were clear and the cliff rocks surrounding it made it more mysterious. It has blue deep waters and wooden platforms were constructed at the sides for guests to walk on. There were hundreds of people in the area when we arrived. I only noticed that there were more foreigners than Filipinos though which is a good thing.
After spending ample of time, our attention were called by the tour guide and we were advised to go back so we can head to the next location for lunch.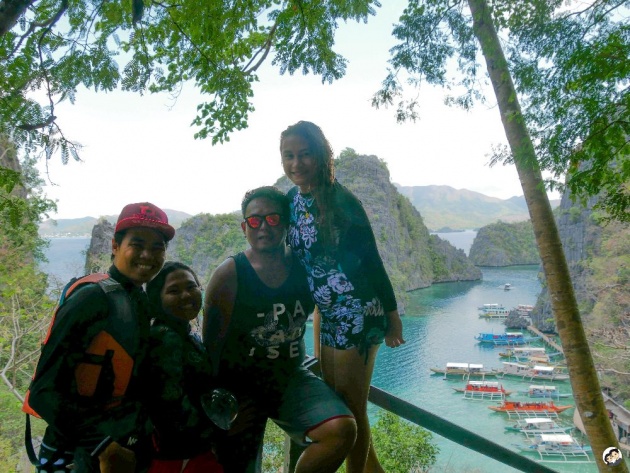 Excuse my dark tones. Photo is mine.
Before getting back to the boat, we went to the viewing deck and took some photos of the magnificent view that showcases Coron. It was like being in paradise. And while on our way, we found some locals selling buko so we bought some to freshen us.
Stop 3. Kalachuchi Beach
Time for lunch, the boat went from the Kayangan Lake towards a small white sand beach shore referred as Kalachuchi Beach. Now, you should have an idea why it was called as such. Yes, there are many Kalachuchi Trees in the island!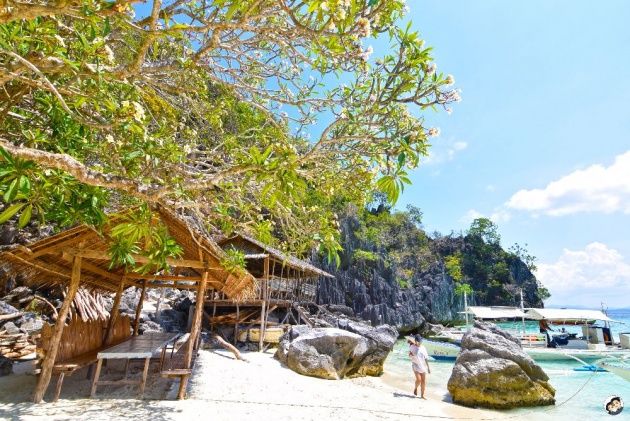 Super bright and sunny at Kalachuchi Island. Photo is mine.
Kalachuchi is a small, deciduous tree, 3 to 7 meters high, with a crooked trunk, smooth and shining stems, succulent, with abundant sticky, milky latex. Bark has a smooth, papery outer layer which is grey, shining, and constantly exfoliating in small flakes. Wood is yellowish-white and soft. Branches are thick, fleshy, swollen and leafy at the tips. Leaves are crowded at the terminal end of the branch, commonly oblong in shape, 20 to 40 centimeters long, 7 centimeters wide, spirally arranged at the ends of the branches. Flowers are numerous, fragrant and large, the upper portion whitish, while the inner lower portion yellow, 5 to 6 centimeters long.
This is the perfect spot for lunch because they have shelters and cottages good enough for 18 or more people dining. The roofs are made of nipa hut and the tables and chairs of bamboo. We had our mini buffet lunch here. The sun was shining brightly but that didn't stop us from enjoying lunch of grilled fish, grilled chicken, shrimp soup, vegetables and fruits. It was a sumptuous lunch in fact, the foreigner in front of us was definitely happy with his plate.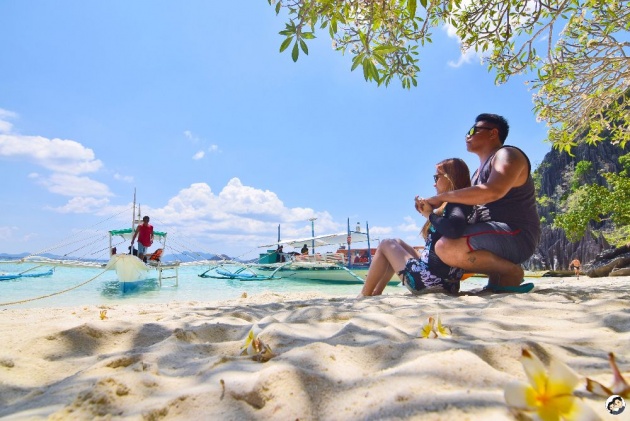 My brother and his wife at Kalachuchi Island. Photo is mine.
After lunch, we had a few minutes to chill under the rocks of the island. The waters was as well tempting but because it was hot, we have to stay under the boat instead where the water was cooler while the rest of the companions were checking out the other views of the island.
Stop 4. Skeleton Wreck
This now requires pretty good swimming because the shipwreck was a bit deep. Actually when we stopped by the middle of the sea, we were wondering what's in there then we were advised by the tour guide that we are at the Skeleton Wreck so we have to go down and snorkel again to view the ship wreck from below or we can also dive in if we are any good swimmer.
Video is mine.
Unfortunately, I can't go deep that long as I always loses breaths in just a few seconds. While James was able to get deeper, it was not enough to get into the ship. So we had asked one of the tour guides to dive and bring the GoPro with him so we have a video of the ship wreck up close.
Because the ship wreck was deep, we didn't enjoy that much so we have to get back into the boat and proceed to the next stop.
Stop 5. CYC Beach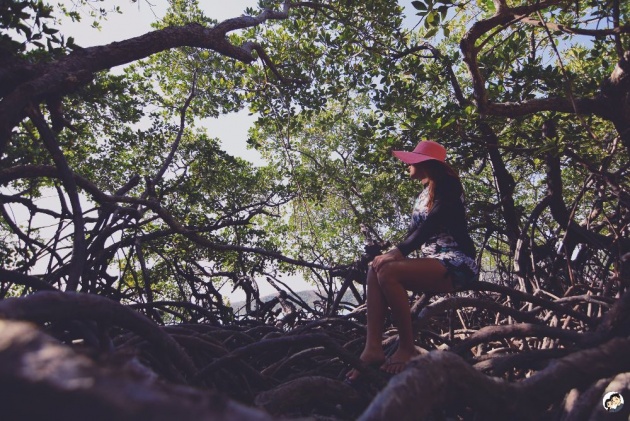 Sister in law having some emo moment at CYC mangroves area. Photo is mine.
Coron Youth Club Beach as what CYC stands for. It was another beach but there's something different about it. Upon reaching the shore, the boat almost hit the corals around so the boat has to move to another spot a bit away from the corals.
Since it was around quarter to three, the boat mates were not really that interested with the island. It seems they were contented with the Kalachuchi Beach that the CYC Beach didn't matter to them but I thought there should be something unique about it so I had to go down and bring my camera with me out to the shoreline.
A lot of local tourists were lying at the shore, some were on a drinking session with their group of friends while more were just staying under some bushes for shelter.
I found a spot where there were lots of mangroves around. Since my sister in law came with me, I took photos of her in the mangroves area.
Stop 6. Twin Lagoons
The last destination was the Twin Lagoons, going into the first lagoon was breath taking. There's a tropical hut located at the center in between two huge pointed rocks.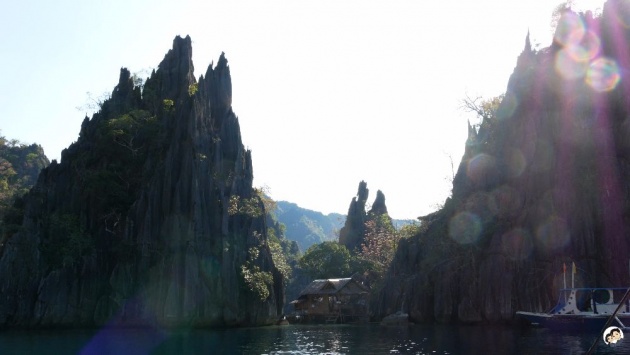 Reminds me of Thailand. Photo is mine.
This is somehow an enjoyable spot because the tour guides had made us float in a train like position where one is lying down and is holding the legs of the next person and so on. The first person was the tour guide and it has a life saver floater so it was smooth.
It's reason? The opening towards the second lagoon is a small tunnel and that one can get into it through swimming or lying facing upwards. This reminded me of the Small Lagoon in El Nido.
The rocks and cliffs underwater was very mesmerizing. Obviously, the water was very deep and the colors were of dark blue color. In the second lagoon, the area was very huge that it takes a lot of effort to swim back to where our boat was located.
One more fun thing we did there was take videos of each partners with the view of the second lagoon. It has this effect of being able to see the upper and lower part of the view courtesy of the dome accessory for the GoPro.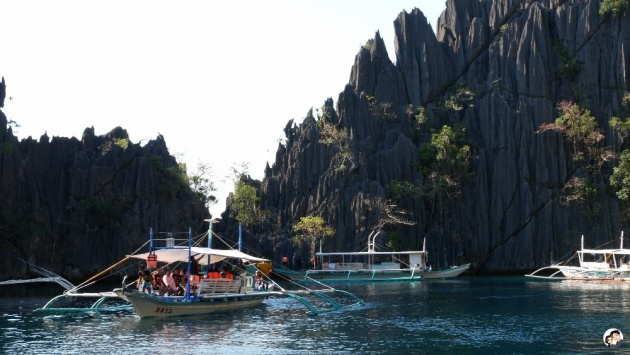 Beautiful rocks. Photo is mine.
Because of the ASG issue, the local government of Coron had mandated that all tours should end by four in the afternoon. So before the sun sets, all the tours should be back at the port.
That is why, we have arrived at the port by five in the afternoon. Before that, the tour guide had distributed survey papers to each of us and we had been asked if the tour had been effective and what was our favorite spots for the tour.
I like the thought that the tour guides provides survey and rating for their services, this was not given when we had our tour in El Nido but kudos to the Coron LGU.
Hope you enjoyed this blog. Check the summarized video below of this tour:
Video is mine.
BR,
Jean Beltran-Figues