Today I crewed for Alex Queens final year film "Backspace" as the gaffer (Lighting Technician) in Stratford Upon Avon. I was also a driver to transport kit and crew all the way down to the location. Half of the days shoot was shot outside and lighting wasn't feasible as it was unfortunately a sunny day, with it coming in and out every so often which of course would become a bit of a pain as the lighting and colour of the shots could change, depending on where the sun was at at the time of each shot.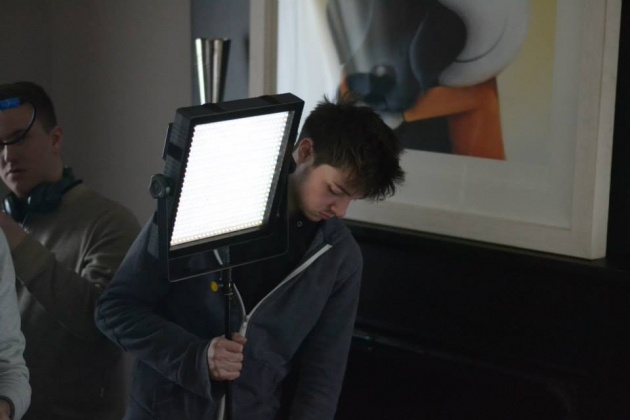 After all the outdoor shooting was done it was time to shoot the inside scenes in an apartment in a location we had to drive to, he wanted a cold look to the inside shots and quite a clean natural feel to it. For this i used the LED's and set them up where i thought would be good for most of the shots as they were all from the same position in the room, the problem i had with this was the shadows against the wall, as the characters were quite close to a white wall through all the action.
This did prove difficult as every lighting and camera position change i would have to make sure the colour look exactly the same as the shots before at the same time as keeping shadows away from the walls, this did take a while to set up some of the shots but luckily this had all been accounted for in the schedule. The next lighting challenge was to light a narrow corridor while the camera is tracking back through it and the actor walks down the corridor toward the camera as it tracked backward. This was a challenge because if i set up the lights too far away from the subject it would cast too many shadows of crew and the actor etc. and any light would just bounce off all of the walls because it was so enclosed making it seem unnatural. The only way i could find to solve this was to track back with the camera man while holding an LED on a low light setting just to bring out the facial features and make the character more visible rather than making the whole corridor lit up.
It was a really good, calm, relaxed and successful days shoot where i encountered a few problems to overcome with the lighting, also being the only lighting person on the crew it gave me the task of having to think on my feet and doing everything by myself, this was a really good experience and i learnt a lot about the in dependency of the role i want to go into, it was a pleasure working with Alex as a director he likes to give you control of your role and keep everything calm and relaxed which i found worked really well.