DIFFERENT KINDS OF FLOWERS IN THE PHILIPPINES
Philippines have many kinds of plants and varieties of flowers. Many of the flowers have the capability to grow both tropical and subtropical countries. Nature lovers or Flowers lovers can visit this country especially in the month of April and May where in you can see the multi colored sight atmosphere and smell extraordinary scents. This was the time that flowers are bloom. Baguio, Philippines is celebrating Flower Festival also known as "Panagbenga Festival" every year. Flowers are grown throughout the year that's why Philippines can export flowers. Here are some varieties of flowers that you can see in the Philippines.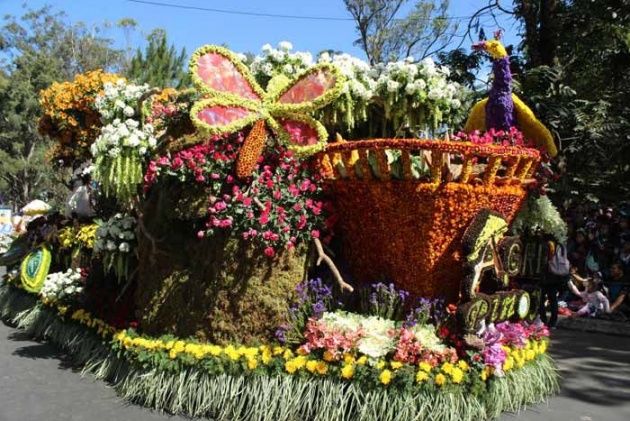 RAFLESIA is considers as biggest flower not only in the Philippines but in the world. Flowers measure 8 to 39 inches in diameter. Its color is red dotted with white and has a foul odor wherein you may smell it before you can see it.
SAMPAGUITA (Jasminum Sambac) is much respected because it is the national flower of the Philippines. The fragrant white flower has a sweet scent in tropical climate that use in making perfume. It is very popular in making garlands. It is known as Arabian Jasmine in English.
CHRYSANTHEMUM is native to Asia and is the easiest to grow plants and produce more flowers. It can plant almost anytime. It needs more moisture. It has many great varieties of colors.
GLADIOLI grow depends on the temperature climate. It is form rounded on its stem is sword-shaped that use in tall arrangement decoration.
ANTHURIUM is a heart shape flower which is also known as "Flamingo Flower". This kind of flower is sparkling and almost looks like plastic. It can last for four weeks in your flower arrangement.
ROSES are symbolizes love and it is considered as flower of love. The ancient Greeks and Romans was associated it with Aphrodite, the goddesses of love. That's why roses are gift to our love ones in special occasion specially Valentine's Day.
ORCHIDS are attractive and very different from other flowers. The orchids produce more flowers in one stem. They symbolize elegance and beauty. It is use as decoration on special events like weddings. Orchids have many hybrids that introduce in different country. They can grow anywhere because they are terrestrial plants or epiphytic plants (plants that grow on other plants).
LILIES are trumpet in shape that can grow up to 6 inches in diameter. Lilies are usually composed of six simple petals. Lilies symbolize death so they are found in funeral flowers. They are belongs to the family of Liliums. Lilies are magnificent flowers that catch attention because of fragrance they produce.
CARNATION is also known as "The Flowers of God". It is about two to three inches featuring several flowers in one stem with huge range of colors like white, red, pink, fuchsia and yellow. The cut flowers can live up to three weeks.