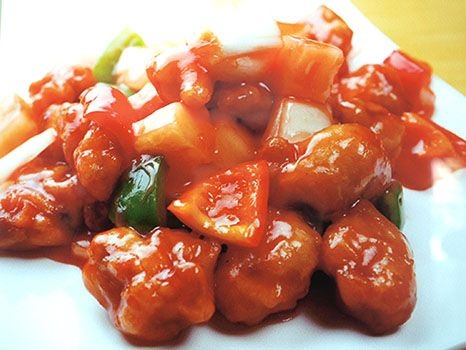 SWEET AND SOUR PORK
500 grams pork loin
2 medium green bell pepper
1 medium red bell pepper
4 cups of cooking oil, for frying
4 tsp soy sauce
1 medium onion
black pepper
2 medium carrots
2 eggs white, beaten
1 cup flour
¾ cup water
2 tbsp oil for batter
For sauce
½ cup sugar
¼ tsp salt
3 tbsp ketchup
3 tbsp soy sauce
1 cup water
Flour
HOW TO PREPARE
Cut the pork into cubes. Marinate the pork with soy sauce and black pepper for 10-15 minutes.
Combine the flour with the beaten eggs white. Add the 2 tbsp oil and ¾ cup water. Stir the mixture. It should be thickened but not too dry or too moist.
Dip the marinated pork with the mixture prepared a while ago. Deep fry the pork until it will golden brown. Remove and drain it with tissue paper. Set aside.
Peel the carrots & chop it into rectangle strips. Cut the bell peppers into cubes; make sure that all the seeds are removed.
In preparing the sweet and sour sauce, combine all the ingredients in a bowl. Cook it in the pan with medium heat. Bring it to boil. Add the onion, carrots and bell peppers. Make the sauce thickened with the flour mixture (flour with water). Add salt to taste.
Put the fried pork into the boiling sauce in the pan. Serve hot. It is best serve with rice.