Francesco Rulli is the Founder and President of Film Annex, an online film distribution platform. He has been doing Judo for about 30 years and as a member of the New York Athletic Club, he's sponsoring with Film Annex the NYAC Open Judo Championship, which will be held in New York City on March 3, 2013.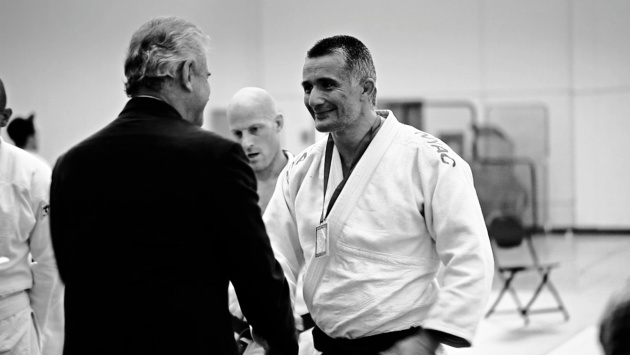 Below is an interview of Francesco Rulli about Film Annex and the company's philosophy, his interest in Judo and thoughts on how sports can help improve Central and South Asia educational systems.
Film Annex: Can you tell us more about Film Annex and the philosophy behind the company?
Francesco Rulli: Film Annex is an online film distribution company with the purpose to sponsor filmmakers and content providers through advertising revenue share. Film Annex only broadcasts professional content and  nothing on Film Annex platform is user generated, meaning of YouTube's quality. Film Annex reaches today over 40 million unique visitors a month and is in top 25 websites in the USA. With power comes responsibility. Consequently, Film Annex is also sponsoring educational programs in Central and South Asia, focusing on women's empowerment through social media and filmmaking: http://capitalpartners.filmannex.com/womens-annex/.
FA: How did you become interested in the world of Sports and especially Judo?
FR: I stated practicing Judo in 1985, when I was 16 years old. My father Roberto had practiced and competed in Judo in the 1950's and it was my intention to try out this sport. The exhausting training regime imposed by my coach Luciano Bertaccini, the competitions and the physical and mental pressure of the sport stimulated me to push the limits and grew my love for this sport. On the Judo mat, I learn self confidence, discipline and how to understand people, both friends and opponents. Judo has been my University of life.
FA: How does Judo's philosophy contribute to your everyday life and work?
FR: At the end of every mach, there is a winner. It's up to you if you want to be a winner or not. Judo gives you the tools and strength to achieve your goals, and teaches you full respect of others. It also trains you mind and body to accept mistakes and defeat, and to get up and improve what wasn't working. In life and business, it's the same. When problems and issues arise, it takes discipline, respect and strength of mind to face them. Every time I walk into a conference room or deliver a keynote speech, I know that nothing can be an issue for me. With 30 years of Judo experience, nothing is impossible. A dear friend from Florence, Tiziano Bonanni, once told me "If you can do Judo, you can do anything in life." This resonates in the back of my mind every day.
FA: Tell us more about the NYAC Judo Championship and how Film Annex and yourself are involved?
FR: I have been a member of the NYAC for over a decade. I am directly involved in teaching Judo to children in the Saturday Morning Program. I believe that Judo is an important art of life for children and adults. Judo expresses its best in competition, where Olympics rules are applied, where the athletes face each other with bare hands for the ultimate submission. When an athlete is thrown with a perfect Ippon or submitted with an Armbar of a Choke, it is the equivalent of the ultimate sacrifice of the Samurai. Due to the Discipline and Respect of the Do Philosophy, we love our opponents and we strive to submit them with painless perfection, so that, like a Samurai to another Samurai, we avoid the humiliation of the imperfect defeat and possibly remain injured forever. The New York Open Judo Cup and Championship is an expression of this philosophy combined with the world of contemporary entertainment, including music and cinematography. I think that filmmaker Akira Kurosawa would have appreciated our prospective.
FA: Do you think that sports, in particular combat sports like Judo, can help improve people's lifestyle and educational systems in developing countries?FR:
Yes, they are the fundamental stepping stones to empower young children of Afghanistan and other developing countries of the necessary self esteem, discipline and respect to build a great nation and environment for their peers.
Kayla Harrison
is a NYAC member and World and Olympic Champion. She resembles the ultimate role model for female and male athletes. Central Asian countries have incredible traditions in combat sports like
Judo, Wrestling and Taekwondoo
. The combat sports are executed on the Olympic spirit and bring tribal and territorial confrontations on the mat. By regulating them by sport rules and declaring the winner, it motivates the others to train harder and improve further and further. War tears countries apart, hosts anger and despite. Combat sports help fuel this negative energy into positive results for your country and people.