If you have been to the movies lately, you probably started seeing some previews for Hunger Games: Catching Fire, to be released next November. If Lionsgate is counting on the success of the books and the first movie, it doesn't forget to follow the lessons of the first instalment's promotional campaign: raise interest on social media. The goal: do better than the $686 million worldwide generated by the first Hunger Games. The strategy is the same: count on the fans to raise interest about the movie several months before its release, involve them, spread the word online. The tools: social media platforms.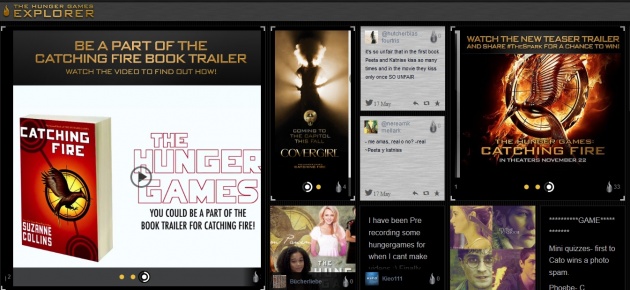 The first campaign used specific hashtags on Twitter, created teams on Facebook based on the different districts from the story and a contest on Tumblr. This year, the social media efforts started with an Instagram account, building and playing on the fans' anticipation by releasing some pics of the book, followed by the first official poster. It already has more than 40,000 followers. Following the release of the first trailer, the studio launched The Hunger Games Explorer, an interactive website build in collaboration with Internet Explorer that combines videos, tweets from fans and official updates, again a good way to involve fans by featuring their reactions about the movie along with official news. The studio is also keeping the main platforms like Twitter (760,000+ followers) and Facebook (9M+ fans). On Twitter, they encourage tweets using creative hashtag campaigns like #UrAHungerGamesFan. On Facebook, they use an easy way to gain fans by offering 12 of them to have their name in the ending credits. You just have to like the page to enter the contest and be among the 12 first million fans. Two more contests were also launched to involve fans: a video contest to be part of the new Catching Fire book trailer, and a design contest for a chance to be featured on The Hunger Games' Facebook.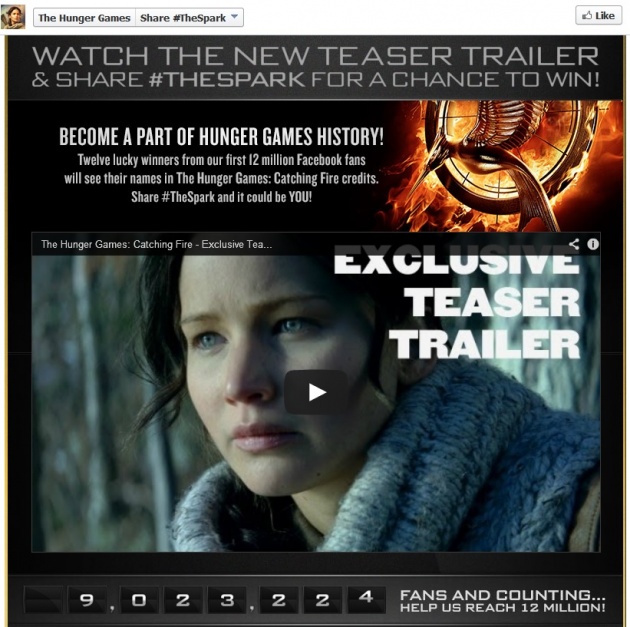 What is it to learn from The Hunger Games' social media campaign? Involve your audience. They don't want to just watch the movie, they want to be a part of it. Let them be, make them feel special, involve them in the campaign, or, why not, in the creating process. They will do the rest and spread the word.

Be creative when using social media: use images, videos, create hashtag campaigns on Twitter, or Facebook contest to make the campaign more unique and easier to talk about. Build anticipation: start your campaign early, use teasers, reveal posters and images as you go through your campaign. If you are a filmmaker, by using some of those tips from a successful campaign, you can build a creative social media plan to promote your movies online. Using social media isn't only for feature films, it works for short films too.