GIV.NYC – The #GivingTuesday with New York Style


Image Source: GIV.NYC Website
On December 1, 2015, the New Yorker will have their own style of GivingTuesday, often stylized as #GivingTuesday. Yep! It's GIV.NYC, a live event to celebrate the act of giving in New York City. Hosted by Givkwik – an online fundraising platform, this year event will be held at Impact Hub NYC, 394 Broadway, Fifth Floor New York, 10013 United States. Following the success of last year #GivingTuesdayNYC, this year, Givkwik upscale the campaign by brings over 50 local non-profits and gives them chance to win $10,000. This campaign aims to bring companies, causes, and communities together to making connection with fun and interactive atmosphere.



About #GivingTuesday...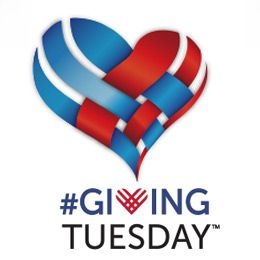 #GivingTuesday, is a day dedicated as global celebration for act of giving, which is refers to the Tuesday after US Thanksgiving. Following the recognized shopping events #BlackFriday and #CyberMonday, #GivingTuesday aims to bring the people together to celebrate and encourage the act of giving.

Created by 92nd Street Y—a cultural center in New York City, #GivingTuesday has become a movement that administer a platform for people around the world to bring the real change for their community. Since its inaugural year in 2012, #GivingTuesday has managed to generate a tremendous impact on the act of giving and encourage more people to participate in this movement.


#GivingTuesday - The Global Story
Video Source: GivingTueday.org Youtube Channel

Image Source: google.com



#GivingTuesday by Numbers
#GivingTuesday had a big impact around the globe, here some top result from previous year. Image Source: casefoundation.org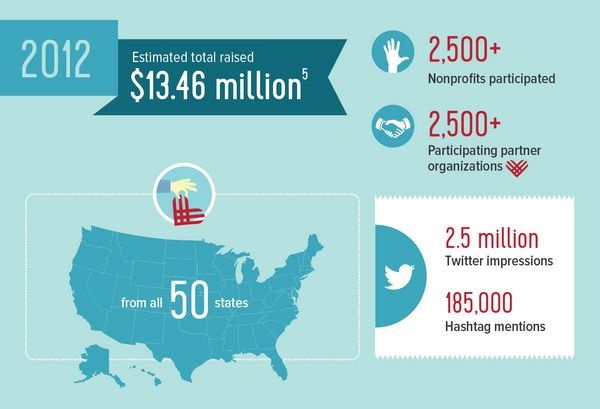 ● Online giving moved through Blackbaud was $10.1 million
● The average online gift was $101.2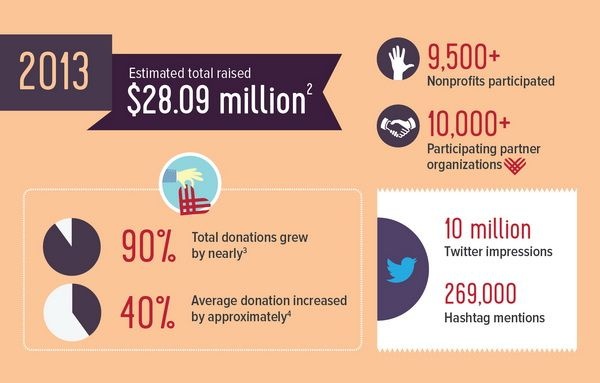 Online giving moved through Blackbaud was $19 million
The average online gift was $142.05
10,000+ Partners across all 50 U.S. States + 11 countries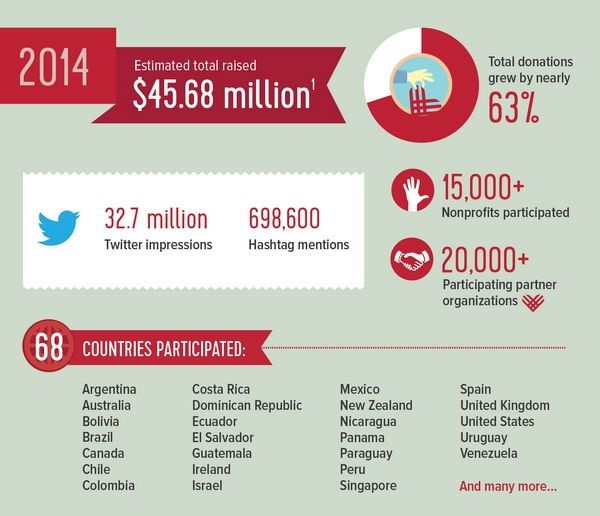 ● Blackbaud processed more than $26.1 million in online donations (up 36% compared to 2013)
● The average online donation was $128.30, slightly down on last year.
● Online transaction volume grew 50% compared to 2013.
● 17% of online donation came from a mobile device.
● Since the inaugural in 2012, overall online giving is up 159%.
#GivingTuesday on Sosial Media

2013
Image Source: givingtuesday.org


2014
Image Source: givingtuesday.org



#GivingTuesday - Why We Give?
Video Source: GivingTuesday.org Youtube Channel


GIV.NYC, a #GivingTuesday celebration in New York presented by Givkwik

Givkwik is an online fundraising platform which has the mission to connect company, causes, and community to simplify philanthropy and amplify impact. Givkwik helps the causes to spread their mission in more appealing way while for the company and community, Givkwik serves the easiest way for them to contribute and involve in a charitable program.
Givkwik: Transforming Philanthropy for Next Generation
Video Source: Givkwik Youtube Channel


Givkwik: News and Media Coverage
Image Source: Givkwik Wesbsite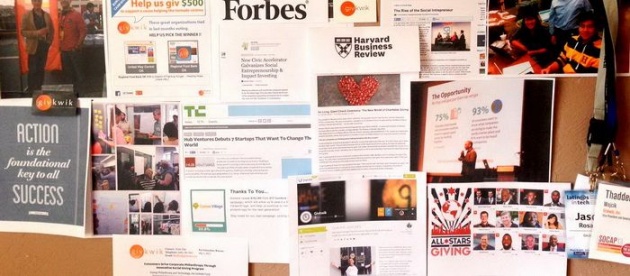 This year, Givkwik is comeback with their annual event to celebrate #GivingTuesday movement, titled GIV.NYC. After success with their last year #GivingTuesday campaign in collaboration with Indiegogo and Impact HUB NYC called #GivingTuesdayNYC, on December 1, Givkwik will hosted a live online event as part of global giving day by brings together companies, causes, and communities to making connections in New York.

Watch Last Year #GivingTuesdayNYC
Video Source: Givkwik Youtube Channel



Vote Your Favorite Causes
GIV.NYC has been succeeded to invite over 50 non-profit organization to participating on this campaign. From over 50 participant, the top 25 will moved to the next round, and community will be able to support their favorites by voted them online through GIV.NYC website from November 23 until 30 to determine the top 10 causes.

In here, I'm going to cover my top-four causes on the GIV.NYC, just click their logo to get more information about their mission and programs. Image Source: organization website

█ Girls Educational & Mentoring Services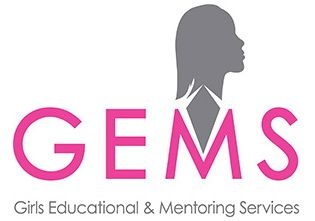 It is a non-profit organization that focus on provides continuous and comprehensive services to empower girls and young women, who have experienced a sexual exploitation and domestic trafficking. GEMS programs aims to help them exit from the commercial sex industry and develop to their full capability by giving a holistic support to their needs. Moreover, GEMS commitments to ending commercial sexual exploitation and domestic trafficking of children, started from building awareness of the risks and causes of commercial sexual exploitation.

We Are Million - A Photo Message by GEMS to Support Girl who in Recovery
Video Source: GEMS Website


█ Library for All

Founded on March 2012, Library for All mission is to compose a digital library platform in order to give children in developing country an access to quality education. Knowing that 250 million children worldwide are not learning to read and write, this non-profit organization is committed to make knowledge accessible to every person on the world. Moreover, Library for All believes that by improving the quality of education in developing country, would help them to have a better life and they could be lifted out of poverty. Until today, Library for All has provided digital library in Haiti, Democratic Republic of Congo, Rwanda, and Cambodia.
...Library for All in Haiti...

...Library for All in Cambodia...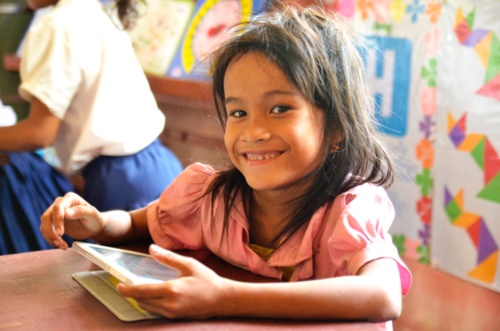 ...Library for All - Bring Laugh to this Children...
Video Source: Youtube

█ Life Vest Inside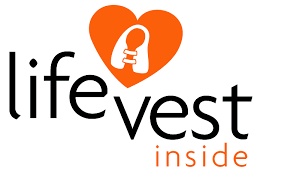 Life Vest Inside (LVI) mission is to helping people recognize their capability, and improve their self-esteem by spreading the kindness. It believes that in order to form self-esteem, you need to value yourself. So, through its program, Life Vest Inside aims to (1) Inspired others to commit act of kindness through social media, (2)Engaged the volunteer to help spreading the kindness, (3) Educated children to embrace the power of kindness, and (4) United the volunteer by give them opportunity to help others.
...Life Vest Inside - The Kindness Revolution...
Video Source: Life Vest Inside Youtube Channel


...Life Vest Inside Project...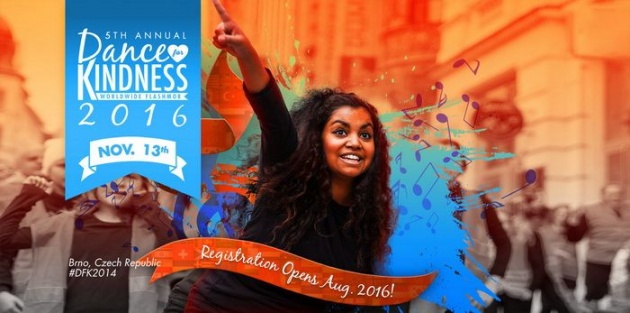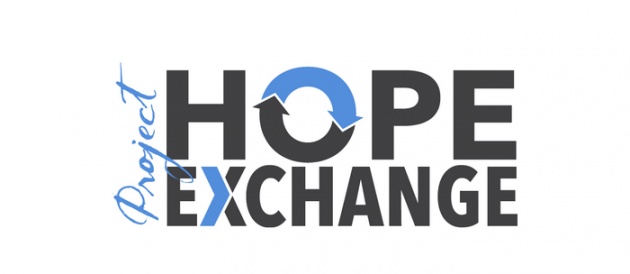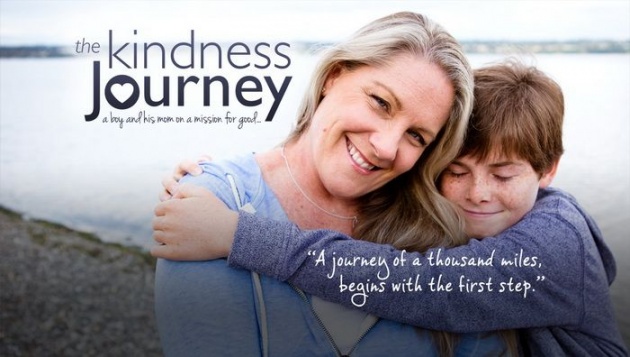 █ The Betes Organization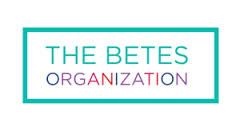 Believe that physical health begins with spiritual health, The Betes Organization is focuses on providing support to people with chronic illness. Currently, this non-profits organization focusing on helping people with diabetes. Established on Dec 5th, 2013, The Betes Organization missions is to bring a joyful health for people who carry chronic health conditions through creative and unique programs. Through its programs, The Betes Organization seeks to boost the quality of life of people who experience the chronic illness, reducing their depression, as well as build a culture of empathy for people with diabetes. The Betes Organization's program refers to the four main concepts namely creativity, empathy, connection, and empowerment. Its aims to educates people that healing process is not just about medicine, but the healthcare delivering process is something that we should also take note of.

...The Betes Organization Goals...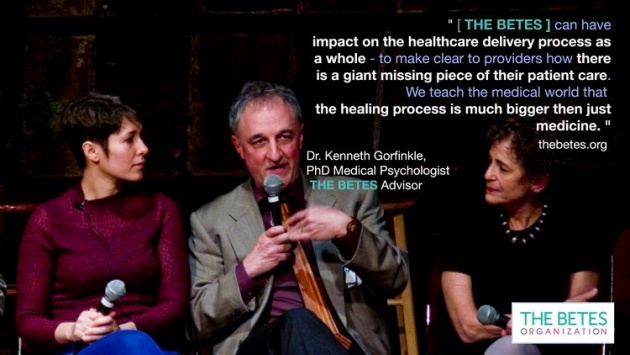 ...The Unique Theatrical Performance...

So, it's time all of us to contribute to society in an easy way. Only by choosing your favorite causes, you can give them the opportunity to provide support for others.
The culmination of the campaign will be held on December 1, and the top-ten causes will convey their mission and after that the most voted causes will be crown as a winner for $1000 grants. In addition, there will be music, delicious refreshments, and an open bar. So, you'll not only giving something but you'll be a part of a wonderful evening of making a difference.
-----Haraka