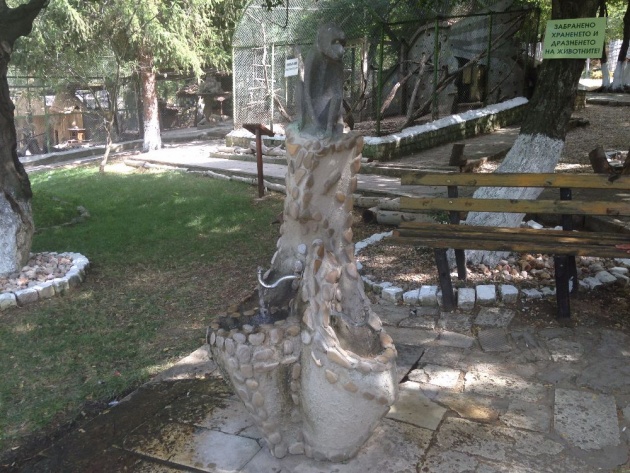 Photo Credit: Myself
Hello, guys!
I've been quite busy lately, that's why I didn't have the chance to write a blog. In fact, I feel I haven't written anything for so long that I almost forgot how to do it. So, I guess it's time to fix this mistake. As I have some free time this evening I thought I'd use it in a creative way and share my recent experiences with you. Actually, I travel pretty often, and especially during the weekend as they are perfect for exploring new places.
So, last Saturday, me and my parents decided we want to visit the closest zoo, and late in the evening on Friday the planning of the trip began. Actually in my city, there is no zoo, but instead, there is one in a small town, called Aytos, located at around 30 km from Burgas. I had never been to Aytos before and for me, it was interesting not only to see the zoo but to visit the city center, their pedestrian area, etc.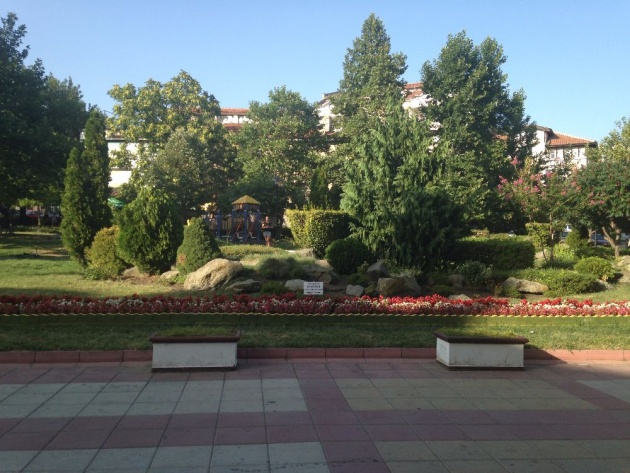 Photo Credit: Myself
Travelling to Aytos
The town of Aytos is situated on either bank of the Aytos river, in the Aytos field, in the southern foot of the Eastern Balkan mountain (Aytos mountain).
Reaching there was the easy part - we took a train that traveled for as long as 40 minutes and soon we arrived. What I find really strange is that the railway station of Aytos is actually not so close to the city center and even farther from the zoo. For a town with not more than 20,000 population, it was a surprisingly long distance to walk. Considering that this was happening in the middle of the day, it was quite of an experience, as summer is really hot in August and temperatures rise up to 35 - 40 °C.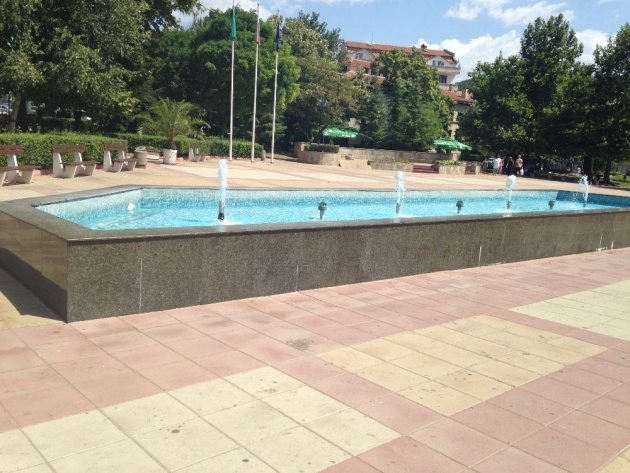 Photo Credit: Myself
Anyway, we made it to the center - a short, but nicely arranged walking area. It consists of lots of flowers, a few fountains, and benches, and of course, the typical for every small town coffee shops. Once we passed it, we were on our way to the zoo, but soon we got tired. That's why we made a quick stop at a traditional restaurant for a coffee and some meals.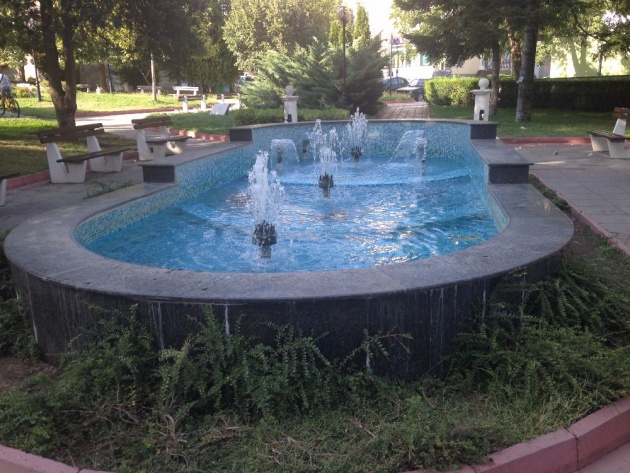 Photo Credit: Myself
Visiting the Zoo
The zoo in Aytos is situated in a walking distance to the town. The entire zoo is inside a big park, or I would call it a wood with some alleys, and to reach the desired destination, you pass through the forest, some benches, alleys, a church, meadows and an open-air stage. It's nice to walk through the park as the shadows of the trees protect you from the sun.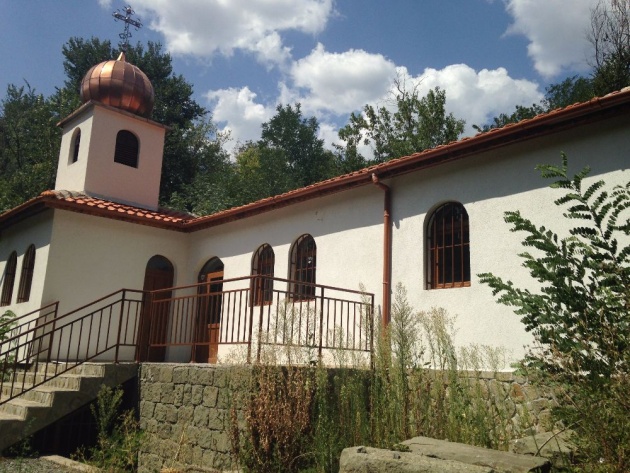 Photo Credit: Myself
The final part was climbing a nice amount of stairs and there you go - you are in the zoo. I can't say there were many different kinds of animals, but the variety for such a small area was impressive. I like everything, I enjoyed each minute there as I love spending time in nature surrounded by different creatures.
The most impressive animals located right next to the entrance are a few ostriches which are always curious and ready to greet all new visitors. There are males and females, and the genders are easily recognizable. Next is the cage with the deers. They are also friendly and come very close to the fence to say "Hi". These creatures are so beautiful with their brownish white-dotted coloration.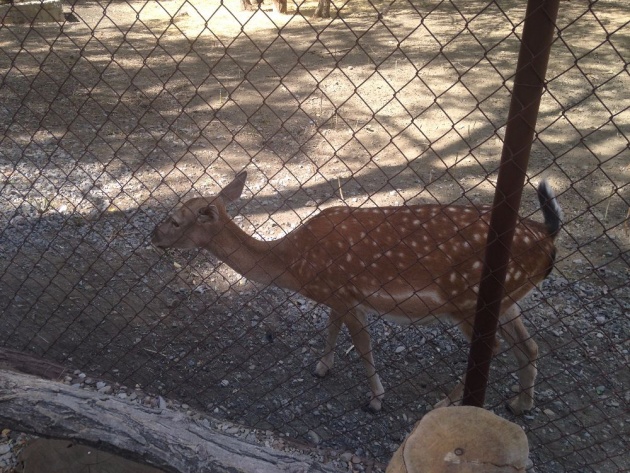 Photo Credit: Myself
An interesting fact is that some animals are not strictly assigned to a certain cage but rather you can find different species living in the same area peacefully. Not only that but many of the smaller birds like hens and peacocks were freely walking along the alleys of the zoo without being restricted in any way. I still wonder if that was intentional or they managed somehow to break through to the outside. At least they were still inside the fence of the zoo. ☺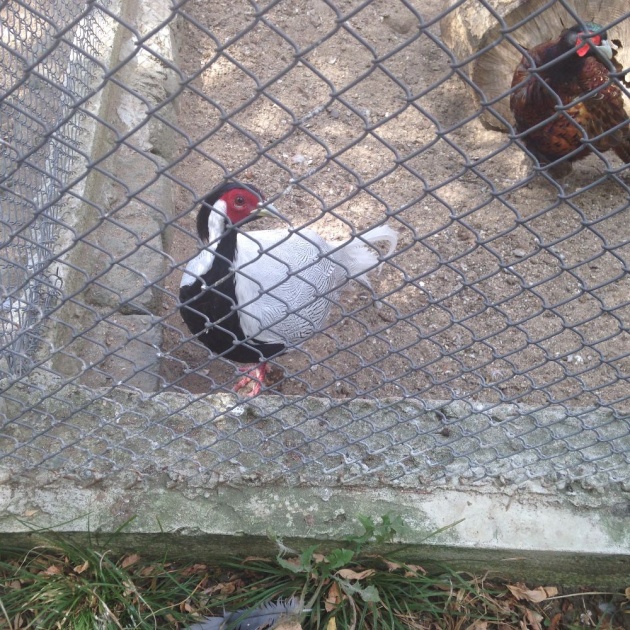 Photo Credit: Myself
A significant part of the cages is devoted entirely to bird species. And more particularly - varieties of hens, geese, pigeons, peacocks, partridges, etc. They didn't seem to mind living together and sharing the same room. I really liked the peacocks. For me, those are extremely beautiful birds, specifically and especially the males, and it was the first time for me to see white peacocks in reality. They are so calm and magnificent birds.
Video Credit: Nina B via YouTube.com
The Animals
After having a good look at all types of birds available, it was time to spend time with the bigger fellows. The first stop in this visitation was the monkeys. Some of them were playing and running around, others were involved in their monkey business. The best thing, however, was a cute baby monkey who looked like it was just recently born, and the mother was still taking care of him.
Video Credit: Nina B via YouTube.com
It was so small and cute, cuddling into his mother's tummy and she was always conscious and protecting him from the other monkeys. I felt really intrigued to watch this little baby learning to walk, behave and anything else grown-ups are capable of. They stayed next to the fence for maybe half an hour before the little one grabbed tightly the mother and they went inside, hidden from the amazed visitors.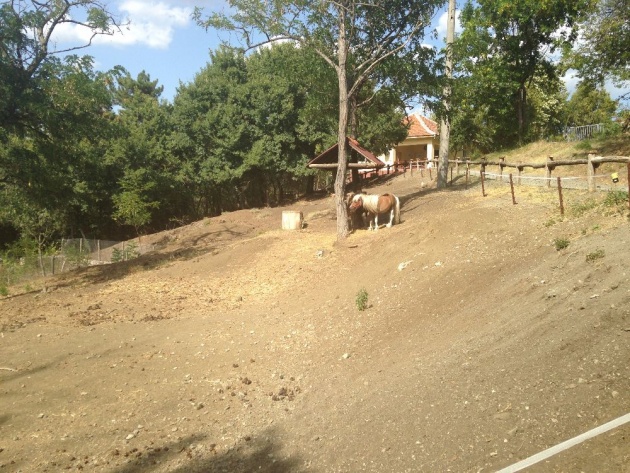 Photo Credit: Myself
The other animals were some other monkeys, a pony, a boar, sheep, goats, bears, and I think that was pretty much everything. A small animal which impressed me was a mini goat, colored brown and white. I remember I've seen this species before in another zoo and I recognized it immediately by the curious, proud and a bit funny posture. As of the bears, some of them were hiding from the sun, others were sleeping outside, but they didn't look like they want to bother and pay attention to the people.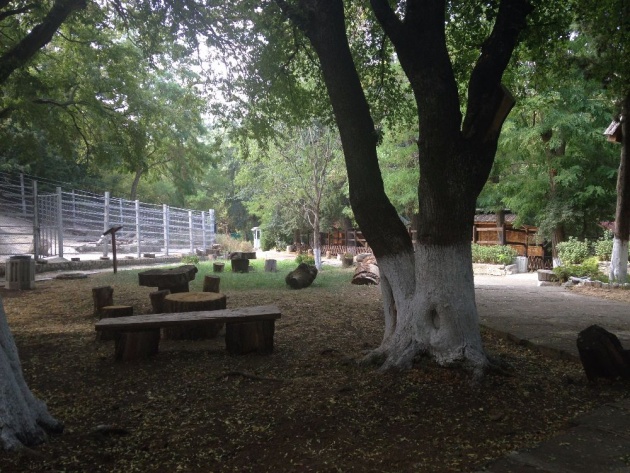 Photo Credit: Myself
A Walk Downtown
We took a short break on the benches and headed back to the town center of Aytos. We were already nearing the end of our trip, that's why it was time to stop at a confectionery for coffee and sweets. Since Aytos is a small town, it didn't take us long to make a quick walk around the central area. A market is located near the pedestrian area, offering all kinds of food and goods. The locals definitely tried to make their town look accommodating with many flowers, nicely shaped bushes, and green areas.
It didn't take the whole day to visit everything as at the end it appeared that we still have a bit of time before the train. But I definitely enjoyed it, it was great to spend some time outside of the place I live. And I hadn't traveled to another location for quite a bit of time.
I recommend this place to anyone who would like a relaxing and enjoyable day or a weekend. It's worth the visit. I hope you enjoyed my blog. I'll try my best to write another post soon enough and share more stories with you, guys! Feel free to post comments or any questions you might have.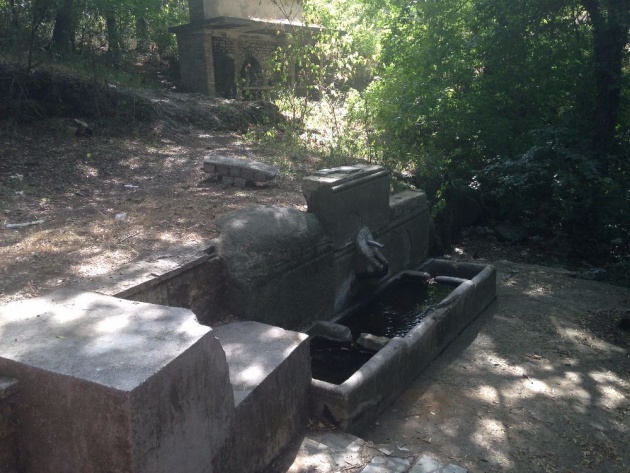 Photo Credit: Myself
Thanks for reading!
- NinaB