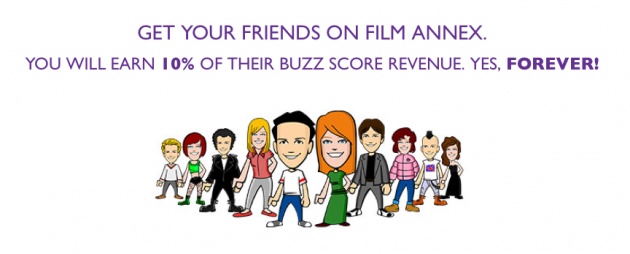 This week, we are introducing our new Affiliate Program, so each user on Film Annex can let their friends know about the platform, and generate even more revenues at the same time! It is now in its beta version but you can already send invites to your friends.

How does it work?
Each user will have their own Film Annex Registration Page URL that they will share with their friends so they can register on Film Annex. You can find it, along with an invite page, through the drop-down menu on the top right by choosing 'Your Referrals', or if you are using the new
beta version
, by clicking on 'Earn More' on the right.
What is the benefit?
Each user will benefit from 10% of the revenues generated by their affiliates. They will have access to a report that shows their affiliates' performance and commission.
The Affiliate Program comes in addition to the revenues generated by each user through their
BuzzScore
.
Example: If 10 people register through a user's registration page and generate $100/month each on the platform, the user will receive an affiliate commission of $100 or 10% of $1,000/month.
Spread the word!
We are now encouraging all filmmakers, writers and users on the platform to share their personal Registration Page link with their friend to invite them to join Film Annex.
You can make it even more attractive by using your personal skills and talent!
You're a filmmaker? Create a fun video to invite your friends directly!
You're a writer? Create the most engaging blog to encourage them to join and explain the benefits!