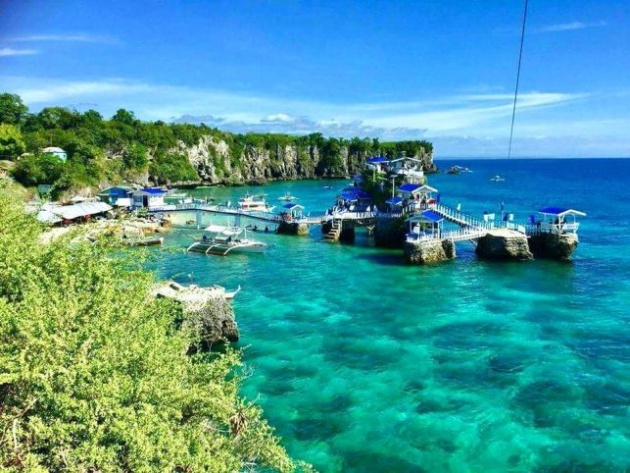 Funtastic Island in Medellin, Cebu / Photo Credit: Municipality of Medellin Cebu
Gibitngil Island or generally known as "Funtastic Island" is the perfect place for beach enthusiasts who loves action-packed destination. The island is nestled on the northern part of Cebu. It's a 3-4 hour (depending on traffic situation) drive from North Bus Terminal to Medellin proper. It was even tagged as an Adventure of the Year for 2014 by ABS-CBN's local magazine show Mag TV Na. Hailed as "little" Palawan due to its spectacular rock formations that is comparable to those in El Nido and Coron. These are rock formations that were sculpted by big waves from the Visayan Sea that is surrounded by clear azure waters. Schools of fish and coral reefs can also be seen below the sea bed.
Fun is good.
Video Credit: WaltVision
If you are fond of travelling and exploring the beautiful Islands of the Philippines, then watch this video and never fail to include this on your itinerary and experience the "funtastic" adventure firsthand.
HOW TO GET THERE
Board on a bus at Cebu North Bus Terminal heading to Kawit in Medellin.
Once in Medellin proper, take a tricycle ride to Kawit Port where small boats "bangka" are dock for rent.
When you alighted in Kawit port take a pump boat ride for 15-20 minutes that will take you to Gibitngil Island or "Funtastic Island". The rent price of the pump boat may vary depending on its size. If you are in a group of 20 you can rent a big one that will cost you for P1,500. For smaller group of 6 people its cost is P800-P1,000. Just try to haggle with the pump boat owner for the rent of the boat.
You can contact these mobile numbers for boat rental: +63 932 505 2945 / Sun network and +63 956 984 2596 / Globe network.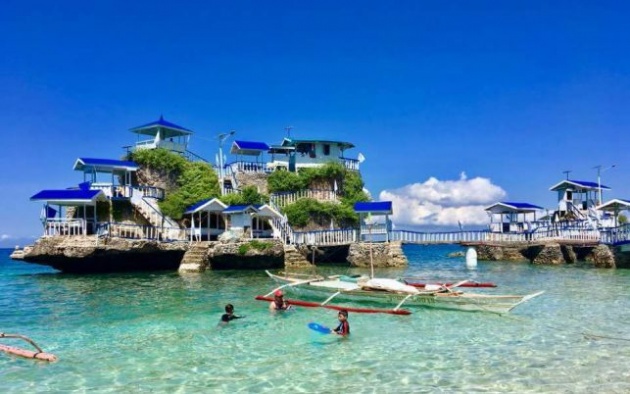 Newly renovated Funtastic Island / Photo Credit: Funtastic Island in Gibitngil
One's destination is never a place, but a new way of seeing things.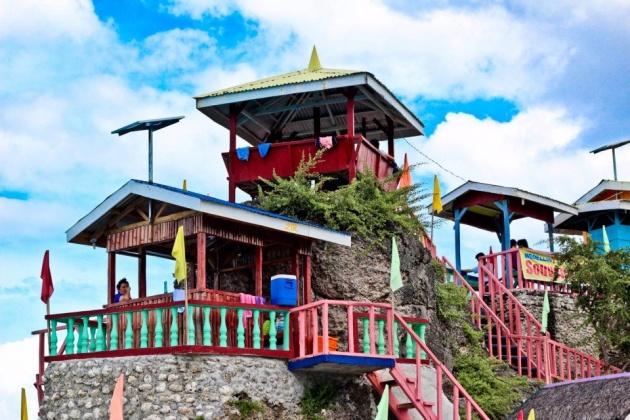 Funtastic Island year 2012 / Photo Credit: Joseph Bacalso
The last time I was here it was mostly in pink color, and the roofs were into different colors. Now they painted it with one color which I like not because it's my favorite color but it's neat and refreshing to the eyes. The top most cottage with yellow paint is where we stayed. It's about P250.00 for the rent the whole day. If you want to be the first one to occupy the top spot, make sure to arrive at the island as early as possible especially if it's on a weekend or better yet to be sure have a reservation for the kiosk. But if you are going to rent the Patrol boat, you are free of charge for the cottage.
And for the foods, I highly recommend to bring your own provisions particularly drinking water since there's no food kiosk available in the island. Though the locals are very much accomodating to do errands for their guests. For safety and security reasons, no worries at all since there's a sea patrol office nearby. You can contact the local government of Medellin for more information on Funtastic Island with these numbers below:
Mobile Numbers: 09176236248 or 09328667661
Fixed Line / Land Line Numbers: 4362031 and 4362959
Or you can drop a message in their facebook page through this link: Municipality of Medellin Cebu
WHAT TO DO IN FUNTASTIC ISLAND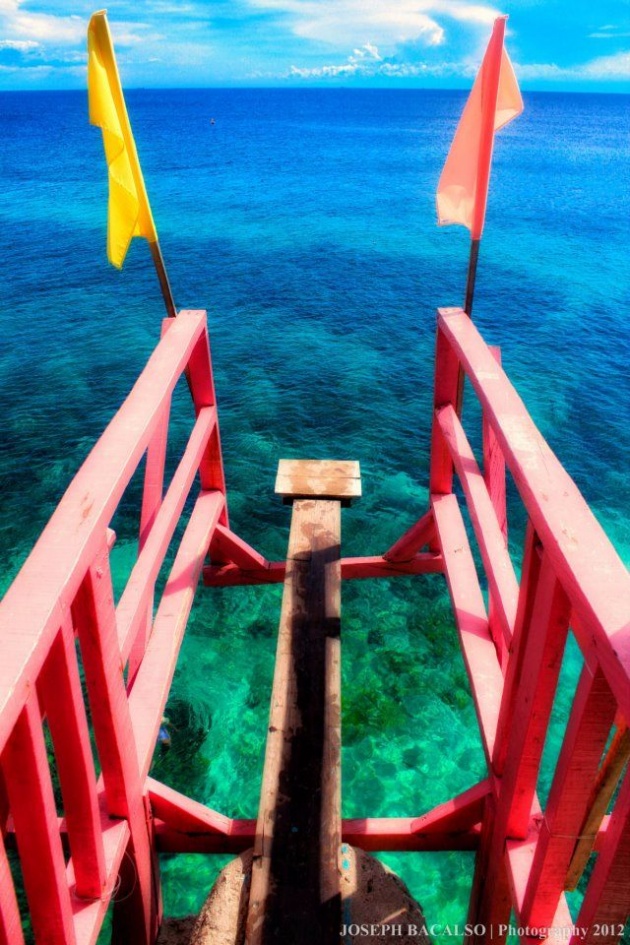 The 30-40 feet high jumping board. / Photo Credit: Joseph Bacalso
You can't always wait for the perfect time. Sometimes you must dare to jump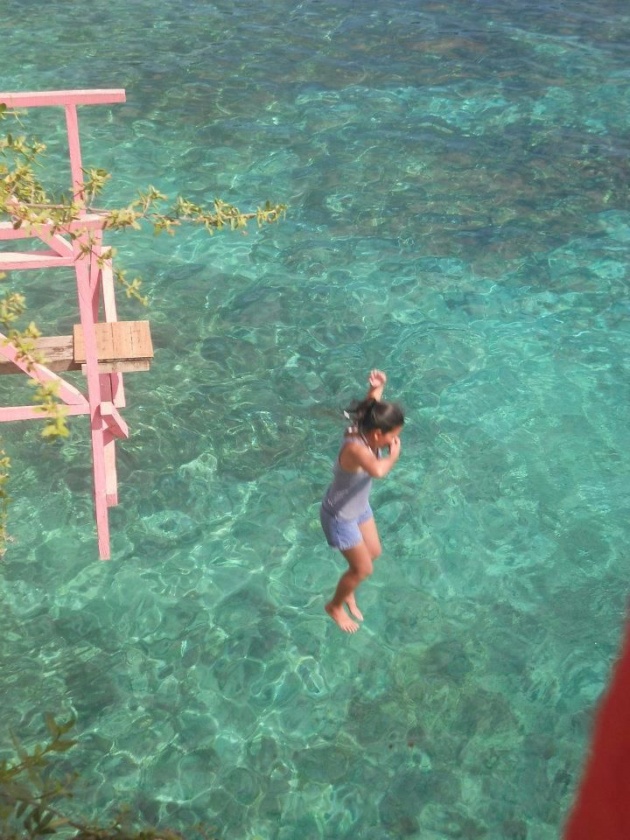 Pinching my nose to avoid rushing up of seawater to my sinuses. / Credit to: Dimpsy
First on my list is the cliff diving; of course it's what I love most. It's all free for anyone who loves to dive or to jump off from the diving board. You can also jump off from the lower rocks just below from where the diving board is nestled. The shorter rock is about 10 feet high and the middle rock is about 20 feet high. I am not a pro swimmer (I can float though) but a thalassophile in nature who loves jumping off to the water regardless if it's a diving board or just on a cliff rock for as long as there's a floater ready as soon as I rise above the water and it will be all good then. Had my first jump-off experience from a 30 feet cliff diving board in this island. As the name speaks for itself, it was indeed a "funtastic" island get away.
2. SNORKELING
Man cannot discover new oceans unless he has the courage to lose sight of the shore.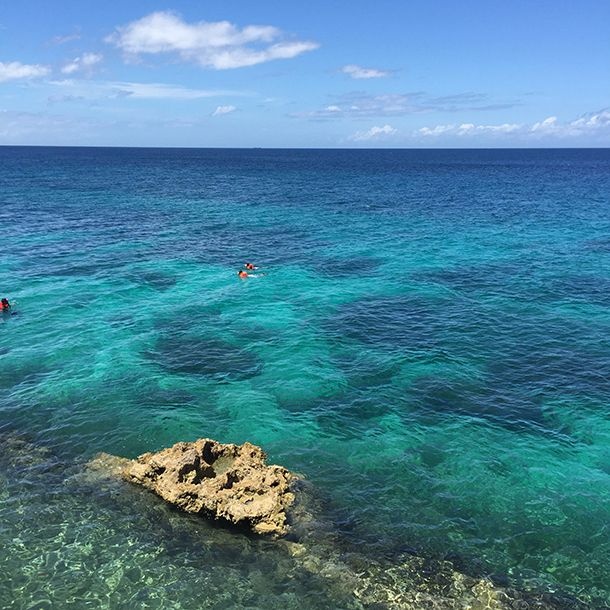 The opaque blue-to-green water of the island. / Photo Credit: Marvi of OSMIVA
One of the best part when you are in a remote island is the rich marine sanctuary where you can see the underworld. With its opaque blue-to-green water you can obviously see the sea bed without using any snorkeling tools but if you wanna explore deeper and have a much clearer vision of what's underneath, then you should bring your own snorkeling gadgets. This is the cheapest way to uncover the secrets of the sea bottom. Compared to scuba diving where you have to shell out a few bucks for the rental of the suit and the equipments alone. Plus, snorkeling is just so easy. No need for you to go on briefing unlike diving you have to learn all the hand signals and the diving pros and cons. It only differs on the limited exploration underneath. If you're on a budget, then, this one is best for your pocket.
3. KAYAKING
Do not go where the path may lead. Go instead where there is no path and leave a trail.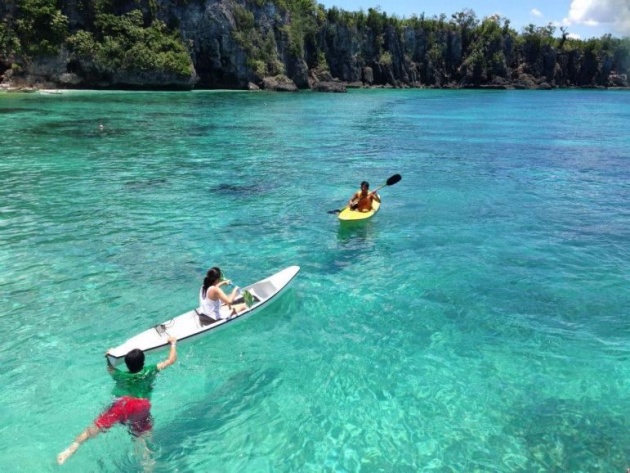 Kayaking / Photo Credit: Medellin Local Government
If you wanna tone your arm muscles then this activity is for you. With a fee of P150.00 per hour you can have a physical activity that is good for both body and brain. This type of water sport was originated by the Inuit or the Eskimos a thousand years back in the northern Arctic region. So if you want to own the sea then go kayaking and start paddling to stretch those arm musles. So sad that kayaking was not possible when we conquer the island. Though we only had limited activities (swimming, snorkeling and cliff jumping) way back then it was still a funtastic summer get away.
4. ZIP LINE
If it scares you, it might be a good thing to try.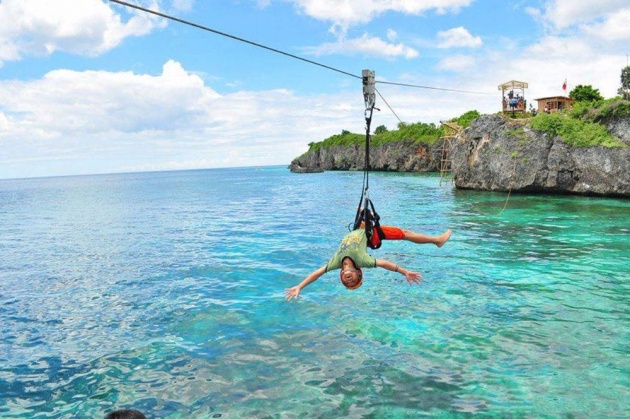 Cliff to rock zip line. / Photo Credit: Medellin Local Government
One of the most popular outdoor entertainment lately that you can find in parks, resorts or even on an island is the aerial ropeslide or commonly known as zip line. It's a wheel on a shaft that is connected to a cable and mounted on a slope. The pulley or the wheel is designed to support the movement into the direction of the cable. Usually it will travel from top to bottom or to the inclined cable. This activity was not available during the time we visit the island. The best way to conquer your fear of heights is to engage in this type of activity. I haven't done it yet and I'm still planning to do it; the sooner the better. There are a lot of changes since the last time I set foot on this island. I find it very admirable to all local government officials of Medellin for doing their best to boost the island's tourism industry.
5. SWIMMING
The man who is swimming against the stream knows the strength of it.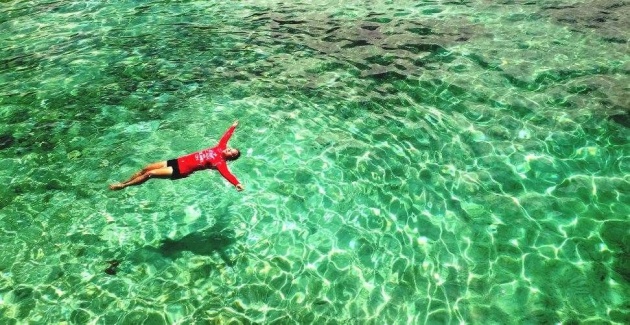 Swim your heart out. / Photo Credit: Stephanie Rosa de Jesus
After doing all the back-breaking activities, you can swim your heart out to the clear turquoise water under the scorching heat of the sun. Be sure to put on your skin protection cream to avoid damages in the future. You can find a large limestone where you can hide yourself from the scorching heat of the sun while enjoying a cool dip in the water.
There's a small hill where you can trek if you want to witness the amazing view of the whole island. It's the best place for selfies and instagram posts. If only I was into photography back then when I had my travels, all photo credits will go to me. Well, there are still chances to do so and it's never too late to begin a new hobby. But for now I'll just give all the credit to the owners of the photos and videos that I'm using for the meantime in any of my blogs since all my blogs or upcoming blogs are all tracking down memory lane to all my travel adventures.
Fishes live in the sea, as men do a-land; the great ones eat up the little ones.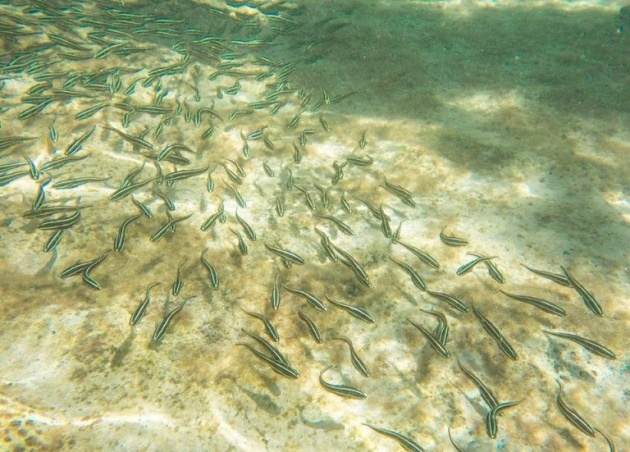 School of Fish / Photo Credit: Ritchell Mabini
If you have snorkeling device or even a simple swimming googles, that is just enough to have a closer encounter to any species found on the sea bed. Be careful though to some jelly fish. One of my travel mates has been whipped by a jellyfish on his arms while he was swimming. Thankfully it's not a venomous one. We poured some vinegar into his arm to lessen the sting; good thing there's still a pouch of vinegar left that we used for cooking. I suggest to bring more vinegar just in case you'll get a sting from a jelly fish or might as well bring an emergency kit, you will never what will happen during the trip.
Before it was repainted. / Video Credit: T&A Travel Vlogs
Here is a video of Funtastic Island before it was repainted. It is so nice to see some improvements made by the local government of Medellin. For me they should put some food kiosk and kiosk for basic commodities. They will not only make their guests fell more convenient but they can also help the locals to improve their standard of living. If I have a resort or an island like this my first consideration would be the convenience of my guests since it's a long travel from the city, might as well make the tourists pack light in going to the island and one more thing is to have a first aid station. Oh well, it's just a wishful thinking though; day dreaming is free anyway. :)
I guess I have come to the end of my blog since I'm having my daydream already. I hope you like it and I am wishing that you could visit Cebu. If that is possible, never fail to set foot in Medellin and have a "funtastic" island adventure.
So long and until my next travel blog. Enjoy reading and always remember:
The world is full of wonder for you to wander.

Single Wanderess
This blog is written and published by Dimpsy intended for bitLanders.