Video credits : Jean Beltran-Figues via bitLanders.com
For the past year, I have been seeing a lot of photos in different social media platform about thousands of flowers specifically in Cebu, however, it is a bit frustrating that I have not visited it, not even once. I know I have aimed to do visit it too but really, it felt like it is located in a very far far place that thinking about going there is already making me tired. Note as well that the effort going to Cordova specifically in Mactan Island would cost me sweat and fuel because of traffic and the inconvenience of travel through a motorcycle so I am keeping that reserved for such a long long time that I thought of just retiring the idea.
Video credits : Jean Beltran-Figues via bitLanders.com
But I am truly delighted that my brother had suggested we should visit a new spot in Bohol specifically Pilar. I have been to Pilar and I have blogged about it before such as their Dam site. Check the blog here:
What's so interesting is that the new tourist site in Pilar is actually a copy of the Cordova 10k Roses, but it is not really just a simple copy of it, instead it has multiplied 200%, yes that's 20k flowers and now I have no other reason not to visit as my family is coming there.
I have created this blog entry a day before we went so I.am currently praying that this will push through, that's me praying that hopefully it won't rain tomorrow and that there will be no other hindrance to this.
En Route Pilar, Bohol
Everyone of us want to see the roses and tulips of Jardin Necitas glowing so we planned the trip in the afternoon but to make the most out of this trip, we got to go to Ubay's Carabao Stock Farm too! I am going to create a blog about it here soon but today, I am focusing with the glowing flowers.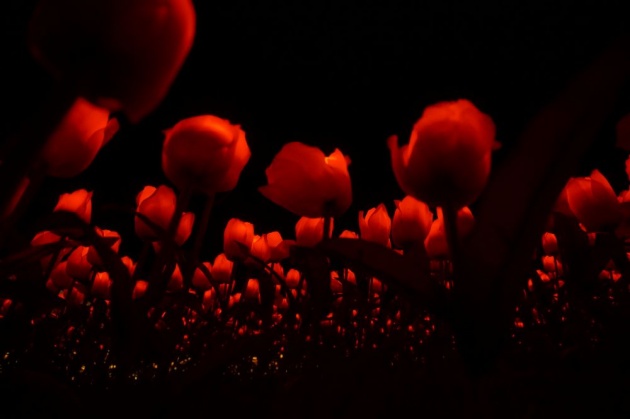 Image credits : Jean Beltran-Figues via bitLanders.com
Unfortunately, my prayer for no rain was not granted. It rained while we were on our way to Ubay so there was a great chance that it also rained in Pilar where the artificial garden is located. Then it rained hard while we were almost near the Carabao Stock Farm but have to deal with it and just decided to keep a positive mindset.
After the Carabao Stock Farm visit which was a very informative, enjoyable and appreciative activity, we went ahead back to Alicia town where we will take a route towards Pilar. It was not too far from that cross road so it didn't take awhile before we reached the location. Obviously, since this is a new spot in Bohol, Boholanos from all over the province went to check out this spot and that resulted to hundreds if not thousands of people around. There's a long pile or cars and vehicles outside the location which gave us hint that we had arrived.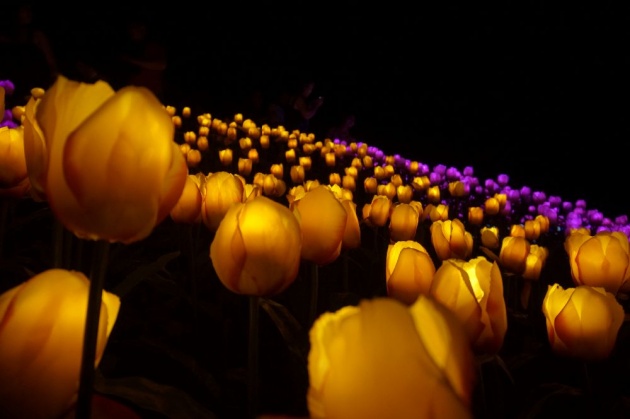 Image credits : Jean Beltran-Figues via bitLanders.com
We parked our car at a distant and walked towards where most people are going. Because it rained earlier, the path was a bit muddy although there were rocks and stones distributed in the road, mud and pit were still there due to the cars coming in and out plus the motorcycles too!
A few walks made and we reached the main gates, a tarpaulin signage also stood up outside which states Jardin Necitas.
About Jardin Necitas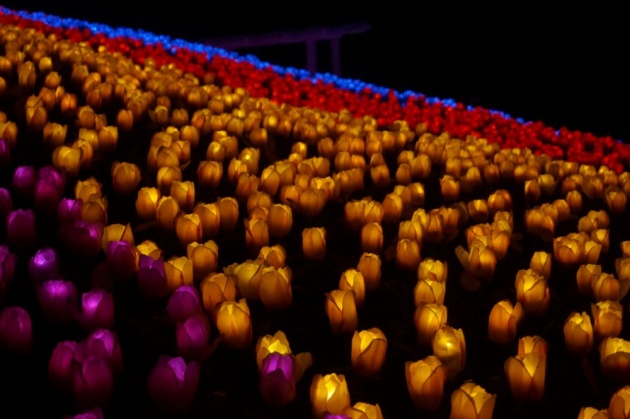 Image credits : Jean Beltran-Figues via bitLanders.com
Jardin Necitas is a newly opened attraction in Pilar, Bohol. It is an artificial garden with 20,000 LED-lighted flowers of roses and tulips with different colors.
Specifically five thousand red and white roses and 15,000 tulips in a 650-square meter area at a hilltop lot in Purok 5, Barangay Bagumbayan. These were faux flowers with LED in them which glows every night from September 27, 2017 when it opened its doors to guests and tourists alike.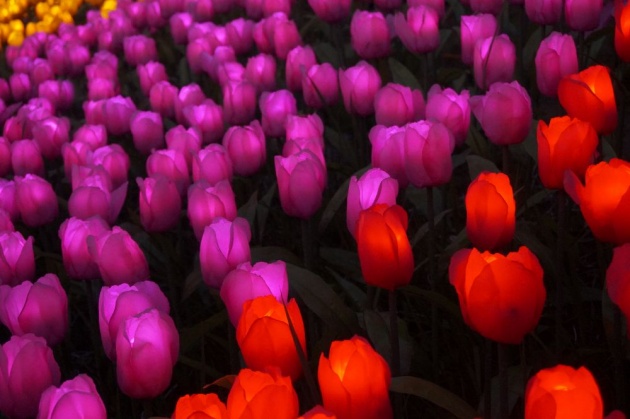 Image credits : Jean Beltran-Figues via bitLanders.com
We learned that the site manage is Vanessa Cubrado, daughter of the owner Necitas Cubrado, the town's current mayor as well. I do believe this has indeed made the town an instant hit drawing thousands of people out from Bohol to visit their new attraction.
Jardin Necitas Review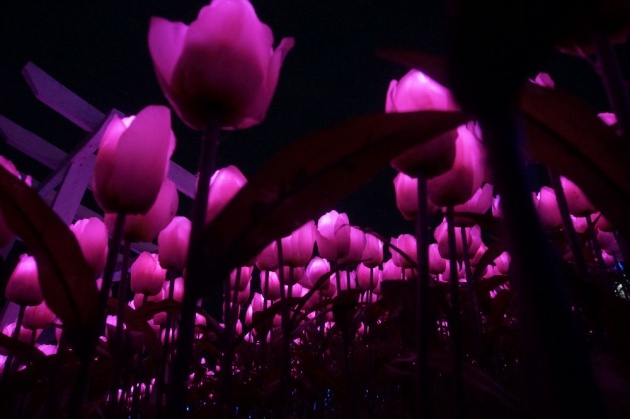 Image credits : Jean Beltran-Figues via bitLanders.com
Very little expectation - that's the only thing I had in mind as there were already spots like this in Cebu where people come out and visit and destroy the scenery because of too much selfies and results to damage. Remember how the Busay's Sirao Flower Garden and Cordova's 10k Roses? Yes, there were a lot of damage to the property, to the flowers and even bring disgrace to the other visitors. That was why James and I had never really got interested anymore of visiting Cordova's 10k Roses.
But as we were in Bohol this weekend and my family wanted to visit this, we went on thinking there will only be a few people but we were wrong, definitely wrong.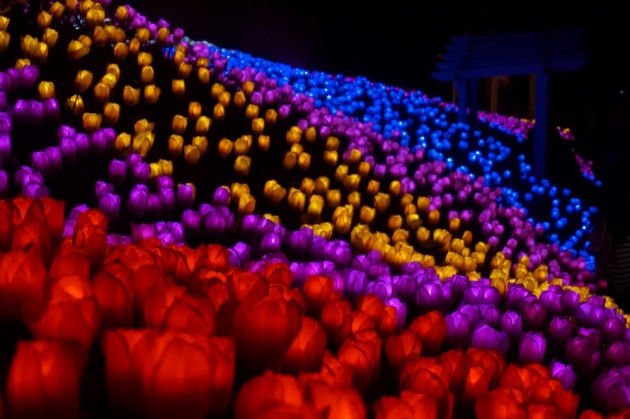 Image credits : Jean Beltran-Figues via bitLanders.com
So my review depended on how the Boholanos acted while in the area and I was surprised! I am proud to say that the Boholanos were disciplined not to get inside the rope which guides visitors not to go over that area.
A concrete area was also made surrounding the entire garden, this is where the visitors pass by, giving us a view of each corner and get a personal and close view of the roses and tulips in each corner of garden while at the top, one will see the overall view, it has an I <3 U sign made of the red tulips.
Although it was muddy, the flowers were still glowing in beauty because no one dared to destroy them, I totally understand that people take selfies and groupies of themselves but I am glad that no one had attempted to pick one. Although I must admit that the young ones didn't stop themselves from stepping on the cottages which made it dirty and one can't sit on it anymore.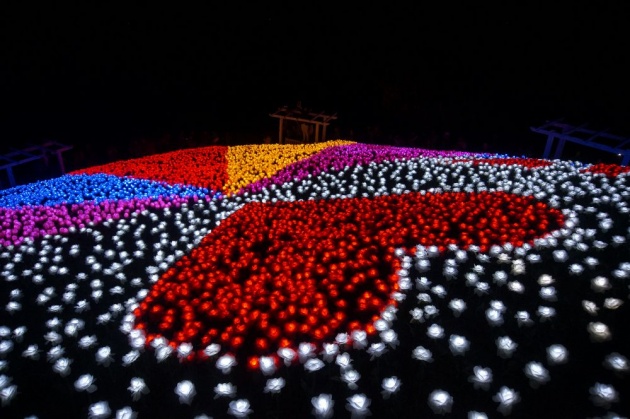 Image credits : Jean Beltran-Figues via bitLanders.com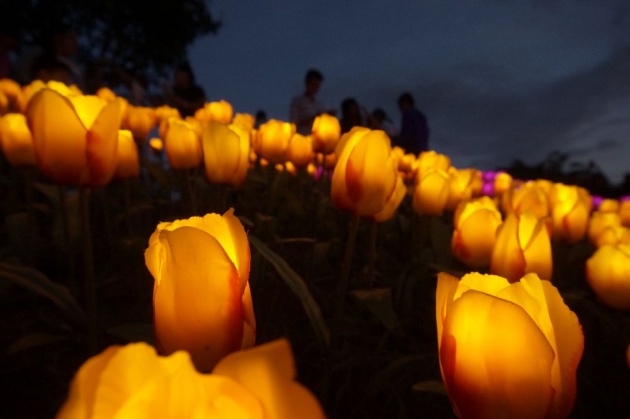 Image credits : Jean Beltran-Figues via bitLanders.com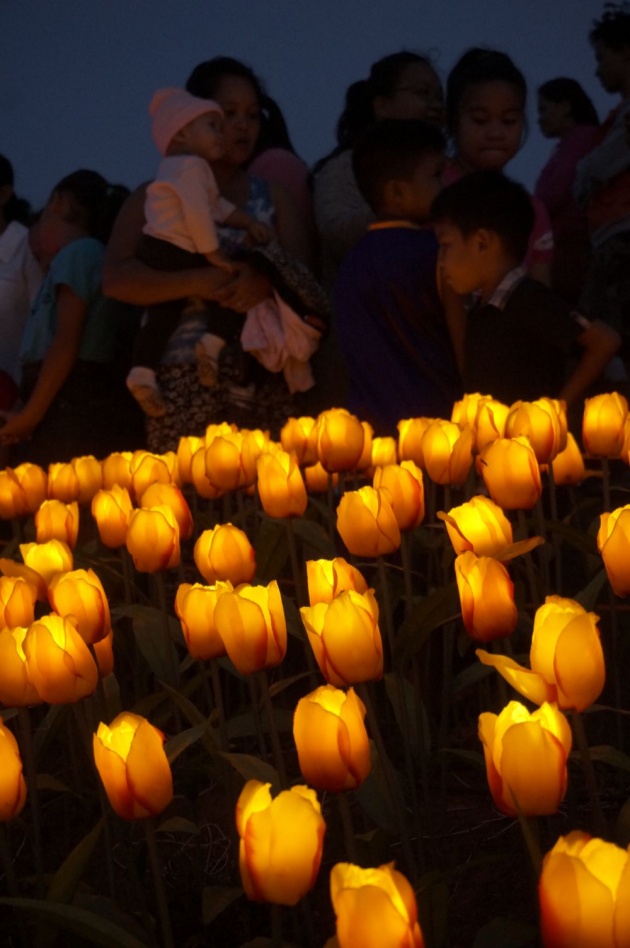 Image credits : Jean Beltran-Figues via bitLanders.com
But the main issue was because there's too much people, one can't get a very good picture, we have to try to find the best angle where there were no photo bombers and that the spot isn't muddy. And because the upper hill was not concrete, perhaps they will develop that in the future, this made slippers and footwear of the visitors accumulate mud and made it hard to walk. And you know what happened to these mud, visitors will keep them off by sliding them on rocks and stones and other hard areas, we however tried to take them off at a nearby irrigation canal near our car.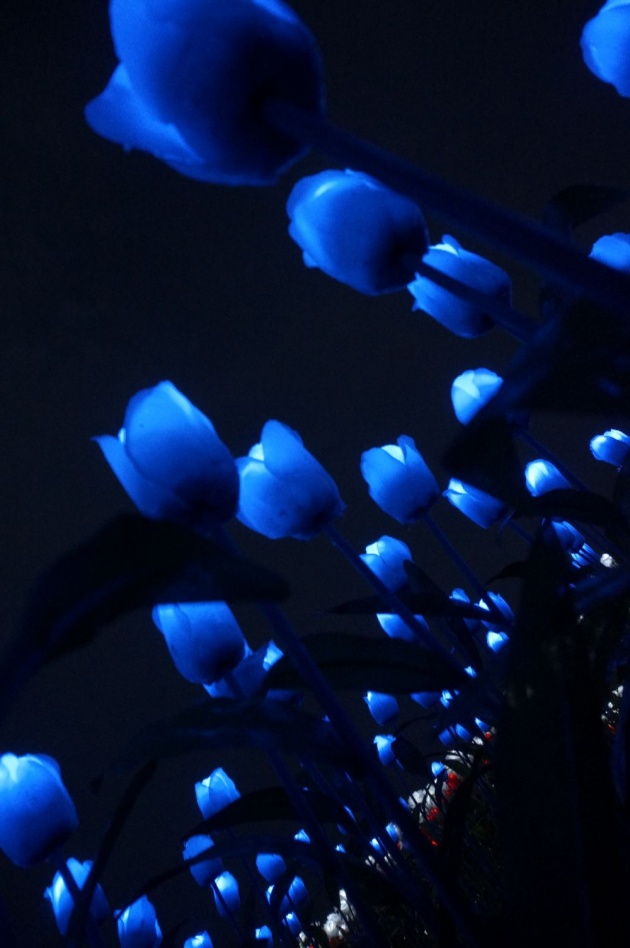 Image credits : Jean Beltran-Figues via bitLanders.com
I am glad that Bohol has this new attraction, I am proud that I was able to get there and I support them, hopefully they could develop it to accommodate a lot of visitors specially their eatery, it was designed for a small group only while there were lots of visitors everyday. Plus, perhaps it would be best to plant grasses on the non concrete parts of the hill.
So, overall there are three components of becoming a successful attraction, first, affordability, second social media friendly and third, accessibility.
xoxo,
Jean Beltran-Figues