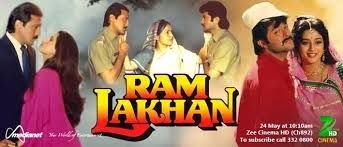 "1 2 ka 4 - 4 2 ka 1" - Hope you all remember this famous song from the movie Ram Lakhan played by Jackie Shroff and Anil Kapoor in the year 1989. The original Ram Lakhan movie was directed by the veteran director Subhas Ghai and was an instant hit as people loved the plot, the acting and the songs as well. In this year, two most popular and famous directors of today's bollywood industry, Rohit Shetty and Karan Johar, are all set to remake this epic movie but are seen a bit confused deciding which two male actors can do justice to the characters of Ram and Lakhan.
Tiger Shroff, the son of the evergreen actor Jackie Shroff, when asked whether he would like to be a part of this movie, he rejected stating the fact that he does not want to do the remake of any movie where his father worked. The "Heropanti" actor also said that he and his father are different personalities and he does not want to face any speculation and comparison.
The actor duos which are taken into consideration for the part of Ram Lakhan are the Gunday pair, Arjun Kapoor as Ram and Ranveer Singh as Lakhan. Also rumors are in the air that for the cast of the character of Madhuri Dixit, who acted Lakhan's love interest the directors are thinking of the "2 States" actress Alia Bhatt and according to them Priyanka Chopra can do fairness to the character played by Dimple Kapadia in the 1989 Ram Lakhan.
To add cherry on the top, the character of Mrs. Sharda Pratap Singh which was played by Rakhi is to be given to, none other than, Jaya Bachchan. In the modern remake for the negative roles Boman Irani and Prakash Raj is being considered. Let's hope that the final casting will be out soon of this remake of Ram Lakhan which is one of the all time favorite movies of Bollywood cinema.