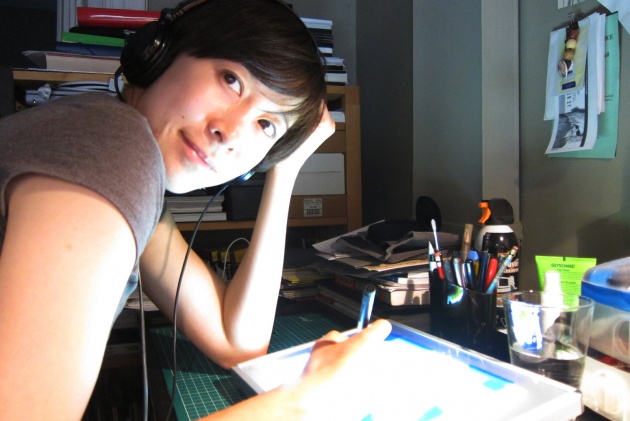 (Lillian Chan - animating her sequence in Yellow Sticky Notes | Canadian Anijam)
With the upcoming internet launch of my 2013 animated film, Yellow Sticky Notes | Canadian Anjiam, I am presenting a blog series with interviews and profiles on some of the animators who animated segments of the anijam.
For the film, 15 of some of the biggest names in Canadian indie animation came together to create a collaborative animated film. An 'Anijam' is a collaborative animation with various animators who do individual short animated segments that link together to make one larger film.
This week I'm featuring and interview with Canadian animation tour de force, Lillian Chan! I met Lillian years ago at the Toronto Reel Asian Film Festival where we were able to hang out and talk animation. I was first introduced to her work when I saw her National Film Board animated film, Jamie Lo, small and shy. When I saw the film back in 2006, I immediately fell in love with Lillian's animation style. Her character designs are cute, simple and appealing. As well, she's an animator who greatly understands the principles of animation which you can see in all her work.
BIO: Lillian Chan is hopelessly addicted to television. Animation seems an apt career choice for such an obsession. Born and raised in Toronto, she studied classical animation at Sheridan College. Her graduate film, Obert Egan Invents the Smile, won the Nelvana Award for Best Graduate Film of the Year and had a very successful festival life. She was an animation workshop coordinator at the NFB Mediatheque in Toronto before moving to Montreal to make Jaime Lo, small and shy for the NFB. It is Lillian's first professional film and is part of the Talespinners Collection. She is currently involved in creating a new music/animation inspired children's app, Ramen Party.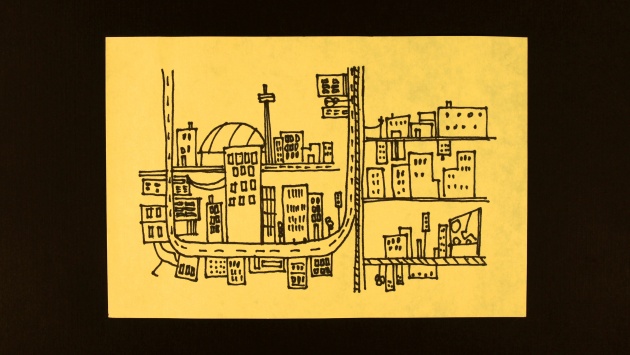 (Still from Lillian's sequence in Yellow Sticky Notes | Canadian Anijam)
* For the interview blog series, all the anijam animators were asked the same series of six questions.
1. What inspired you to become an animator?
LC: I've always loved drawing. When I was in high school, my friend introduced me to her brother who was an animator that graduated from Sheridan College. He inspired me to become an animator by explaining how intense the animation program was there -- how much you had to draw! Then, I watched the Iron Giant....and that sealed the deal.
2. Which animated film of yours are you most proud of and why?
LC: It's my first professional film, Jamie Lo, small and shy. I got to focus all my energy in telling a pretty intimate story, and I was encouraged to really make it a piece that I could really call my own.
3. What do you think makes for a successful short animated film?
LC: Either a great narrative or interesting visuals. If you have both, even better!
4. What advice do you have for students wanting to become animators? Any animation tips or wisdom you've learned over the years?
LC: Love what you do and work hard at improving your craft.
5. The Yellow Sticky Notes Project is a foundation created as an extension of our Yellow Sticky Notes | Canadian Anijam to teach kids and youth classical animation using sticky notes and collaboration through anijams. From your experience, how do you feel animation can be used to help foster creativity and self-expression?
LC: There's no better way to tell a story than to just draw it out! It's one of the most straight-forward ways to get an idea realized, especially now that the technology makes animation so accessible.
6. What are you working on now and when can we expect to see it?
LC: I just had a baby! Hopefully he will be mature in about 16 years :)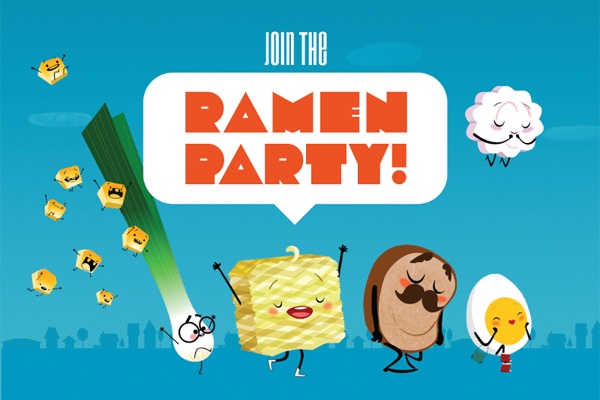 (Image from Lillian's latest project, Ramen Party - courtesy of Lillian Chan)
YELLOW STICKY NOTES | CANADIAN ANIJAM ARTIST STATEMENT FOR LILLIAN CHAN'S SEQUENCE:
"2003 was my first summer out of animation school and I spent it working...every single day. Although I had two fantastic jobs, the lack of sleep and busy lifestyle left me quite miserable. It wasn't until the 2nd largest blackout in history, which left the large parts of eastern Canada and the United States without power for up to 16 hours, that I was finally able to stop and enjoy a beautiful, if not extremely dark, evening with my now husband. In fact, I will always remember the blackout as a critical turning point in my career and life, where, by no strength of my own, I learned that there are more important things than just work and killing yourself to meet a deadline."
Below you can watch Lillian's animated segment from Yellow Sticky Notes | Canadian Anijam. Enjoy! Please subscribe for new blog posts in this series (many other great animators to come) and more clips from the film!