The world knows who Manny Pacquio is, what he has given to the world and most specially to his country, our beloved land, the Philippines.
I guess I have known Pacman as how we refer him since I was in my secondary years. He was that guy who's been watched in the television for all his boxing fights. This was up to the point when the Philippines record of crime rate drops literally since almost all Filipinos both in the country and outside the country keeps on eye on the said fight. Because of that, he has been referred to as the "National Fist" or "Pambansang Kamao" as how we say it.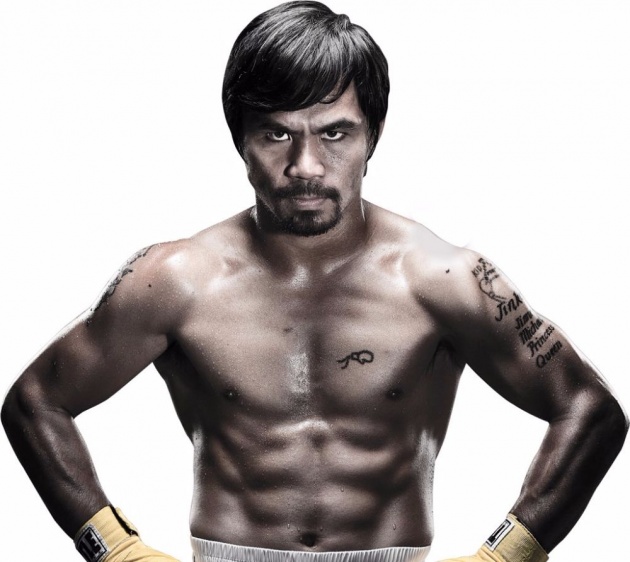 Also, I remember him as that guy who thinks he sings well and had even released songs and albums regarding his fights and all stuff. He sings in karaoke bars and even in live television shows. He has been supported by a lot of recording companies and so he was able to release more than two albums. That was a hit specially that he has been winning most of his fights.
Manny Pacquaio, the Philippines' National Fist.
That Manny Pacquaio I have known was a guy who has been rumored to have relationships with other women even if he already has a family of his own. This guy had a lot of gamefowls and would bet millions for a chicken. That guy who has a lot of publicized photos of him with another girl in a club, in a bar or wherever he was. That was a bad side of him.
video courtesy of OfficeHanchoBoxing Youtube Channel
Just recently, I am already seeing him as the shortest professional basketball players Yup, you read it right. He plays basketball. He also plays chess actually. But his first love and most of the Filipinos do, is basketball so yeah, he did play one time.
Aside from that, he also had gained the votes of the majority number of Filipinos when he ran as a Congressman for Saranggani, his province. And just lately, he won a seat in the Philippine Senate in the recent 2016 May Presential Election. It was evident that Manny Pacman Pacquiao is very famous to the Filipinos.
But then he also is very vocal now with his faith, how he had changed and became a new man. His instagram is now being flooded with bible verses. He even preaches and shares his faith. He had given God a priority in his life and perhaps that is what I like about this guy. But then because of his faith, he has been criticized as well with his remarks on same sex marriage. That was before the election but anyway, he still won one Senator seat. He is now a Philippine Senator.
But most specially, I would like to highlight that Manny Pacquiao is a guy who came from the poorest and had fought against it and now became one of the richest in the country. He had given the Philippines so much pride. He had beaten a lot of famous boxers in the world, his last fight was against Flyod Mayweather and he had won the fight. He had carried the Philippine Flag at the Opening Ceremony of the Beijing Olympics in 2008 and there's a very long list of achievements that he had done and had given to our country.

Now, after all the background information about this guy, I am writing this blog to specifically list here Manny Pacquiao's philanthropic activities and what he had done to the society. What is his Social Impact to our country and to our fellowmen.

"We can't take any of these things to heaven,"
This has been Manny's mantra whenever he is donating to charities. Here are some of the numerous things that he had done to the country. Aside from being an inspiration to our fellowmen and the young ones who are also pursuing their interest in the field of Boxing.
1. When he was still trying to chase his dreams, he slept in the Manila gym.
Now he bought that gym, built dorms for poor fighters who are also trying to chase their dreams just as how he had been when he was 14.
2. A typhoon devastated the region of Mindanao, Manny pledged 10 percent of his wealth to aid the recovery.
That had constructed 195 homes in the region of Sarangani as a contribution to Habitat For Humanity.
3. A remarkable $50,000 was generously donated to the Rahma Charity.
The Rahma Charity is that which provides practical and psychological support for people diagnosed with cancer. That occurred during his visit at the Yas Marina Circuit in Abu Dhabi.
4. Manny owns PCSO ( Philippine Charity Sweepstakes Office) lottery outlets
These outlets have paved a way of giving back to the community since the money that this lottery earns are put to good use by reinvesting in public services, health care and welfare.
5. Manny Pacquiao Foundation
This is just another established foundation which he had created to support under privileged individuals in the country. Its main function is to provide public services in terms of health and food.
6. Manny Pacquiao has a Scholarship program.
This celebrated their 11th anniversary last May of 2016. It is called Manny Pacquiao Scholarship Program which is based in Mindanao.
Check out their Facebook page:

7. Build houses for Sarangani locals
Just this year, Manny revealed that he had given these houses below to his constituents in Sarangani from his own pocket.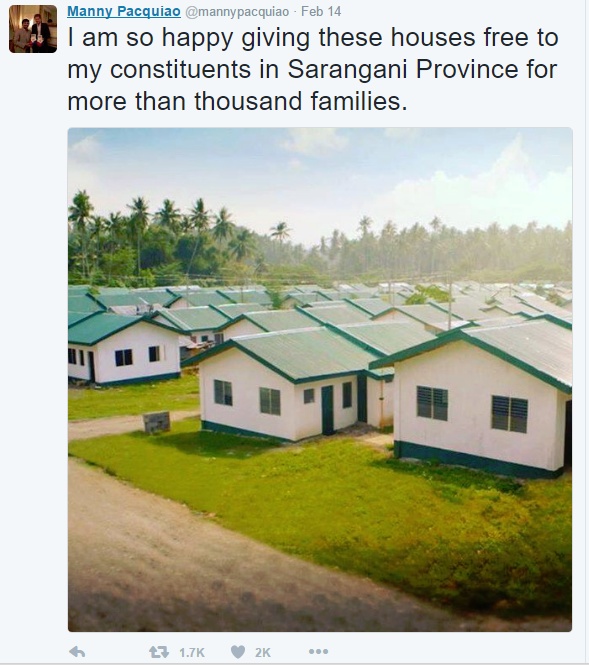 More than a thousand families were beneficiaries of the said development.
8. Birthdays spent at an orphanage.
When his children celebrates their birthdays, he makes sure there are also orphanages who will receive blessings as well.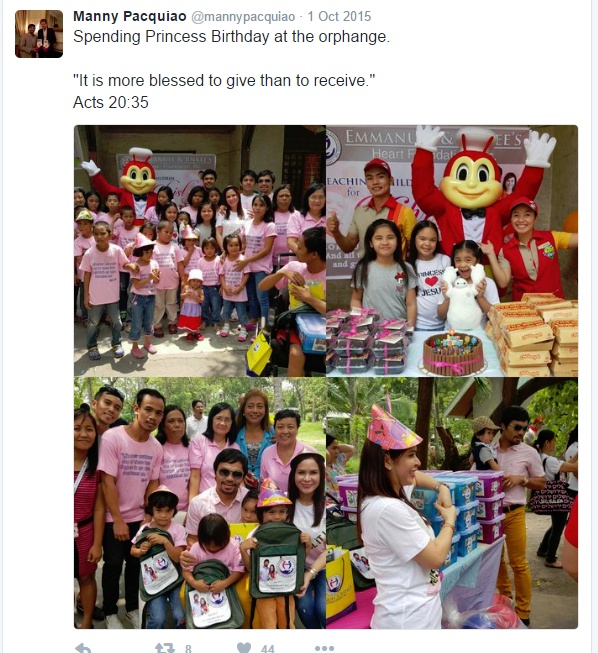 The photo above was during his daughter Princess' birthday.
9. Signs no less than 50 cheques per day for Hospital bills
Pacquiao gets a pile of checks if he is not at home. He tells the media that he signs not less than 50 checks per day for hospital bills for the poor and for his foundation. His medical missions are continuously working.
10. Emmanuel and Jinkee Heart Foundation Teamed with Other Foundations
On 2015, with Manny and his wife Jinky, they managed the distribution of the 7,000 donated toys, 5,000 copies of the Bible, 10,000 children's books, 1 million vitamin pills, school supplies and educational materials which was from Another Joy Foundation in America.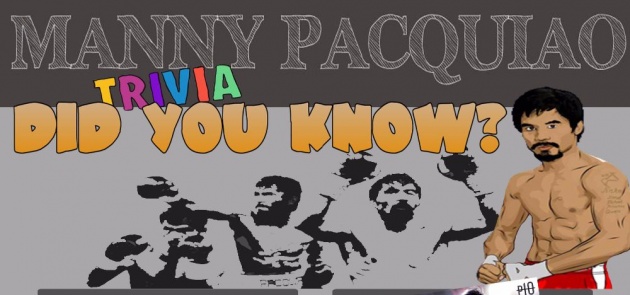 That list should have been the end of my blog but then, I thought it would be great to add another information of the boxer. This list below is a bonus, here are some list of did you know that trivia too:
1. Manny Pacquio is the only Filipino in Time 100
Time 100 is an annual list of the most influential people in the world compiled by Time magazine.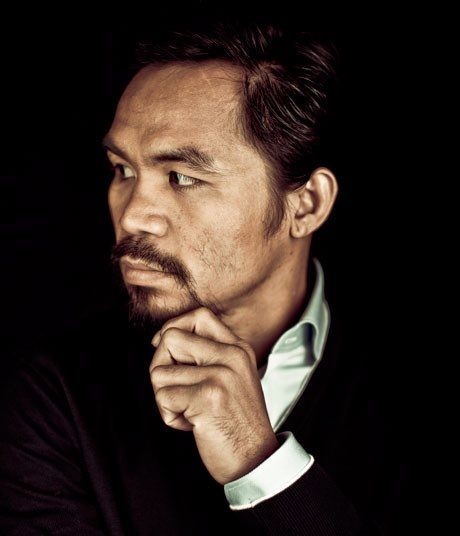 2. Pacquiao is the only fighter in boxing history to win world titles in eight weight classes.
3. After weigh-ins for his fights, Buboy Fernandez, Pacquiao's cornerman, alway brings him beef broth and warm milk.
4. Pacquiao is also the richest lawmaker in the House of Representatives, with a total net worth of more than a billion pesos in 2014.
5. Pacman was derived from the first three letters of the champ's name in inverted arrangement: PACQUIAO MANNY.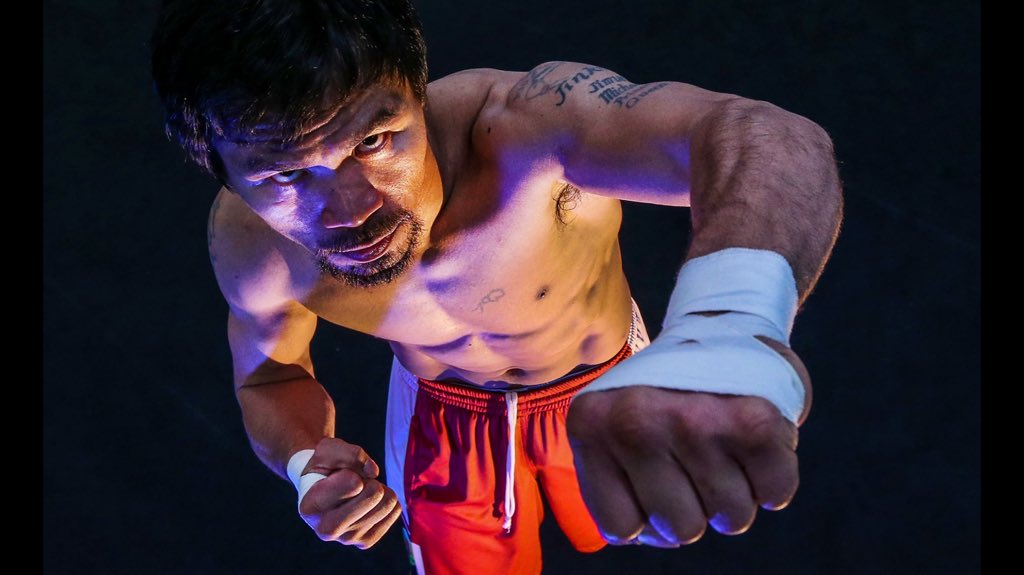 6. He was originally referred to as "The Destroyer". Pacman was coined by the Americans when they started getting entertained by his boxing skills.
7. Manny hates swimming
8. Manny trained his abs on wooden plank and bicycle tires
9. Manny was the first boxer to appear on a Philippine postage stamp.
10. According to a Philippine Law, the army will protect Pacquiao and his family in case of any danger.
Boxing has made him what he is right now. It gave him riches and wealth but he had also was able to use it to bless other as well.
His social impact to his constituents, his society and the people around him is very significant that more than thousands of Filipinos had benefited from it. Aside from that, the fellow boxers, young and the amateurs are looking up to him.
True enough, Manny Pacman Pacquiao is an outstanding boxer. True Sport with a heart of service. See the video below with Pacman himself telling on the reason behind his charity works and what motivates him to do those charity activities:
video screengrab courtesy of Yahoo Bloomerang
This is the last blog in line with Micky-the-Slanted-Salerno's Double Reward topic in relation to the Survey Chat.
Here's the other list of blogs I had written about it:
Hope you had a great time!
xoxo,