Well, we've done it - got approved for our first video on Film Annex!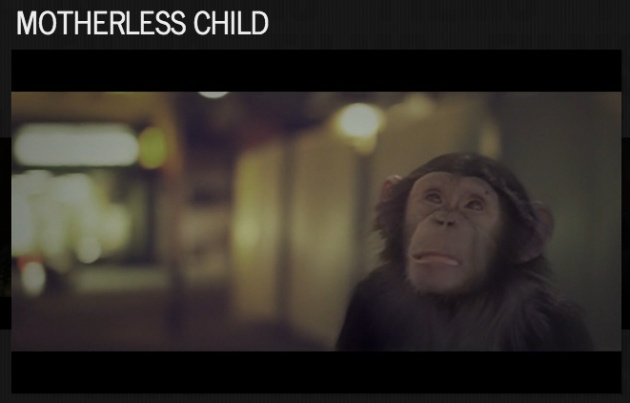 Our film, Motherless Child, is one of our favorites and we are particularly proud of it. (Not to say we aren't proud of all of our work!)
Motherless Child was created as an entry for the 2011 Framepool/LBB/Fireflies competition at the Cannes International Advertising Festival. http://www.framepool.com/special/fireflies/. The actual song, (Sometimes I feel like a) Motherless Child is a traditional spiritual folk song that dates back to slavery in the US. The song is public domain, however, none of the known recordings of it are. We felt great pathos with the song and so, with help from friends and family (Mad's mother, Gwendolyn Olicker, is singing on the track and her dear friend and incredible musician, Robbie Condor, helped her record and arrange it), we were able to use the song without infringing on any copyrights. The multi-talented, Ruffian, ended-up playing and composing the background instrumentals.
This was the challenge:
For the 2011 FLFC we asked international creatives and filmmakers to craft a beautiful short film - from 30 seconds to 3 minutes long including 20% of Framepool footage - showcasing in its richest and widest form the word COMPASSION or indeed the lack of it.
100 filmmakers registered - a fantastic feedback for the second year of this competition. The entries were judged by the hottest and most renowned jurors in the advertising world, who picked a shortlist, containing the 3 prize winning films as well as the 7 finalists.
And WE WON!!!
...And boy, was it nerve-racking! This was all happening when Mad still lived in America and the epic, 8-hour-time-difference-5000-mile-wide-long-distance-relationship was underway... Mad had come to London for a visit and we were racking our brains to try to come up with an insightful and moving idea and how to implement the stock footage in to it. We knew everyone could relate to animals and homelessness and were toying back and forth with each when, suddenly, homeless animals became the answer! Mad left and poor Ruffian was all on his own to actually create this piece (he is, after all, the talent behind it.) We initially had weeks to finish and perfect the submission and (of course) left it all until the last minute. Ruffian shot, edited, used his VFX background to insert all of the animals, graded, composed the background music, conformed the film, etc all in less than TWO WEEKS! Not only that, but the NIGHT BEFORE the noon deadline, Mad got a panicked call that he had LOST THE ENTIRE EDIT! The program had crashed and everything was gone............
....But it was all worth it. He was able to get it in on time and, sitting there, in the "Star"Cinéma Les Arcades Cannes (Star Theatre in Cannes!), waiting with bated breath for the winners to be announced (and very slowly it seemed) - Firefly Bronze.. (no..still hope), Firefly Silver... (oh shit, not us either), Firefly Gold (couldn't possibly be....) - "MOTHERLESS CHILD!".... a beautiful moment happened that we will never forget....
The jury included big shots: Mark Tutssel (Leo Burnett), Ringan Ledwidge (Rattling Stick), Jake Scott (RSA), Olivier Altmann (Publicis), Mike Clear (Winner 2010 / Mother), Steffen Gentis (BBDO Proximity), Sandy Watson Scott (The FireFlies), Al Moseley (180 Amsterdam), Tiger Savage (Tiger's Eye), Barnsley (The Mill) and Wolf Jaiser (videotape.tv) and,after they saw the film, Ruffian was offered a place as director on the roster of Los Angeles production company, Third Street Mining Company.
We hope you enjoy seeing it as much as we enjoyed making it. It's really nice that (even if in just a small way), we were able to create a piece that might bring awareness to the terrible impact of deforestation and displacement of our incredible fellow species. On, perhaps, a less obvious scope as well, we also hope to always continue to bring awareness to homelessness in our own species. We must take care of each other. This film is not linked to any particular charity, however, perhaps by passing it along, your friends might remember to donate to their favorite charities -- any bit will do.
Thanks for watching and passing it along!
MR