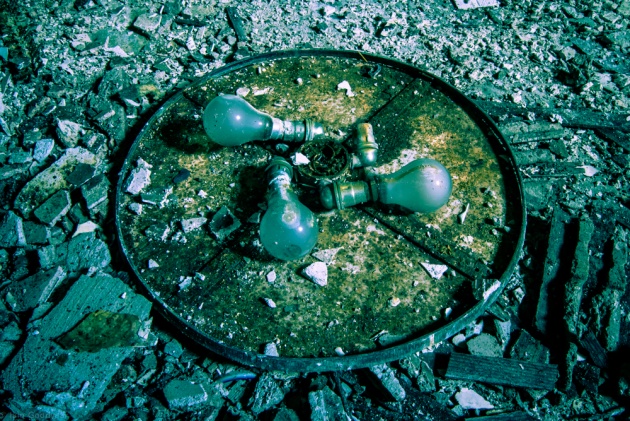 When the weather is not the typical UK rain & gloom, my good friend Sam Jones and I like to seek out and explore abandoned structures and buildings. Usually, we explore (or urbex; the abbreviated term for urban exploration) in Manchester and its surrounding areas. In April 2013 Sam discovered the whereabouts of an abandoned large house in the Altrincham area of Manchester and we set off to explore the structure. After a short walk we found the entrance to the site and approached the house. The site actually contained the derelict structures of two large Victorian houses that had clearly been abandoned many years ago.
I decided that I would take my shots using an 11-16mm 2.8 Tokina lens as I really wanted to convey the large interior spaces in as much detail as I could fit into the frame. In many of the houses rooms the destructive decay of years of neglect manifest itself through partially collapsed ceilings and missing floor sections. Due to the advanced state of decay evident throughout both buildings, Sam and I had to obviously tread very carefully as we positioned ourselves to take our shots. My advice to anyone who catches the urbexing bug is to always do so with a friend or in a small group. Watch out for each other and your surroundings when exploring abandoned structures and never, ever urbex alone.
One of the frequent thoughts I often have prior to an urbex in an abandoned building is the possibility of injury if the structure looks too far gone. This is always a strange feeling for me as it heightens the anticipation of what I might find. This also creates mixed emotions of fear and curiosity in discovering the remnants of a time long passed. I always find my imagination running away with itself when I look around abandoned structures. I try to visualise what events have happened in the space when it was in use. What experiences have people had there? What lead to abandoning the space? What mementos have been left behind? In a way, I think my images at once pose these questions and also offer some answers to them.
To see Sam Jones photographs of this urbex please click HERE. Thank you for taking the time to read this blog. I hope you enjoy my images.
To read more of my blogs please click HERE.
If you are new to Film Annex and want to upload your films or blogs to this great platform click HERE to begin. Subscribe to my Film Annex profile page and notify me of your content uploads via Twitter @iaingoodyear. By doing this I can help to spread your content to other Film Annex users via my social media platforms.
To receive future updates about my photography and moving image work please subscribe to www.filmannex.com/iaingoodyear.